Lately, I've become more and more interested in the people and founder stories behind some of my favorite digital product companies.
What I started to realize is that some of the most innovative and brilliant product companies and startups out there right now happen to be headed by black founders.
Tech, especially here in Silicon Valley, is notorious for being melanin challenged and often times shouting empty equality buzz words, while publishing diversity reports whose efforts have barely moved the needle.
Underrepresented minorities still only make up single-digit percentages of the workforce at many major tech companies. Even less when you look at leadership statistics.
But these following companies and founders, quietly grinding away, are forging a new path ahead; not because they are black-owned, but because they are driven by a deeper mission to serve, to solve and to see change in their lifetimes.
I've chosen to highlight these 10 companies not only because of their lofty pursuits, but because of the ingenious products they are building, the complex problems they are solving, what they are bringing to their communities and how they are pushing tech forward to new and exciting  (read; long overdue and colorful) heights.
Being a woman of color in tech myself and the founder of a school that teaches Product Design, I also selected companies who invest in design and recognize the importance of crafting meticulously thought out and intentional user experiences.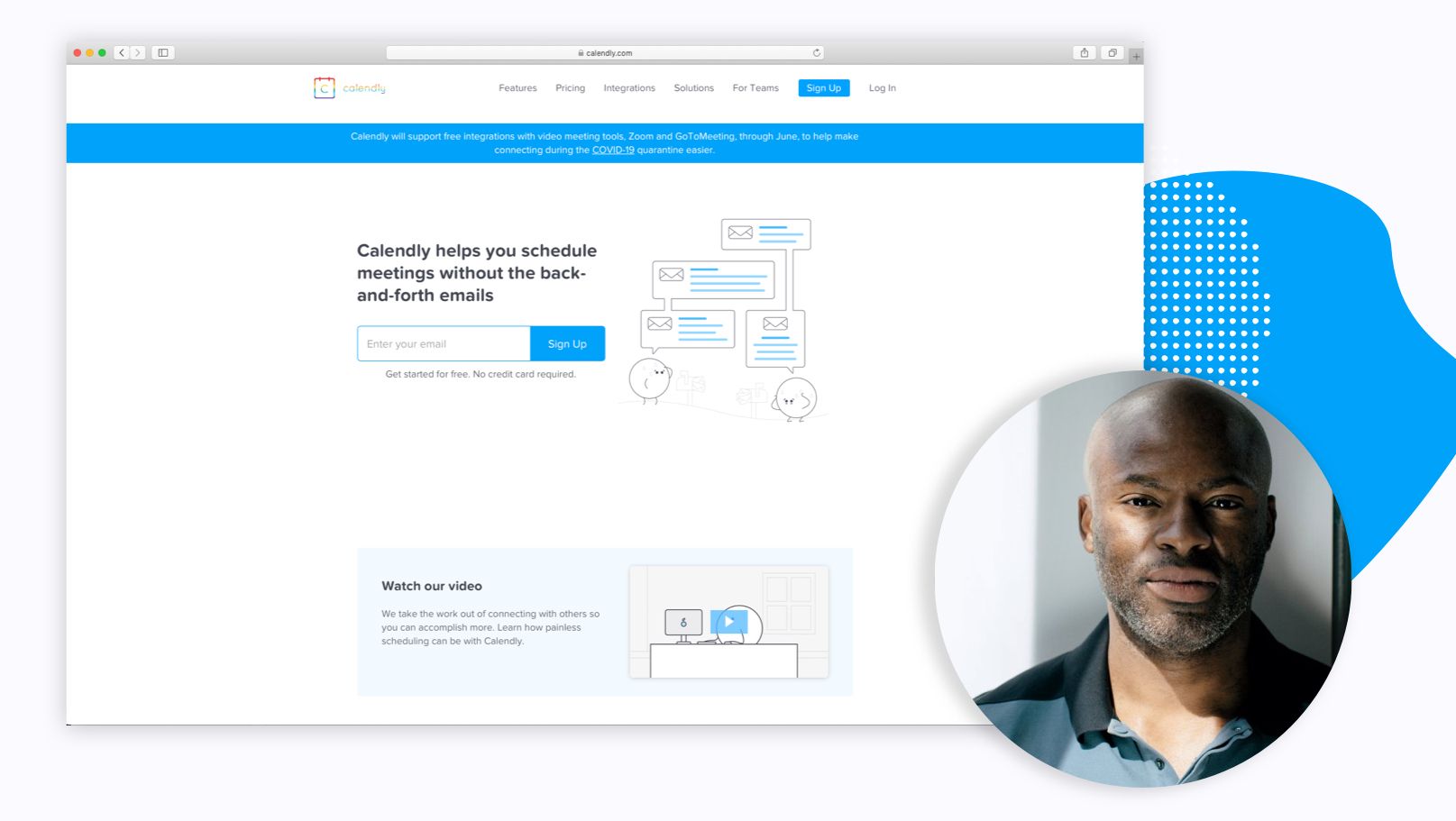 First up is Calendly.
What is it: Calendly is a free online appointment scheduling platform.
HQ Location: Atlanta Georgia
Who owns it: Tope Awotona, CEO & Founder.
Born to ambitious and inspiring parents (a microbiologist dad, and pharmacist mom) in Nigeria, Tope moved to the US when he was a teenager. After graduating from the University of Georgia, he landed a job at IBM as a sales rep. Tope spent seven years there growing strategic accounts and territories for some of the most successful software companies in the world including IBM, Perceptive Software, ImageRight/Vertafore and EMC. After 3 failed startups (A dating website, and 2 Ecommerce businesses), Tope decided to focus on working on a problem he was really passionate about. Out of his own frustration with the cumbersome and inefficient volley of emails required to setup a simple meeting time, Tope built and grew Calendly to $30 million dollars with over 30 million users in just 6 years!
"I realized that, to scale the business and make it all very successful, I couldn't just be a mercenary. I truly needed to care about the problem, and be motivated to solve it."
- Tope Awotona
What's amazing about it:
I've been using Calendly for many years now and it's just a perfect, elegant, frictionless product that puts an end to the "Are you available at 1pm on Thursday?" string of emails. It's one of my can't live without SaaS apps.
The user experience is excellent, it's very simple to setup your events, create recurring time slots, exclude certain days and times from your schedule and even easier on the booker side for someone to just click a time-slot, fill in some information and have the appointment in their calendar. The Pro Version integrates payments so you can charge for your time. The web app features a well designed flow, a clean, modern user interface and intuitive interactions.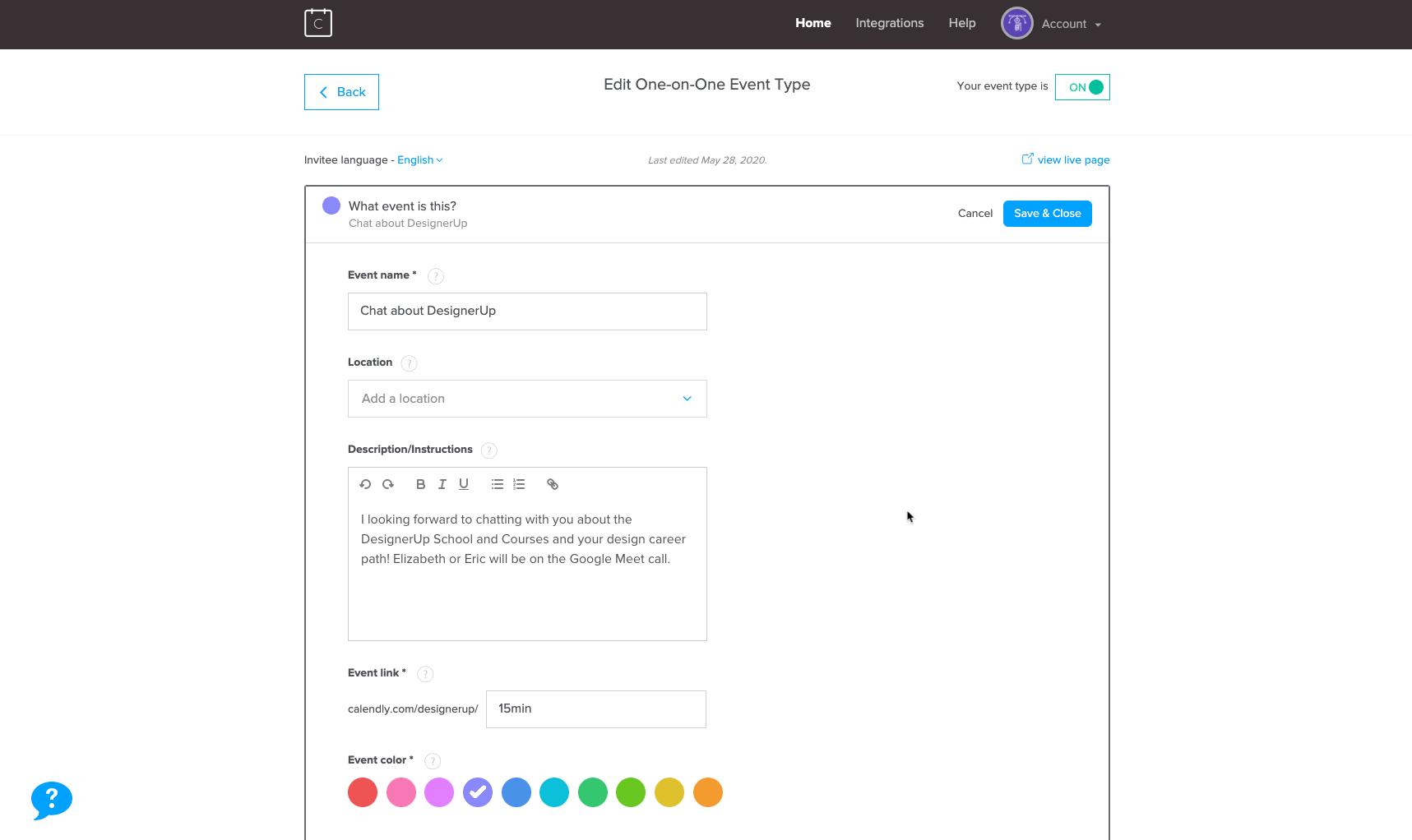 I use it to schedule open mentorship appointments for designers interested in enrolling in our Product Design (UI/UX) Course and looking to transition into the field of digital product design. Just add an event, set your hours and intervals and viola! Anyone with a link to your calendar can see and book a time slot to connect with you!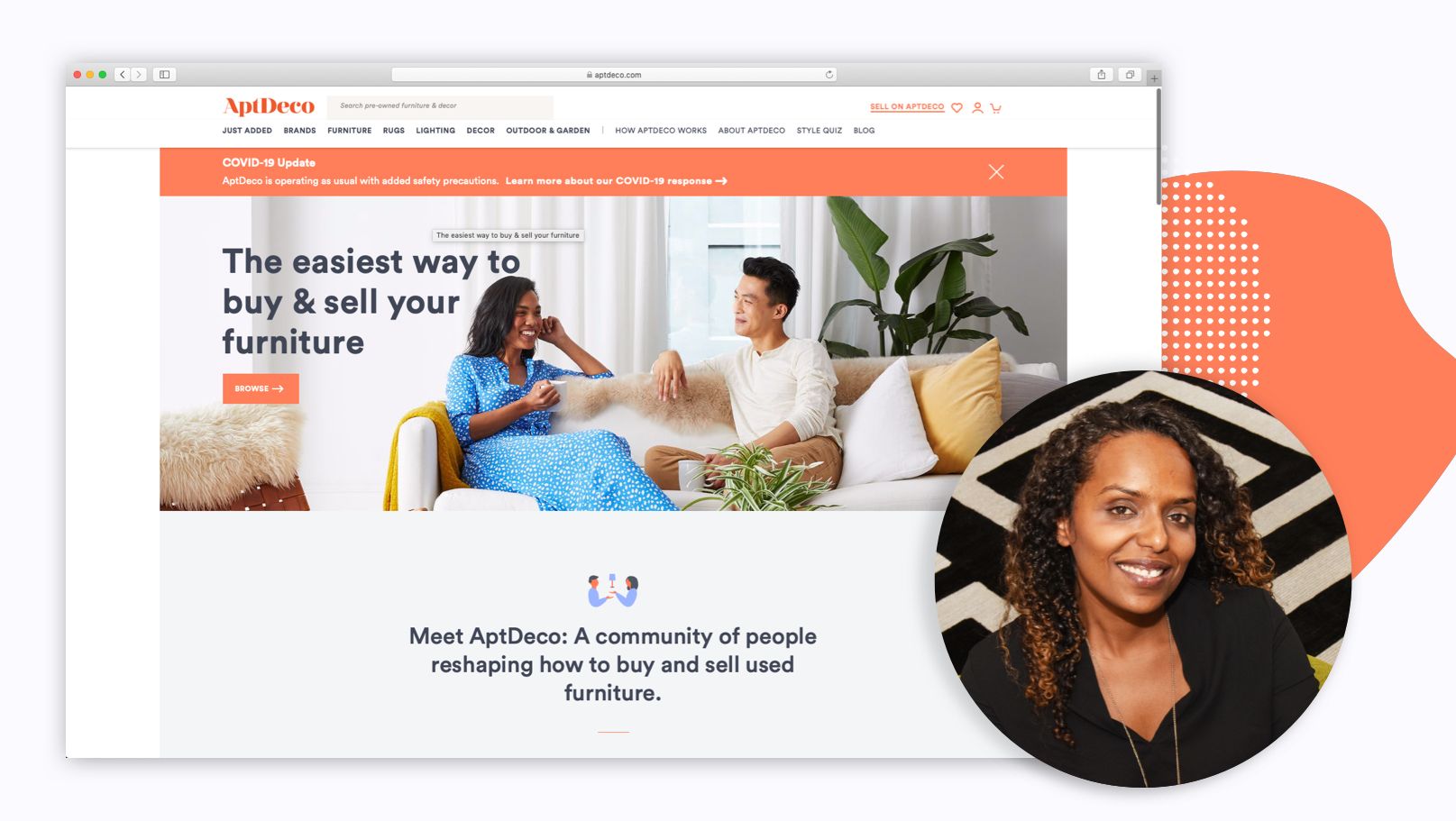 What is it: The easiest way to buy & sell your furniture
HQ Location: New York, New York
Who owns it: Reham Fagirl, Co-Founder & CEO
Originally from Sudan, Reham graduated from Wharton School of Business and went on to work at Goldman Sachs for almost 6 years. While in the process of moving back to NY from Pennsylvania, Reham was trying to sell her furniture on Craig's List; "I had nice West Elm, Crate & Barrel furniture. It was cumbersome to disassemble pieces of furniture for buyers, carry it to their trucks and awkward negotiating a price, getting paid in cash".
A creepy experience with a buyer was the impetus that set her on the path to starting a better Craigslist. "A guy came to buy a TV and I listed the wrong model number by accident. He got really upset and said, "I'm taking this TV and I'm not paying you for it." I was by myself in my apartment, and at that point anything could have happened. I felt unsafe and told him to just take it; $100 is not worth risking my safety."
Creating a safe place where buyers and sellers can communicate and transact—not in cash, with furniture pick up and delivery—became the premise for AptDeco.
The entire economy in Sudan is built on small businesses, there are no big corporations. So if you have to make ends meet, you essentially have to build your own small business. My father has his own firm, most of my aunts—it's very woman-friendly in terms of business—have their own architecture or engineering firms. That's how I grew up, and I think it's influenced me more than I thought.
- Reham Fagirl
Rahem took AptDeco to the next level after attending Y Combinator in Silicon Valley. At the time, Reham and her co-founder had a product, probably less than 100 customers and some sales. They didn't know how to go about growing to their first 100, 200, 500 customers. Both coming from corporate backgrounds, Y-combinator advised them to go out and meet their customers. This changed everything. [5]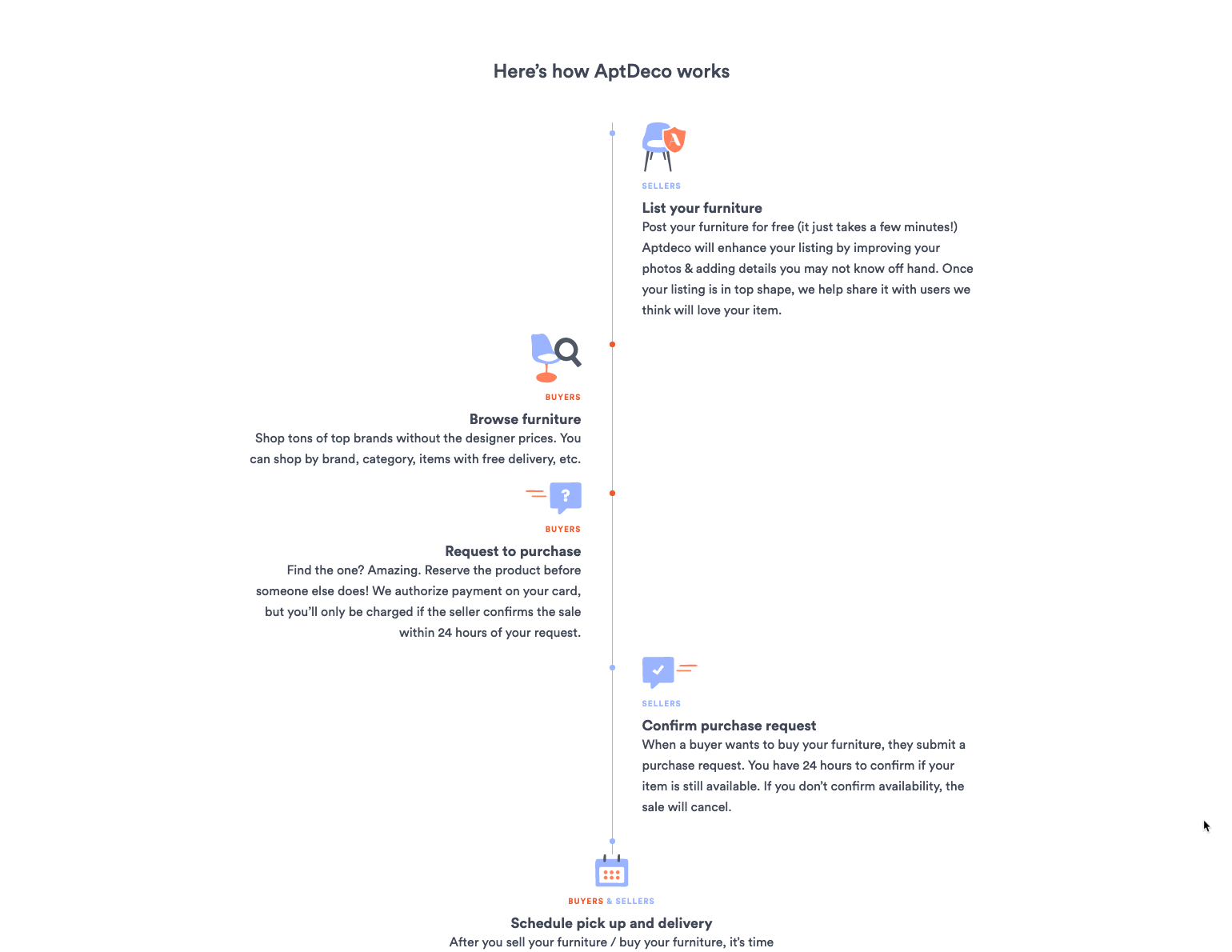 What's amazing about it:
Did you know that over 80% of furniture is landfilled after it's been discarded. AptDeco is trying to solve this, by making the furniture industry circular. Traditionally, the use of furniture is linear. We use it, we love it, we live with it, and then, whether we're growing, moving, upgrading, etc, we dispose of it. Instead of ending the life cycle at one use, AptDeco has created a platform where furniture can continue to stay in circulation.
AptDeco made design thinking, user research and experience their focal point to help them land investors and scale their product. Their beautifully designed website let's you browse high quality listings with images that are well shot and composed and feel almost like native products on an Ecommerce website.
I particular love the smooth shopping cart flow that makes it clear what's going on every step of the way through your transaction. It's the classy Craiglists without the creepy.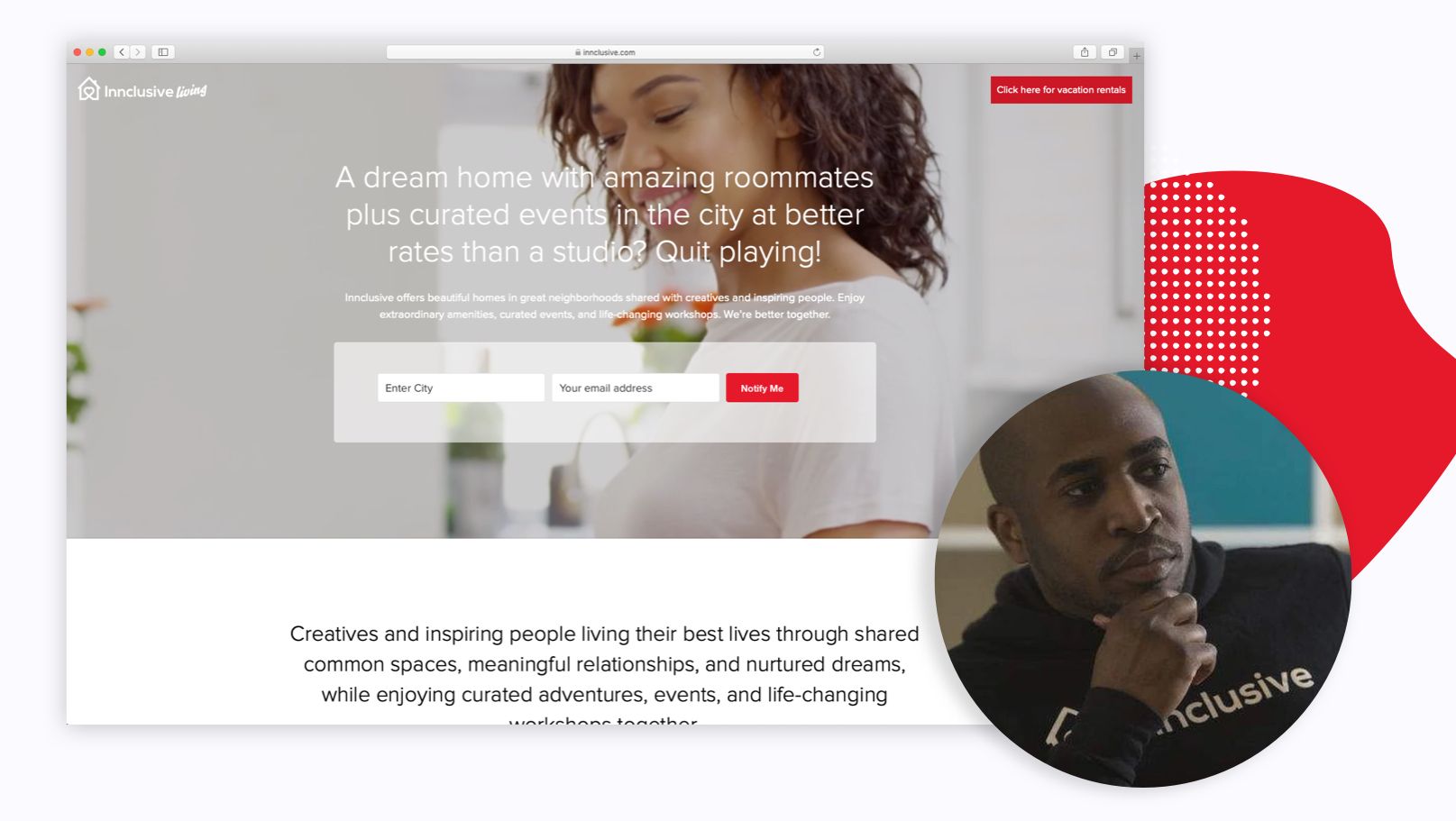 What is it: Airbnb style, peer to peer lodging for the minority community.
HQ Location: Tampa, Florida
Who owns it: Rohan Gilkes, CEO & Founder
A fellow West Indian, Rohan was born in Barbados and got a taste of the entrepreneur life early on. He became a 'lettuce paper boy' of sorts when he was 9 and joined a group of other kids that picked up lettuce from a local woman on Sundays and biked around the neighborhood selling it for $1 a head.
"Our take was 25 cents per sale.  A 25% affiliate payout. Not bad at all!" - Rohan Gilkes
Since then, he's journeyed through corporate life, startup life and now finding purpose with his work at Innclusive and continuing his early entrepreneur lifestyle with other companies.  
After the allure of getting hired at a new prestigious company would wear off, I would set off on my plan to find a job at a better company.  Only after doing this a couple times did I realize I would never find happiness in this type of situation.  Plus accounting definitely wasn't for me.  I needed to get back to the hustle that I enjoyed so much when I was younger.  And off I went.
- Rohan Gilkes
What's amazing about it:
It may not be something that first comes to mind, but the Innclusive platform was born after Rohan experienced discrimination while booking a vacation through Airbnb (Note: Airbnb has since changed their policy in an attempt to address this).

Innclusive attributes this to hosts seeing the names and photos of guests before accepting the bookings. To remedy this, the Innclusive platform removes this opportunity for discrimination by introducing the photo only after the booking is confirmed.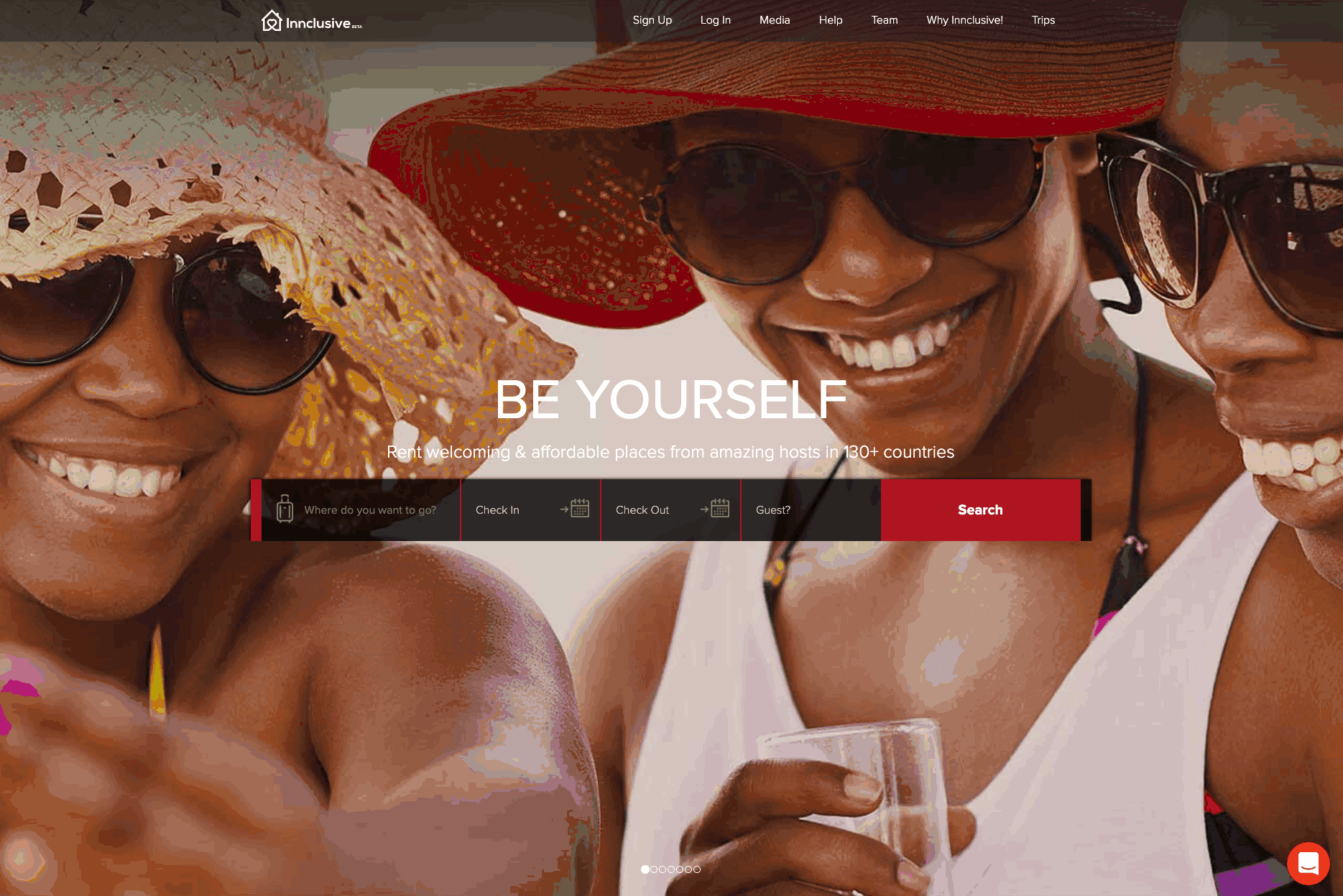 They use their branding and imagery to intentionally reflect a very diverse audience and this has been shown to reduce the likelihood that someone that is likely to discriminate would list their properties there in the first place.
The name is super clever too!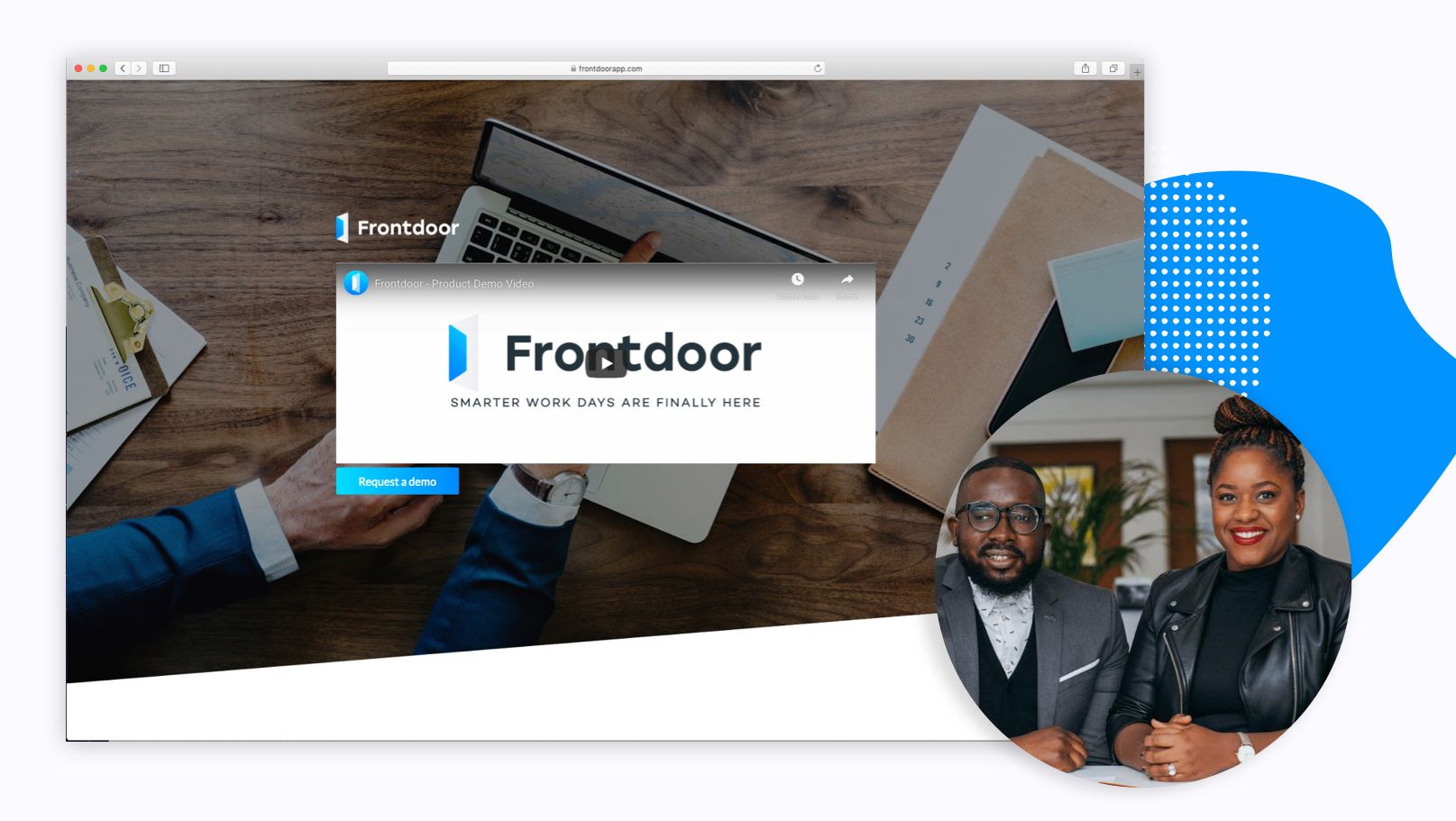 What is it: Frontdoor simplifies work for real estate professionals and helps them to automate and manage their business transactions. It focuses on real-time data, productivity, and user experience. Frontdoor's mission is to power the future of business intelligence and the betterment of the communities they operate in.
HQ Location: New York, New York, United States

Who owns it: Alain Kapatashungu and Emilie Kapatashungu. Co-Founders
Wife and husband co-founders Emilie and Alain met in Lyon, France, while both getting their master's degrees. With a background in real estate marketing, Emilie noticed agents spending many hours manually collecting information on online prospects, without any data to help them understand their clients better. They decided they could solve this issue by creating a product that extracted the data for them. [3]
We decided early that a percentage of Frontdoor revenue will go towards a fund that helps eradicate homelessness. For every subscription sold, meaning that every time an agent buys a Frontdoor paid plan, we'll directly give a percentage to a housing fund for homeless. Businesses must lead the charge by evolving their business models to the benefit of the entire community they're building, growing and evolving in.
- Alain Kapatashungu

What's amazing about it:
Frontdoor is a SaaS platform that is hyper-focused on creating a delightful user experience for real estate professionals and giving back to their community. Their user-centered design philosophy shapes how they think, design, market, and support their customers. A platform that combines social insights with agents' workflow so they can automatically see who their online leads are, where they're based and what they do has enabled agents to increase conversions by over 3x compared to other services and save them up to 7 hours per week. They are taking real estate agent and customer experience to a new level of authenticity while uplifting the communities around them.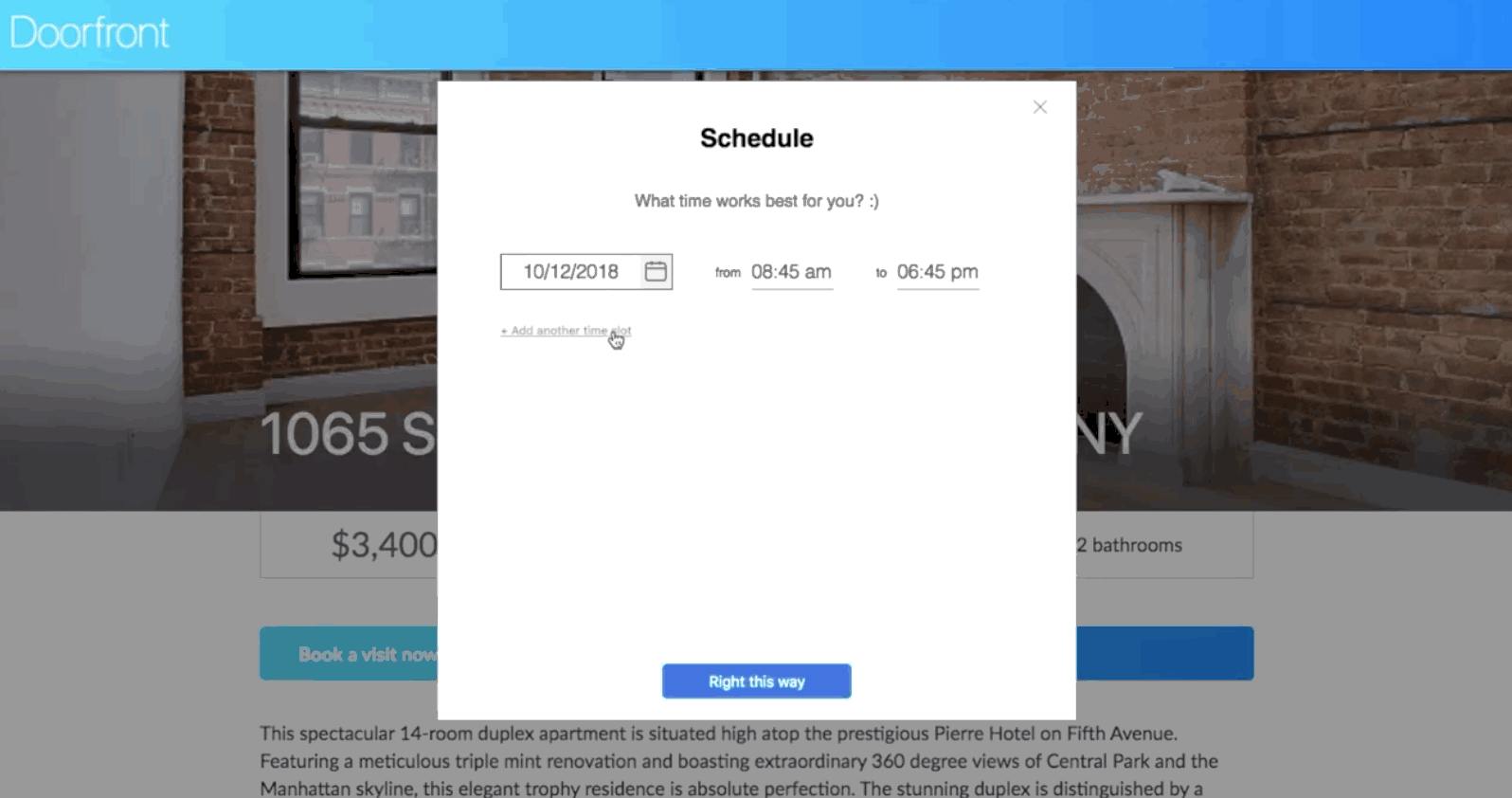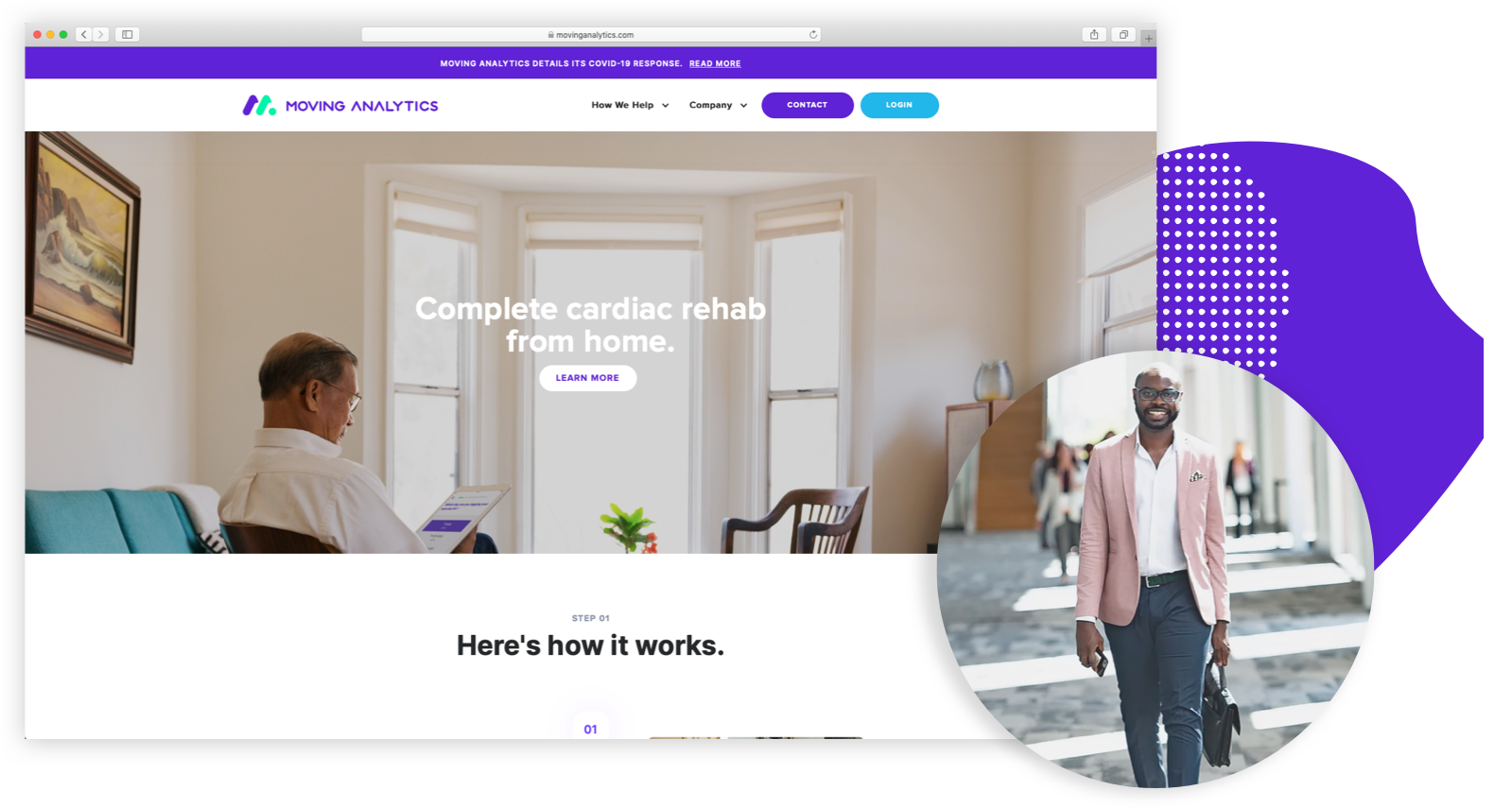 What is it: Complete cardiac rehab from home.
HQ Location: Los Angeles, California
Who owns it: Ade Adesanya, President & Co-founder
Nigerian born Ade credits his parents with instilling a sense of principles in him and influencing his career path in life.
His father, who started one of the leading utility software IT companies in Nigeria out of their 3 bedroom apartment, introduced him to the world of entrepreneurship at an early age and informed his personal values.
Start with empathy. The ability to gain a clear understanding of other people's needs, aspirations and goals is the most important skill you can possess.
-Ade Adesanya
What's amazing about it:
80 percent of people with heart disease don't have access to life-saving cardiac rehab, and Moving Analytics is trying to solve that. Their aim is to empower everyone with heart disease to recover from the comfort of their home through their technology.
The process starts with a complete clinical evaluation and a tailor-made program. It connects to an app where you can log vitals, symptoms and other concerns you have each week and is directly linked to your care manager for review.
Long term, Ade wants to create 1 million middle-class jobs in Africa through entrepreneurship, education and venture capital.
You'll need to contact them directly to gain access to their offerings, but I love that their website and blog is a wealth of knowledge including published studies about heart health and more.
What is it: Streamlytics uses data science to measure what content users are watching and listening to across streaming platforms and aggregate it into actionable insights.
HQ Location: Culver City, California
Who owns it: Angela Benton, Founder & CEO
Angela is a Silicon Valley entrepreneur that began her career as a designer and after working in a variety of positions including as a web designer, creative director, and front-end developer she became an advocate for diversity in the technology industry working to raise awareness around the inequalities that exist. In 2011 she founded NewME (acquired), the first accelerator globally for minorities. Through her leadership NewME has accelerated hundreds of entrepreneurs helping the nascent companies to raise over $47 million in venture capital funding. Prior to that she launched BlackWeb 2.0 in 2007, a multimedia platform which filled a much-needed void by becoming a vital nexus for African-Americans interested in technology.
I think it's really important to find what you are passionate about and work on it. At some point you will have to do a lot of planning for the business and there will be ups and downs; passion will come in handy to keep you going.
-Angela Benton
What's amazing about it:
At first glance, it sounds like it might be another platform that mercilessly collects and shares your private data, but Streamlytics only shares information from users that opt-in and those users are compensated for sharing their data. They also create a data license that the users' own, ensuring that the user is the owner of his or her data.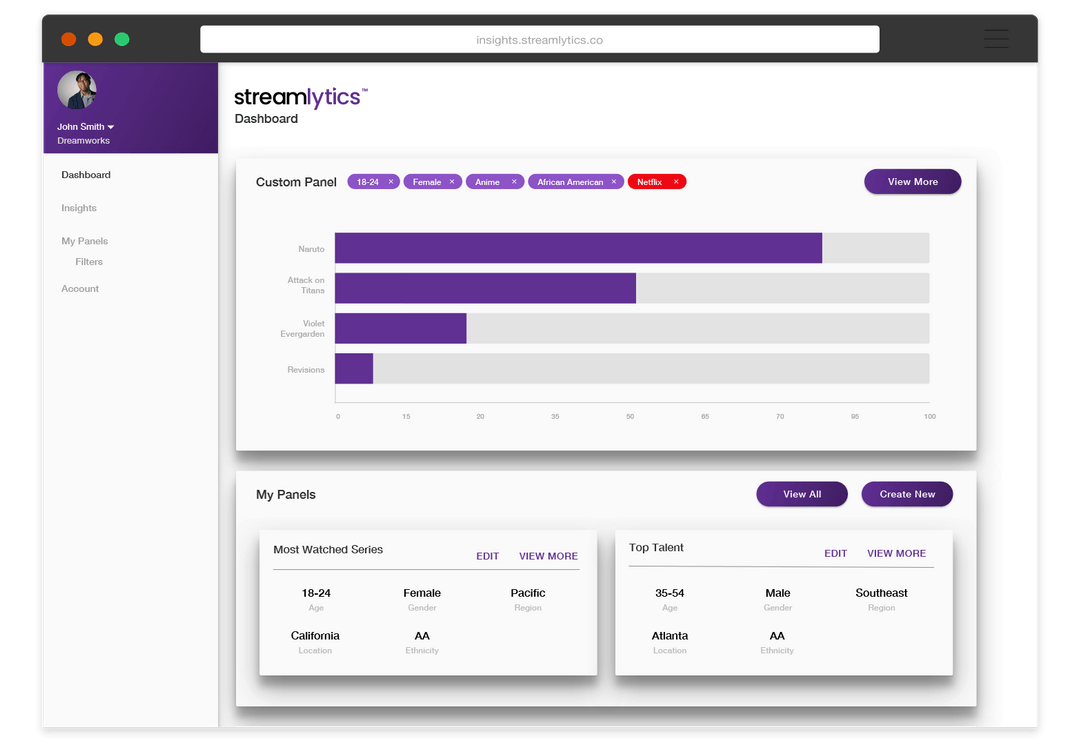 Users always have the ability to download all of their data from our service and use it as they please.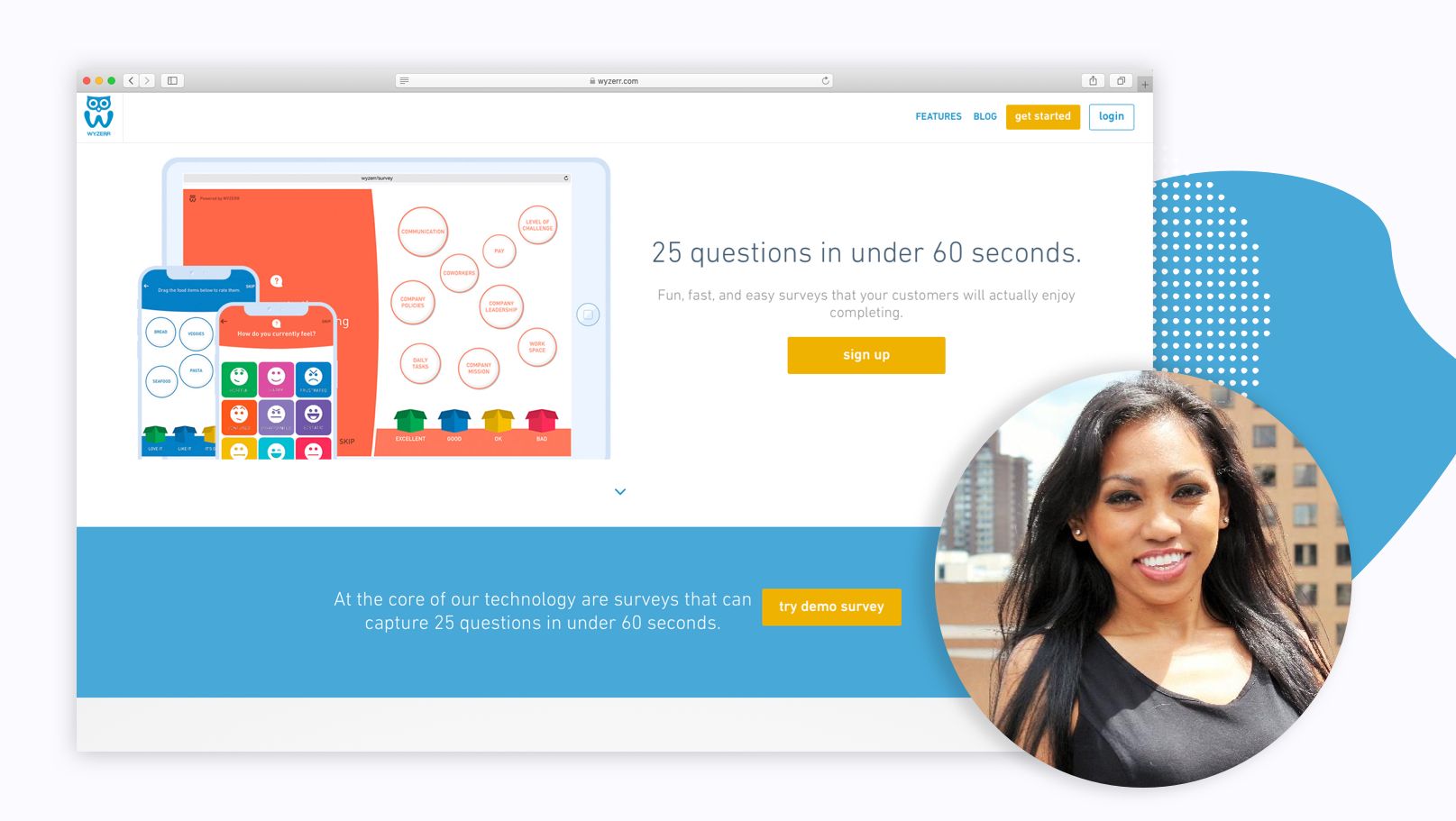 What is it: Fun, fast, and easy surveys that feel like games that your customers will actually enjoy completing.
HQ Location: Covington, Kentucky
Who owns it: Natasia Malaihollo, Founder & CEO
Indonesian founder Natasia Malaihollo was born in Ambon and moved to Southern California with her parent's at the age of 1, She went on to study law at Berkeley and spent several years as a patent specialist in Silicon Valley and Washington, D.C., prosecuting patent applications for major tech companies including IBM, Samsung, and Fujifilm.
Through her work for these startups and large tech firms, Malaihollo was inpired by the innovation and ideas she witnesses and eventually decided to try her hand at entreprenuership. After 1 failed startup, she founded Wyzzer, which is now available in various regions in Asia. The company is working to expand further, into the Indonesian market and beyond.
The most important mindset for an entrepreneur is just to have hope and faith in the process... Hopelessness is the worst thing that can happen to an entrepreneur. Continue to believe and do what you can to make sure that I have hope... Some days hope is just a little flame but that's enough.
-Natasia Malaihollo
What's amazing about it:
At the core of their technology are surveys that can capture 25 questions in under 60 seconds in a gamified way. This data enables businesses to make better operational decisions rooted in customer and employee feedback.
They recognize that people want to be heard, not bored. And business leaders want instant access to insights they can act on, not endless reports they have to study.
Used in industries like airports for passenger feedback, in cities to understand how both locals and visitors experience a town and in hospitality to help create a customer experience that is rooted in personalization.
Wyzzer isn't about getting ALL THE FEEDBACKS, it's about getting the right feedback. Running on the philosophy that sometimes, customers really don't know what they want, Wyzzer aims to apply science to finding the correlation between what customers say and whether or not it actually affects their bottom line and customer experience. It makes enterprise-level market research available to and digestible to everyone.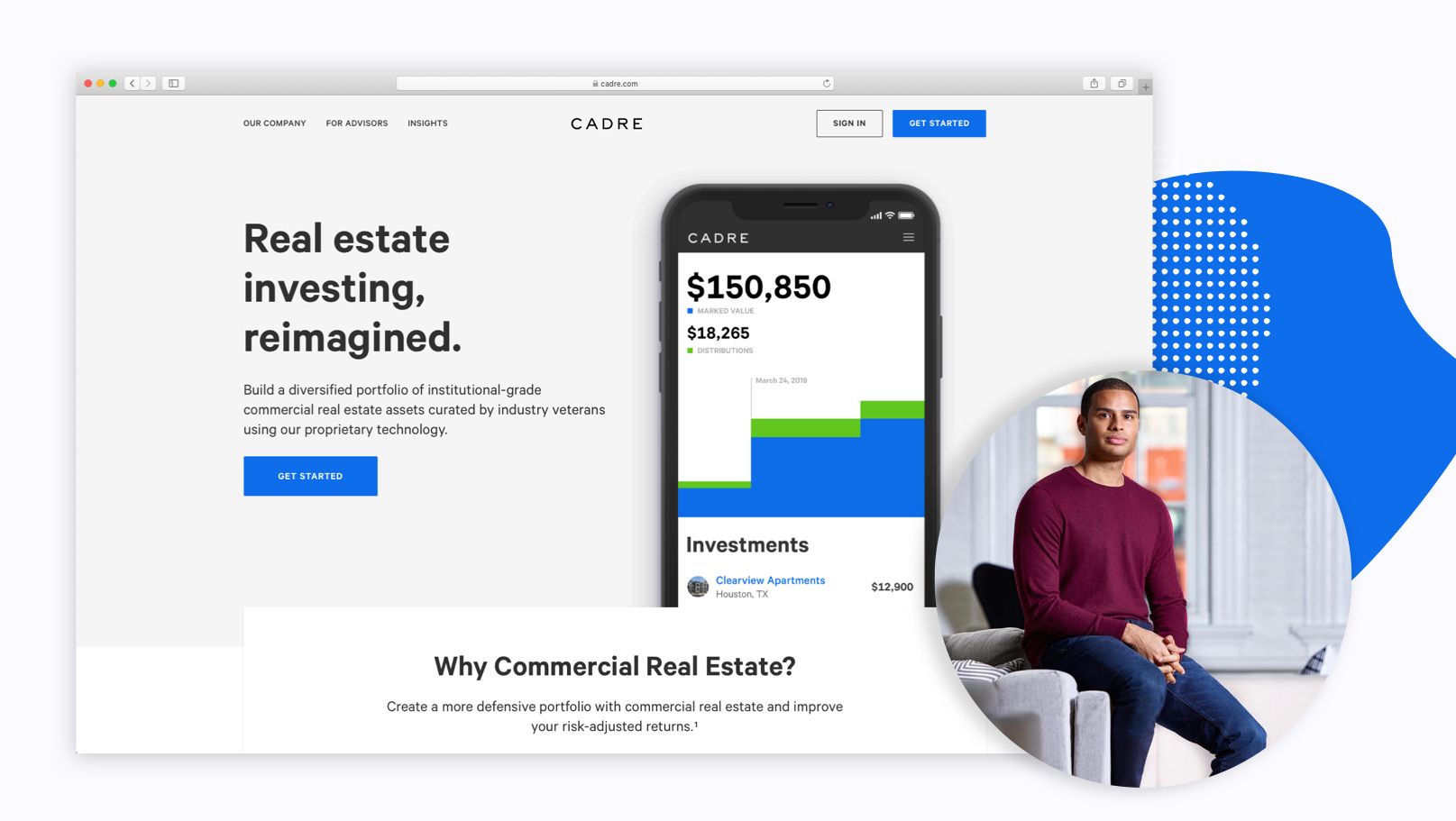 What is it: Build a diversified portfolio of institutional-grade commercial real estate assets curated by industry veterans.
HQ Location: New York, New York
Who owns it: Ryan Williams, Co-Founder & CEO
Williams, grew up in a working-class household in Baton Rouge, Louisiana, he views his background as an opportunity to reset preconceived notions.
"At the end of the day, it's about results and what you're able to deliver," Williams said, "not about the color of your skin, not your sexual orientation, not your socioeconomic background."
Williams worked his way through Harvard University and launched his first real estate company during his senior year there. After stints at Goldman Sachs and Blackstone, Williams started Cadre in 2014 as a digitized real estate investment platform. Cadre's mission is to level the playing field in an industry that is often tilted toward the biggest players. [1]
What's amazing about it:
Individuals, groups and institutions willing to invest at least $50,000 can comb through vetted real estate projects listed on Cadre's online marketplace. Cadre promotes access and smarter ways to invest through machine learning and statistics that provide analytics for real estate investors.
Sidebar: There has been controversy surrounding Jared Kushner being an early investor of Cadre. However, Williams has stated that Kushner no longer owns considerable shares and has no involvement in the company.
I appreciate the UX of the onboard flow that let's an investor or financial advisor understand if they qualify to engage in this type of business and get started.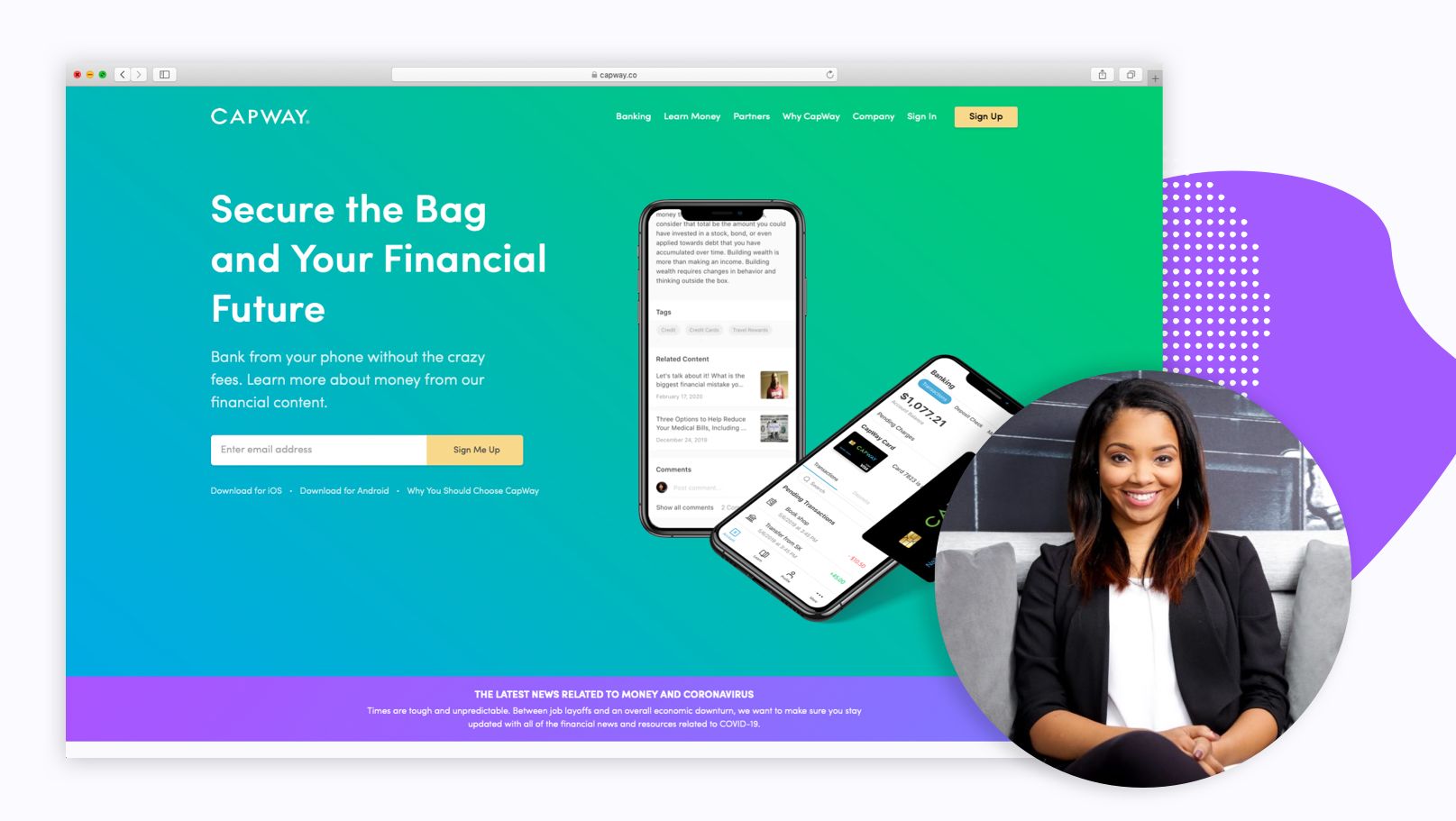 What is it: Capway let's you bank from your phone without the crazy fees and learn more about money from financial content.
HQ Location: HQ: Austin, Texas
Who owns it: Sheena Allen, Founder & CEO
From a small town in Terry, Mississippi, Sheena started her first tech company in her senior year of college. The University of Southern Mississippi alumna studied Psychology and Film in school, but has always had an interest in better understanding money.
"I think a lot of people don't really understand the psyche, the psychological mindset behind a lot what goes on when you're part of that lower-income community," Allen said.
With little tech experience Allen has since developed into an app machine, with five apps under her belt to date. In 2016, Allen had the idea to create an app that organizes money and spending.
I come from what is considered a banking desert. I wanted to see what can I do to use that technology to change it. And so my journey into CapWay came from what I grew up personally knowing; that once you get so deep into the cycle of the predatory economy, it's tough to go out of it.
-Sheena Allen
What's amazing about it: Capway focuses on the unbanked and underbanked millennials. Her original thought was to build something to disrupt the industry entirely. But it changed once she did research, to focusing on what she could build to stop the next generation from entering this world.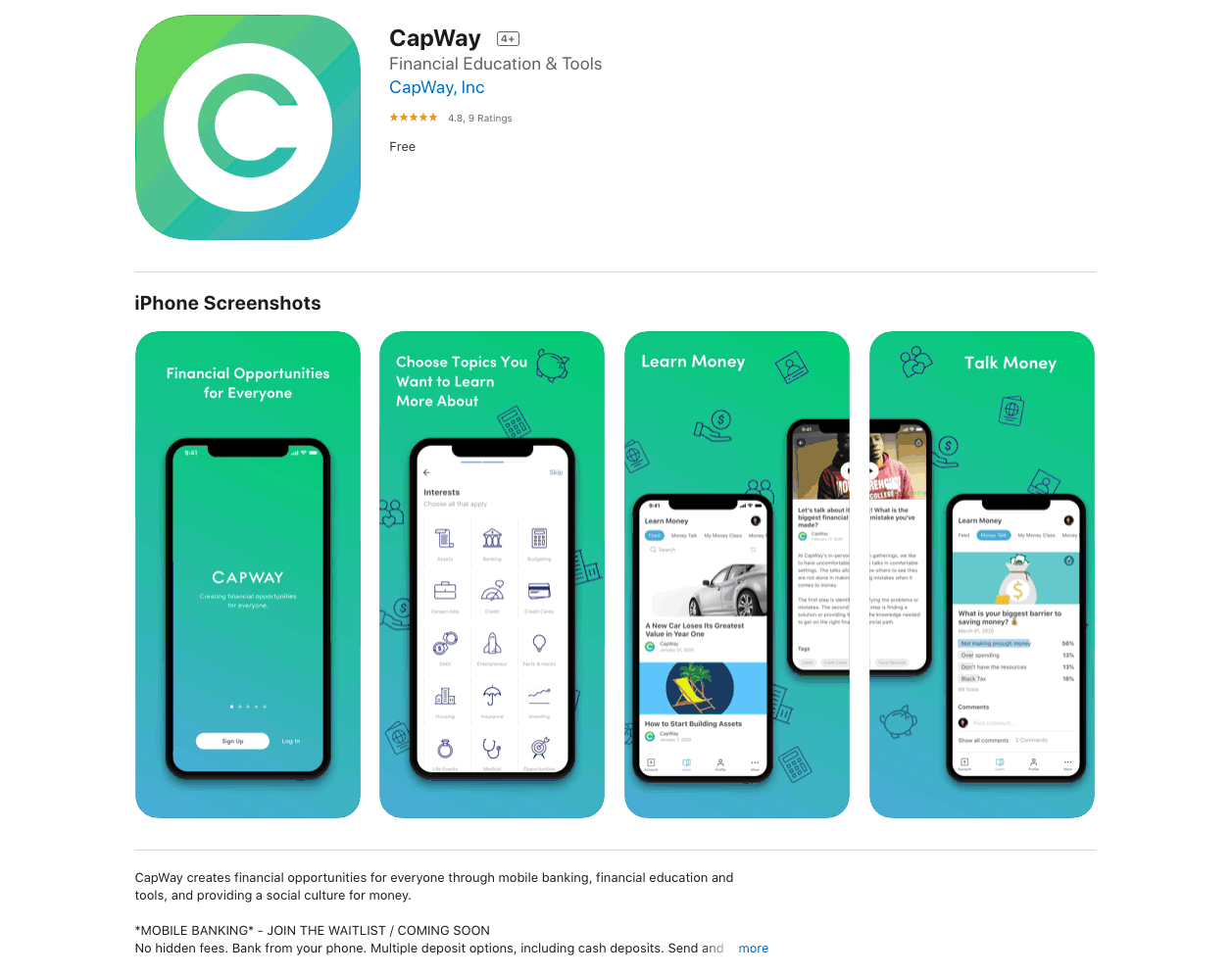 A clean, easy to use and well designed app. Capway is about giving millennials the access and opportunity earlier on so that they don't have to meet the same type of fate their parents and their grandparents have. [4]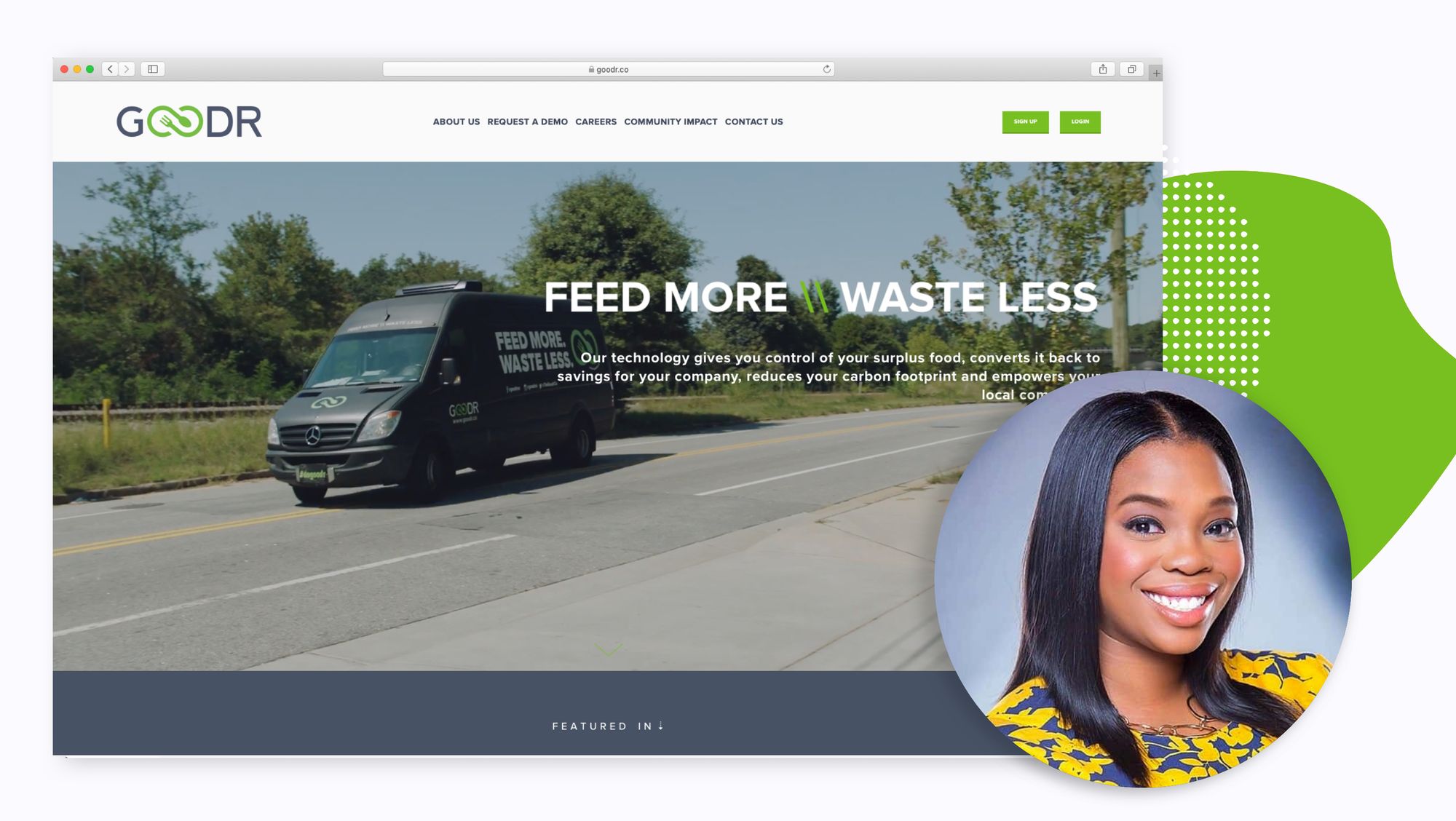 What is it: Feed more, waste less. Goodr gives you control of your surplus food, converts it back to savings for your company, reduces your carbon footprint and empowers your local community.
Goodr is a real-time food rescue app that connects businesses with local charities to arrange deliveries of leftovers to people in need. The company uses blockchain technology to keep a data ledger for clients to track their food waste and know where they can save money.
HQ Location: HQ: Atlanta, Georgia
Who owns it: Jasmine Crowe, Founder & CEO
She grew up as a military kid all over the county moving every year until high school, she claims home as North Carolina where she went to college.
She was in school for broadcast journalisms due to her love of sports. She was impacted by service and was involved in starting many campus organizations.  
She started an initiative in college to help the homeless experience dining with dignity so she would starting in Atlanta she starting taking tables hsairs linens and printing our menus and opening up pop-up restaurants for the homeless under bridges there. Here efforts went viral on social medua and peopk started to ask who was donating the food 'No one is was just me, clipping couping, price matching etc..' This got her thinking about the bigger problem at hand.
"As a black female founder of a tech company, it wasn't an easy feat getting people to believe in my business," Crowe said. "Even when I was trying to find app developers they were like, 'I don't think it makes sense, I don't see how it's going to make money. It's a good idea, but it's not scalable.'" "I heard 'no' so many times, but I didn't get defeated because what I was fighting for was worth it: I believe that everybody deserves to eat." [4]
In January 2017, she launched Goodr, a food waste management company to great success among the naysayers.
What's amazing about it:
Goodr believes that hunger isn't a scarcity issue. It's a logistics issue. Even with many social programs that aim to end hunger, the current food supply chain ecosystem in the United States has failed to solve this problem which has grown into a national epidemic. Every year in the United States, we waste over 72 billion pounds of edible food, yet 42 million people are suffering from food insecurity. At the same time, over $40 billion in tax benefits for businesses goes unclaimed annually. They believe the solution is simple: Feed more, waste less.
The Goodr model aims to provide a triple-win solution by improving an organization's bottom line through charitable tax donations, reducing its greenhouse emissions from landfills and getting its edible surplus food to local communities in need.
Goodr is a real-time food rescue app that connects businesses with local charities to arrange deliveries of leftovers to people in need. The company uses blockchain technology to keep a data ledger for clients to track their food waste and know where they can save money
I love that Goodr is looking at a systemic problem from a different angle, focusing on the problems with food distribution holistically and what can be changed in the lifestyle of a supply chain by leveraging cutting edge technology, like blockchain, to create a real, measurable impact.
At the time of writing Goodr has run out of funding and is no longer accepting requests for food. If you feel so inclined, here's where you can reach out to inquire about offering your support.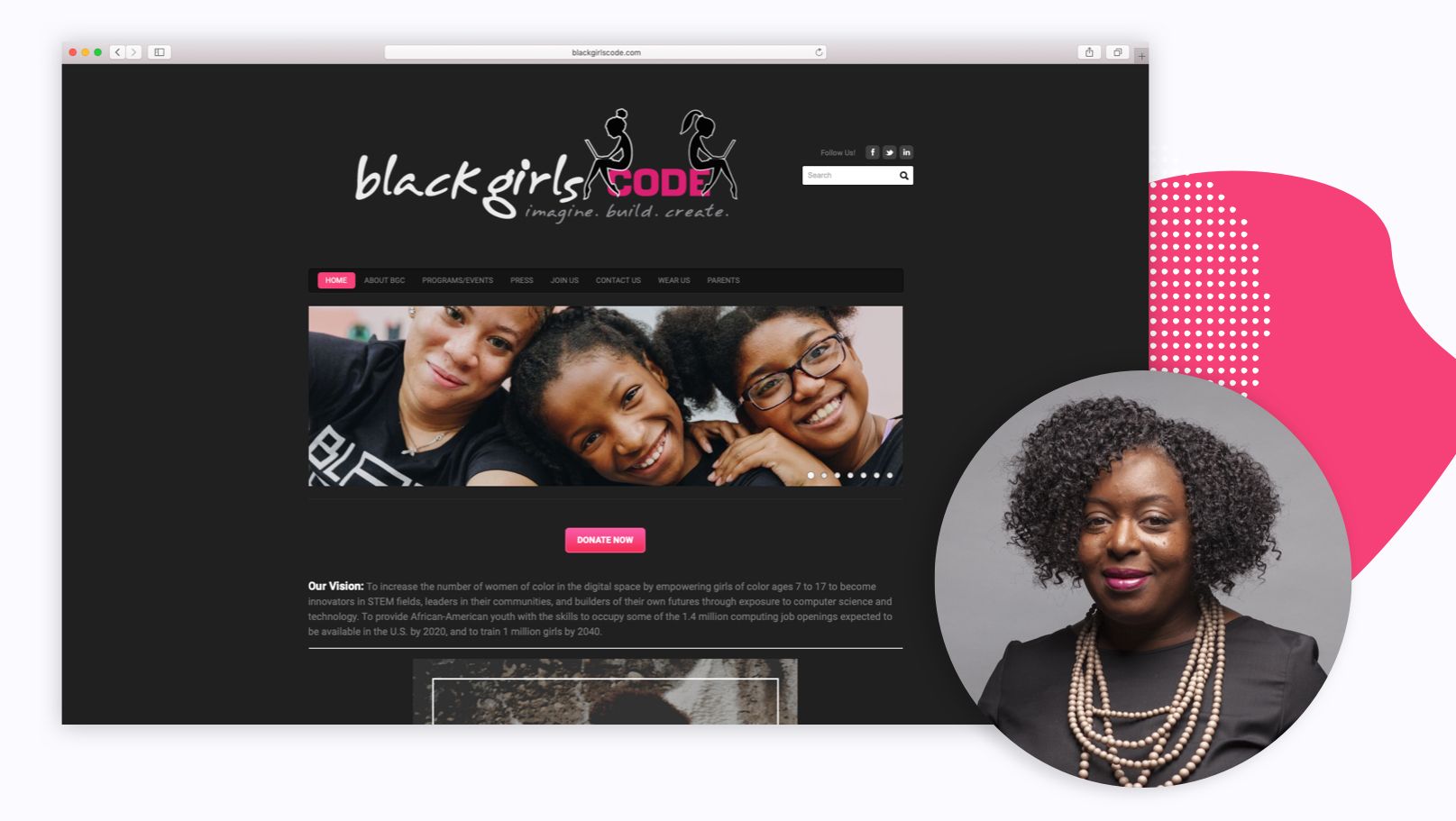 What is it: Black Girls CODE introduces computer coding lessons to young girls from underrepresented communities through workshops and classes that teach programming languages such as Scratch or Ruby on Rails. Black Girls CODE has set out to prove to the world that girls of every color have the skills to become the programmers of tomorrow with an incredible goal of training 1 million girls by 2040!
HQ Location: Oakland, California
Who owns it: Kimberly Bryant, Founder & Executive Director
Kimberly Bryant came to the Bay Area to work in the biotech industry as an engineer from Memphis, Tennessee. Bryant was fortunate enough to manage to avoid the stereotypical narrative of being the only black female in an a 'mostly male, mostly white' company until her daughter Kai decided to pursue a degree in computer science from Stanford and her classroom fit the 'mostly not her' picture to a tee. Kimberly, who was looking to leave corporate America a start her own health-tech business at the time finally experienced tech at it's un-finest with meet-ups and events full of mostly white men.
"I was afraid that if my daughter stuck with it and kept looking around and not seeing anyone in her classes who looked like her, she'd get the message that this wasn't for her," Bryant said."
-Kimberly Bryant
That year Bryant started teaching her daughter and a small group of her friends to code. This group went on to become the foundation for Black Girls CODE. Bryant's company was met resistance and ignorance about from the investors she approach who couldn't see the importance of what she was trying to create. It wasn't until companies like Pinterest started to publicly reveal diversity (or lack thereof) numbers in 2012 that people started to take notice and see the issue she was aiming to address.  
What's amazing about it: I remember hearing whispers of amazing things in 2011-2012 about the workshops and community programs that were teaching young girls of color to be badass programmers. The digital divide that these women of color face in the tech world is a deep chasm and one that needs great care, attention and support to nurture and build. Many of these products by brilliant black women would not even be possible without programs and initiatives like this.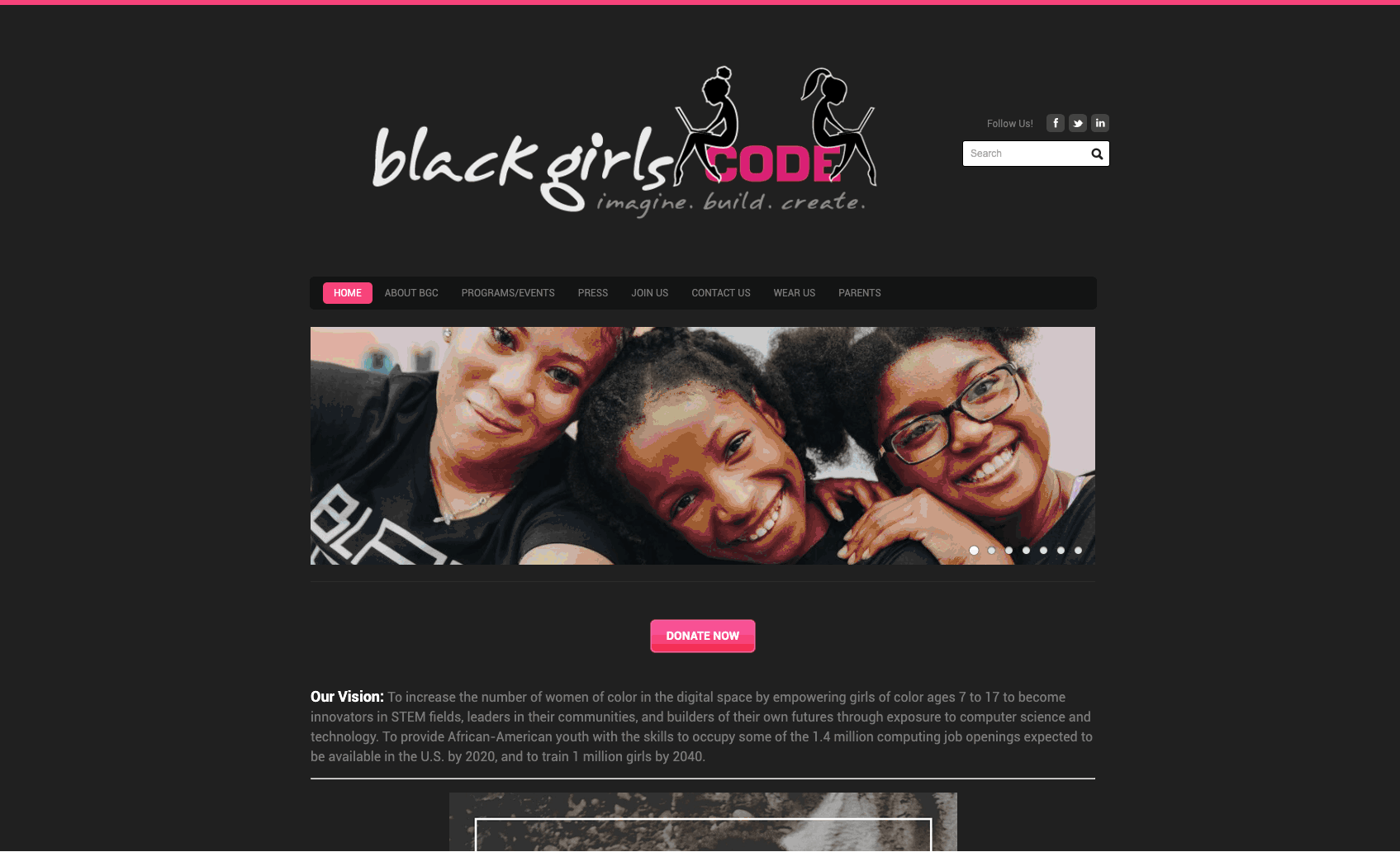 Being a woman of color in tech myself, this one is very dear to my heart. Learn more about the positive impact that Black Girls CODE is having, what they are really up against in the tech world and the greater society at large and how you can help raise these voices through your support!
Let's keep it going!
I encourage you to continue the conversation, get educated, read the stories of these founders and show your support by investing in products, apps and causes that support and uplift the black community and other underrepresented populations. Better yet, think about the possibilities and impact you could have as a person of color in the field of tech founding your own products like these! Come and see how you can learn UI/UX and Product Design from a mindful perspective taught by person of color at DesignerUp. Let's prevent the hashtags from dying down and the momentum of the Black Lives Matter movement from being drowned out by the next global distraction or collective hum and let's make sure that if it does, business does not go back to usual, but to someplace new, someplace better, someplace more colorful.

Sources:
[1] Meet the 31-year-old African American CEO aiming to revolutionize real estate investing
[2] Sheena Allen, Founder of CapWay
[3] These Cofounders Want To Bring Back The 'Romance' Between Real Estate Agents And Clients
[4] Jasmine Crowe: A "do-goodr" who rescues and delivers food to the hungry
[5] How a Creepy Incident Prompted AptDeco's CEO to Launch Her Startup