Having been a freelance designer for the majority of my career. My workspace has always been an integral part of my home. With so many of us now experiencing this blend of work/home life. I thought I'd invite you in to tour my desk and see my work from home setup and all the physical items that I use as a product designer every day to keep me sane, balanced and productive.
I'll be including some affiliate links (from which I receive a small commission) throughout the article incase you're interested in purchasing any of the items yourself to spruce up your own desk setup and workspace.
I've always found that my external environment tends to mirror my internal one and because I spend so much time here, it's important to me that my space feels clean, light, uncluttered and convenient and that's it's flexible for the different types of work I do.
I recently upgraded my main machine from an external Apple Cinema display and Mac Book Pro laptop to a 27-inch iMac with Retina 5K display and let me tell ya, 5k is a lot of K.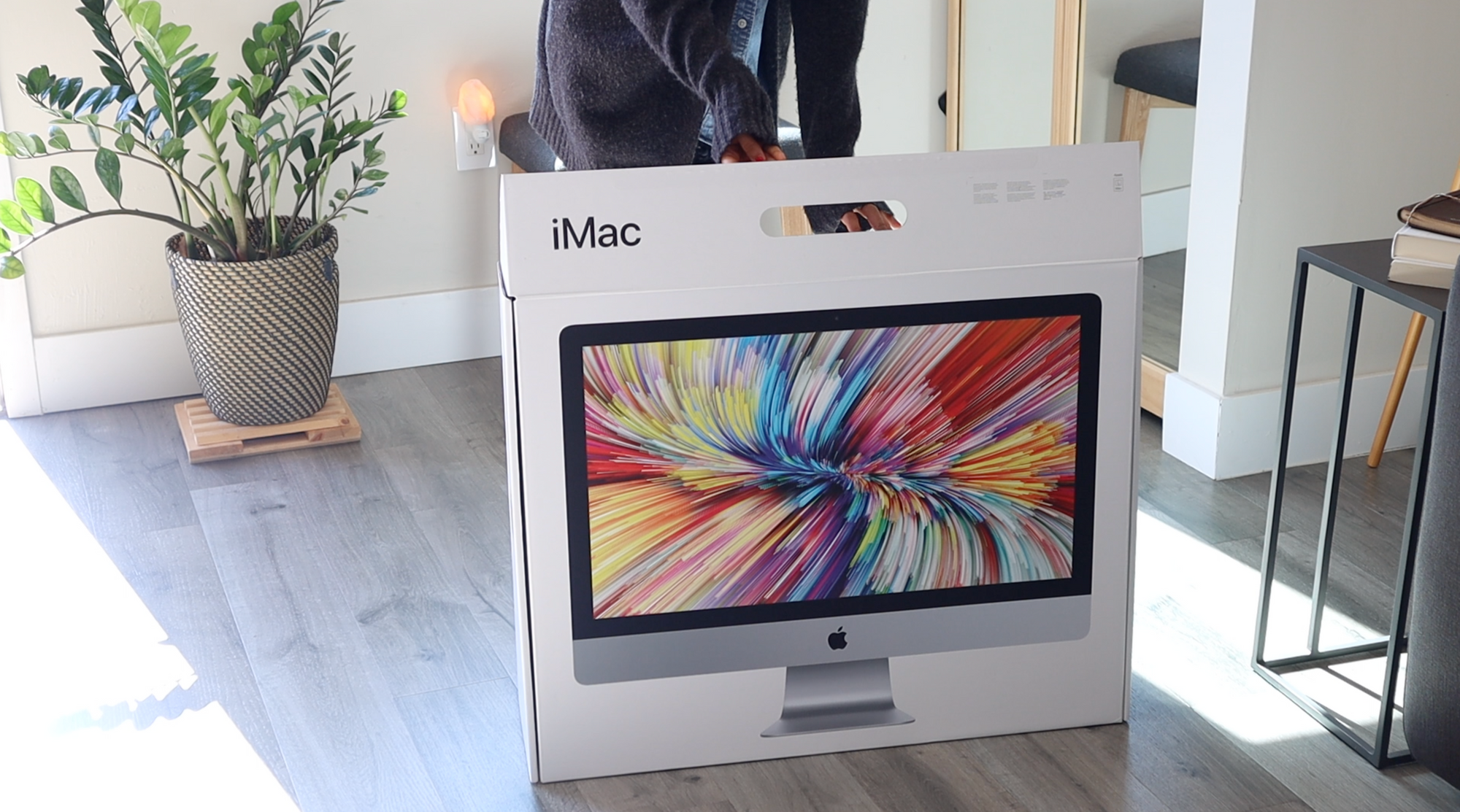 I also received some amazing products from Grovemade that completely elevated my desk setup. I chose them because of their natural, warm, and organic look and hand-crafted style.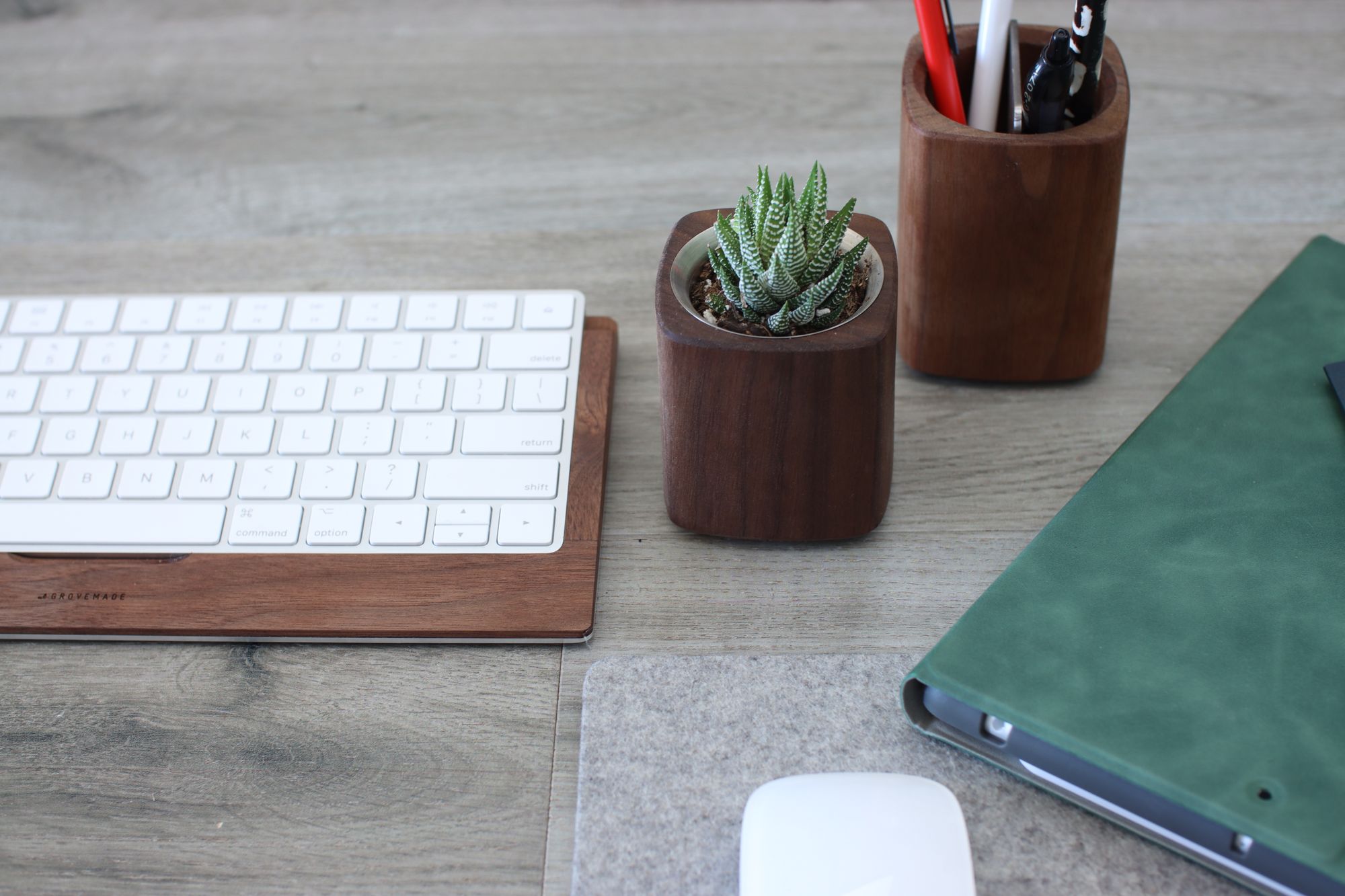 The first item that I got from Grovemade is a monitor stand. The smooth handcrafted contours of these beautiful walnut desk items add an aesthetically pleasing architectural and functional element to my desk. Having your monitor aligned at eye level is so important for spinal health. Ergonomics and posture matter.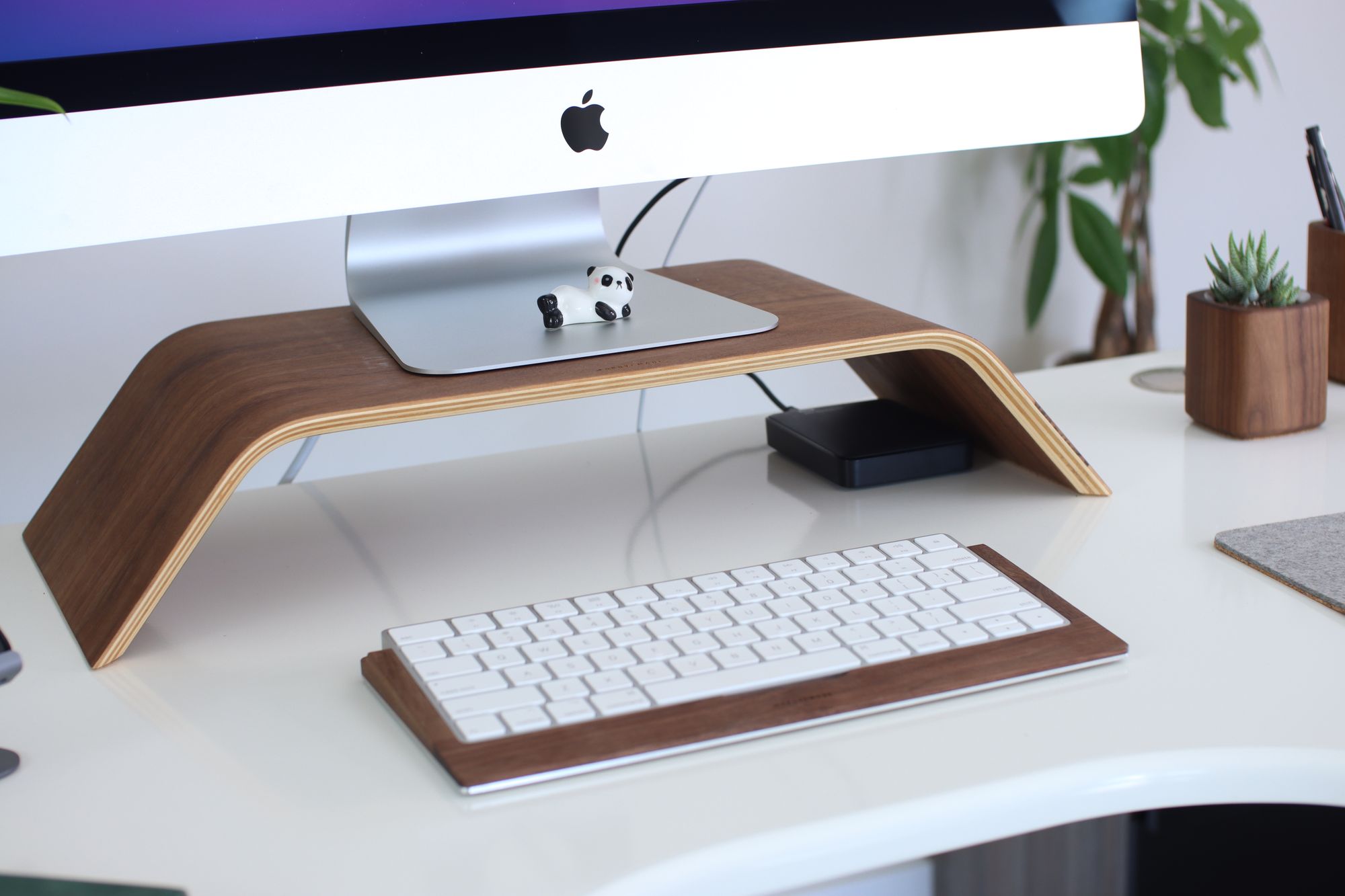 Because I spend a lot of time, typing, writing, and designing, I also opted for this Apple keyboard trayfelt to give me a little added support as well as style.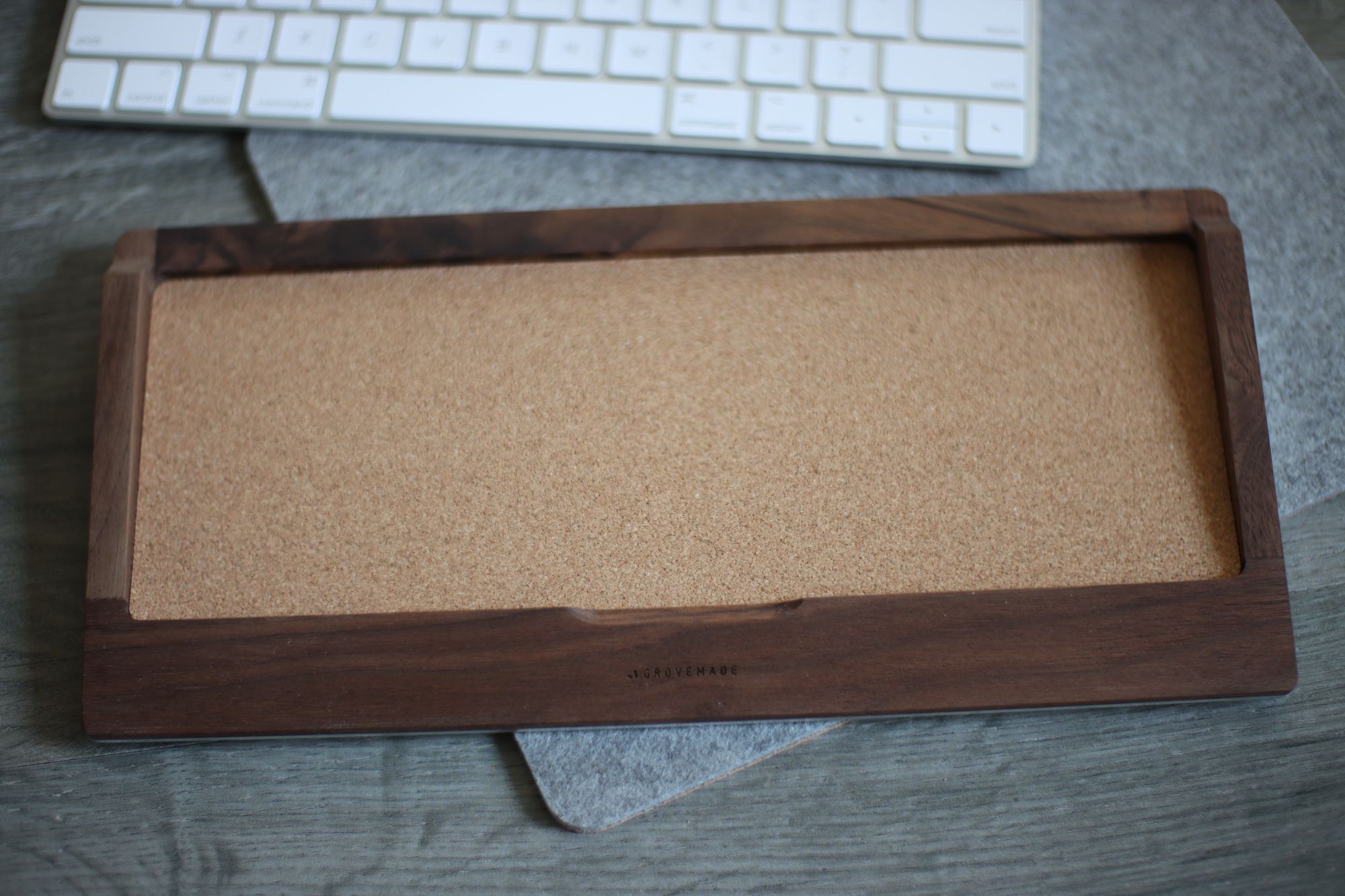 I also picked out this light gray, wool, felt mousepad that adds a little contrast of texture to my desk.
Plants are so energizing and bring life and color to my space and so I collected this adorable succulent to place into the elegant little planter.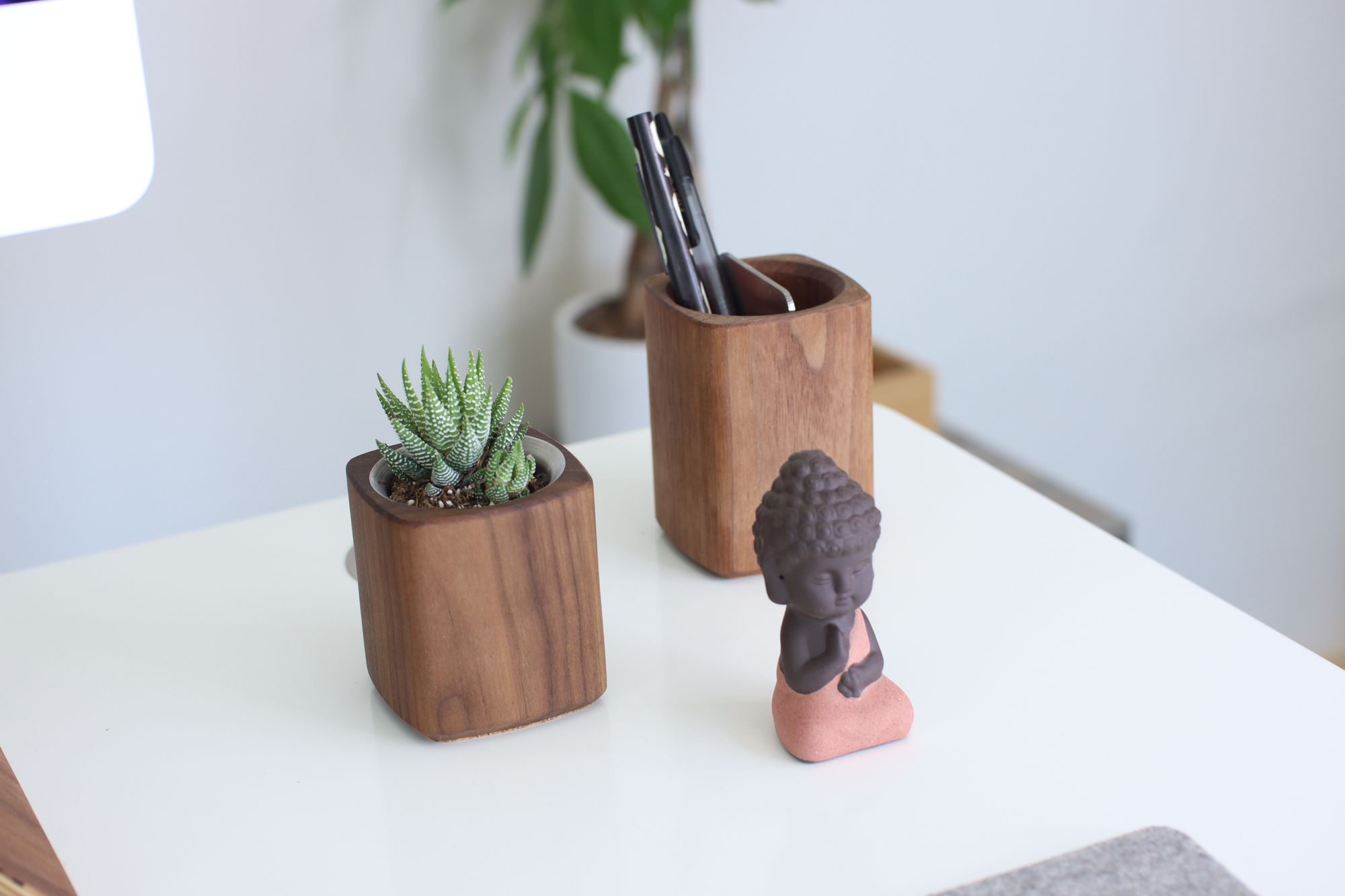 My pens live here in this lovely double-sectioned pen holder and of course, baby buddha reminding me to stay present and mindful.
Over on my filing cabinet, I have a money tree in this minimalist white pot from Amazon. On top, I have a little bamboo box that I mostly keep my SD cards in.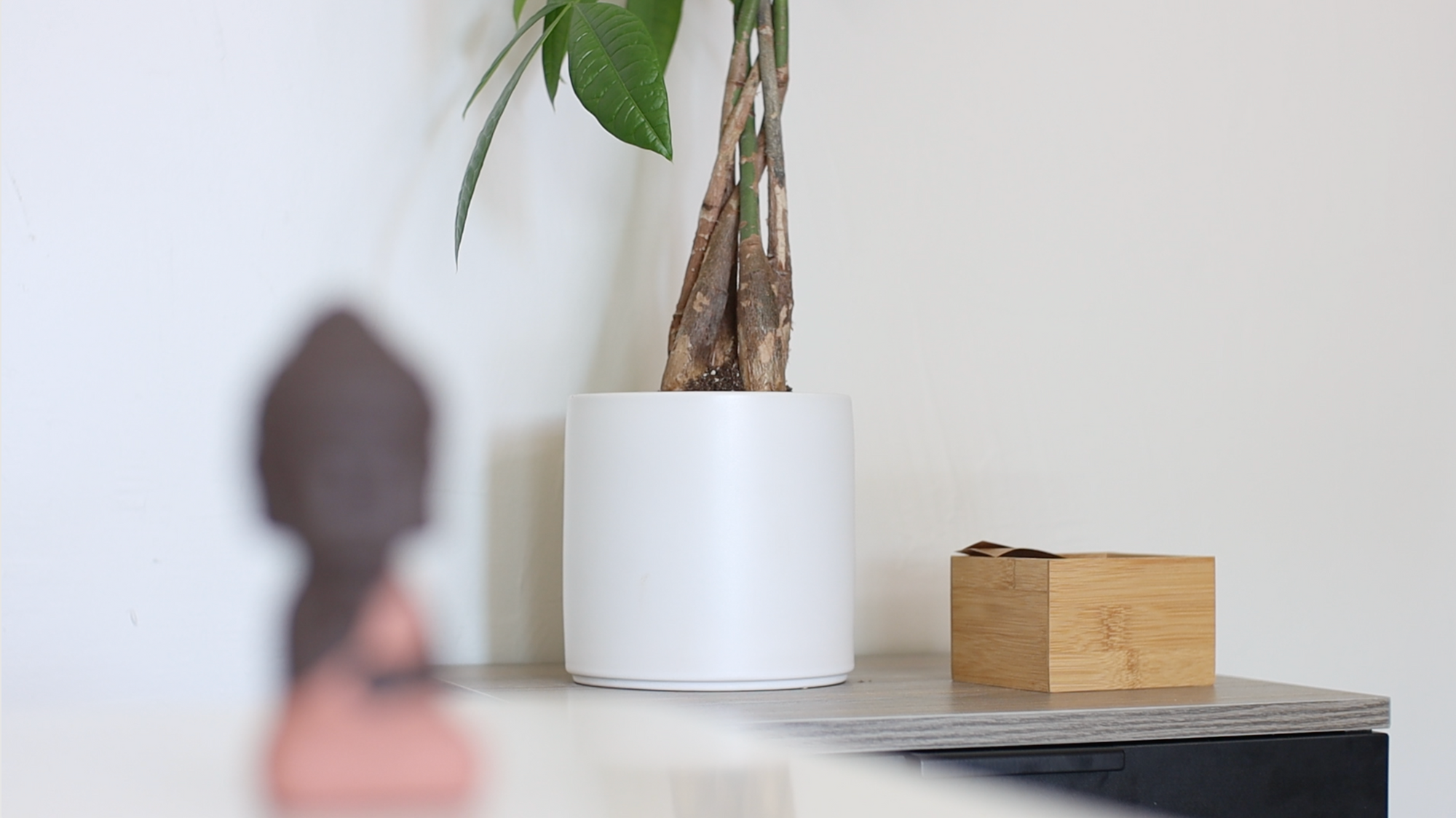 I tend to do a lot of my sketching and wireframes on my iPad.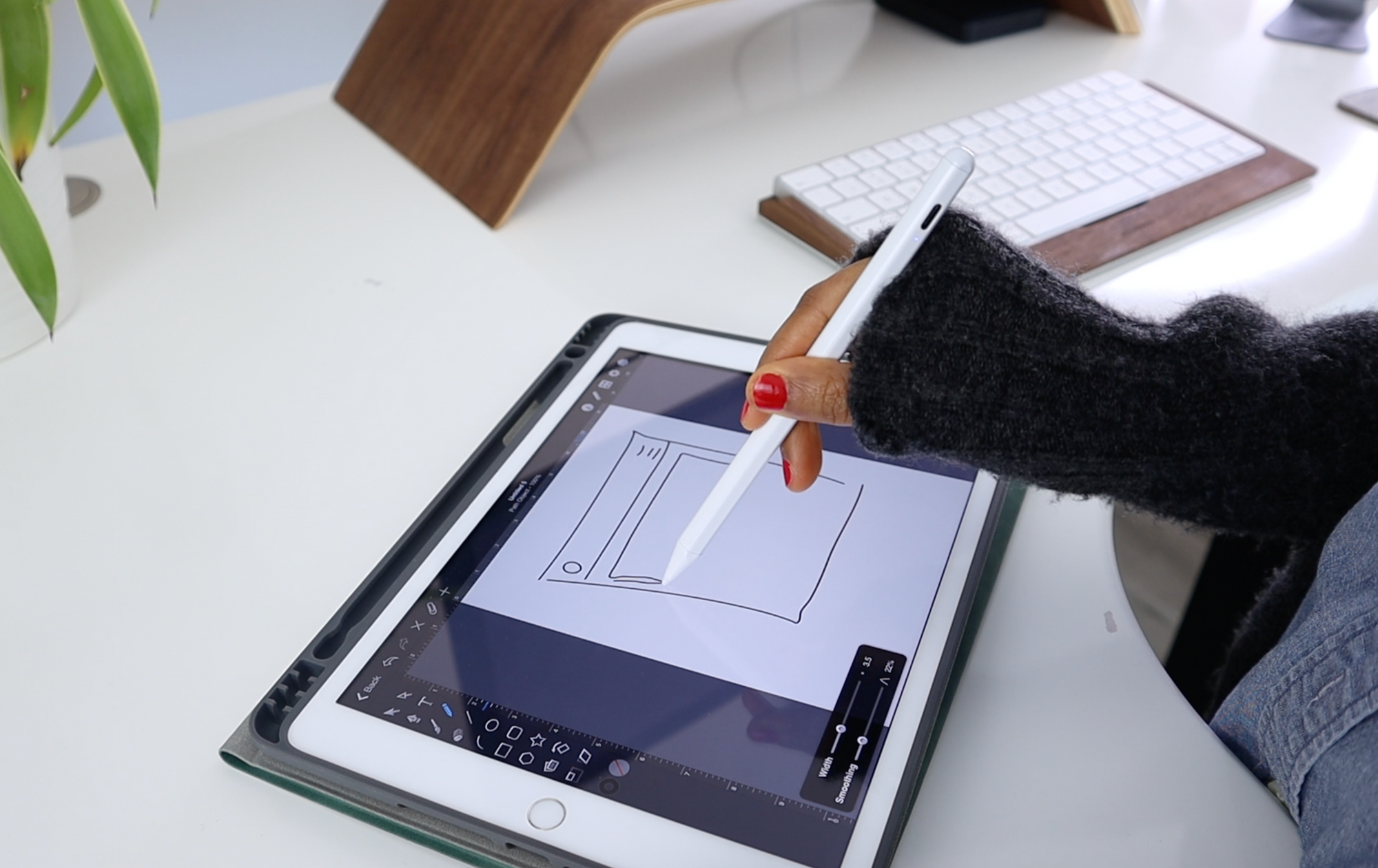 I have an Apple pencil and cool and affordable little green suede iPad case and Bluetooth keyboard set that turns my iPad into a mini-computer when I want to be flexible and move around.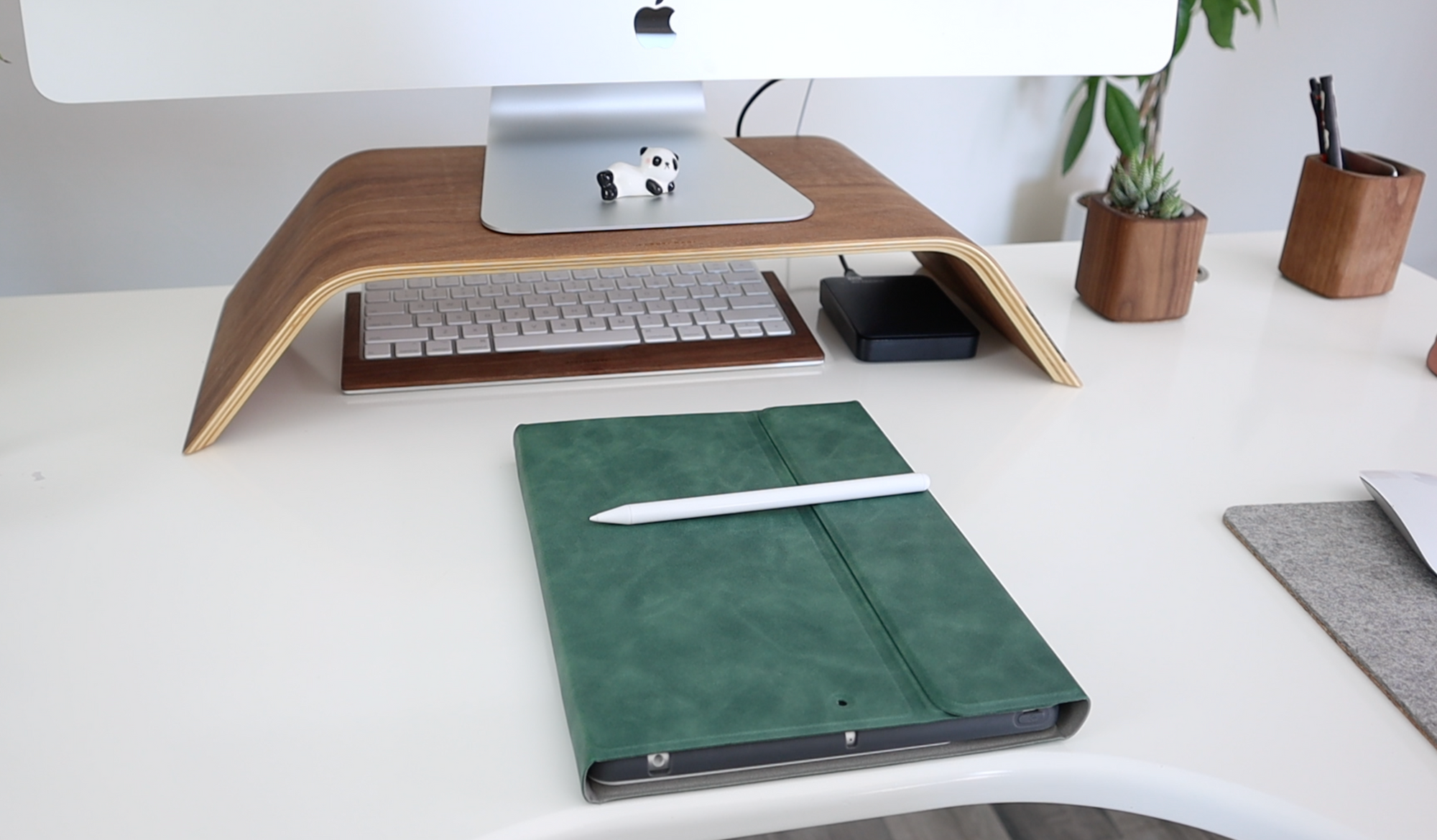 What I love most about my iPad is the ability to use it as an additional monitor for designing, using Apple's sidecar feature. I just connect it to my Mac with a lightning cable and then I can draw or write on my computer in one of my design apps and drag things back and forth between my computer and my iPad.
Along with my powerhouse of an iMac, my work is usually saved on a number of external hard drives, some dedicated to client work, another for my YouTube footage, and more for redundant backups. I found that it helps keep my computer running smoothly and overall promotes cleaner digital organization. I use the Western Digital WD elements and they have served me well for many years.
This little geometric LED light contraption that I have here can be configured in a number of ways and you can add and subtract hexagons and rearrange to create a unique shape It's controlled by my phone and I like setting it to colors that match my mood or my desktop background if I'm recording a video. It can also be mounted to your wall.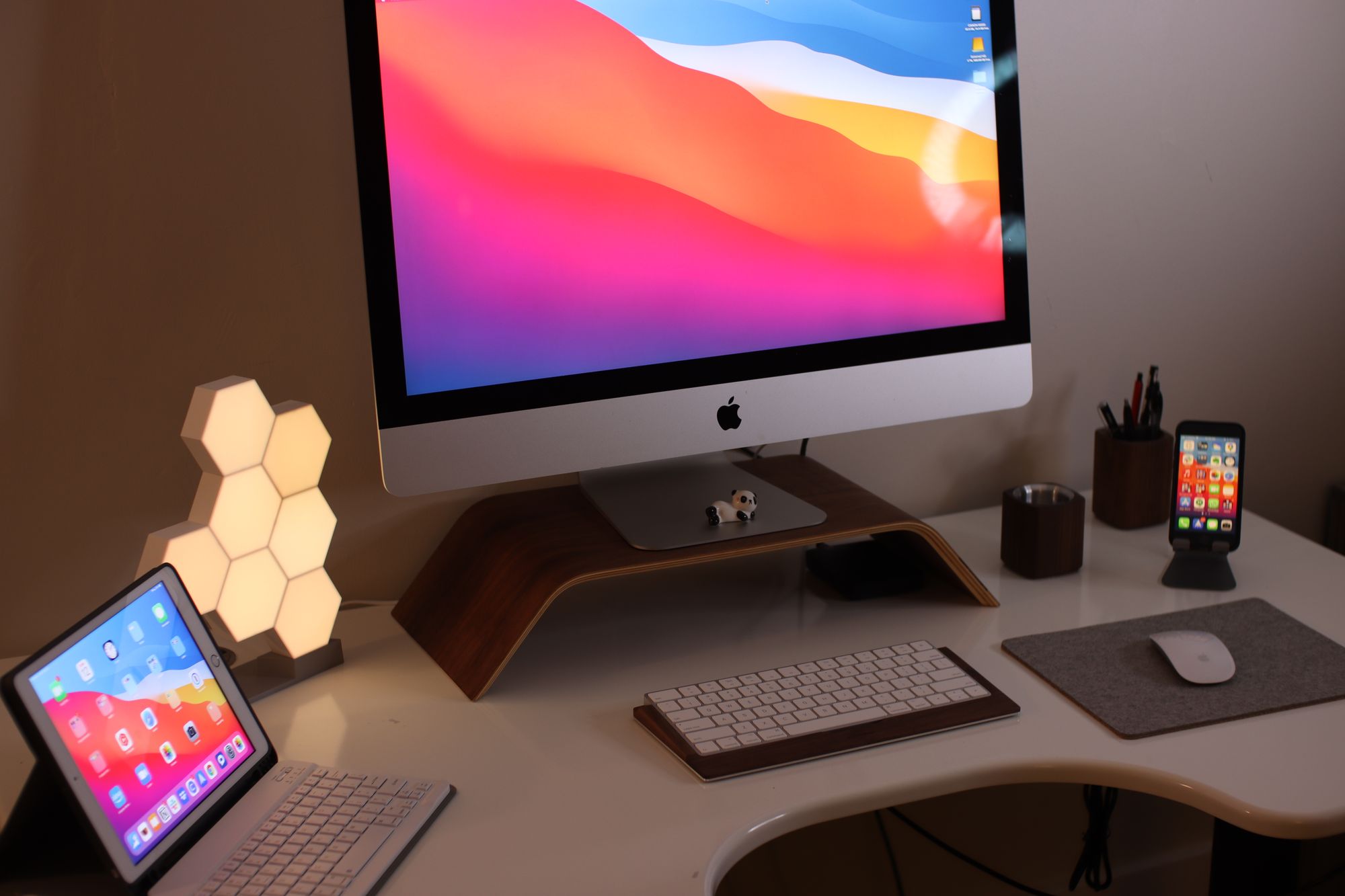 My piece de resistance is my sit-to-stand desk by Autonomous. I was among the early adopters who had a chance to visit the Autonomous showroom in San Francisco many years ago and although I never thought I would get a desk in this shape, the curvature allowed me to roll my shoulder blades back and set my mouse a little behind me which felt great on my shoulders and I have not been disappointed. The desk has held up well apart from a few scratches and dents.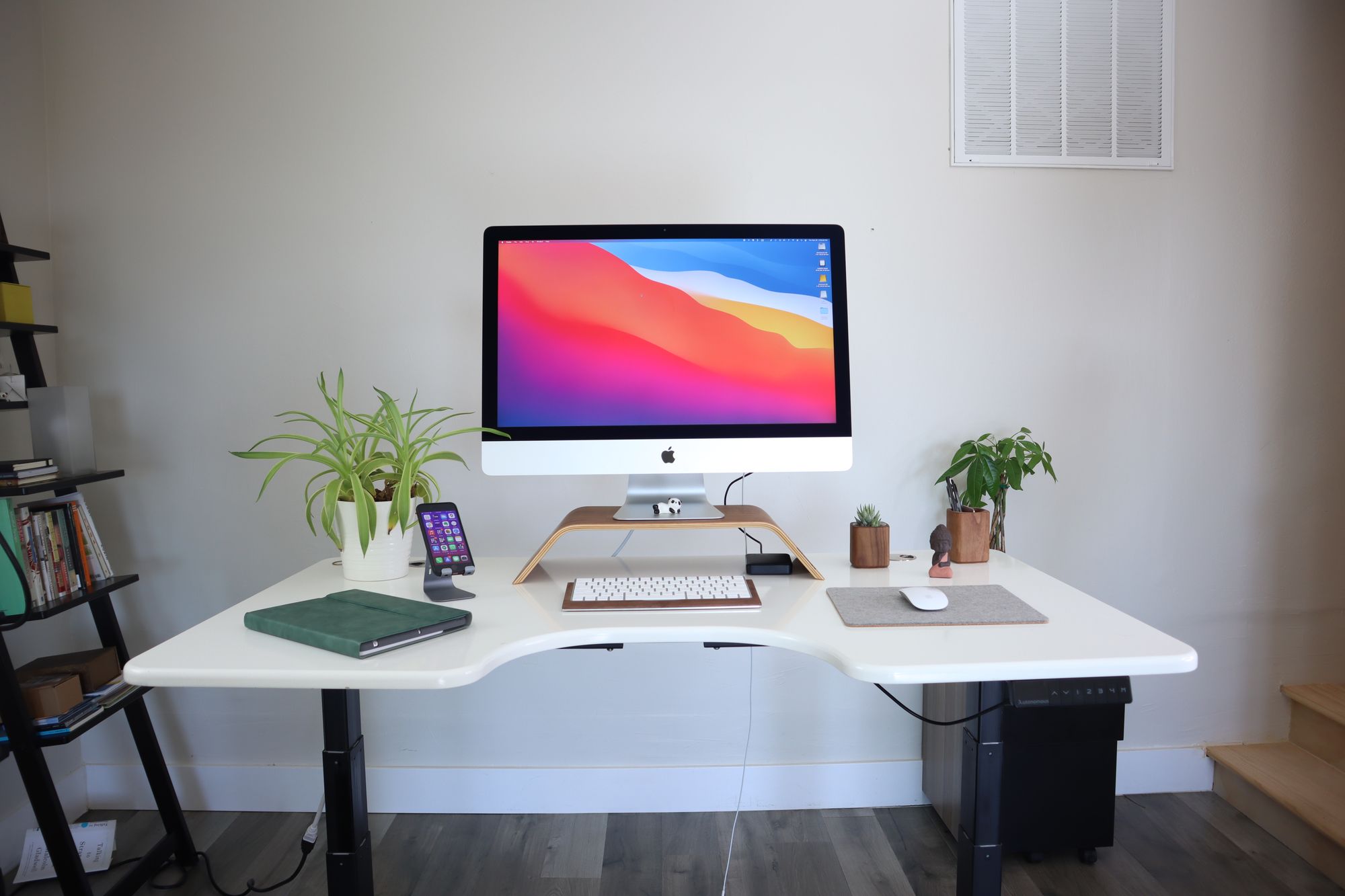 Because my desk goes up and down so many times per day, I wanted my cables to go with it, so I did some simple cable management with these ties and double-sided tape to keep things out of sight.
My Blue Yeti is my audio workhorse that keeps my voice sounding clear whether it's on a zoom call, podcast or youtube video. I've also got a pop filter to help give me that buttery even voice tone and of course my trusted Apple earpods for playback.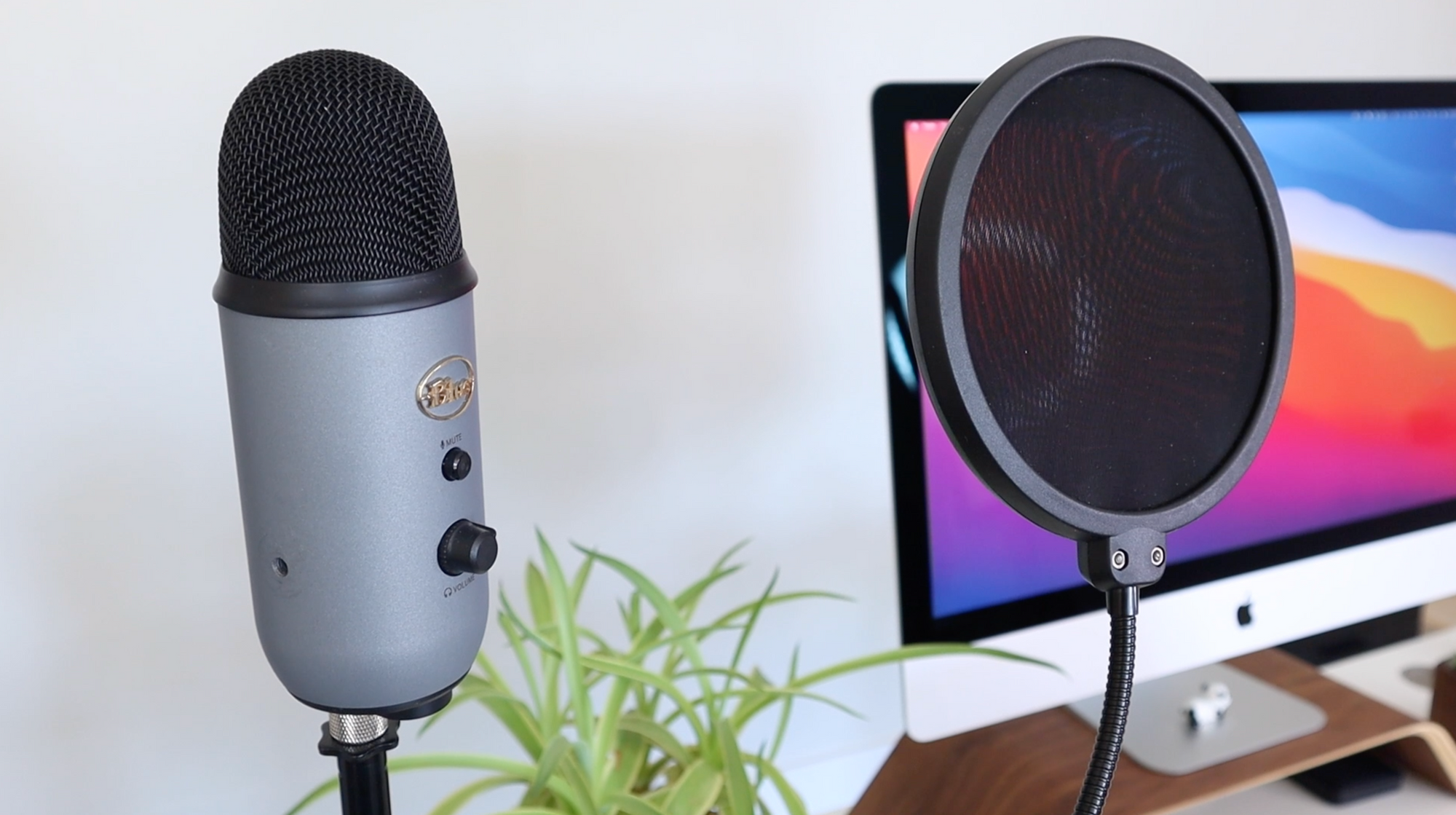 I have a small bookcase off to the side with the things I'm currently reading, I love physical books, but most of my reading has migrated to digital format to save space and allow me to reference and search for things within them quicker.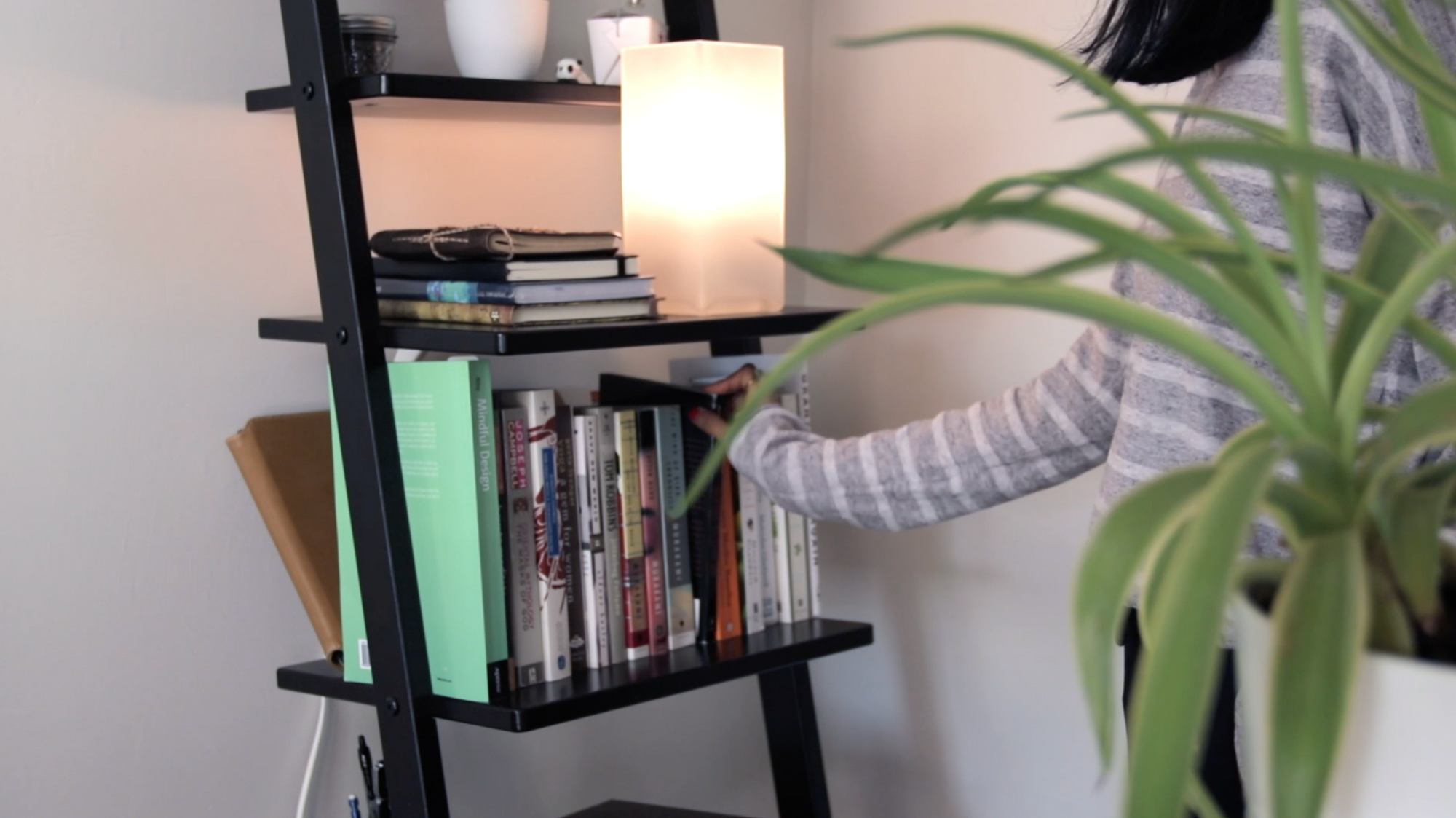 📌 You can find a complete list of all items seen in the article here https://kit.co/DesignerUp
Overall I'm so happy with these small upgrades and how everything looks, but most importantly what it allows me to do. Whether I'm designing an app, teaching product design students or making a videos for YouTube, it's not a bad place to show up for work every day.