Whether you're striking things off your holiday gift list or adding a few things to your own wishlist. These items are particularly awesome because:
They all have 4+ star rating
They are under $100
They are things that I personally own or have tested myself.
They are really unique items
They're super useful for UI and UX
1. Pantone Magnet Set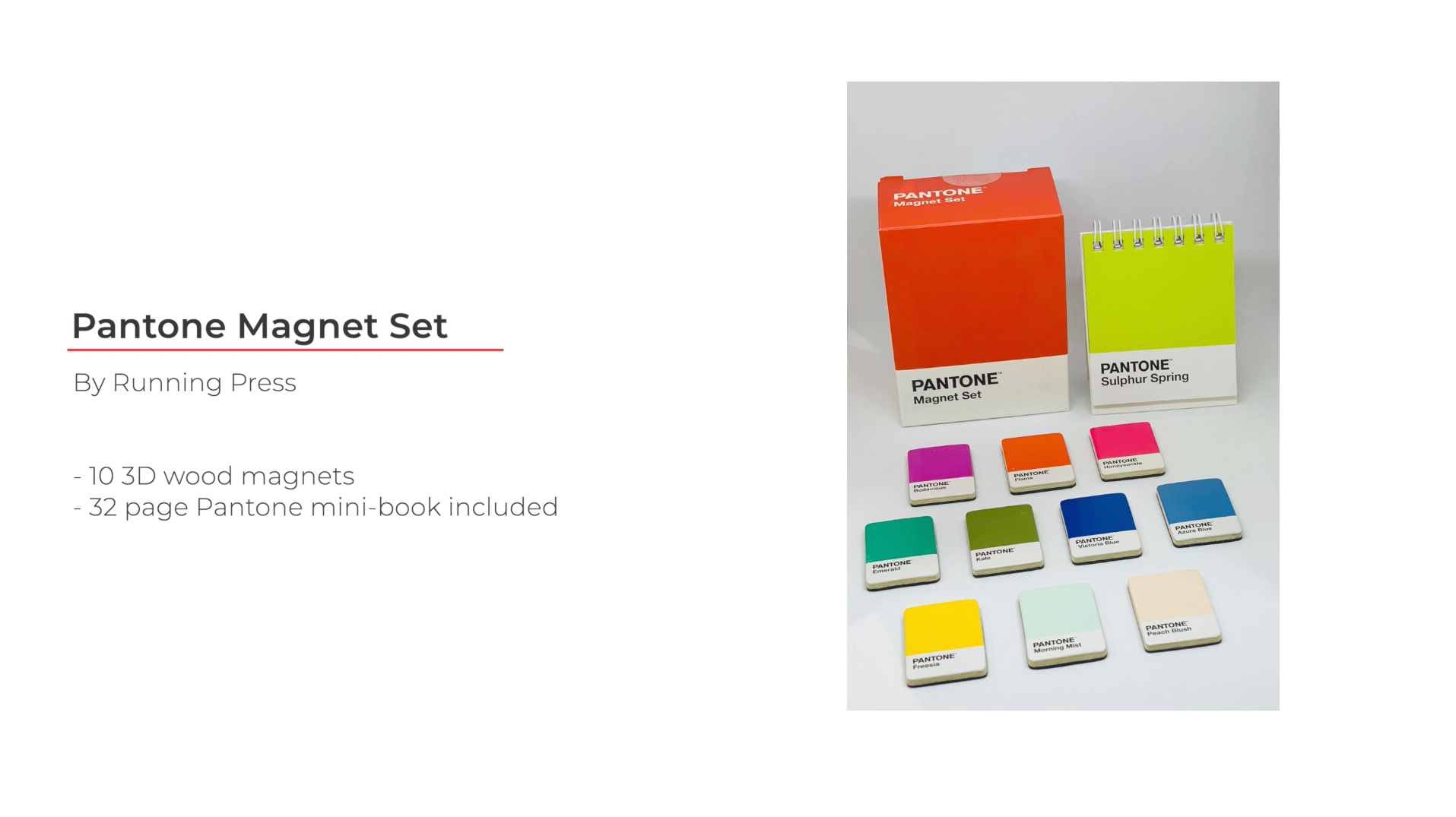 First up is Pantone magnet set. This adorable little magnet set by running press contains 10 3d wooden magnets and a 32 page Pantone mini book based on the Pantone matching color system.
This is a great little stocking stuffer for all of the visual design geeks in your life.
Purchase here: https://amzn.to/36R4amq
2. Pantone Drinking Bottles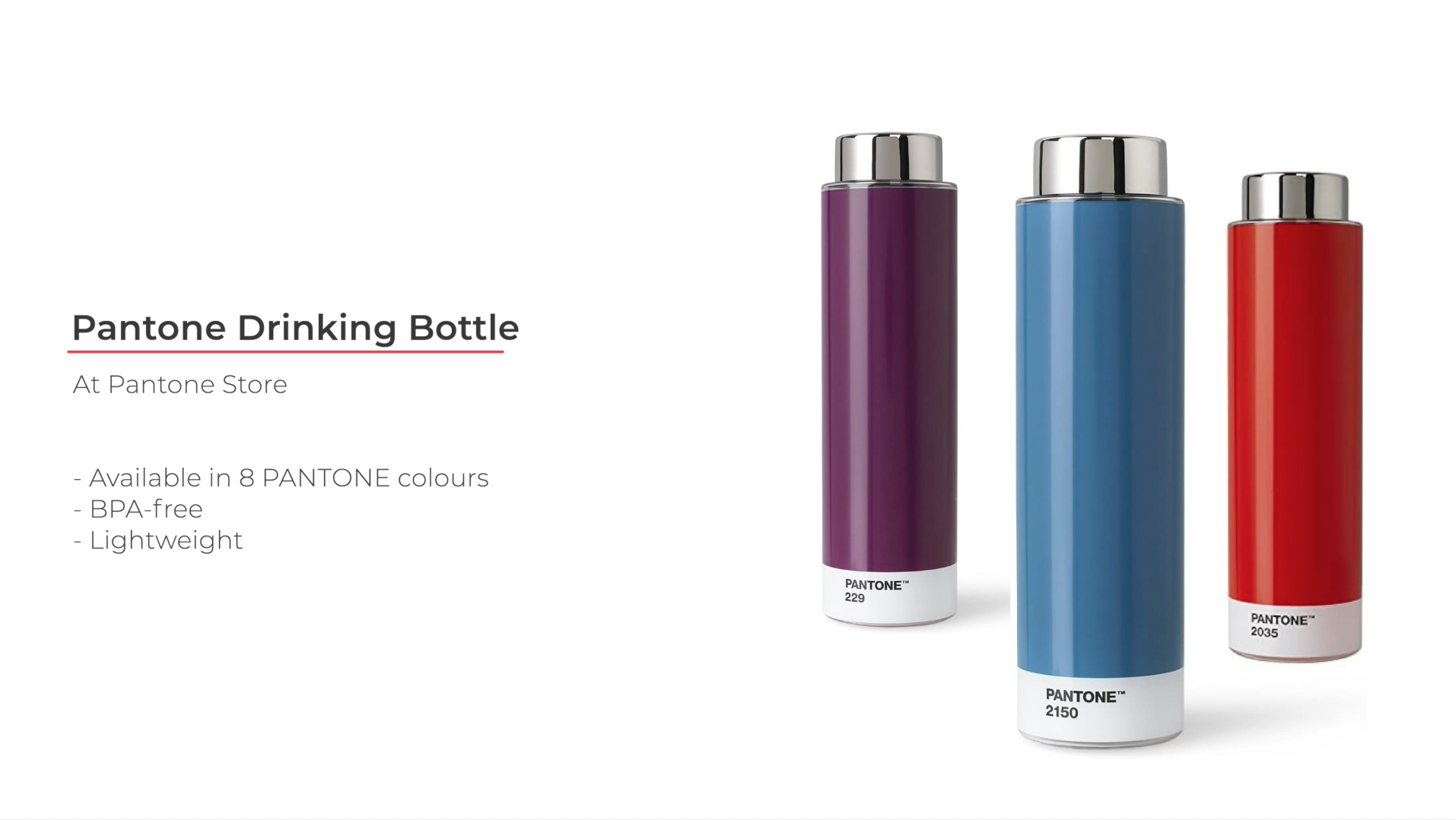 These drinking bottles are again inspired by the Pantone color swatches they're available in eight Pantone colors. They're BPA free and lightweight.
Purchase here: https://amzn.to/339u1VB
3. Wireframe Sketch Pad (with grids)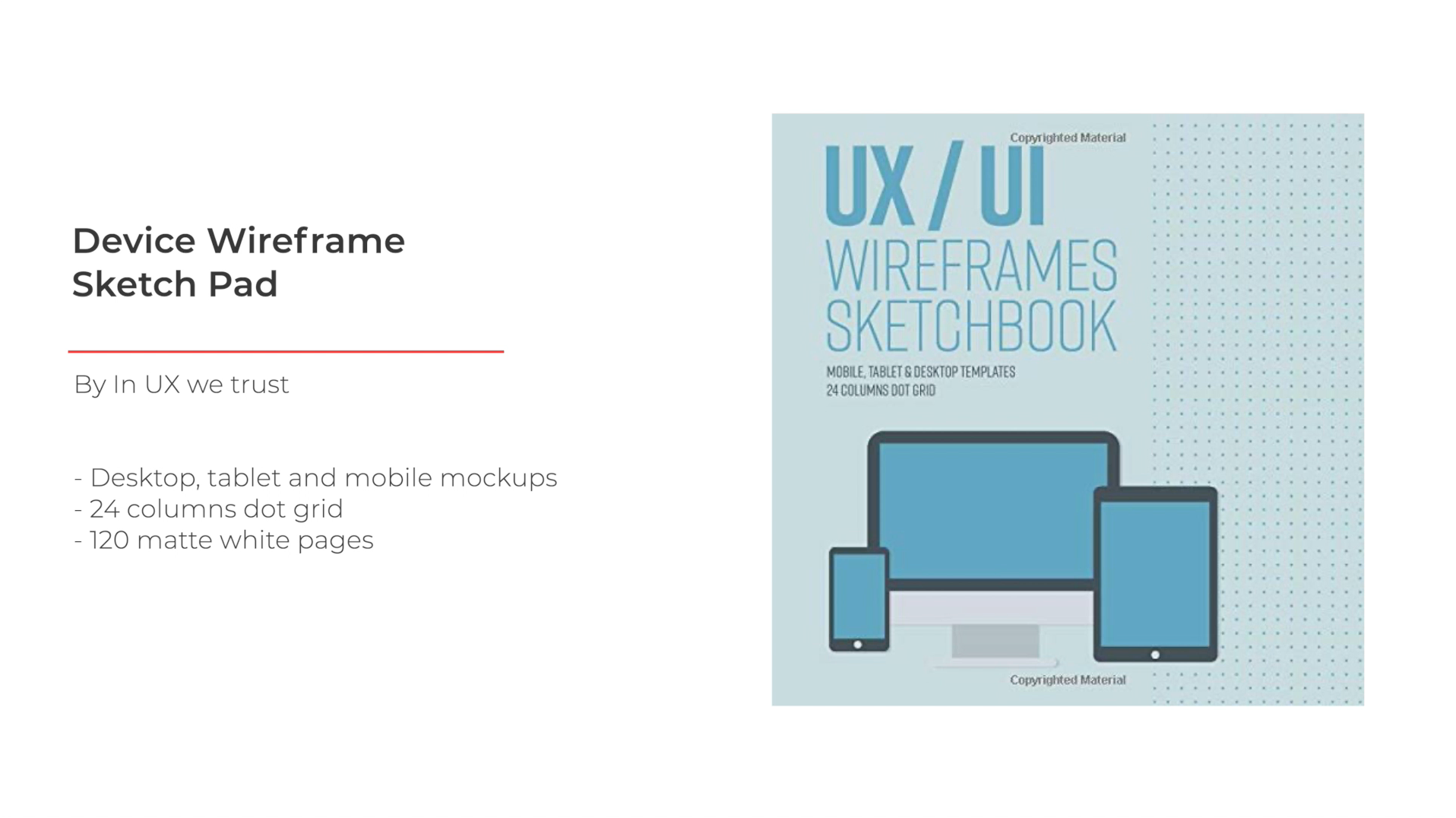 This wire sketchbook includes pages of blank. Mock-ups so you can quickly sketch out your ideas. It's based on a 24 column dot grid comes with a 120 matte white pages and has mock-ups for desktop tablet and mobile number for premium sticky notes. Another great stocking stuffer.
Purchase here: https://amzn.to/33dLDiS
4. Premium Sticky Notes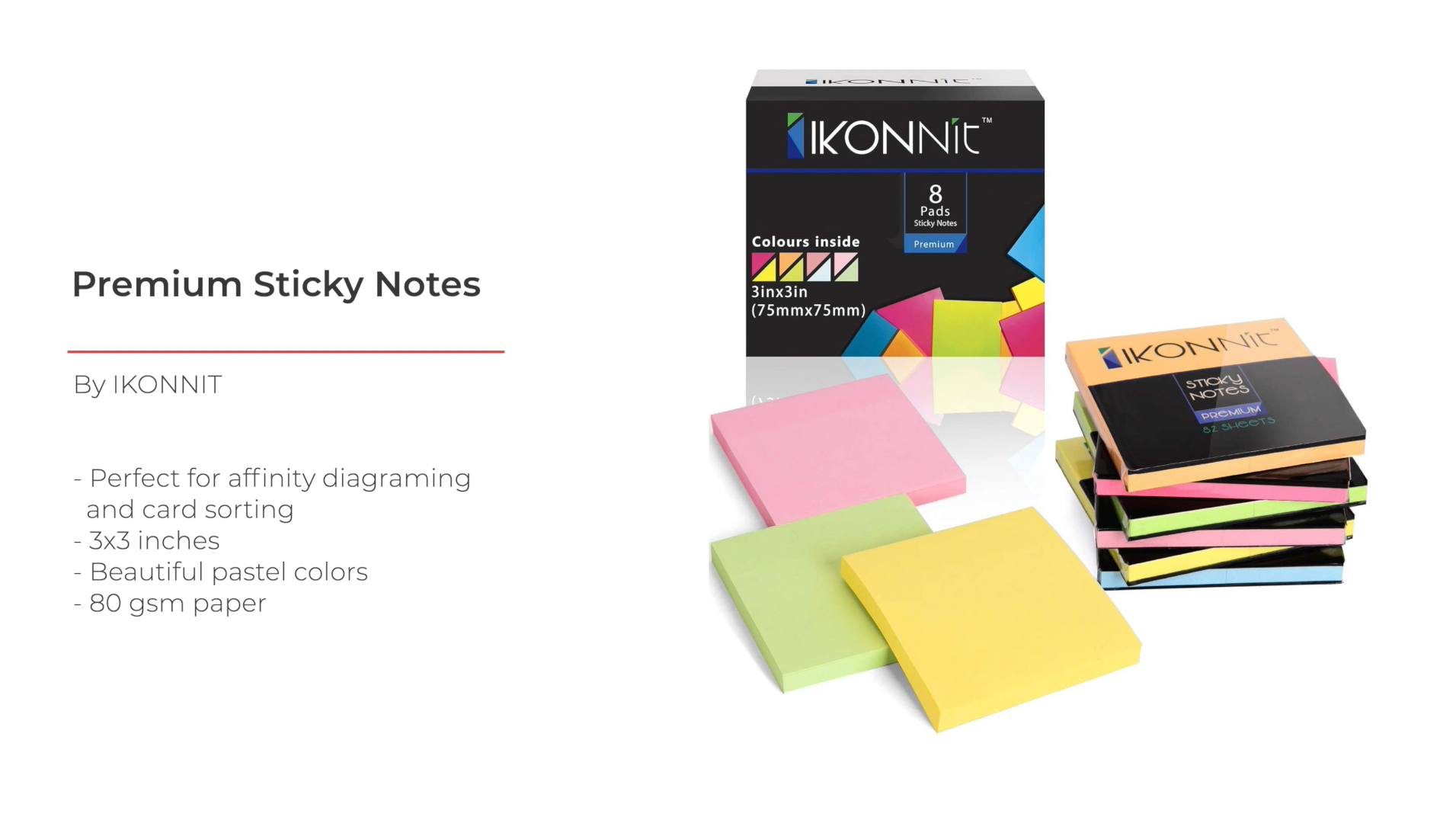 These beautiful sticky notes are better than the usual ones with lovely pastel colors. They're perfect for affinity, diagramming, and card sorting. They are the standard three by three inch size and they are a nice heavyweight
Purchase here: https://amzn.to/33ghgbT
5. Minimalist Desk Organizer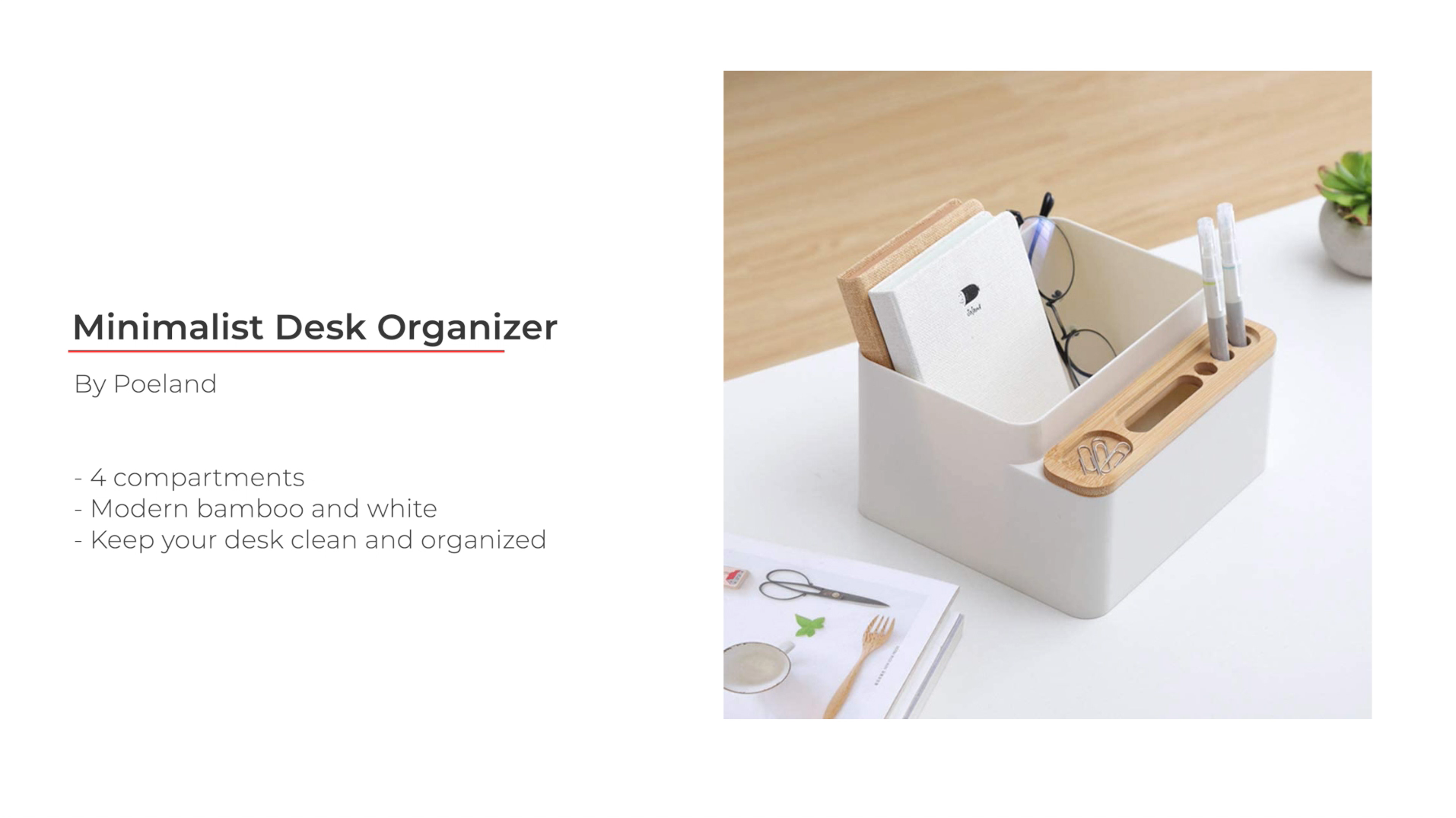 This cute little desk organizer by Poland has four compartments, a modern bamboo and white design. And we'll keep your desk clean and organized there's room for pens, notebooks, your glasses, phones, paperclips, and all the other little accoutrement that end up on your desk.
Purchase here: https://amzn.to/361pS7R
6. Wireless charging station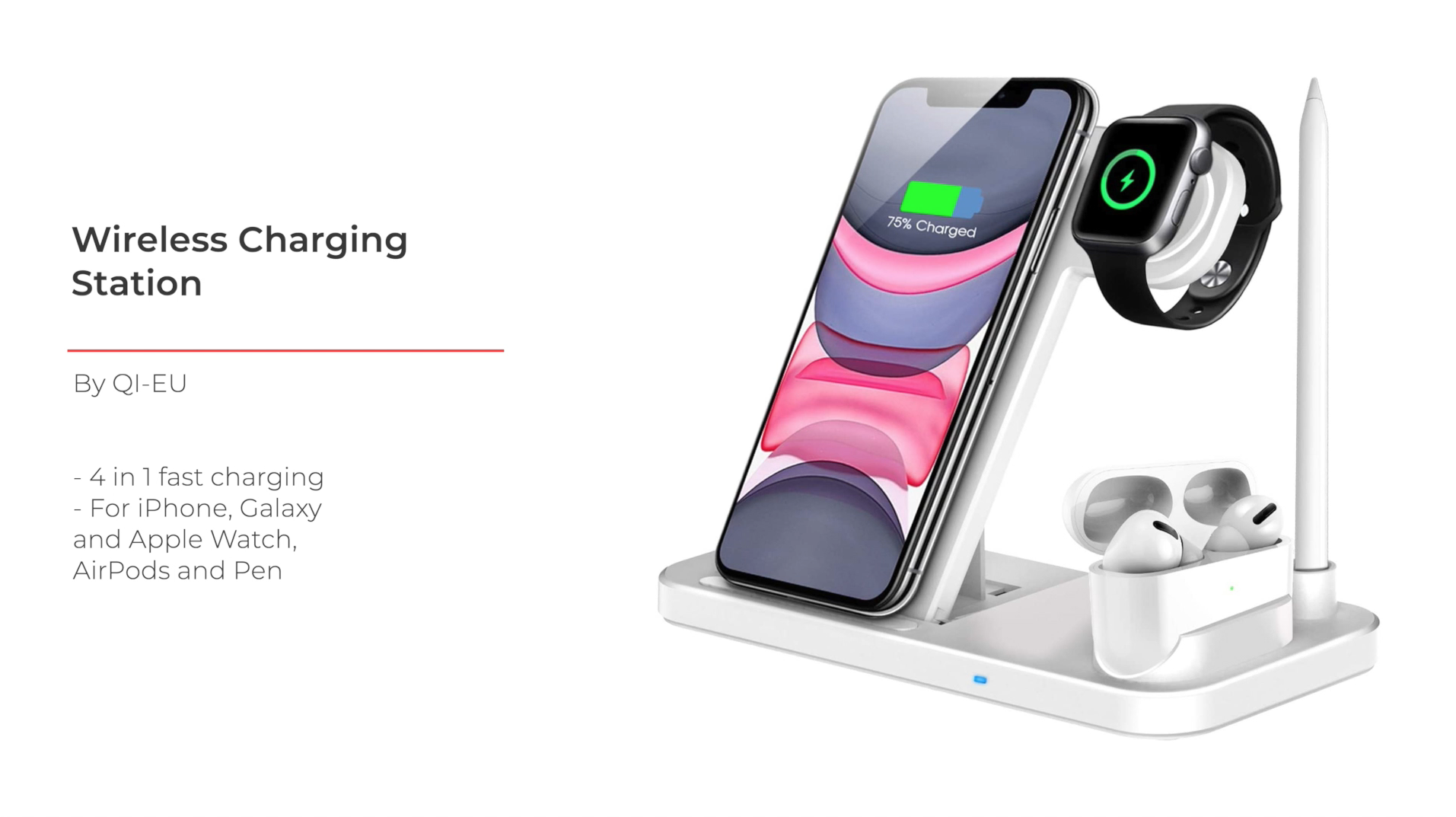 This handy charging station by  has four in one fast charging, including your iPhone or galaxy AppleWatch AirPods and Apple pen or stylists multi-device charging and testing station.
Purchase here: https://amzn.to/3m1Awkx
7. Multi Device charging and testing station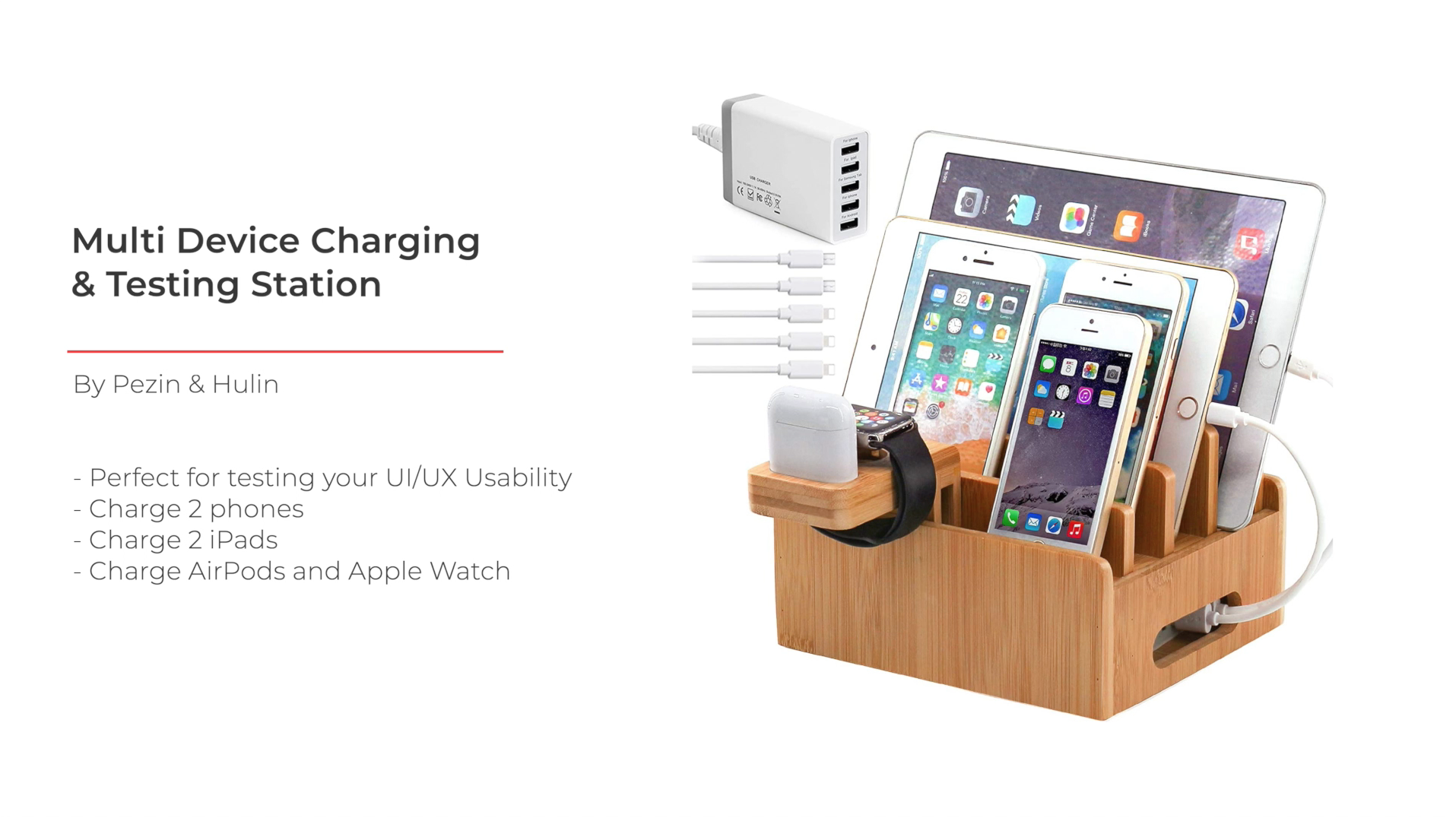 As product designers, we have to make sure that our user experience works on all different sorts of devices. This is a perfect charging and testing station for that. You can charge two phones to iPads, AirPods, and AppleWatch.
Purchase here: https://amzn.to/3o9gBB9
8. UI Stencil Kit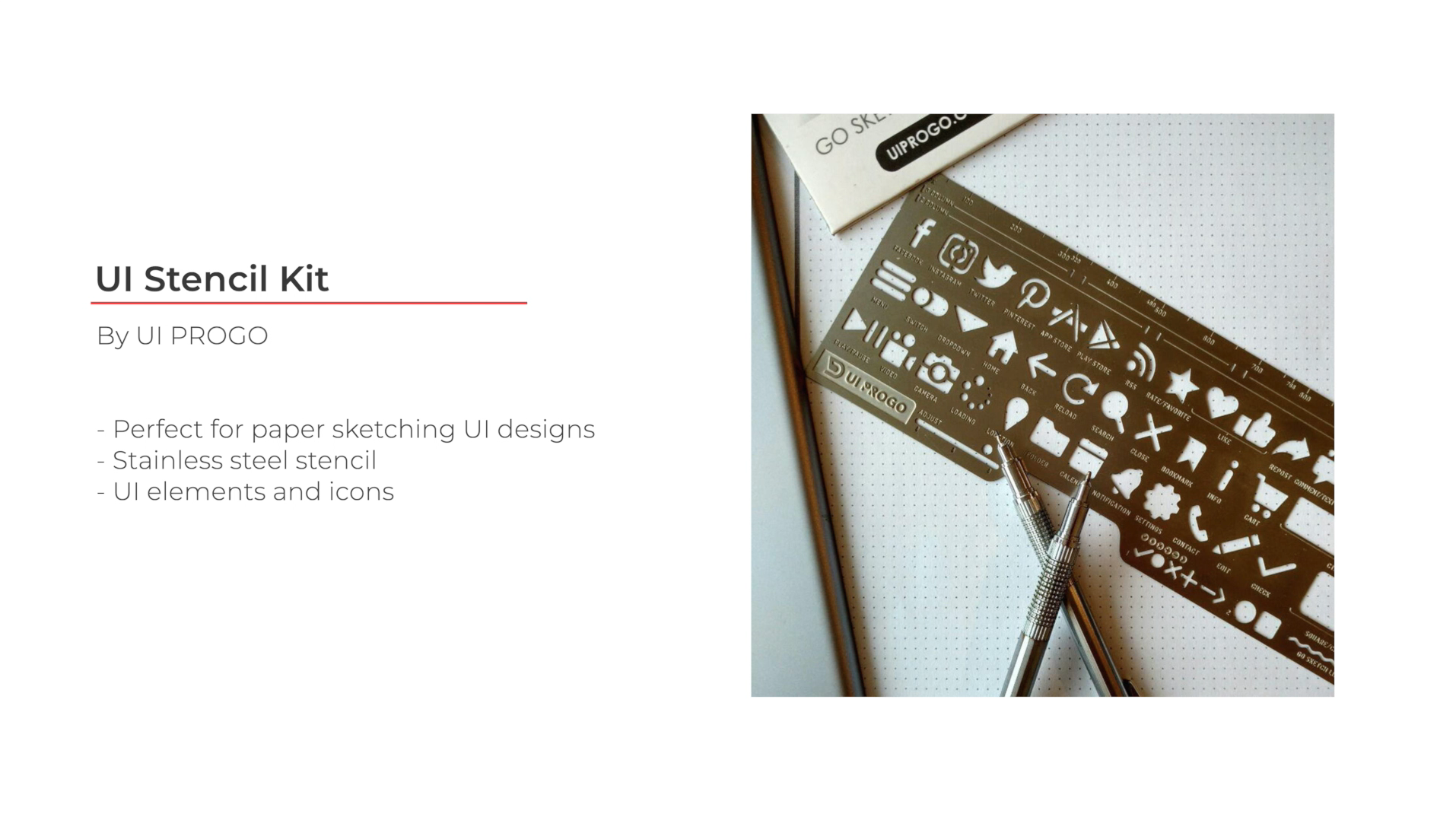 This stencil kit by UI pro go is perfect for paper sketching, UI designs, pair it with the UI sketchbook for quick prototyping and easy sketching of your ideas.
It's made of stainless steel and includes all of the common UI elements and social media icons.
Purchase here: https://amzn.to/2KE9GBp
9. Solar usb charger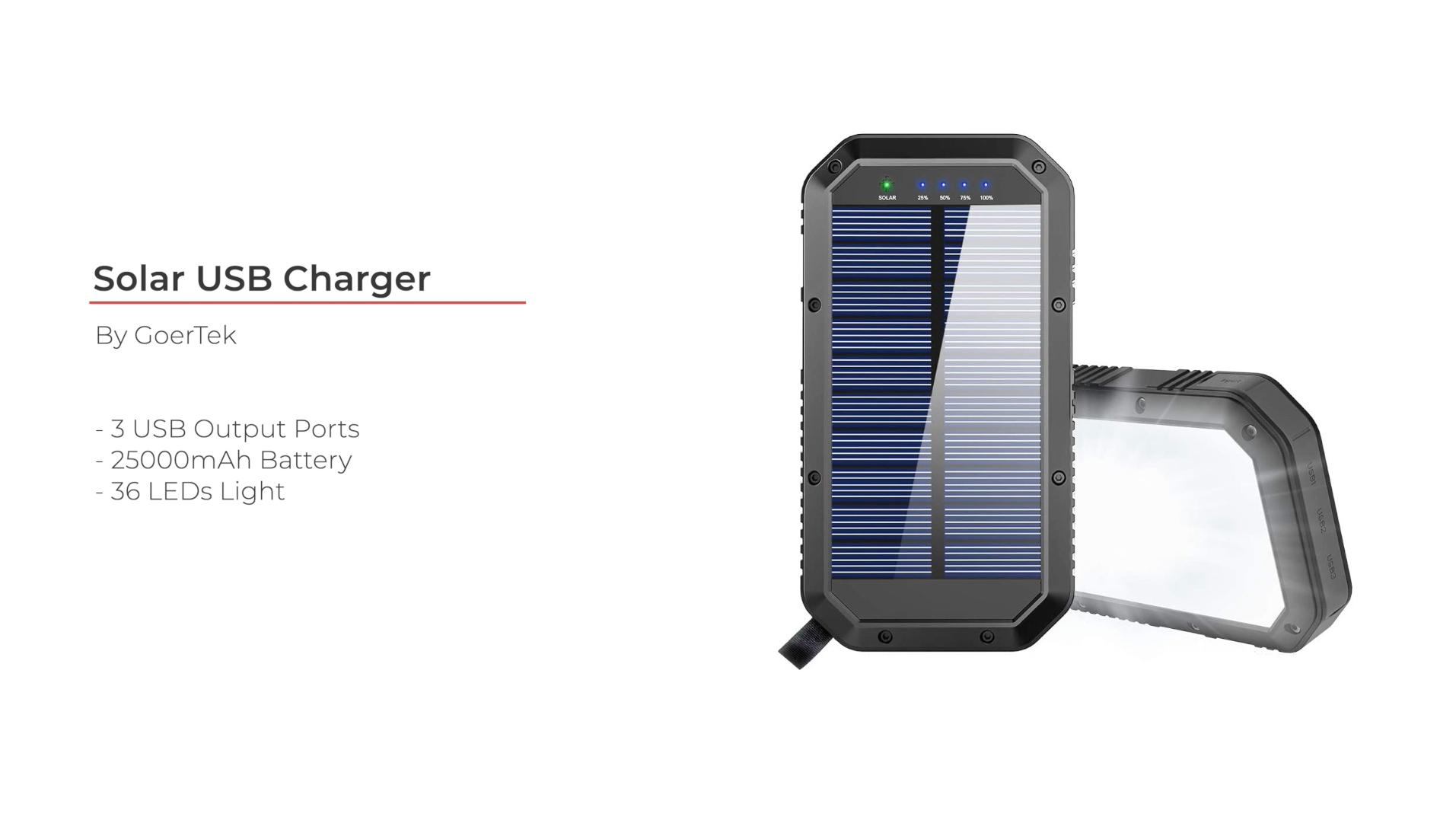 This powerful little device by tech has three USB ports and a 36 led light panel. Just leave it in the sun to charge and then plug in your phones to charge them up. It can top you off about seven times on a regular iPhone before it has to be charged again.
Purchase here: https://amzn.to/2IVBKjh
10. Macbook stand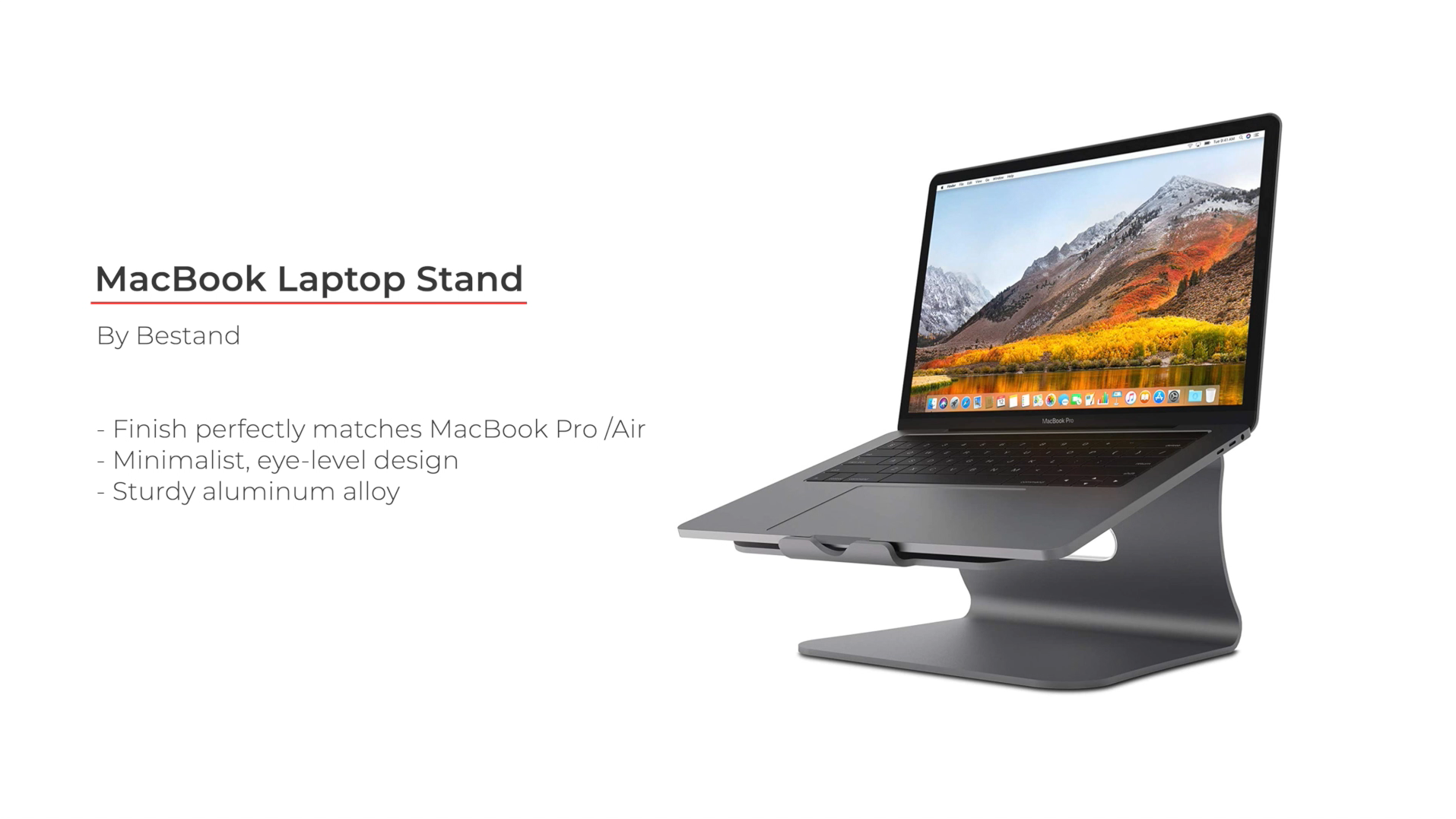 Stand this lovely little stand by B stand. Has a finish that matches perfectly with Mac book pro or Mac book air, whether you have the dark version or the light silver version, it's got a compact minimalist design and keeps your computer cool. And at eye level to throw in one of our own it's our notion template pack for product designers.
Purchase here: https://amzn.to/33e79V4
11. Notion template pack for product designers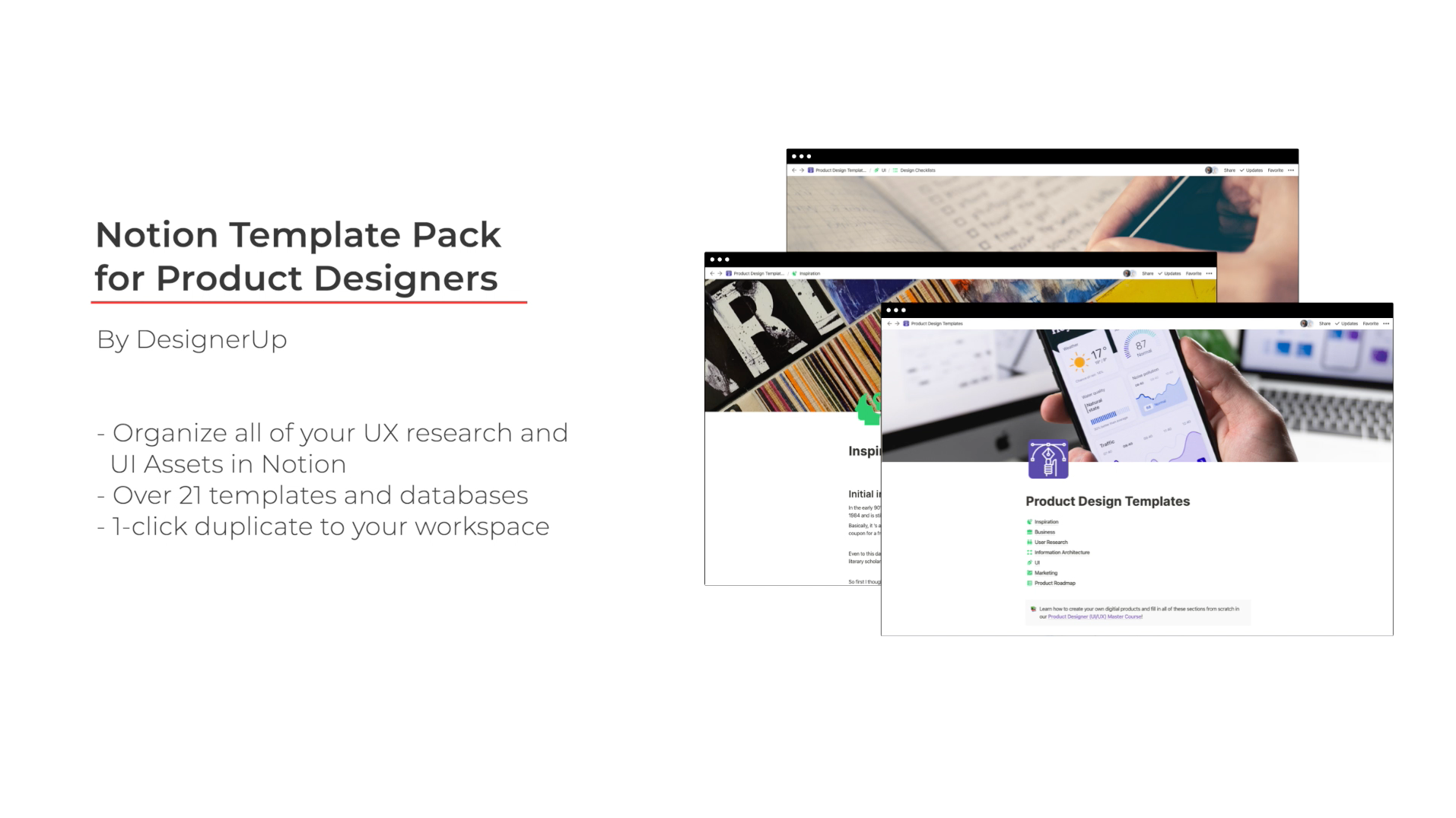 This template pack by designer up lets you organize all of your UX research and UI design assets in notion. It includes over 21 templates and databases and you can one-click duplicate it to your workspace
Purchase here:  https://designerup.co/shop
12. Standing desk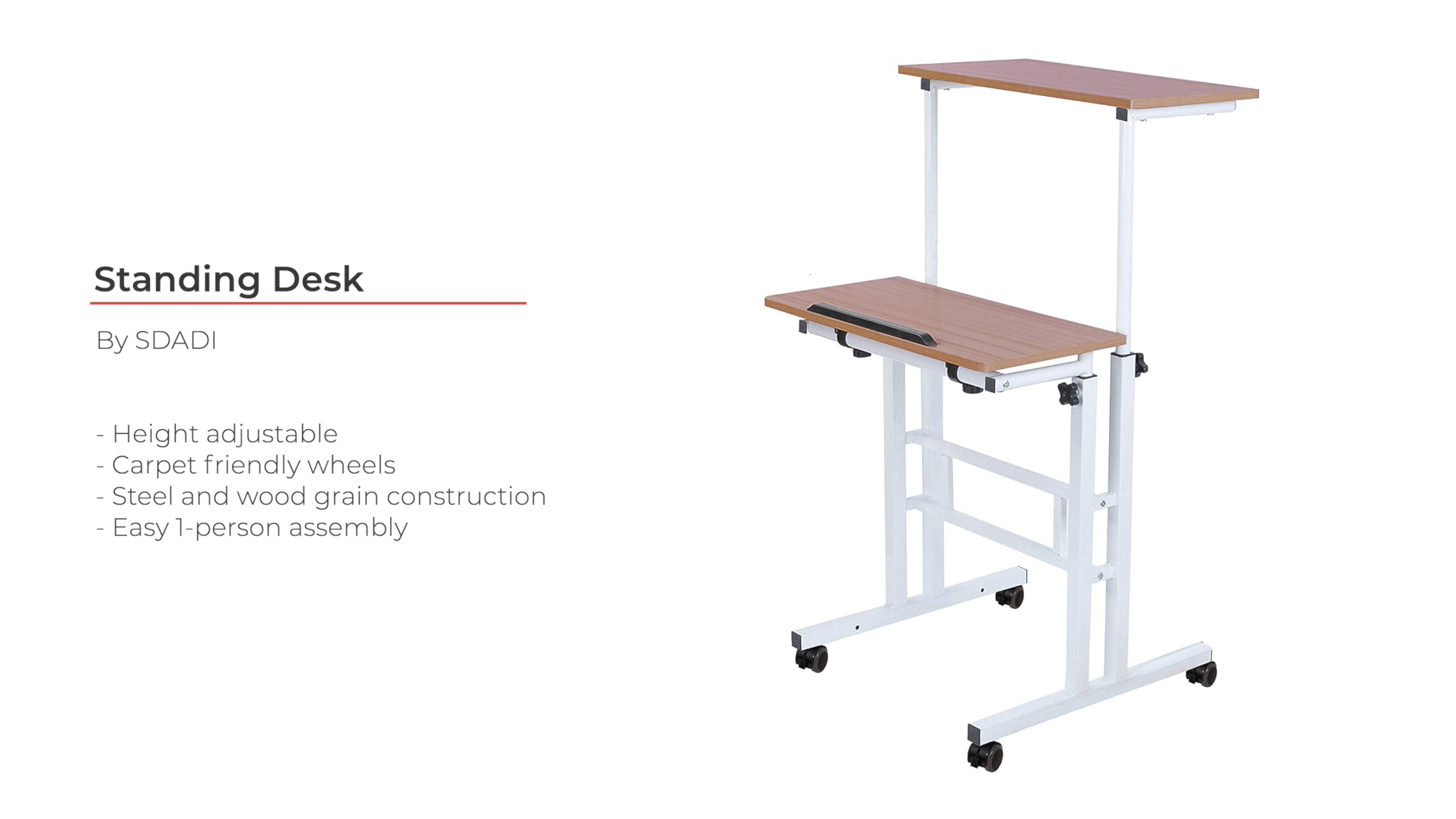 This height, adjustable standing desk is really great for UI and UX designers that spend a lot of time sitting.
It's got carpet friendly wheel, so you can move it to where you need it. It's made up strong steel and wood construction and can easily be assembled by just one person in a couple of minutes.
Purchase here: https://amzn.to/3fBFdPW
13. Couching Desk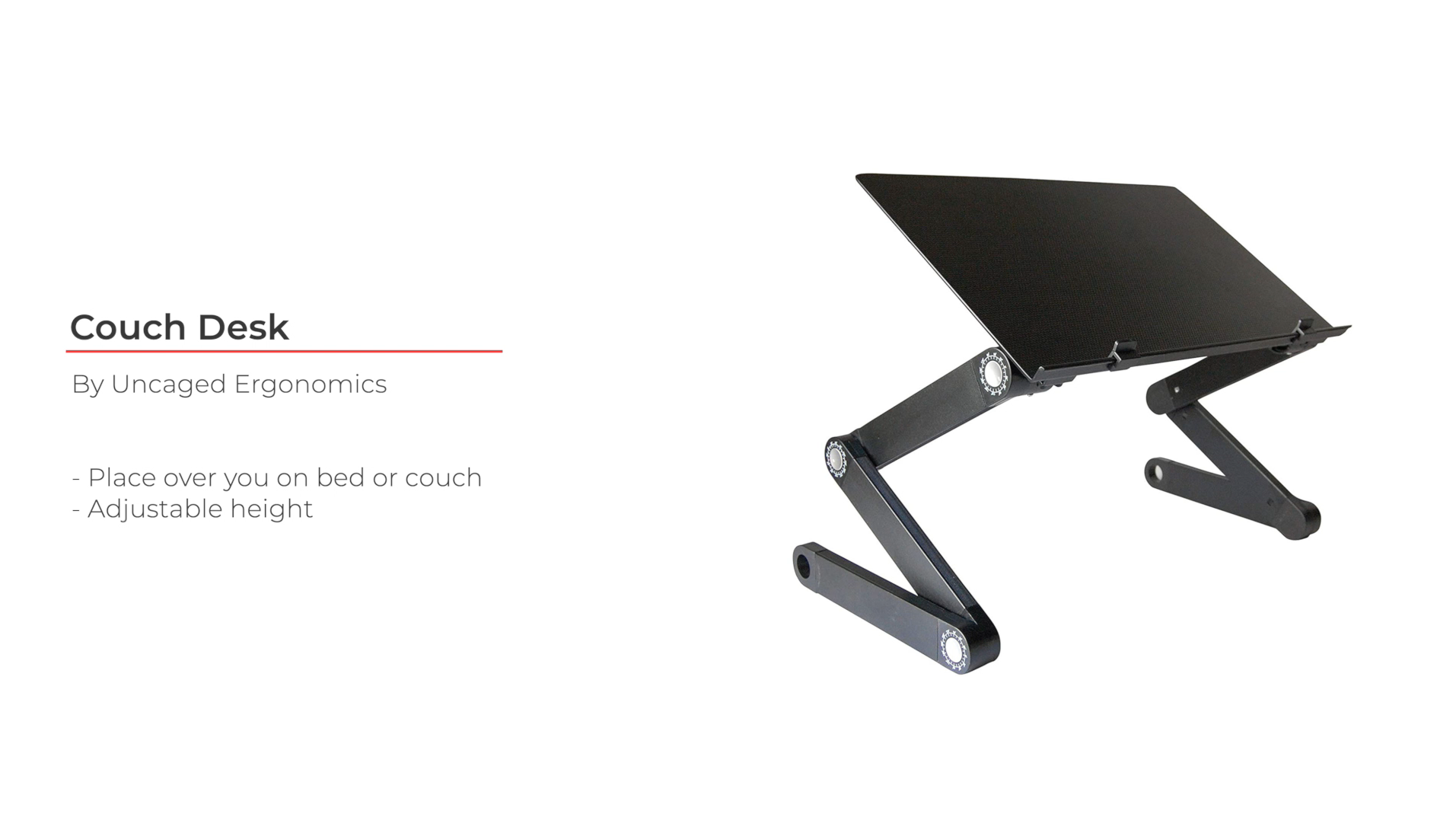 This desk by uncaged ergonomics. It's something that you can place over you on bed or on the couch. For those of us that are working from home. It's a great way to put on a dress shirt and stay in bed. While we take a zoom call it's adjustable height and sturdy enough to hold a laptop.
Purchase here: https://amzn.to/2UV9TlB
14. Ergonomic Chair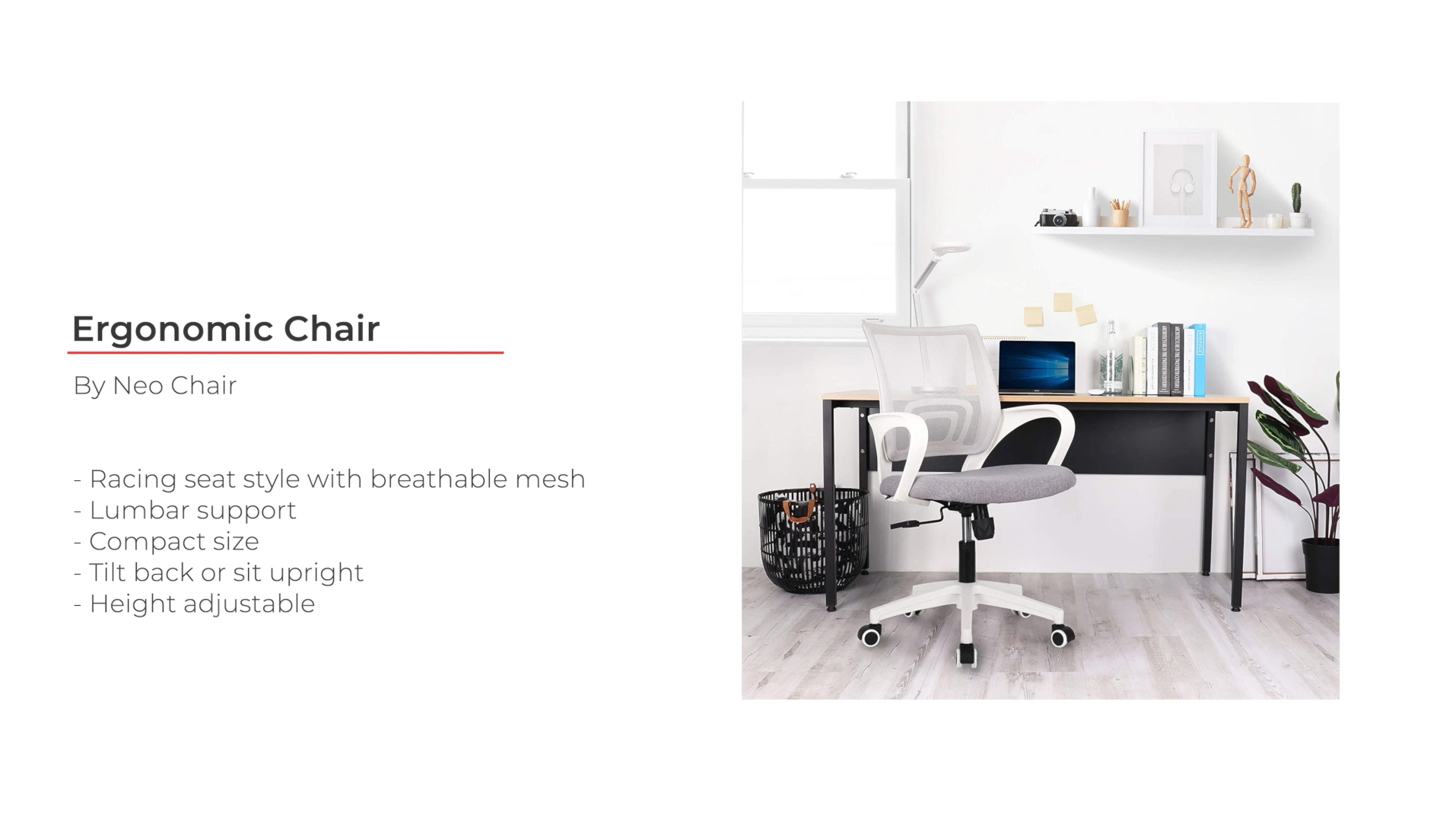 This chair by Neo chair features a racing seat style with breathable mesh back lumbar support.
It's a compact size and it can tilt back or sit upright it's height adjustable and has a really soft, cushy bottom.
Purchase here: https://amzn.to/362qsCm
15. Product Design Manual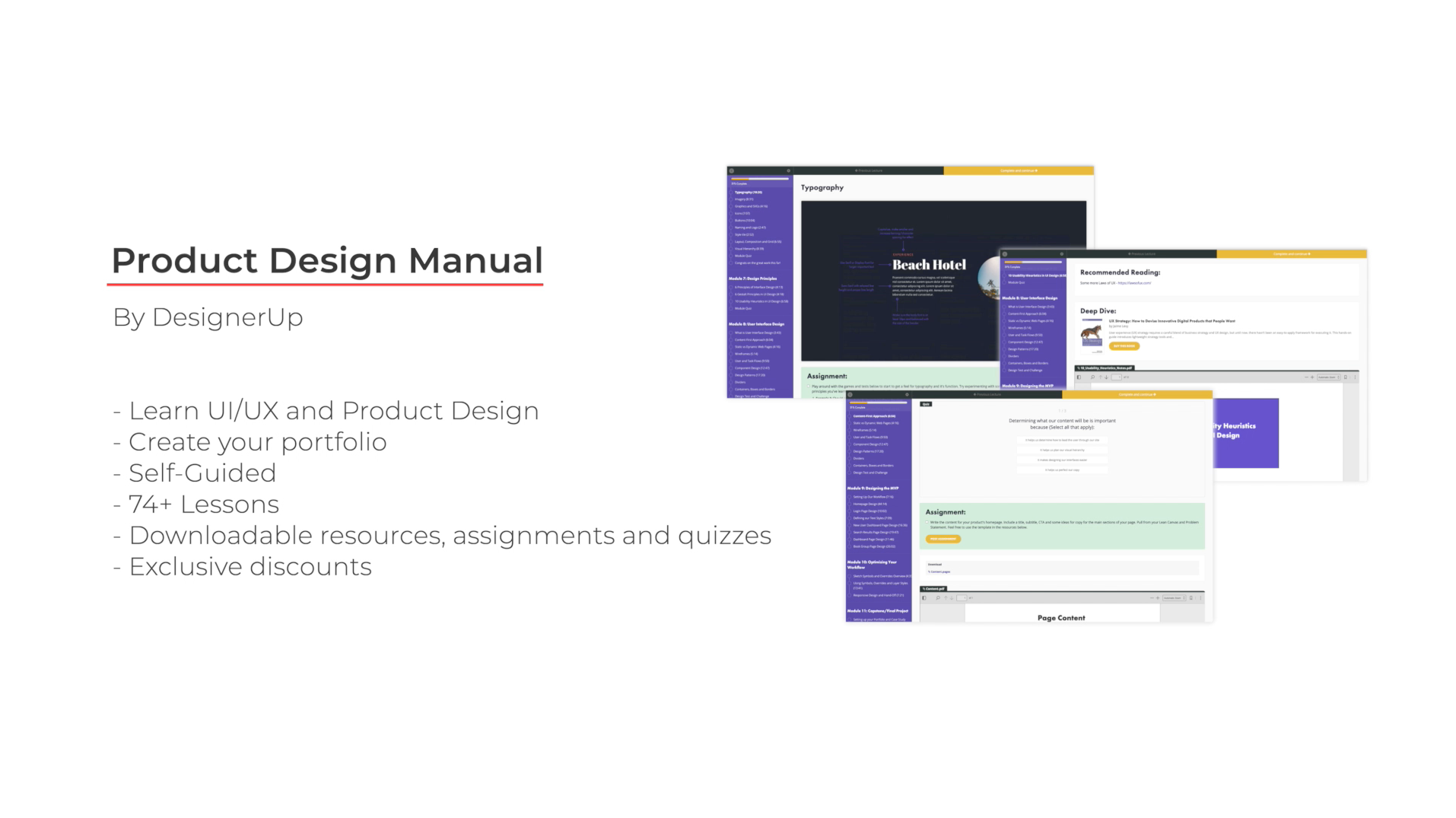 The product design manual by yours truly is a wonderful way to upskill learn UI UX and product design and strategy. Create your portfolio and watch 74 plus self guided lessons with assignments and interactive quizzes.
Purchase here: https://designerup.co/product-design-ui-ux-manual
16. External HD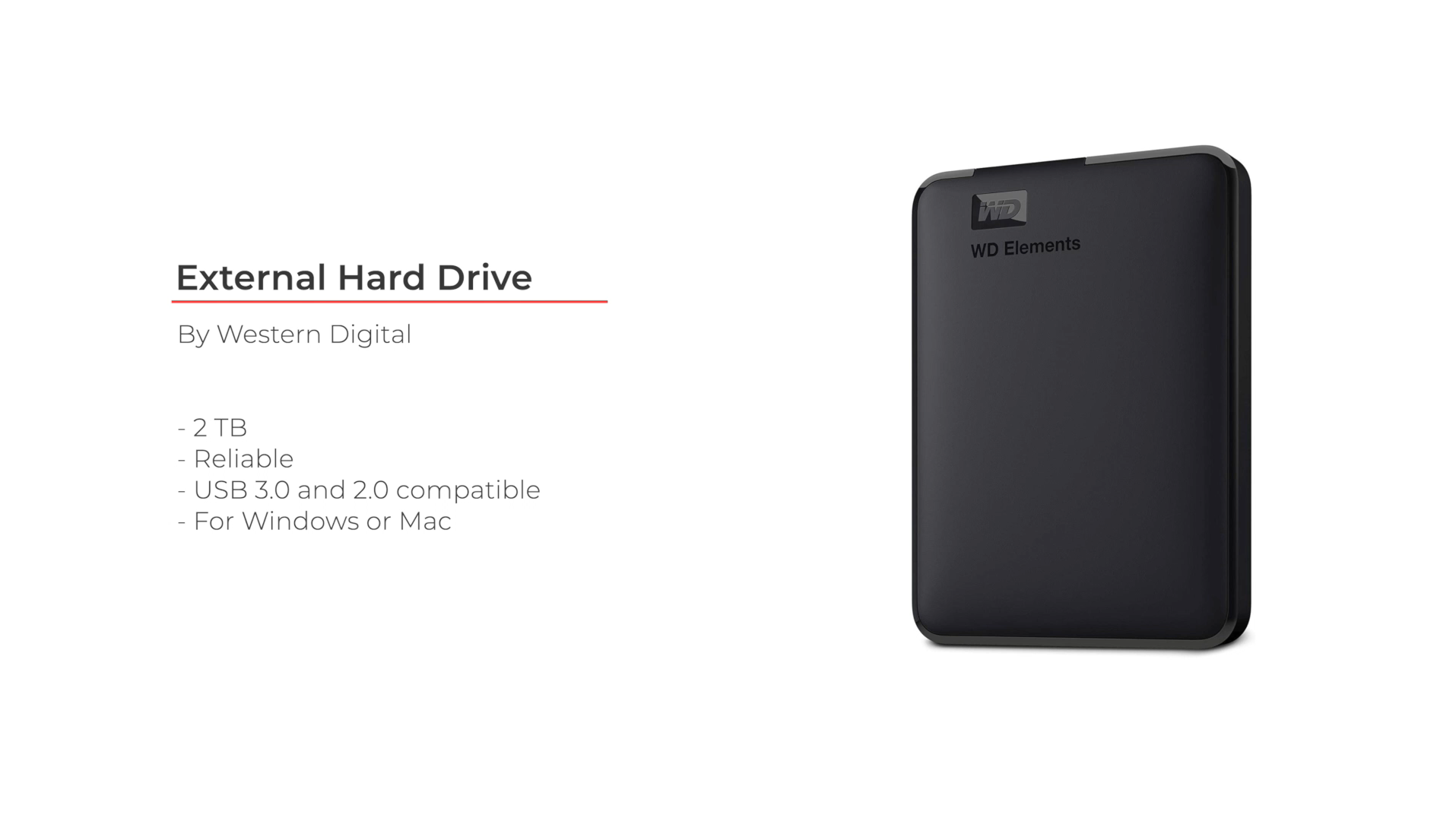 Something a designer can never have too many of external hard drives are sure to be on every UI UX designers, wishlist. This one by Western digital is one of the fastest and most reliable I've ever used. It comes with a whopping two terabytes of storage space. It's USB 3.0 and 2.0 compatible, and it works on windows and Mac
Purchase here: https://amzn.to/33dHifS
17. UI/UX Tshirt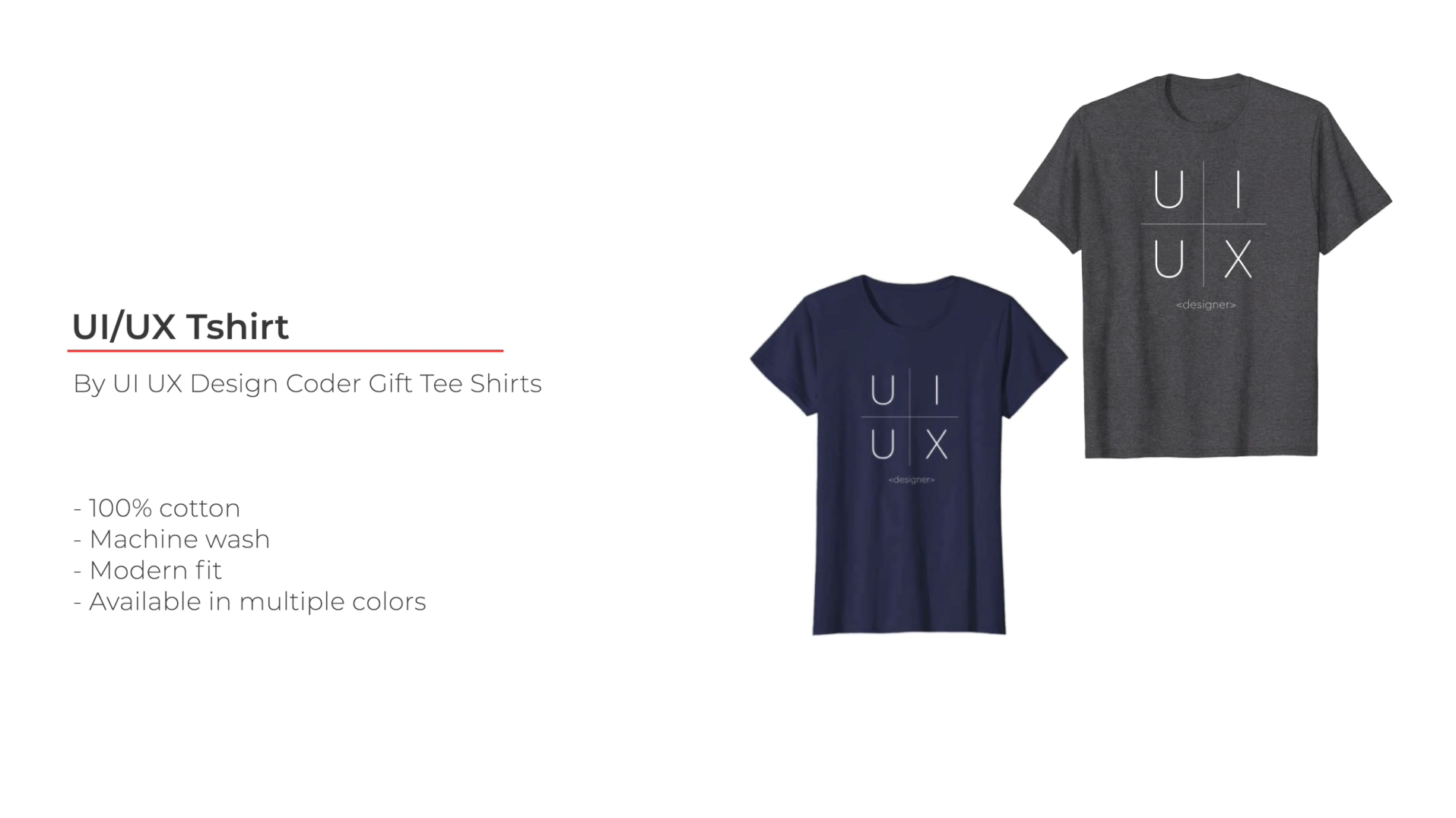 This lovely modern t-shirt is a hundred percent cotton it's machine washable has a modern fit and it's available in multiple colors for both women and men.
Purchase here: https://amzn.to/3fxbw2s
18. Drawing Tablet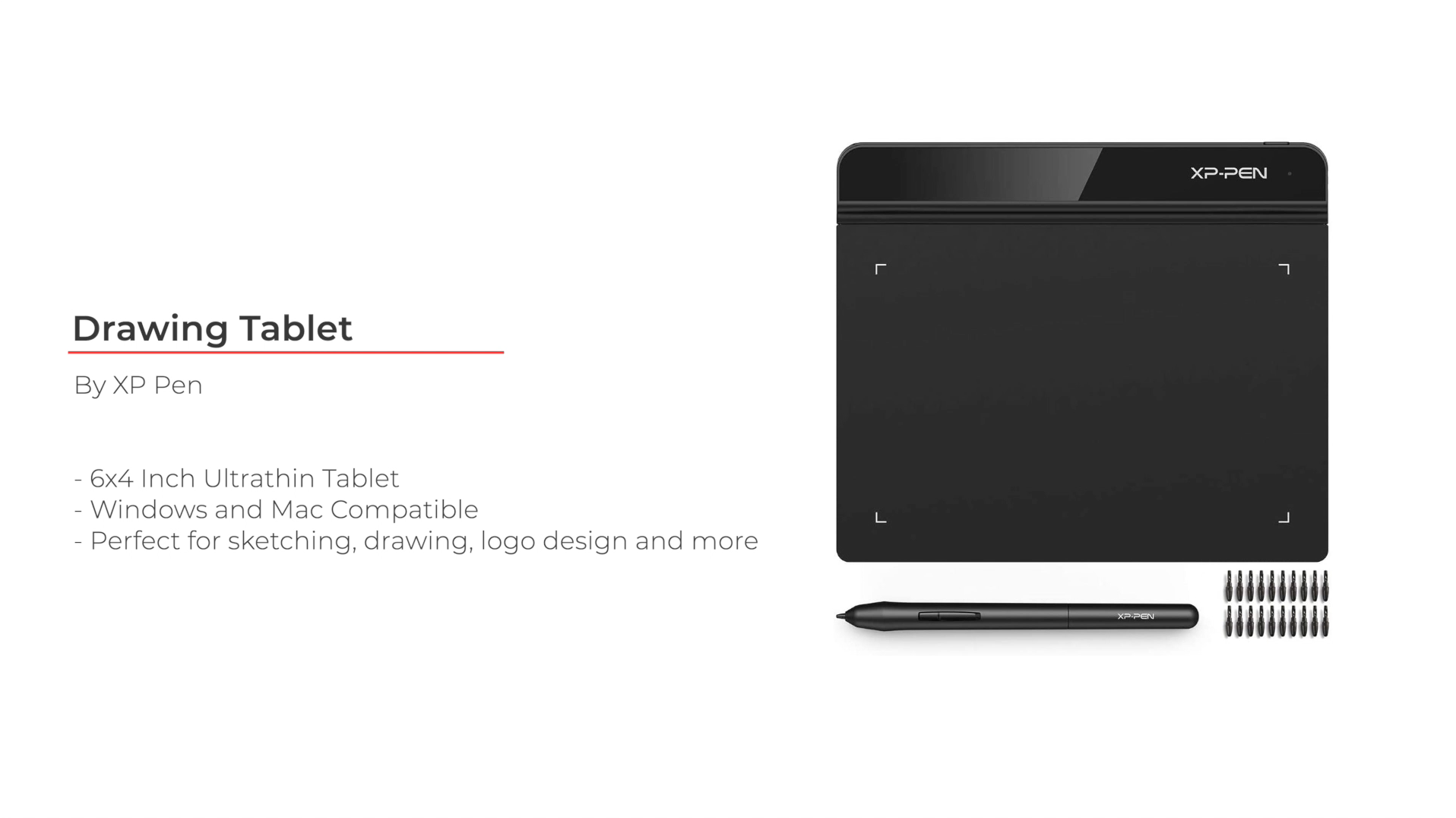 This drawing tablet by X P pen is wonderful for sketching drawing, logo, design, and more. It's a handy multi-use companion for any UI UX designer. This tablet is six by four inches. It's ultra thin, and it works on windows and Mac number 19 screen cleaning cloths.
Purchase here: https://amzn.to/363hx3M
19. Screen cleaning microfiber cloths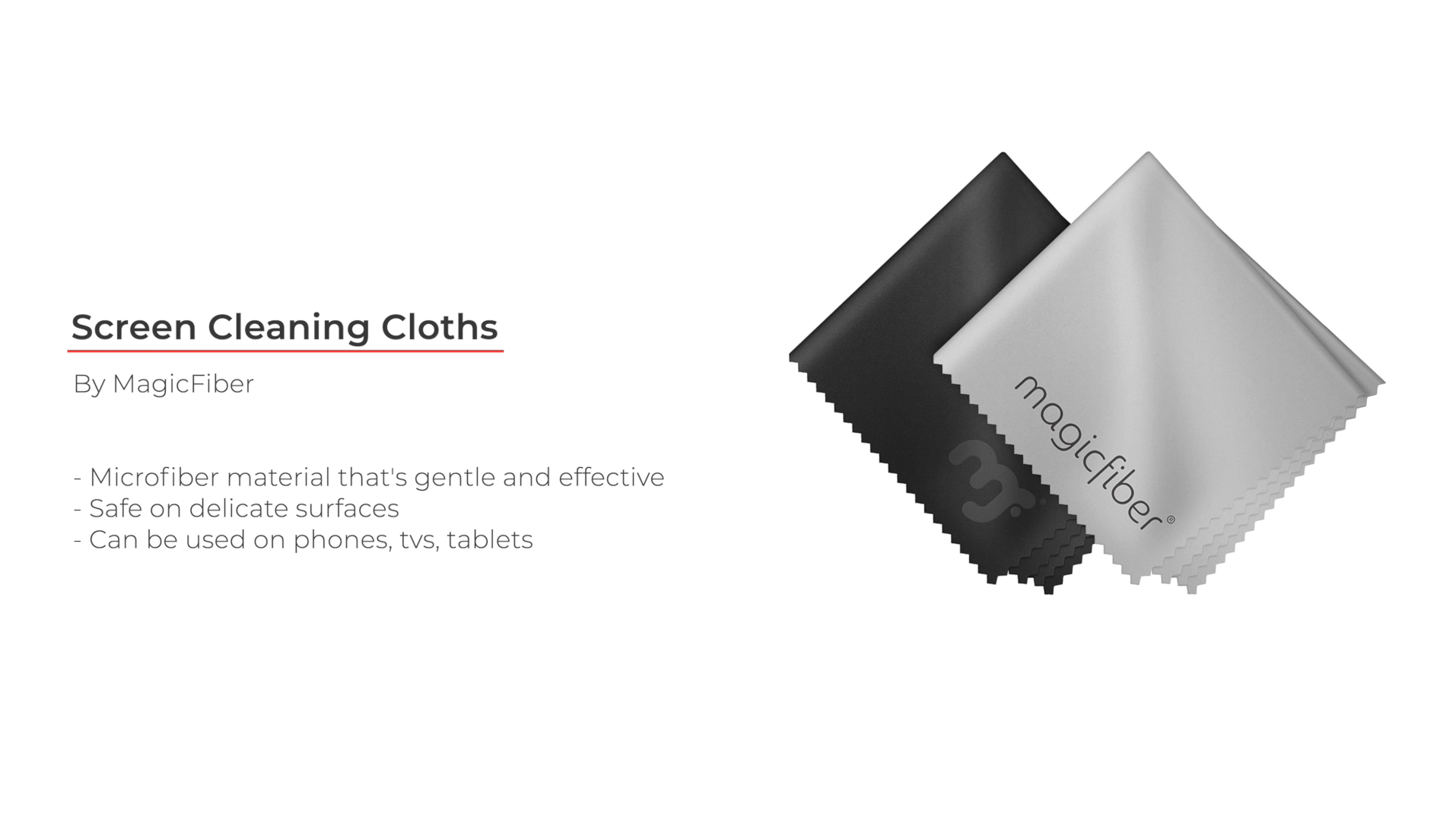 Another one you just can't have too many of these screen cleaning cloths by magic fiber are microfiber material that's gentle and effective. It's safe on delicate surfaces, like phones, TVs, tablets, and even your glasses.
Purchase here:  https://amzn.to/2J51A4h
20. Leather mouse pad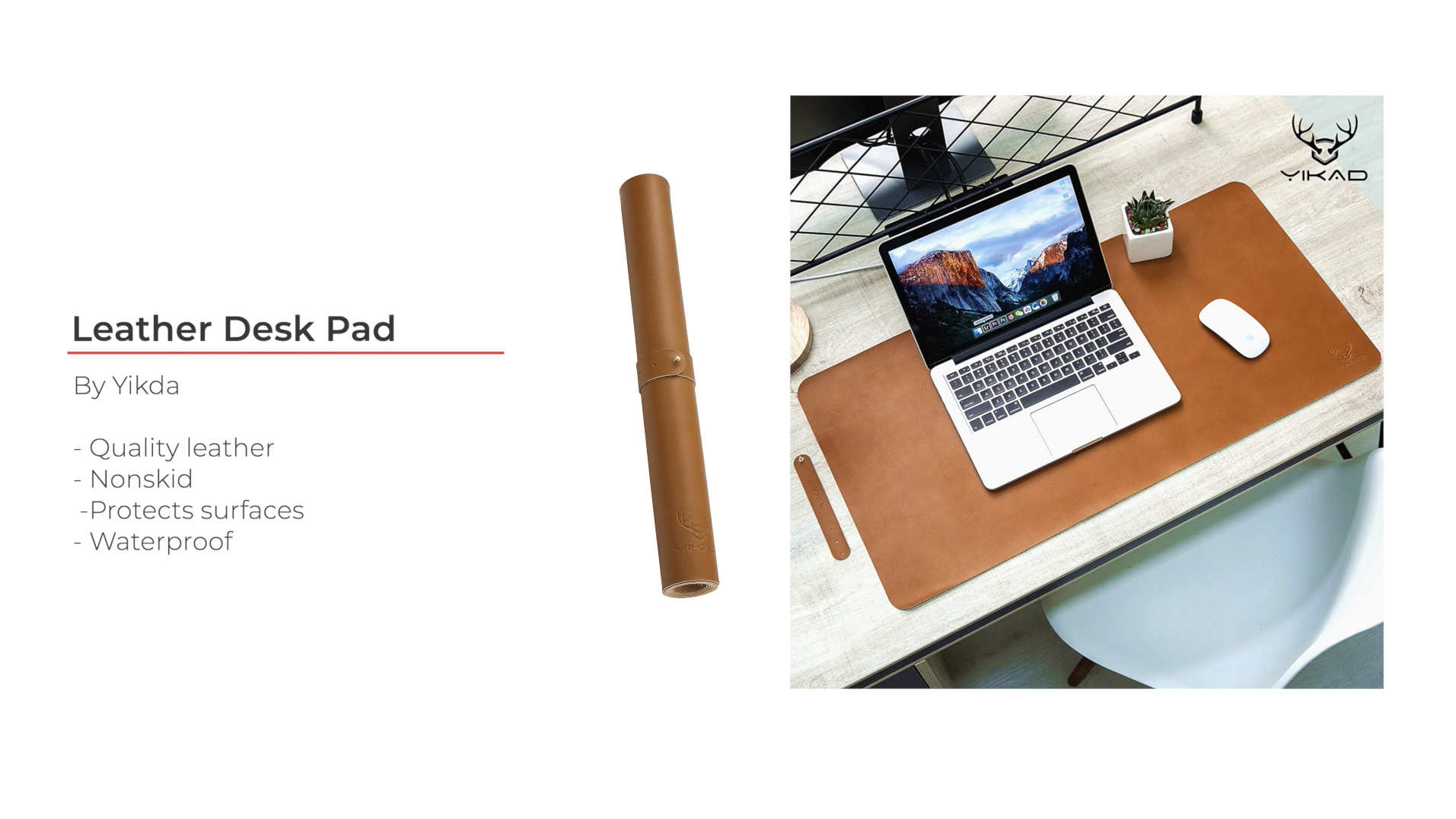 This desk pad is a great catchall to protect surfaces. It's waterproof. It's made of quality leather, and it's non-skid it can fit your laptop, your mouse, and a cup of coffee, and one last bonus gift UI UX, and product design books, because books make a great gift.
Purchase here: https://amzn.to/3q2kPw81
And that's it! Our list of the top 20 coolest items to get and gift as a UI/UX or Product Designer!
*Note that this post contains Amazon affiliate links and any amount from your purchase contributes to keeping our blog running at absolutely no cost to you.