So you've decided that you want to take an online UX/UX bootcamp or course. That's great! Maybe you realized that you need some 1:1 guidance or that you'd like help building your portfolio or perhaps you just want to fill in some knowledge gaps in order to understand the design process better.
But how do you decide which online UX/UI bootcamp or course to choose? How do you weigh all of the pros and cons, features and outcomes?
As a long-time mentor at some of the most popular design bootcamps and courses and having contributed to the curriculum of Google's UX Certificate Course and conducted university-level workshops on product design, I've created this guide to help you compare different aspects of UX/UI bootcamps and courses so that you can ask the right questions and decide what is best for you.
There are no wrong choices, only a mismatch of expectations or learning style.
Choosing a program that will require a large investment of money and time can feel like a big decision. So this comprehensive guide aims to help break down the different aspects of these UX/UI and Product Design bootcamps and courses so that you can compare apples to apples rather than apples to oranges.
What type of Bootcamp or Course is it?
Cohort based course (CBC) vs Self-paced vs Evergreen
Online learning is the fastest-growing market in the education industry. According to Statistica.com, online education has been growing exponentially with the online education market expected to reach $325 billion by 2025! 49% of students worldwide have completed some sort of online or e-learning program.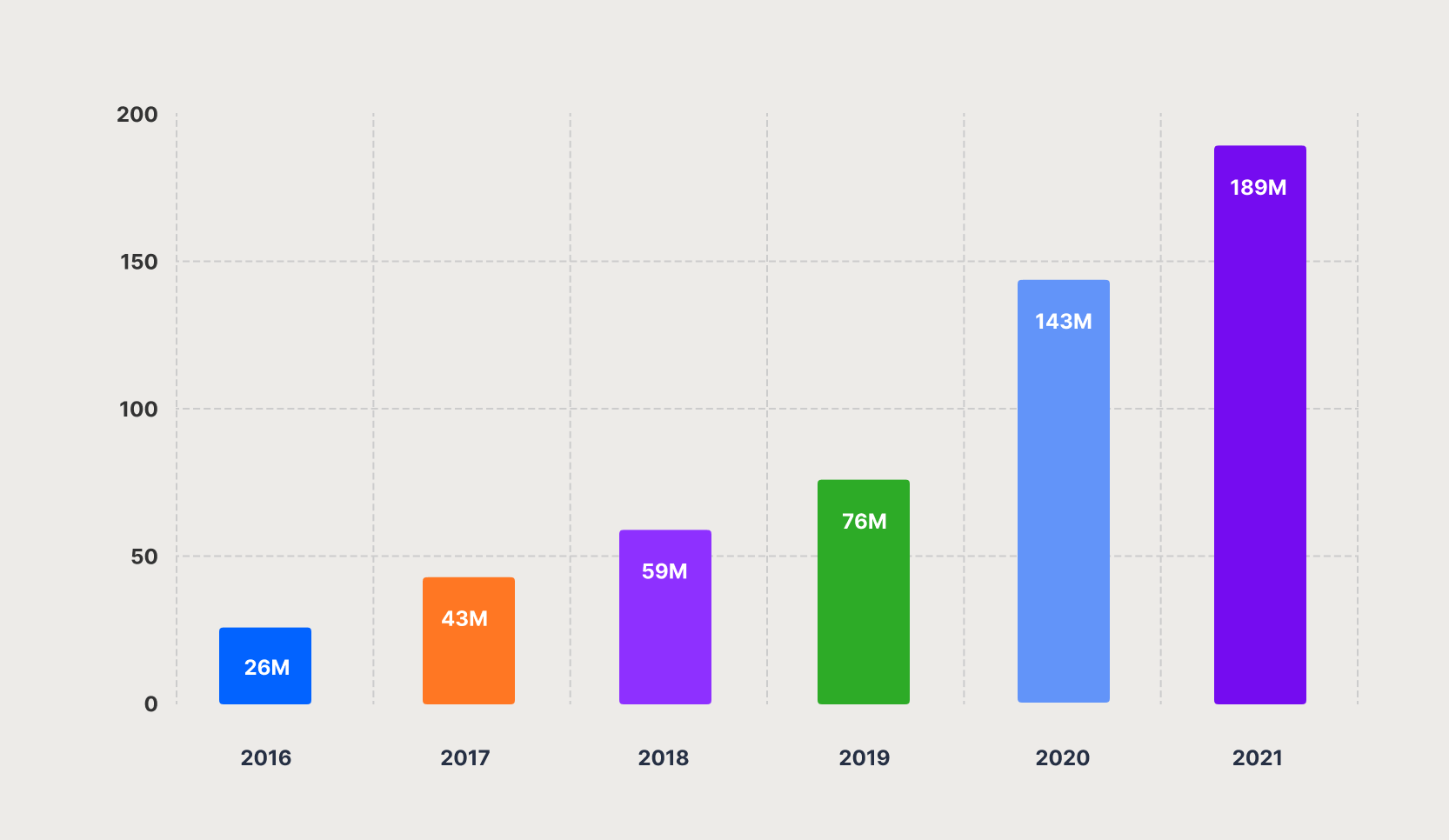 Many students are opting for the convenience and cost effectiveness of learning online and the most common way to learn UX/UI and Product Design is through an online bootcamp, course or program.
Cohort-Based Bootcamps and Courses
Cohort based courses are structured to have a set group of students start together and end together. They go through each assignment or exercise as a group, often times facilitated by someone at a higher skill level than the group. Many CBCs have a live element that requires you to be available and live at specific times for things like group crits, lessons or feedback sessions. CBCs are great for those that want be taken through a program at an accelerated pace and be kept on a more strict and pre-determined schedule. But keep in mind that these are usually the most expensive type of program because that 1:1, live mentorship time is expensive.
Self-Paced Courses
Self-paced courses are taught by a teacher, instructor or mentor and allow you to consume pre-recorded content and then get live feedback from your instructor on your own schedule. Some have a live teaching component and workshops built in.
Self-paced courses allow you to enroll at any time and students move through the program at varying rates. This is a great choice for those that are already committed to other obligations like work or family and want more control and flexibility over their time while still getting the 1:1 guidance of a teacher or mentor. Courses like these tend to be the best of both worlds, giving you the ability to learn on your own schedule makes it easy to join no matter where you live and the asynchronous feedback still gives you direct access to your mentor or instructor. Programs like these are usually well-priced and can offer more for your money.
Evergreen courses
Evergreen courses are on-demand lessons that you can access and complete at your own pace, they do not normally provide any direct 1:1 interaction with the courses instructor, teacher, mentor or peers, but may have a public community aspect.
💡
So ask: "Do I need direct feedback and mentorship?" If so, am I okay saving a lot of money and getting asynchronous feedback or am I willing to pay a lot more for regular, live, instructor sessions?
---
What type of customization does it offer?
There are very few bootcamps, programs or courses that are customized to each individual student. Large bootcamps have a rinse-and-repeat process in order to allow them to operate at scale and are often focused on quantity over quality. If they are focused on quality, then expect to pay a high cost for them.
Smaller programs may offer things such as live sessions and mentorship but make sure that it's from someone who is a trained designer and teacher with a solid background, reputation and experience in the design community and not just a junior designer who took the same bootcamp a year before you.
It's also important to find a program that will help you build your confidence, your mindset and your career strategy to help you stand out in a crowded industry. So make sure the program offers the type of soft skills training and support that's crucial to succeeding in this business.
With more and more copy-cat programs popping up each day, a program that is tailored to your career goals from the start will put you ahead of the game.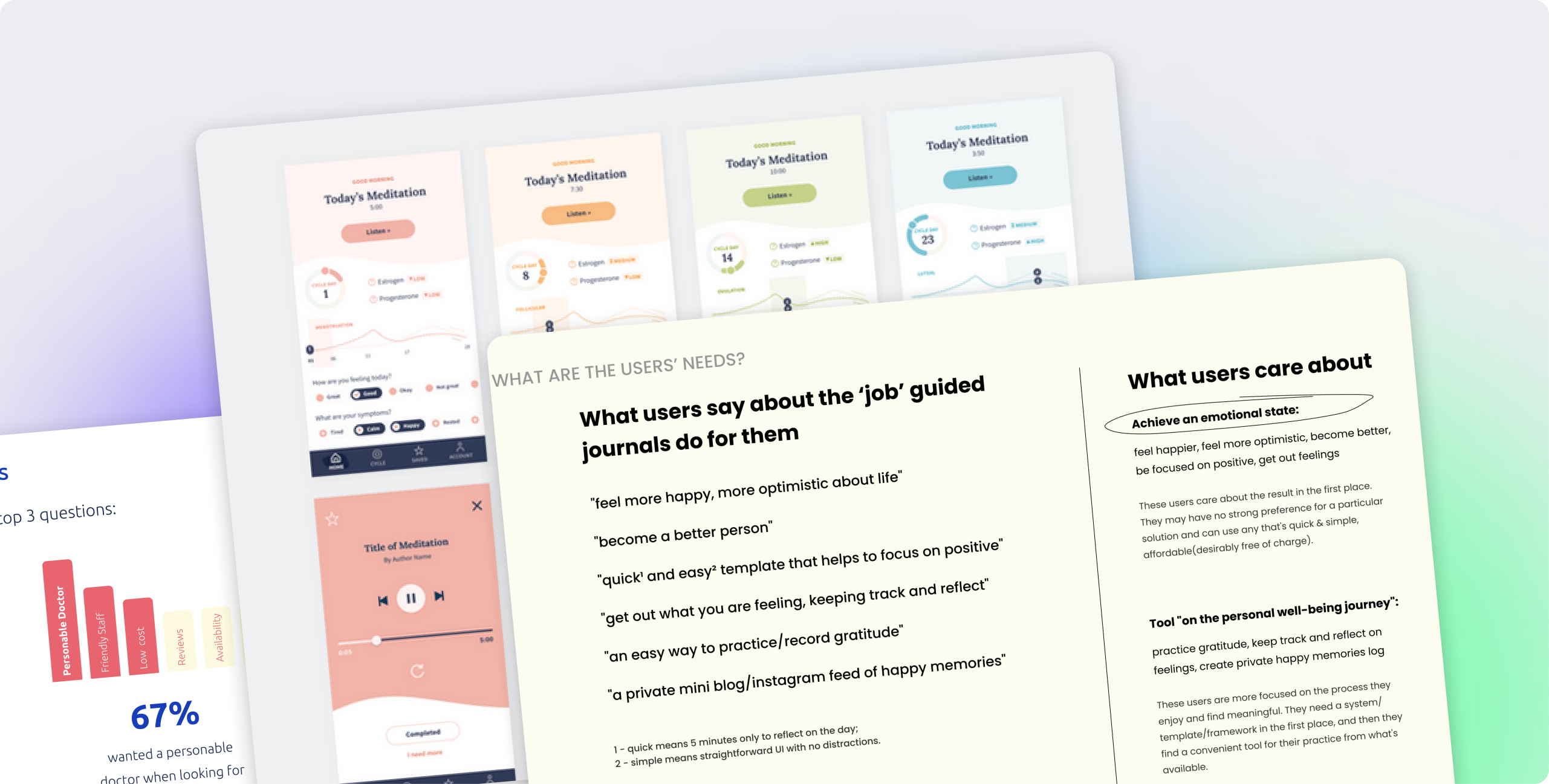 The DesignerUp course, for example, takes a tailored approach to learning by giving you a personalized learning plan from your instructor at the start of the course, so that everything you work on will tie back to your plan and actually move you closer towards your career goals.
💡
So ask: "Is this bootcamp or course customized or tailored to my needs?"
---
What's the name of the program?
What's in a name you might say? Something that you might notice is that most programs, bootcamps and courses have UX or UI or UI/UX or UX/UI in the title.
While these titles are often used interchangeably in job postings, it's important to understand the breadth and depth of skills that are implied by the program name itself.
UX Course - Usually focuses on the research side of things as well as usability testing and areas outside of digital design that encompass the entire experience of a user.
UI Course - Usually focuses on the visual interface side of things, you'll mostly be learning Figma, design systems and how to create atomic and components designs that scale.
UX/UI or UI/UX Bootcamp or Course - A course with this in the title should teach you both of those things but may not include tool-specific training.
Product Design Bootcamp or Course - A course or program with this title should teach you not only the UX and UI side but also the product strategy and business side of designing digital products (there are far fewer of these, but if you can find one like this you've hit the jackpot of skills training).
One of the biggest criticisms and complaints I hear from students, hiring managers and other veteran designers is that most UX/UI bootcamps and courses don't take into consideration product strategy, management or business goals.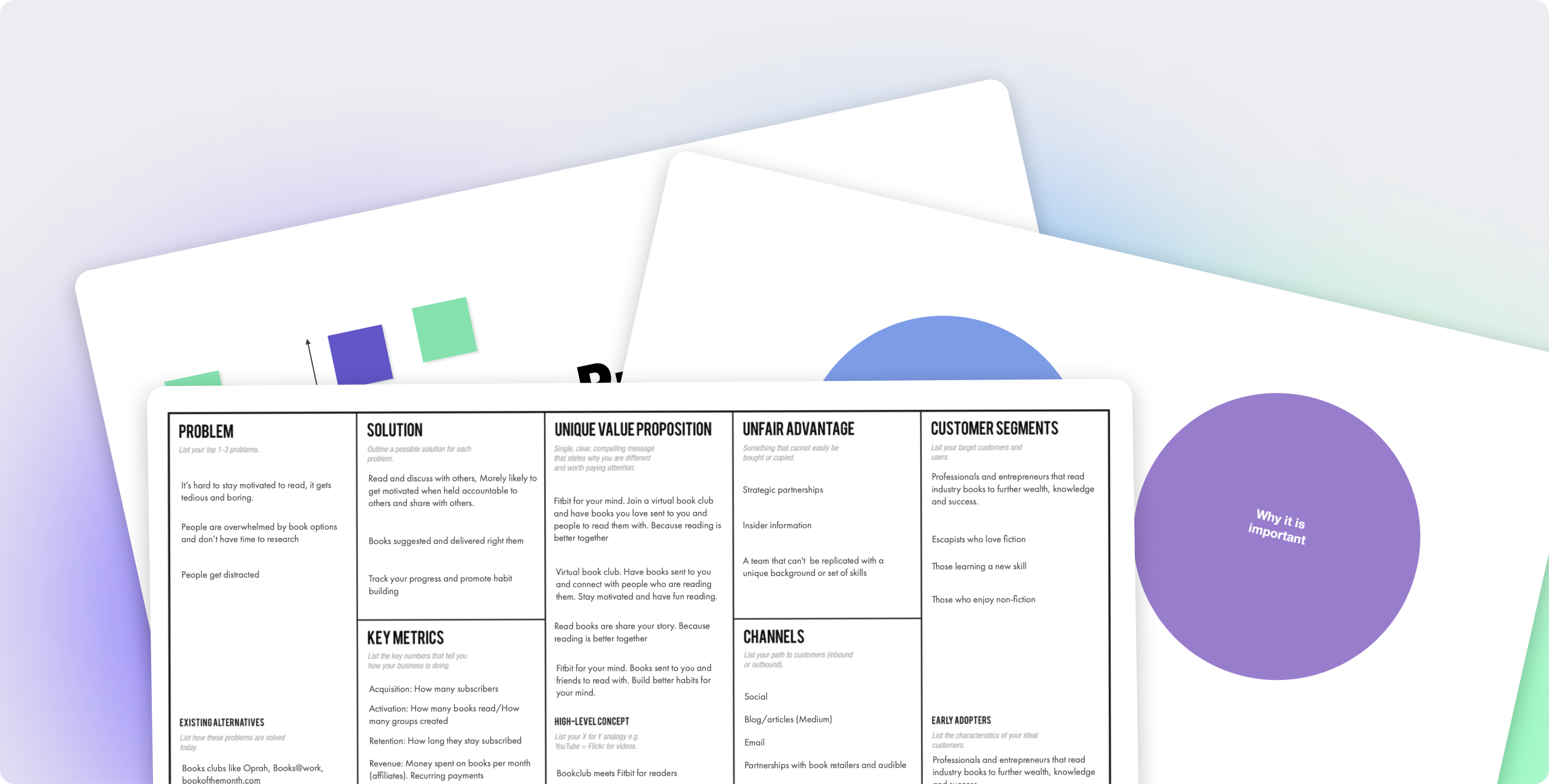 With more and more businesses going online and striving to find that perfect product/market fit and meet revenue and/or investor goals, business acumen in a designer is becoming a sought-after and coveted skill. Standing out against the competition and future-proofing your career will take more training than just a user-centered approach to design in this ever-growing and saturated field of product design.
Lack of knowledge in this area is something that can hold you back from landing a job in today's competitive market so if you don't choose a program that offers this you may want to consider further learning or self-study to upskill in these areas.
💡
So ask: "Is this program going to prepare me with the skills to do just research and visual design or will I learn about product management, strategy and business goals too?"
---
What is in the curriculum?
Most UX/UI programs have a similar curriculum. There are core disciplines, principles and deliverables that you need to will need to learn about in order to be an effective designer. If you're looking for a well-rounded program, here are some of the things that should be included in a good curriculum:
Design Thinking
Double Diamond Process
User Research Methods and Techniques
Product Development Lifecycle
Product Management
Business Viability
Competitor Analysis
Market Positioning and Fit
Data Synthesis
Affinity Mapping
Defining and building Personas
Empathy Mapping
Task Analysis
Experience Mapping
Opportunity Identification
Jobs-To-Be-Done Framework
Problem Statements
Metrics & KPIs
Ideation Techniques
Storyboarding
User Flows
Information Architecture
Wire-framing
Sketching
Typography & Use of Fonts
Visual Design Basics & Principles
Feature Prioritization
Product Roadmaps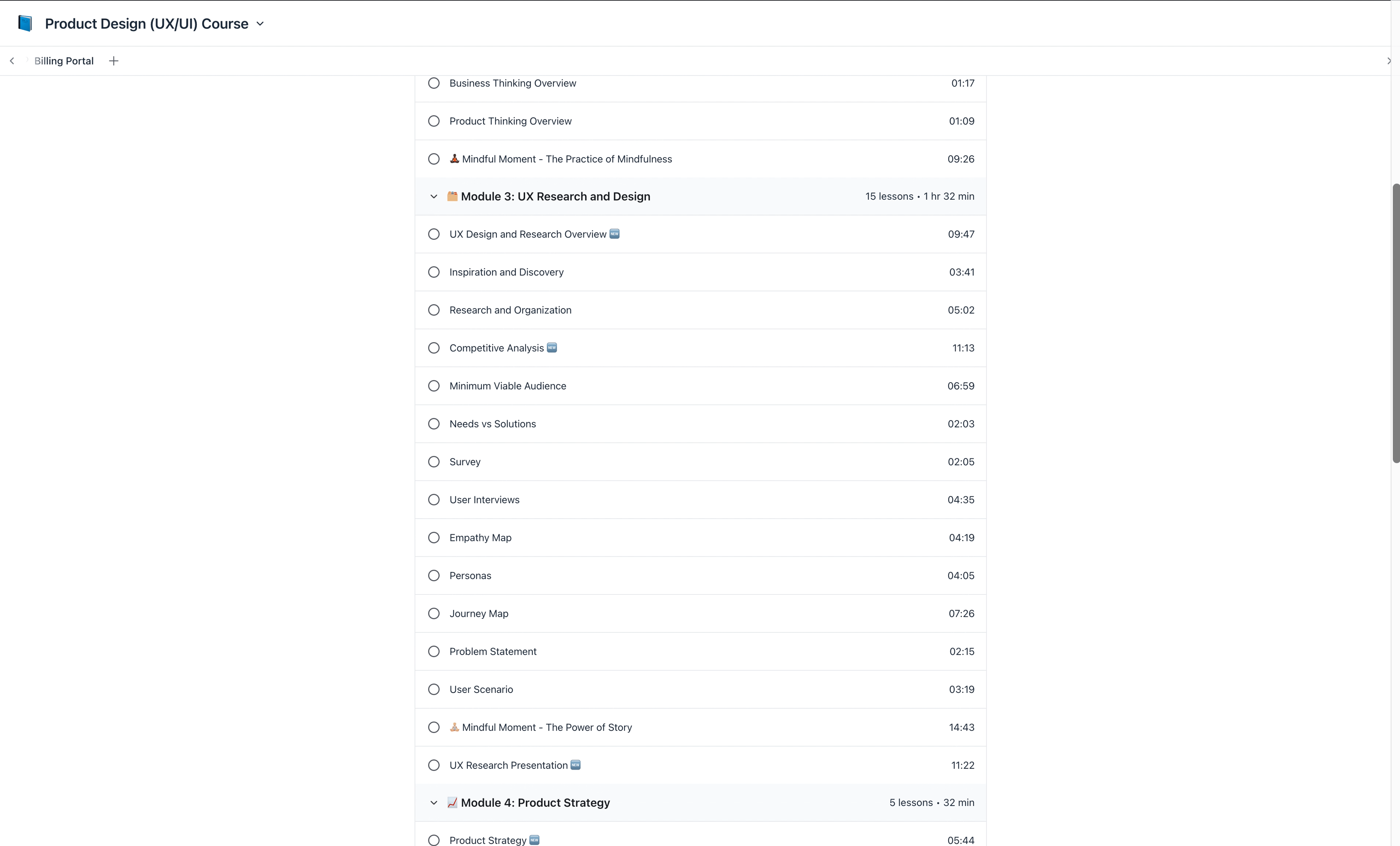 Something that most UX/UI bootcamps and courses leave out are business skills, product strategy and product management. Having the business acumen to be able to tie your design decisions back to tangible metrics and measurements, knowing how to prioritize feature development, how to get buy-in from stakeholders and how to increase the bottom line of a business is crucial for having a successful, high-paying career in the product design industry.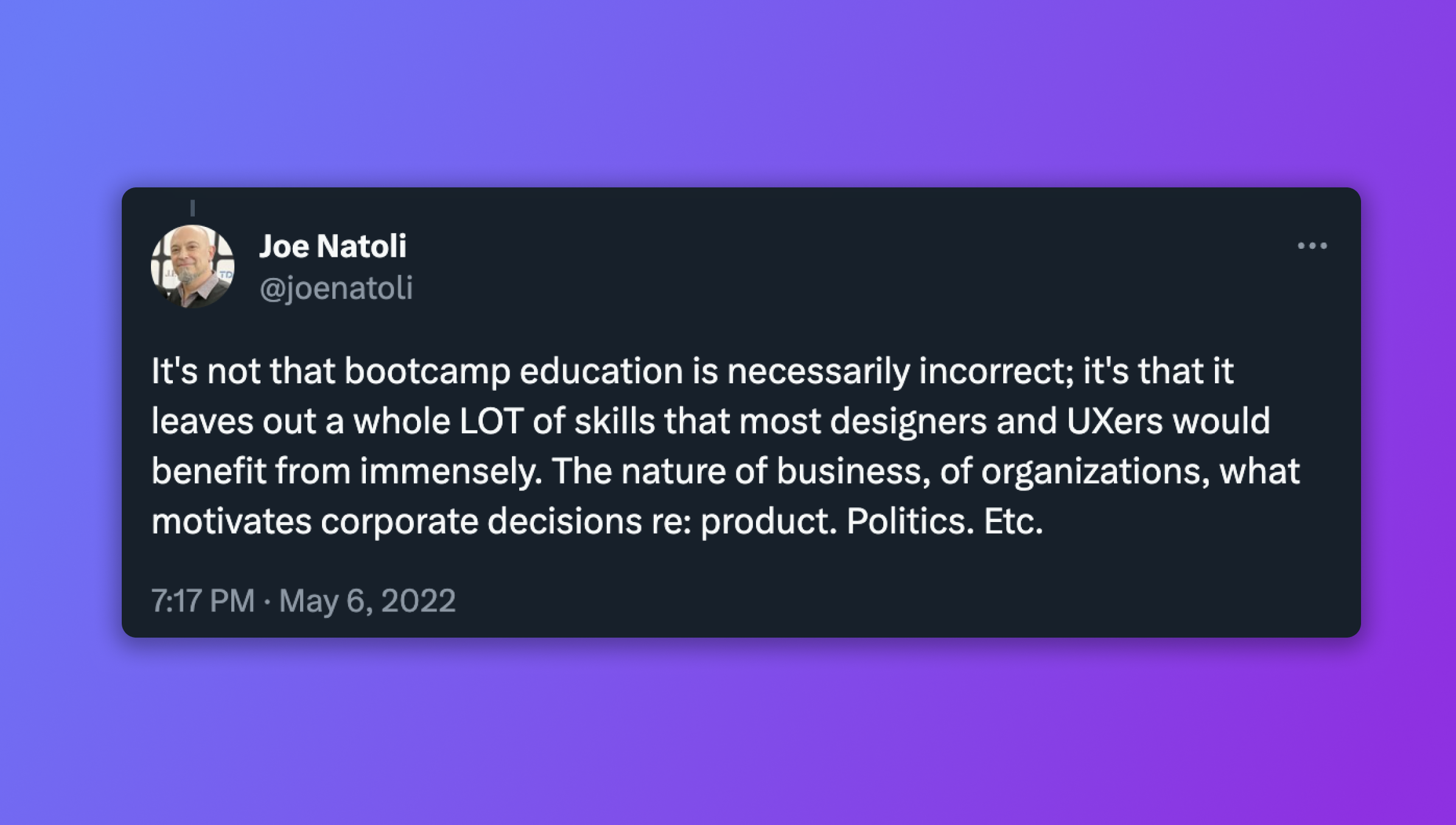 💡
So ask: "Will I learn everything I need to know and be able to apply it in a real and practical way?"
Program content and material
Even with similar curriculums, there are distinct differences in terms of the format in which the content is delivered and the quality of the material within the program.
Oftentimes, the curriculum is taught in a very theoretical way that leaves students feeling unprepared for the reality of real-world work, understanding how to think through problems, how to understand the business behind design, how to adjust to ambiguity and how to manage stress and conflict in the workplace. So be sure to look deeply into not only the topics that are chosen but the way in which they are taught.
Some offer entirely written content, no videos.
Others may have content that is more theoretical than actionable.
Others are just simply outdated or rarely updated.
At DesignerUp for example, we teach all of these disciplines and methods in a hands-on way, side by side with techniques that were created by a designer/teacher that is working in the world and applying them every day over the course of a long career and teaching many students. So you'll not only learn the fundamentals of design but how to put into action and back your work with meaningful metrics that businesses care about.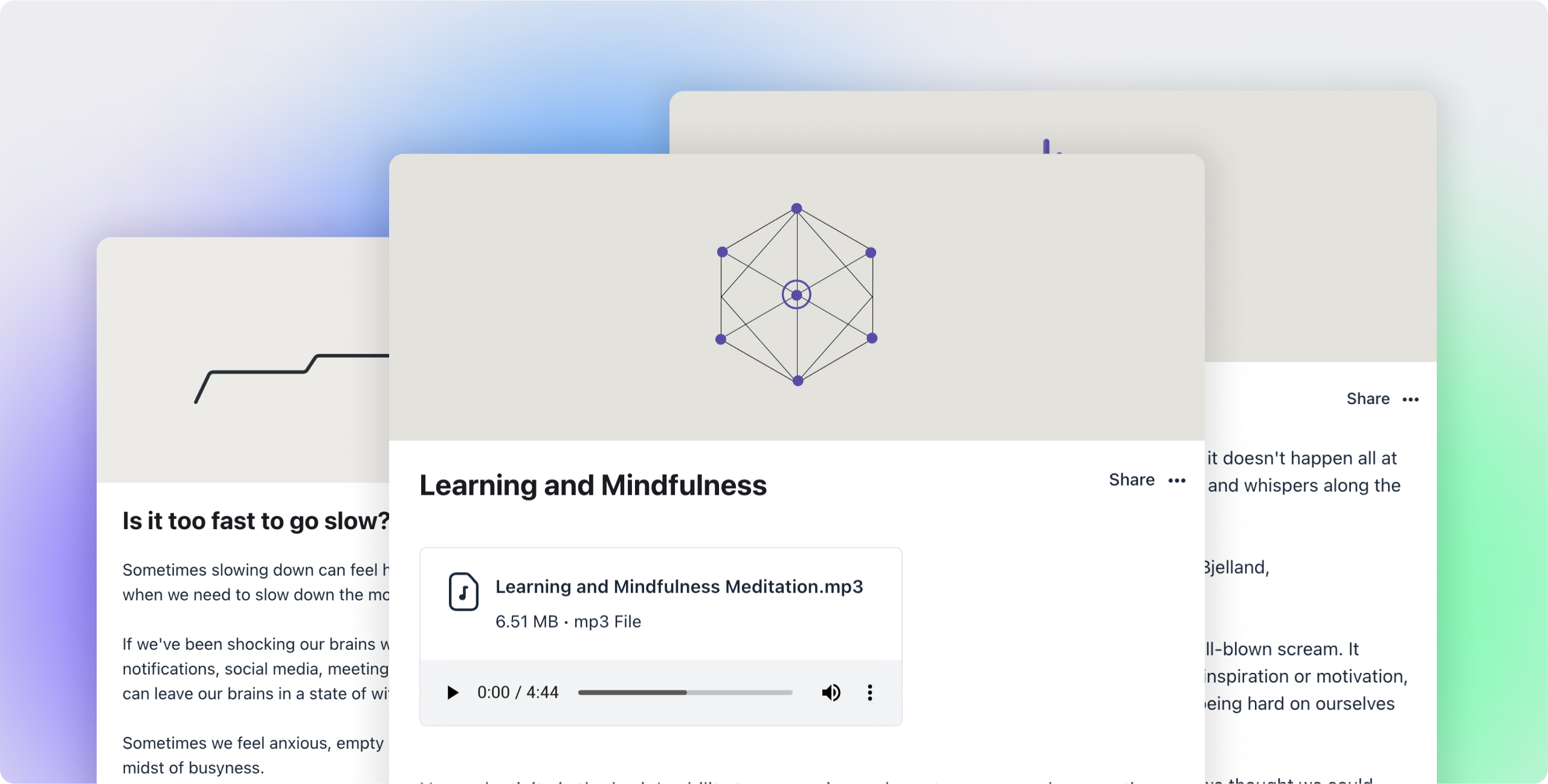 You'll not only learn hard skills in our program but important soft skills such as mindful observation, mindset shifting, learning retention, and communicating with cross-functional teams.
Some programs for example, only provide lessons that are curated from around the web, such as articles that you could technically Google on your own.
To effectively learn new concepts, our brains need kinesthetic, visual, auditory and text-based information as well as a balance of diffused and focused thinking to things stick. You also need to learn how to think and how to learn better for yourself in order to be able to solve problems and edge cases independently from the examples and use cases you've been exposed to in the program.
💡
So ask: "How do I learn best and what is the format of the content, material and lesson?"
Teaching style
Many bootcamps and UX/UI programs and courses were not created by trained teachers. They were created by designers or by business people.
You'll see the word 'mentor' a lot. But a mentor is different from an instructor or a trained teacher (someone who is trained in androgogy/pedagogy - the art and science of adult learning and development).
Mentors and peer mentors are a wonderful addition to your learning journey as they can pass down experience that is unique to them, but a teacher is an invaluable resource because they are not just passing down their personal own experience, they are also trained to focus completely on you, to understand the nuances of how you learn, absorb, retain, retrieve apply the information and how to most effectively bring out the best in each individual student.
I've also done another video where I talk more about understanding your personal learning style and how to define your career goals which is the first step in aligning with the right program of study for you.
💡
So ask: "Is this being guided by a trained teacher that is focused on me or just someone handing off knowledge?"
Assignment and exercise feedback
It's important to get feedback on your work. Different bootcamps and programs have different ways that they approach feedback. Some are peer or community-reviewed, others assign you a mentor and some have direct instructor feedback. You may also find a mix of both. The most important this is that the person you're getting feedback from has taken the time to understand your learning and career goals and is intimately familiar with the curriculum and how to help you improve on your work.
Is there 1:1 support via video chats that must be scheduled?
Is there 1:1 support via asynchronous chat with a trained instructor or mentor
Is the feedback community-led?
Is the feedback done in the form of group critiques and presentations?
Is there some combination of the above?
Remember that live, direct assignment feedback often increases the price of a course so look for an asynchronous feedback option if you're looking for a more affordable solution.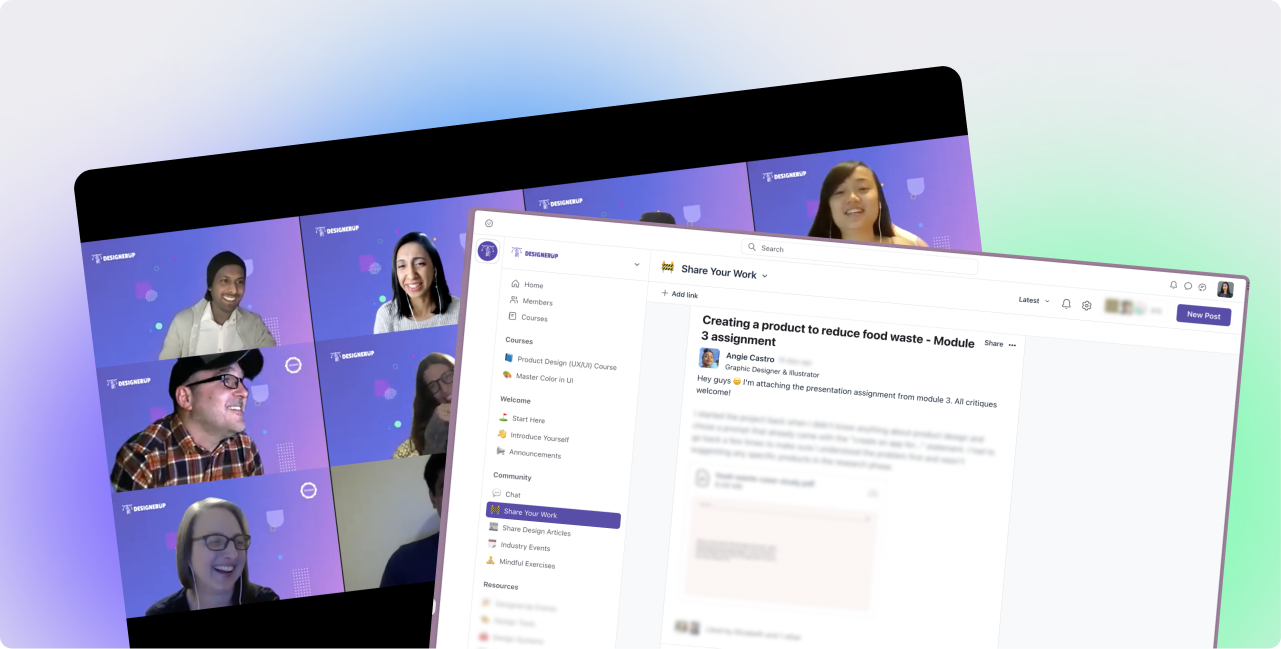 It's also beneficial to seek feedback not just from inside of the program but from outside of the program as well by being encouraged to share your work in progress and finished pieces in places that can help you build your own brand, authority and network.
Look for a program that encourages you to share your journey and not just learn in isolation for months before sharing what you're doing with the world!
💡
So ask: "What kind of feedback am I looking for and how does this program deliver it?"
Resources and support
Most bootcamps offer resources and tools to help you complete the program. But most of those resources aren't very useful beyond the course and leave you hanging when you get into the real world.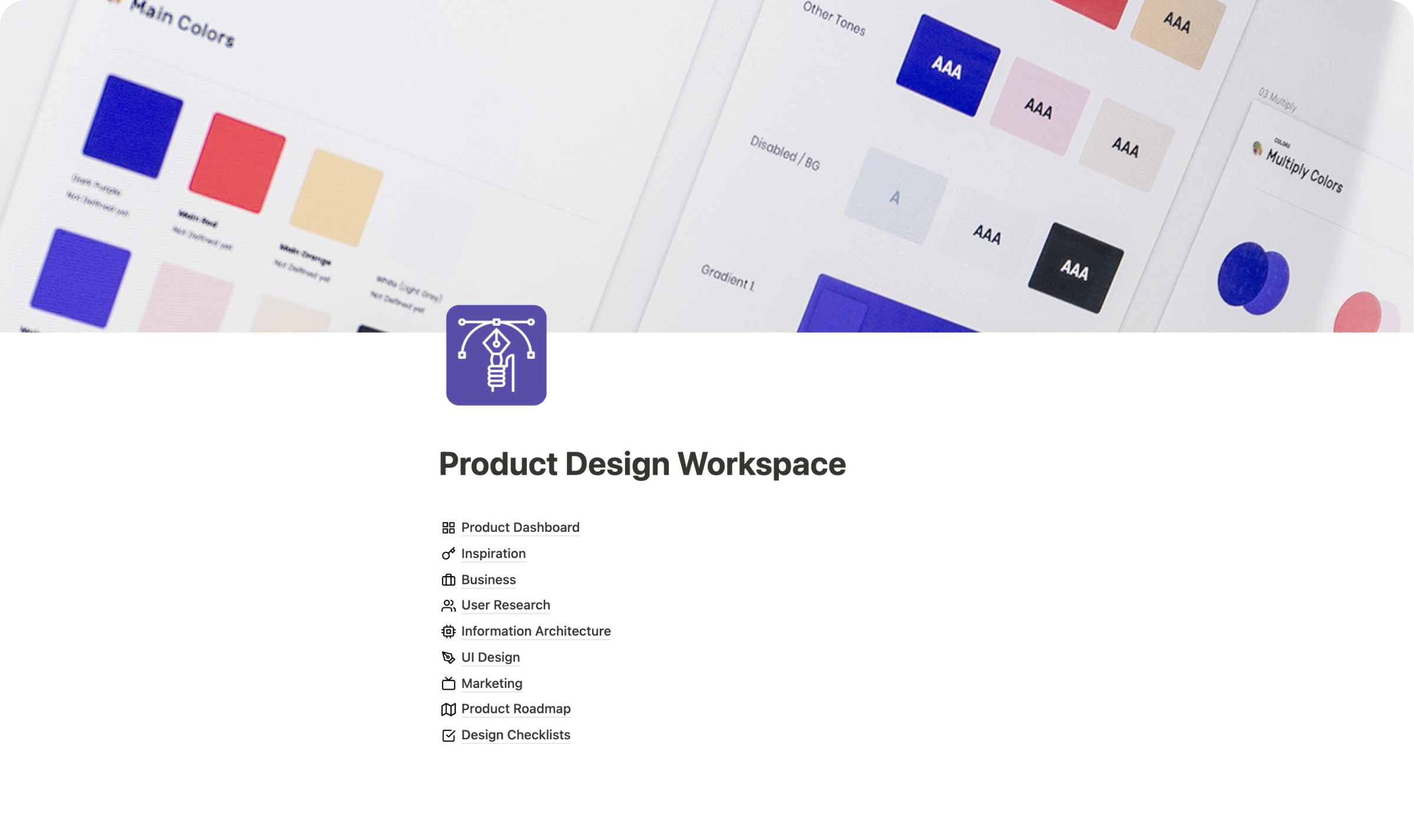 It's important to look for programs that support your learning beyond that course with things like project management systems, design system kits, software workflows and custom tools and resources to help you not only make it through your learning journey but also beyond that, so you can apply them to the real-world once you graduate.
💡
So ask: "Do you have resources like a project management system or will I have to organize my notes, research and learning on my own?"
---
Design Philosophy & Ethos
Every school, program or course has its own branding, mission and perspective on design. There is no one right way, but the program you choose should align with your own values and style so that you feel at home, safe and supported within the community.
"Design isn't just something we do, it's really an extension of who we are, how we see the world, how we think through and react to problems and how we show up to solve them."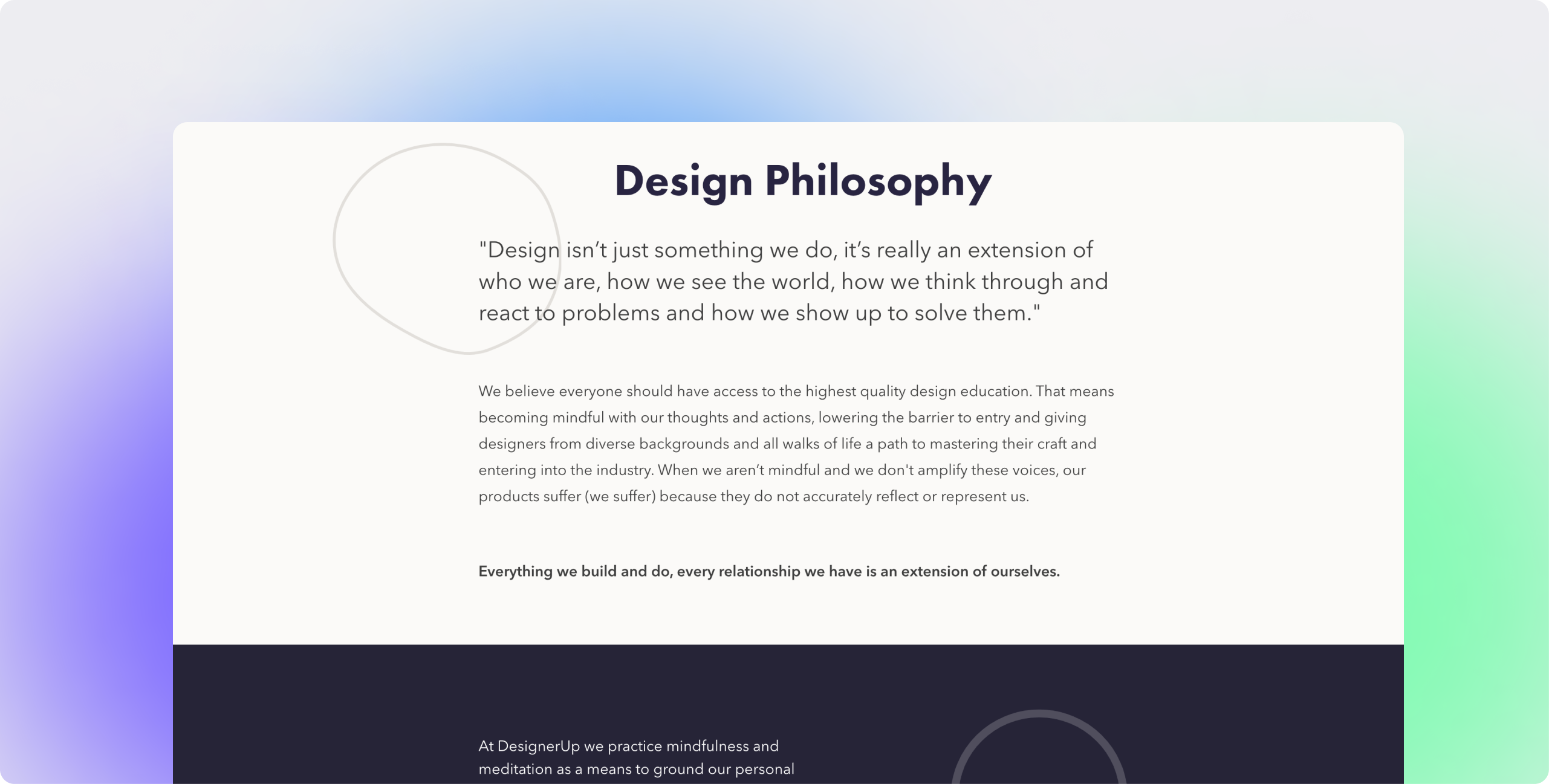 I'm proud to say that DesignerUp has created the first ever Mindful Design Product Design program built on the pillars of mindfulness. We teach through a unique framework that cultivates your mindset and soft skills to help you gain confidence, refine your technique and hone your problem-solving ability in a kind, objective and ethical way.
💡
So ask: "What type of design philosophy does this program seek to promote?"
---
Career Guidance
Some UX/UI bootcamps and courses offer career advice or guidance s part of their program. There are often stipulations on this however and in many cases, if you don't complete the program or adhere to thier strict protocol in its entirety you don't get access to their career guidance.
We believe that your career doesn't just start the day you end our program, many of our students get hired before they even finish! Look for career guidance that begins at the start of the program and is part of the process all the way through.
---
Portfolio Building
Arguably the most important reason to join a UX/UI bootcamp or take a course is to build a portfolio and case study that will help further your career and showcase your skills.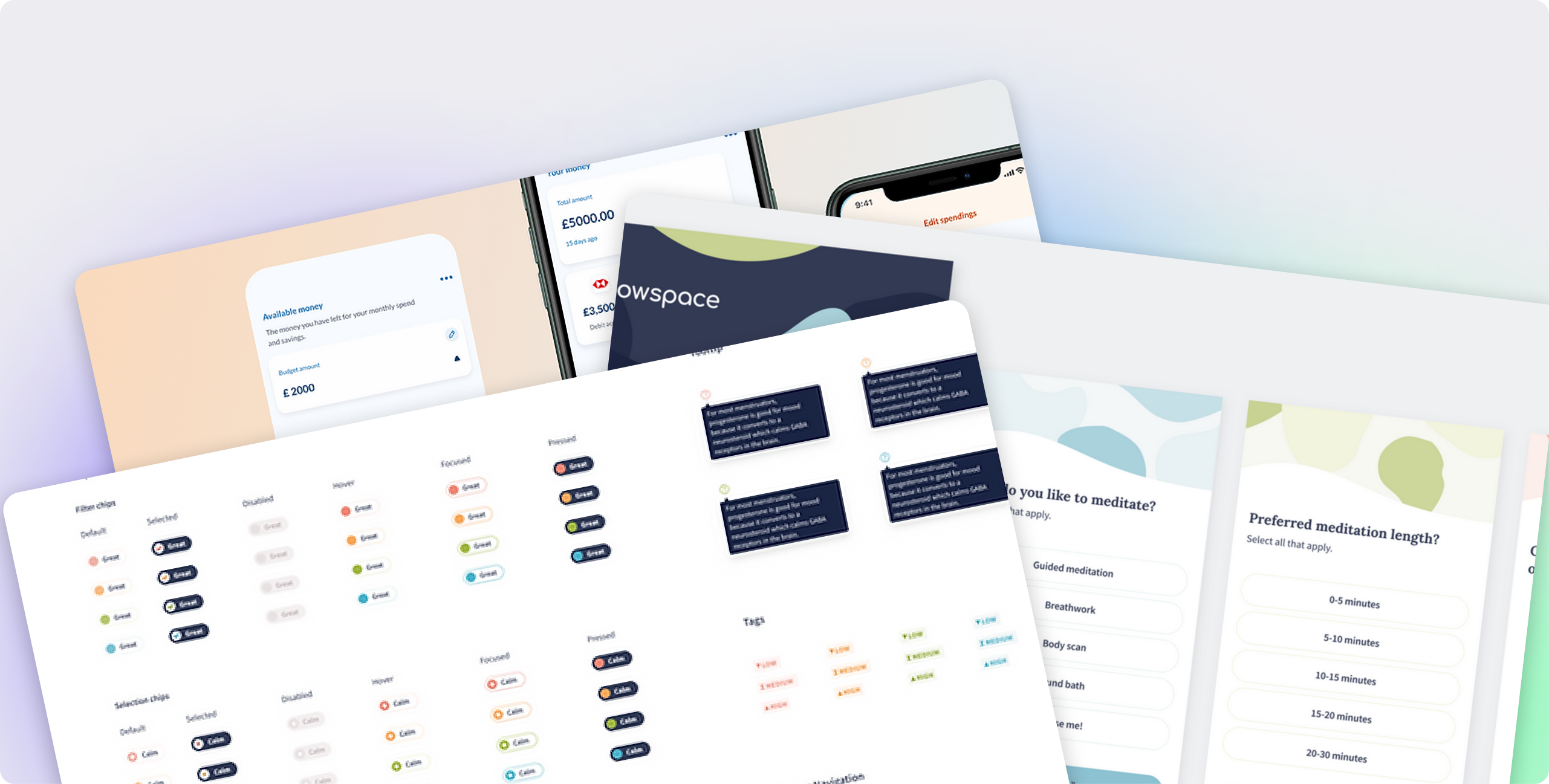 Surprisingly, it's rare that a large bootcamp or UX/UI program will guide you through creating an original project. Most programs have cookie-cutter projects, pre-defined exercises, challenges and prompts that leave students in a sea of other graduates all exiting at the same time with the same case studies.
"Hiring managers can immediately tell if someone comes from a bootcamp because they have cookie-cutter portfolios." - Stella Guan
So make sure to confirm that your case study will be completely unique to you and give you the edge to compete against other designers and magnetize recruiters and clients to you!
💡
So ask: "Does this program have pre-defined portfolio projects or will I create unique projects and case studies from scratch?"
---
Community & Networking
Arguably one of the most important aspects of a bootcamp or course experience is the community.
While there are some programs that do a great job of fueling a vibrant community, for most it's an afterthought that leaves students in a silent Slack channel or Facebook groups feeling isolated from their peers. Others, my push the social aspect too hard leave students that are more introverted or self-directed feeling self-conscious or burned out through forced connections.
It's important to know yourself and find the right balance for you. Look for a UX/UI bootcamp or course whose community aspect matches your own social threshold and allows you to express yourself while being supportive on your own terms in a space that feels safe, nurturing and exciting.
Beware Job Guarantees and Job Placements
Some large bootcamps and courses like to lure you in with the promise of a job waiting for you at the end, but what you might not know is what is in the fine print. Most guarantees are easily voided if you miss just one of an incredibly convoluted and long list of requirements. Some companies also negotiate expensive job placement agreements with firms and then pass the cost on to the students. Some even hire their own students just to inflate their numbers. Many also restrict these placements to only certain cities.
You also don't want to land a job just for the sake of landing a job or to be a filler in a pre-negotiated contract to check off an outcome box for your bootcamp. Aim to grow into a highly valued designer that can go after your dream roles, provide business value to organizations, and become a design leader and you won't need a job guarantee.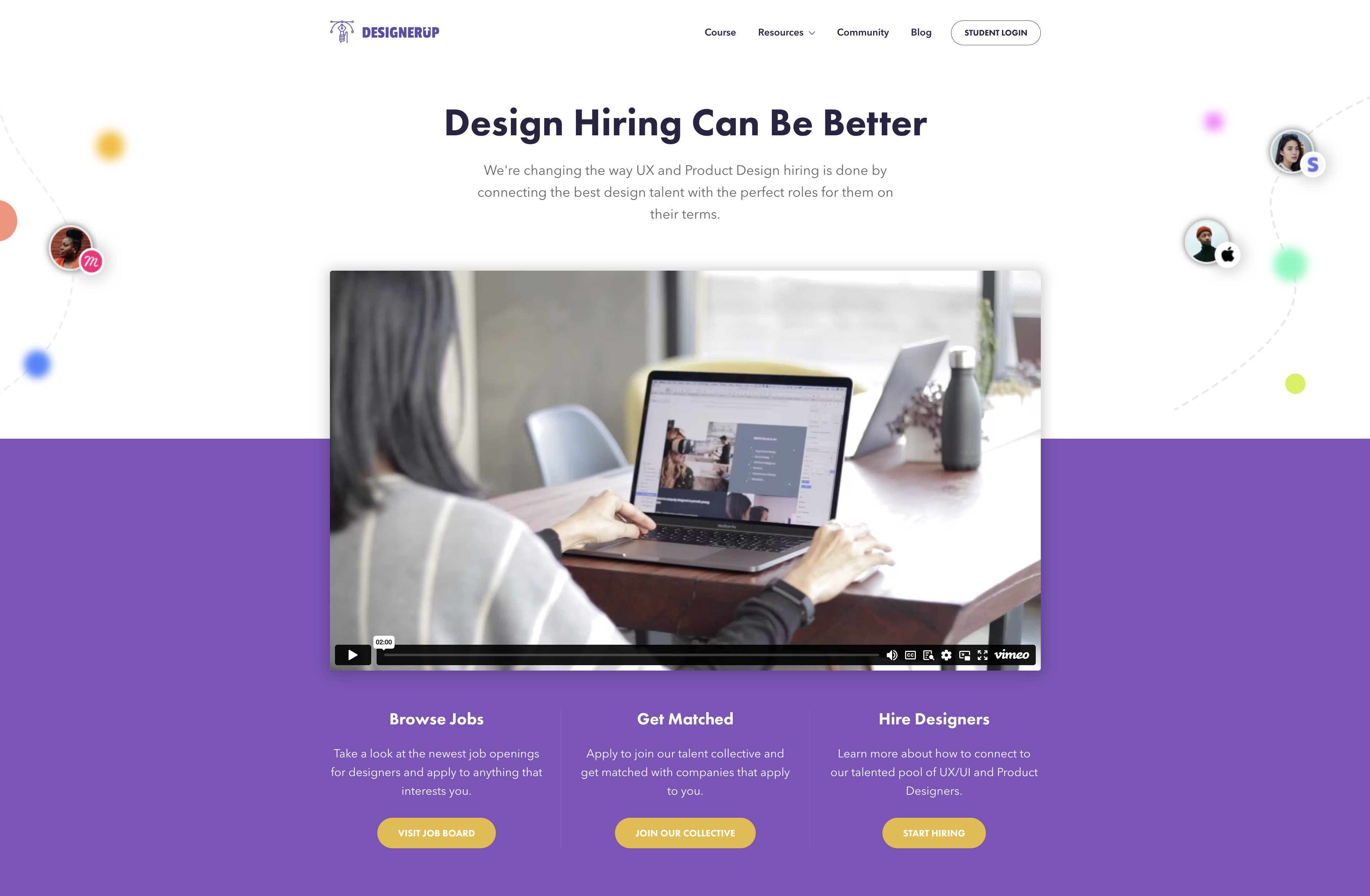 Our students are working at some amazing places including Bank of America, Whirlpool and John Deere and Asana. Our job matching program is changing the way design hiring is done by matching our design graduates with vetted job opportunities that match their skills and aspirations so they have the best chance of succeeding.
💡
So ask: "How do you help me find jobs or clients and what are the stipulations behind it"?
---
UX/UI Certification
While there are no formally accredited UX/UI bootcamps, courses or programs (outside of university-conducted programs), most online schools offer a certificate of completion. This simply shows that you have completed their course of study.
Certificates are not crucial to landing a job in the UX/UI industry however, as most hiring managers, employers and clients only care about the quality of the work you show in your portfolio, your ability to problem solve and the actual work experience that you have. A certificate however can be beneficial if it comes with other perks that help you beyond the program.
For example, in our Product Design Course, our certificate includes a personal certification page that breaks everything you have learned in the course so that potential employers can see the specific skills that you have acquired. You also have the ability to use us as a reference and share our contact information with potential employers.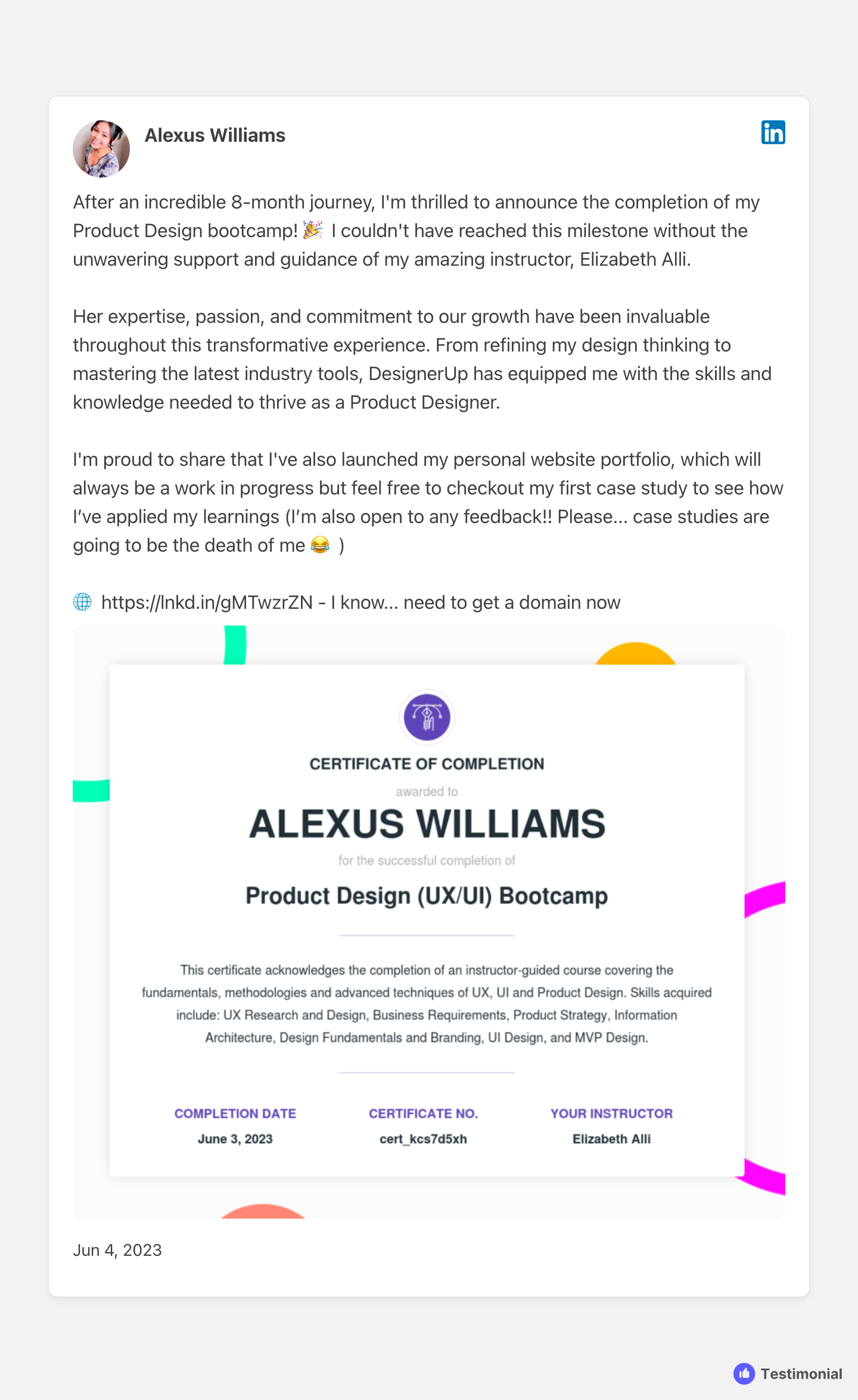 We also walk you through how to add your certificate to your Linkedin profile which is a powerful signal to recruiters, clients and employers that shows up in search and helps put you get in front of the right people!

💡
So ask: "Does the school provide documentation about the skills you've learned, a reference letter from an instructor and a Linkedin Certificate Badge?"
---
Pricing and Tuition
A very important factor for many is the price of the course or the cost of tuition This can vary anywhere from $200- $10,000 with such an enormous range in price, it can be difficult to know which options to compare.
All of the things mentioned above factor into the cost and don't necessarily reflect the quality or the outcome. But in general, the more prominent the bootcamp name and the more 1:1 live sessions there are the most expensive it will be.
Often times however large bootcamps are just passing on overhead the students, sharing theoretical knowledge or saving time by having all students complete the same design challenge or case study prompt.
Furthermore, the more expensive bootcamps inadvertently perpetuate the lack of diversity and equity in design by pricing out certain income brackets and groups of people.
Beware ISAs
One of the most worrisome yet enticing lures for students who cannot afford to pay for an expensive bootcamp program are called ISAs or Income Share Agreements. These indicate that you will "pay nothing until you land your first job". Although that might sound intriguing, if it sounds too good to be true it often is.
These deals often come with a hefty price tag that can eat into your income once you land a job and come with the added cost of a high-interest rate. According to a Forbes report by Robert Farrington, "...students who choose ISA's end up paying so much more than the original tuition because ISAs charge a percentage of a student's future salary over a period of years. That percentage does not change if you get a raise.So, if your salary increases, so does your payment."
If you are considering one, make sure you read the fine print and terms and conditions as it's a decision that can have a far-reaching impact on your financial future.
Opting for a simple payment plan if you are in need of financial assistance or opting for a less expensive program that prioritizes accessibility, equity and outcome over fancy features and brand clout is usually a better option.
Focusing on what your non-negotiables of the program are and the amount you're comfortable investing is the best step forward.
💡
So ask: "What can I afford now that will help me build towards my future?"
We hope this guide has helped you understand the different facets of online UX/UI and Product Design bootcamps and courses so that you can make an informed decision about what is right for you.