Canva has quietly been rolling out Pro features that rival some of the biggest design apps in the world and now, it's worth more than Figma (yes even after the acquisition).
Yet many designers don't realize just how powerful it is and the full range of what you can do with it.
Canva's new Visual WorkSuite of tools boasts an impressive set of features for web, UI or UX Designers that incorporate great graphic and video resources all rolled into an easy-to-use, drag-and-drop platform. Let's walk through what's new and how you can use Canva as a product designer to its maximum capabilities.
Watch the Canva Video Tutorial
What is Canva?
Canva is an incredible design tool that makes professional-looking design creation accessible to anyone.

You can create anything from flyers and posters to presentation slides and even fully responsive website designs that you can host on Canva for free. It's an all-in-one design solution all of the design resources like stock photography, videos, graphics, typography and colors palettes you could to design whatever you'd like.

The learning curve is low and the things you can do are limitless!
Not only is the product and its growth and adoption extremely impressive but the founder and her vision are even more noteworthy. Founded by an Australian-born woman of color, Melanie Perkins, whose idea was rejected by 100s of Silicon VCs is now worth 26 billion dollars with over 90 million users, it's profitable and is considered to be the most valuable startup in the world.
"Our goal was to take the entire design ecosystem, integrate it into one page and make it accessible to the whole world." - Melanie Perkins, Founder/CEO
What Makes Canva So Great?
The platform features one of the lowest barriers to entry of any design software I've tried and makes beautiful design accessible to anyone.
Looking at it from the perspective of someone that does everything from graphic design to product design, team presentations and video production, it is the only complete end-to-end design solution on the market right now that somehow manages to cater to everyone, without feeling like it caters to no one – Which is often the result when products like this try to be everything to everyone.
You can tell that Canva is laser-focused on the user experience of their product. They hire talented graphic, visual and UX/UI designers to build and contribute to the design templates and resources they provide and the functionality of the platform making the quality of their design very high. From their job page you can see their focus on the user experience:
"As a designer at Canva, it's your mission to create experiences that distill the complex into the simple and give ordinary people the ability to make extraordinary things."
"Our designers are at the forefront of the Canva mission, responsible for the design of our much-loved web and app platforms, beautiful graphic libraries and of course all of our amazing document templates" - Canva Careers Page
Canva's new Worksuite of Design Tools
Canva's new Visual Worksuite of tools is impressive and it's all located right within your single Canva account. Here are some of my favorite features for Web, UX, UI and Product Designers.
Whiteboarding
Canva's whiteboarding tool is really refreshing to use. Much like Figjam or Miro, you are able to create free-form spaces for brainstorming, workshopping, sticky notes and other UX discovery tasks.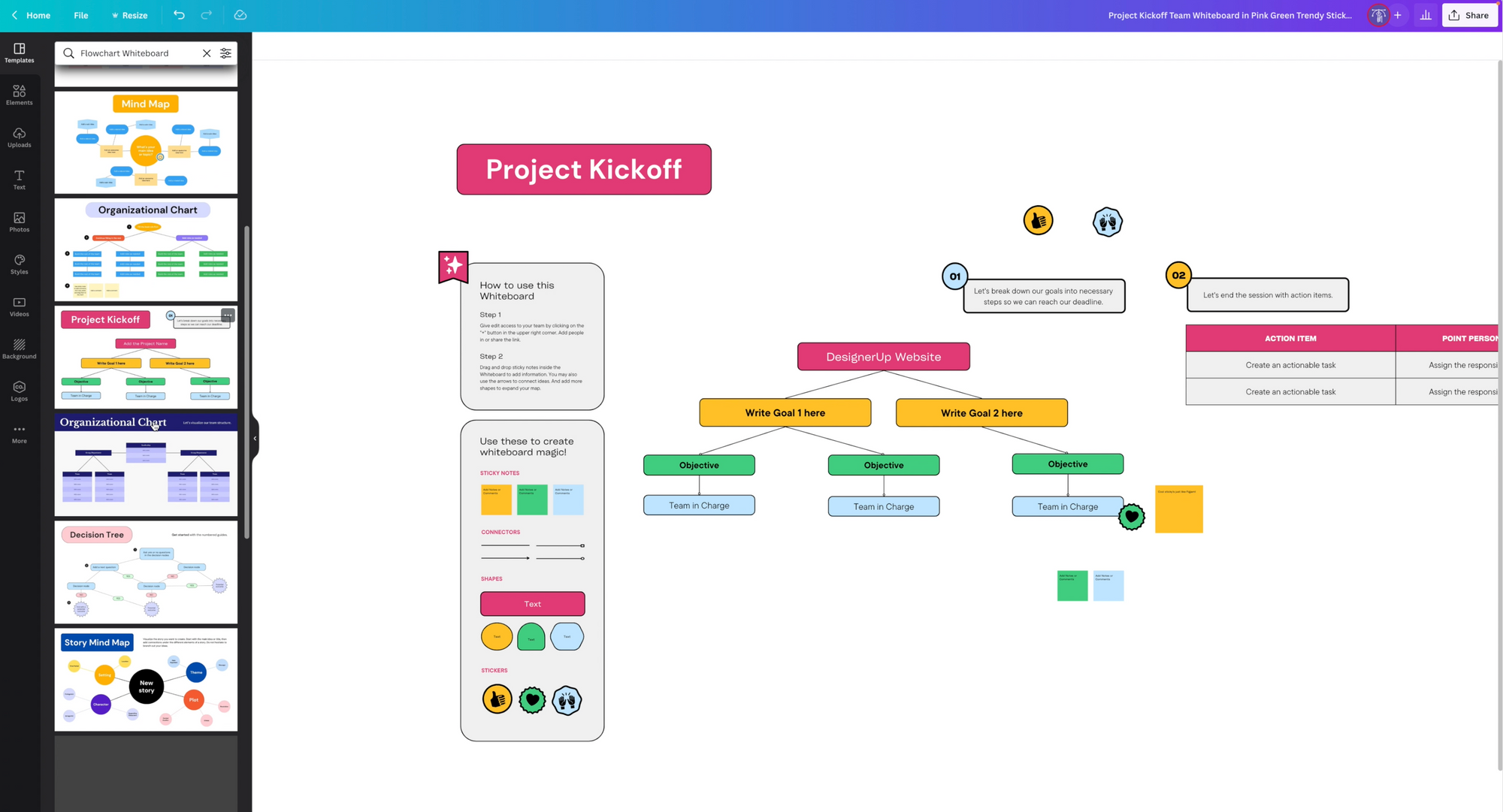 In Canva you can click on Whiteboard and start with one of the many pre-made templates created with UX design and product management in mind. They actually have quite a lot more templates in their library compared to Figjam.
I might use a project kickoff to start off some new work. Then a Brainstorming template to begin collaborating with my team, I can then export any of these boards as a tangible UX deliverable, like a Journey Map. There are lots of templates to choose from and it's really easy to customize them and move things around to suit your needs.
Prototyping
You can create high or low-fidelity prototypes in Canva. You can start out with one of the mobile screen templates for example, add more screens for creating a user flow and than add in some interactions and animations to create a very impressive and realistic approximation of a final product.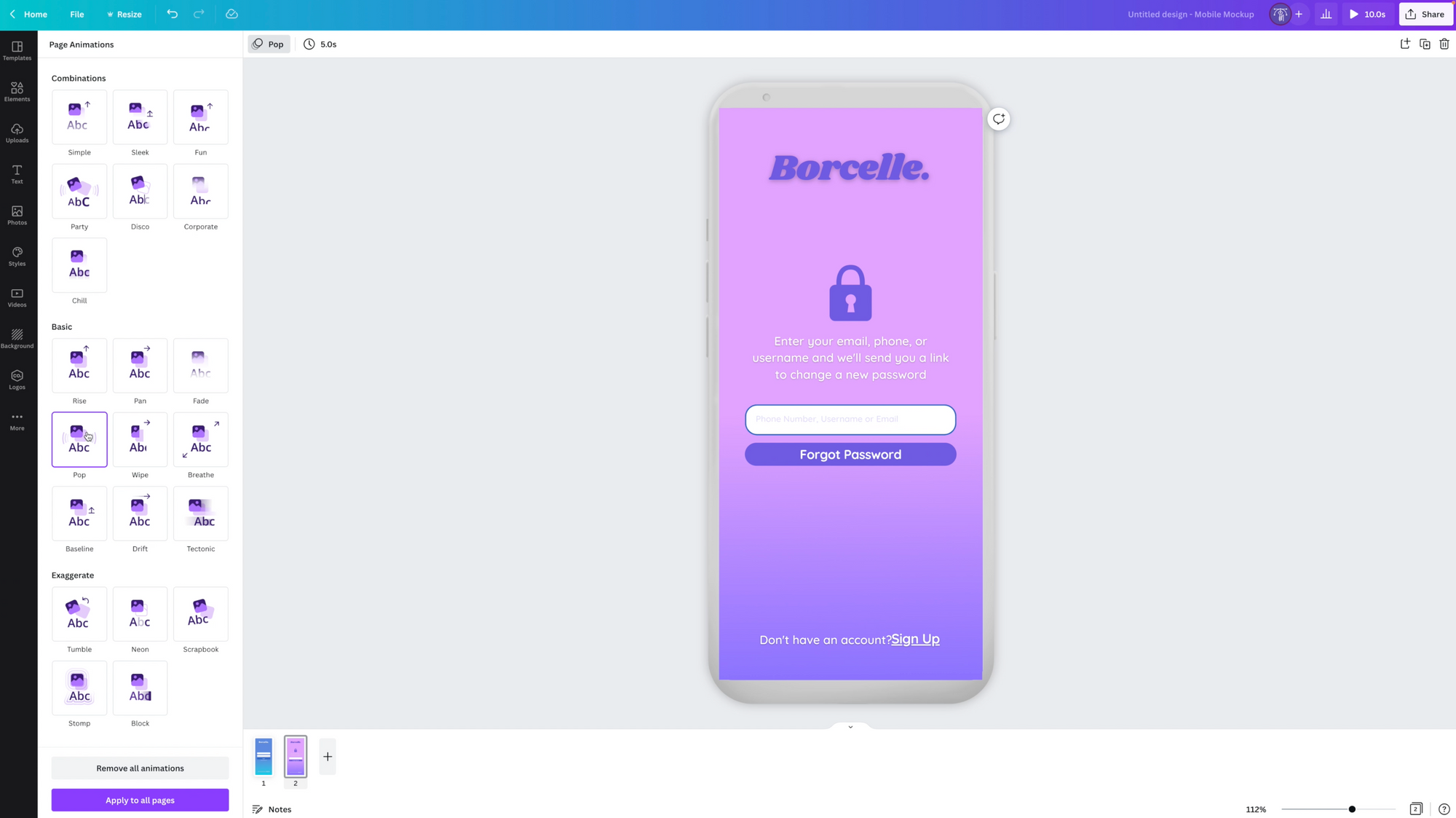 For UX designers this allows you to jump straight into possible conceptualizing and getting feedback on your ideas right away. Your viewers can interact with your prototypes as well through touch and click-points and leave comments.
Presentations
The presentation feature in Canva is a combination of Zoom and Powerpoint with some really unique features for designers. This is a useful feature for showing slide presentations, doing design crit or to share with my developers for an implementation walkthrough.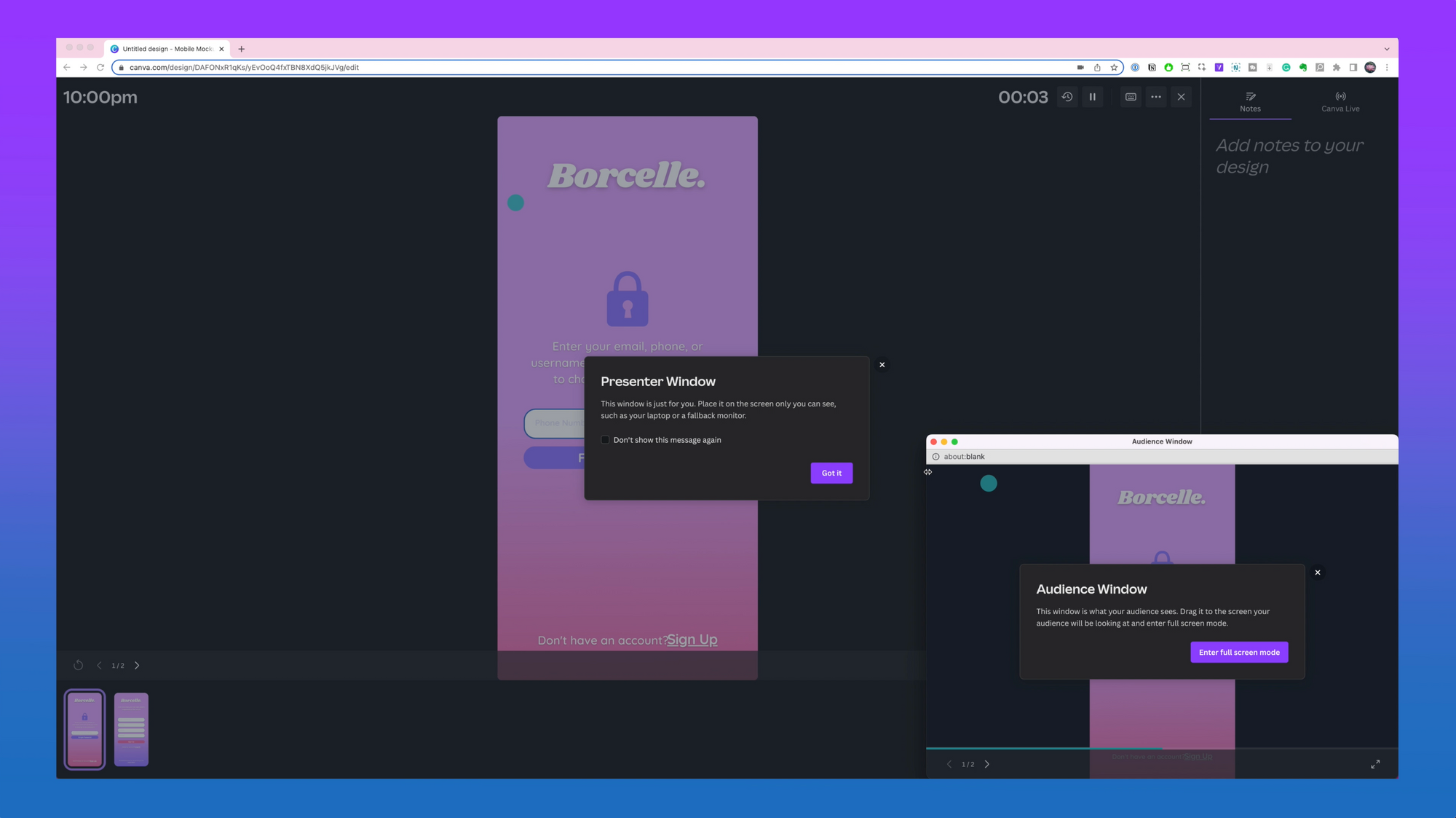 Here's how to present any of your designs or prototypes:
Click on Present View and the click Present button. Here you'll see a dropdown with a few options, click on the Presenter View.
Select Standard or this will open up 2 windows, a Presenter Window and an Audience Window
You can time the presentation of your prototype, add notes to it, you can click through it and interact with it.
You can hide the cursor or autoplay the presentation.
User Testing with Canva Live
Hidden away in the presentation feature is Canva live. I've found this to be a hidden gem for remote UX research and testing. You can take any presentation or prototype you've created and broadcast it live.  
To do this, click on Canva Live from the Presentation screen.
You'll then see a link that you can send to users so that they can view your presentation as you walk through it and they will be able to leave feedback and comments in real-time.
UI Design with Real Data
You can create final, high-fidelity designs here too. For example, you can design a dashboard that is linked to a data chart, so that your graph visualizations reflect the information you add to that table.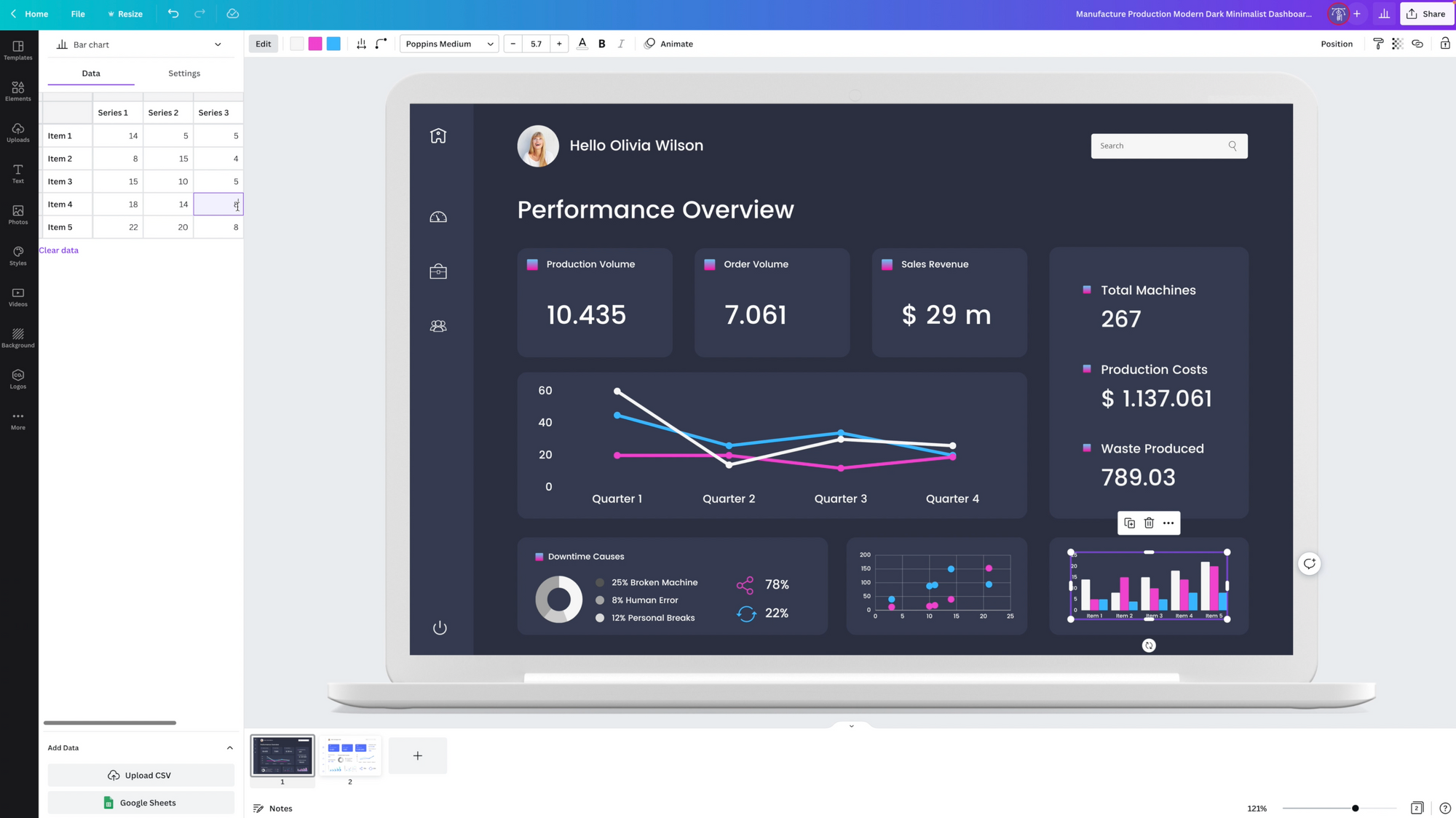 For designing full products and UI designs, Canva still lacks some of the more advanced Figma-like UI design features like auto layout, components and variants, but I would not be surprised if features like this for more pro designers pursuits are in the works.
Website Builder
One of the most impressive, yet lesser-known features of Canva is the ability to design a responsive website. Not only can you design it in Canva, but you can actually publish it live, to the web with free hosting.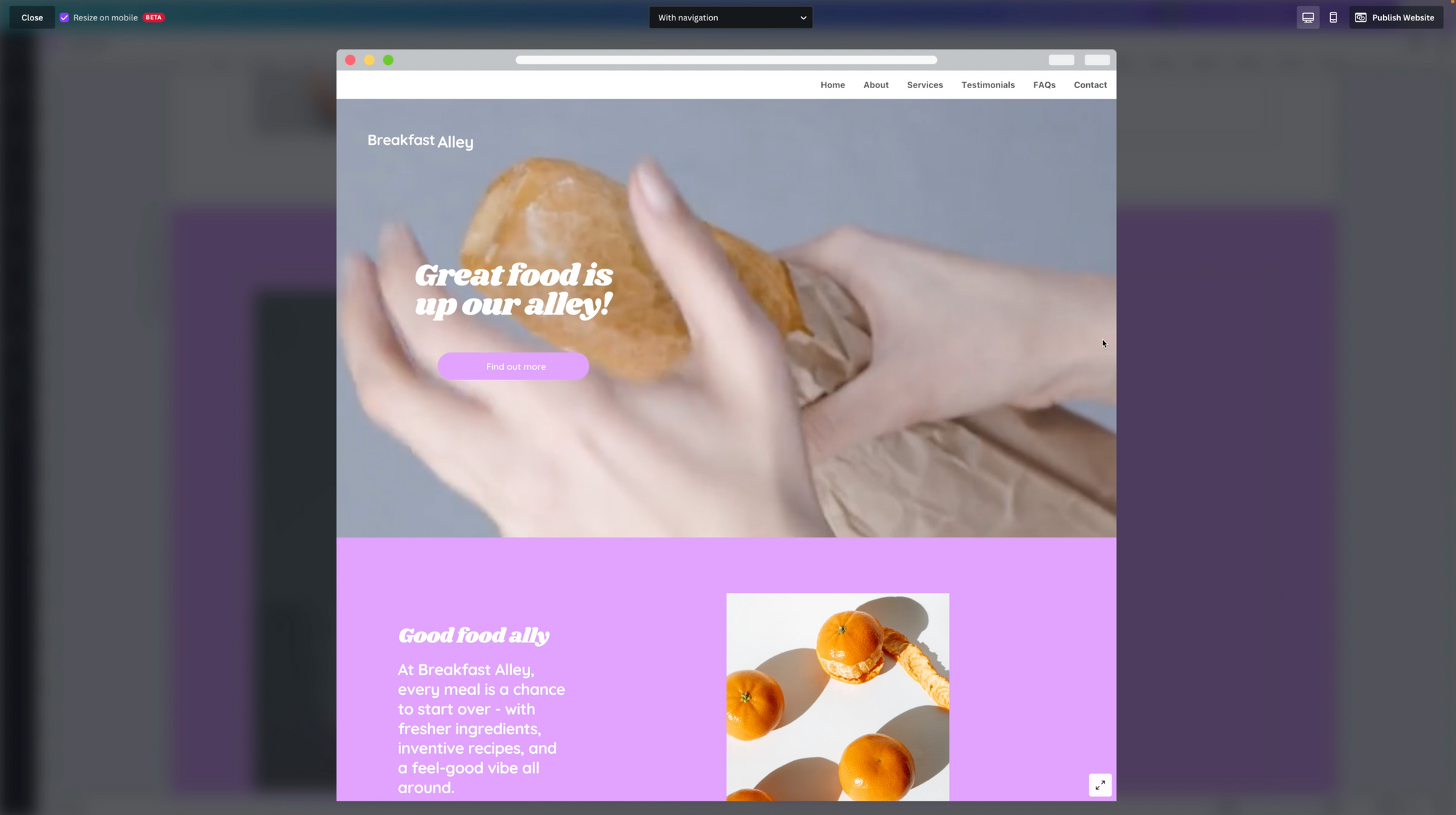 To use this feature, search for Website from the main search to bring up the page builder tool.
💡
At the time of writing this feature is limited to single-page websites.
This is a great option if you want to create a marketing page, landing page, or squeeze page for a new product or feature or even a simple design portfolio or link tree. You can even add video to your designs and navigation anchors tags to the sections of your page and preview it on mobile. Then when you're ready, simply click on Publish.
Smart Mockups
Smart mockups are great if you want to insert your designs into a device or photorealistic object.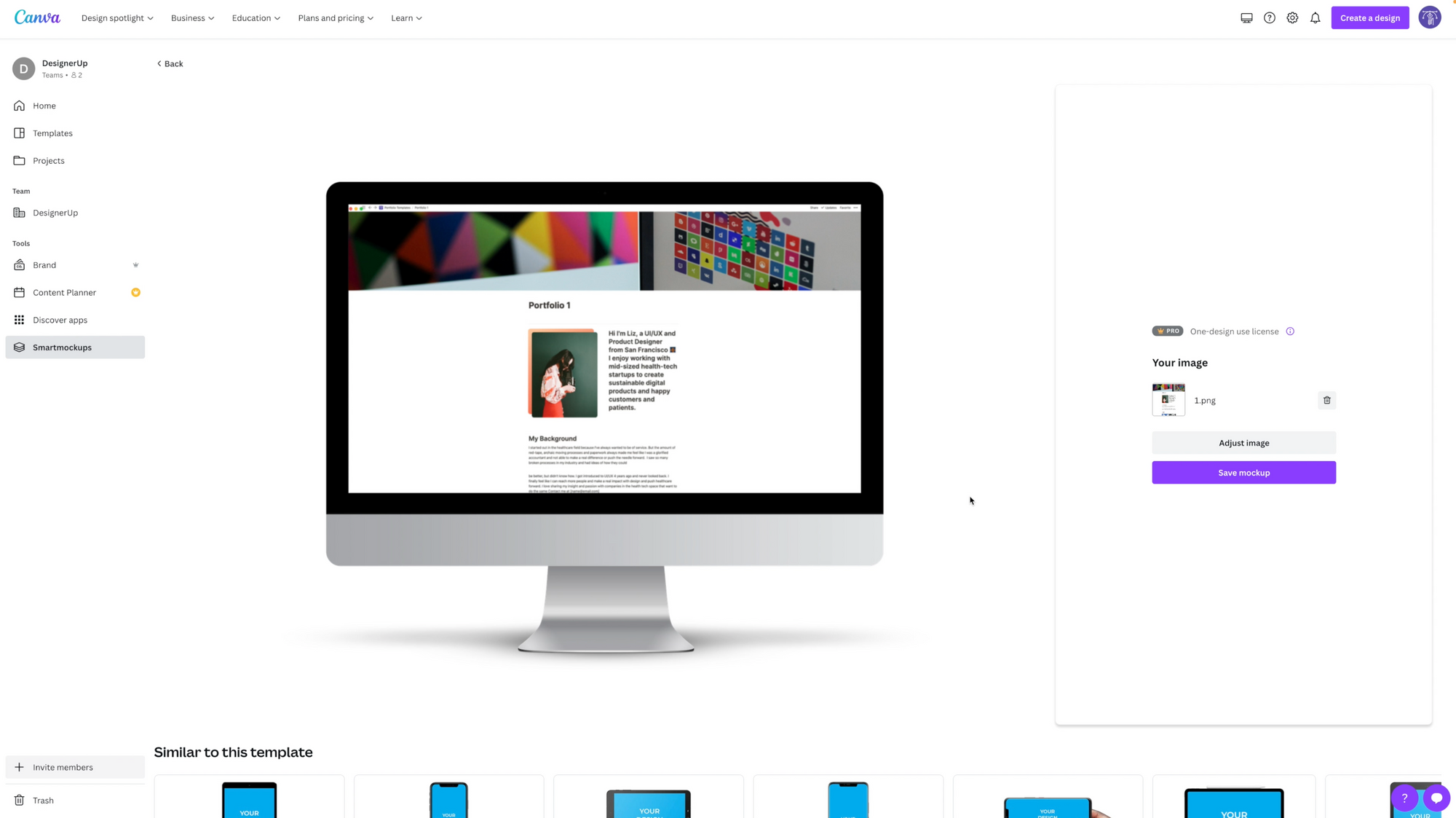 For example, if I wanted needed to show my mobile app screen inside of an iPhone device mockup for my landing page design, I can do that here. Then I could save that design asset to use in future presentations or designs.
Brand and Design Asset Library
Once you're settled on your brand and foundational design elements. You can solidify these into a Brand Kit and add them to your Design Library so that anyone (designer or not) access and apply the styles to any form of content.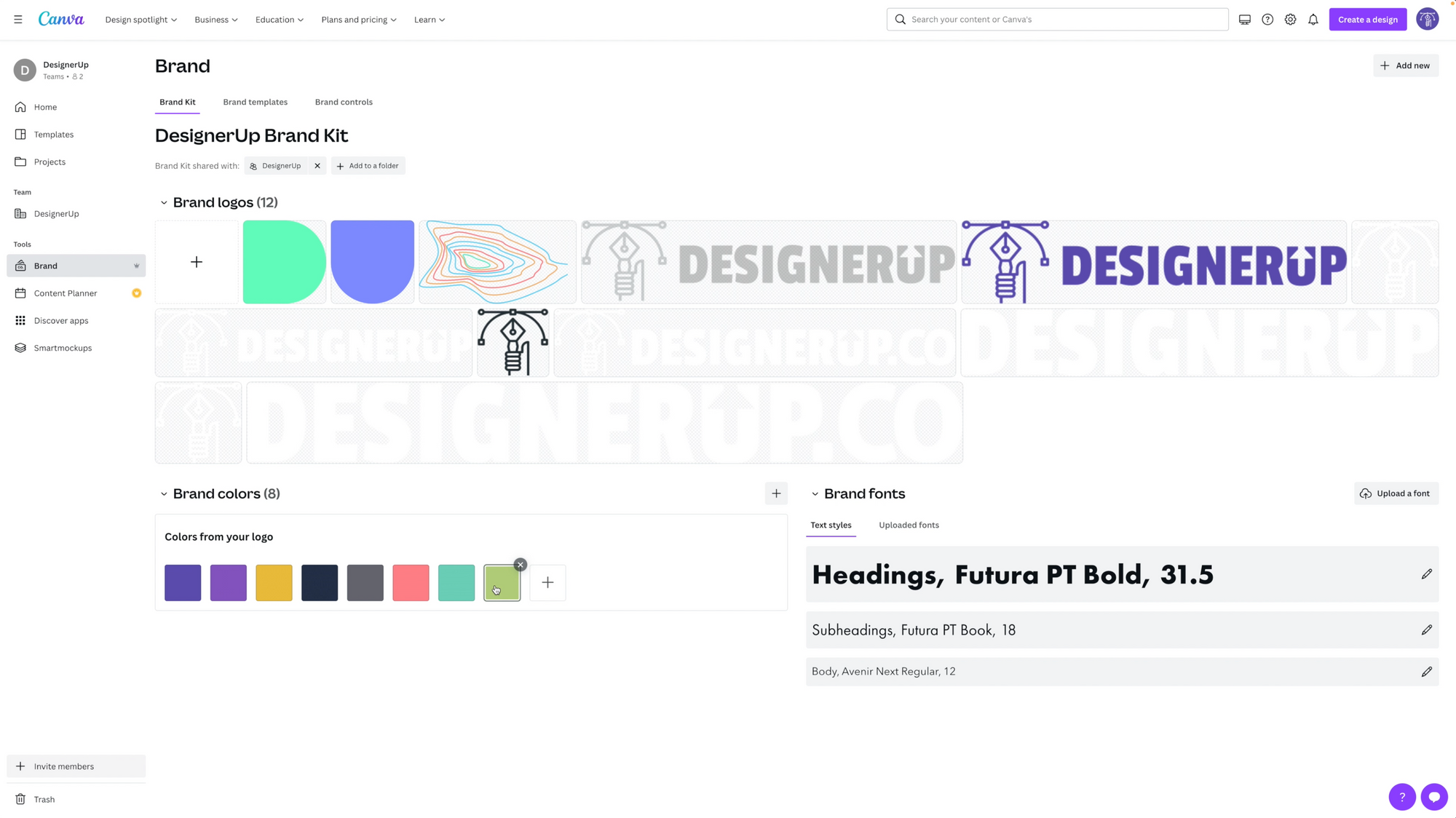 Here in my Canva Brand kit, I have the logo variations and color palette for DesignerUp and I have some custom fonts. If my marketing director wants to come in here and make a post for social media, they can do that by simply choosing an existing template and applying our styles to create something from scratch. They have access to all of our existing design assets like logo, typography etc and I can even set the permission so that any changes made to the Brand Kit or Design Library require approval by an administrator before being published.
Typography
One of the most beautiful things about Canva is its impressive typography options and designs.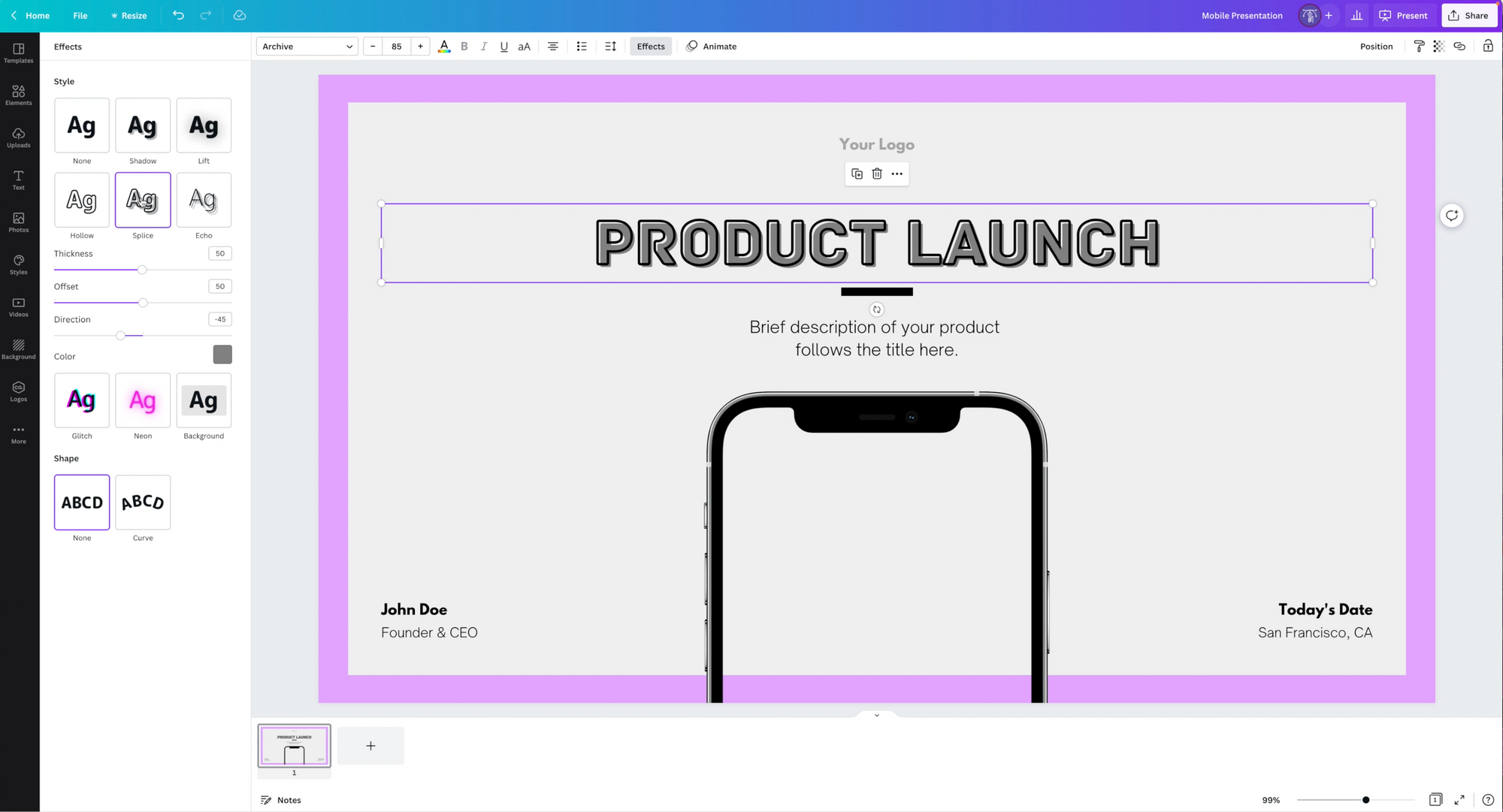 The out-of-the-box typography includes access to all of Google fonts, you can add in amazing text effects and if that's not enough and you have your own custom font you can upload that too, which I did here with Futura PT in our Brand Kit. The pre-made typography layouts are a wonderful place to start of your designs as the typesets are beautifully curated and can be easily changed out without have to manually pair fonts and typefaces from scratch.
Styles
One of the most magical features of Canva are the style options. Normally, if you want to change the entire color scheme of a design in a tool like Figma, you would have to do it manually, create color styles or create components and variants before you can even make global changes.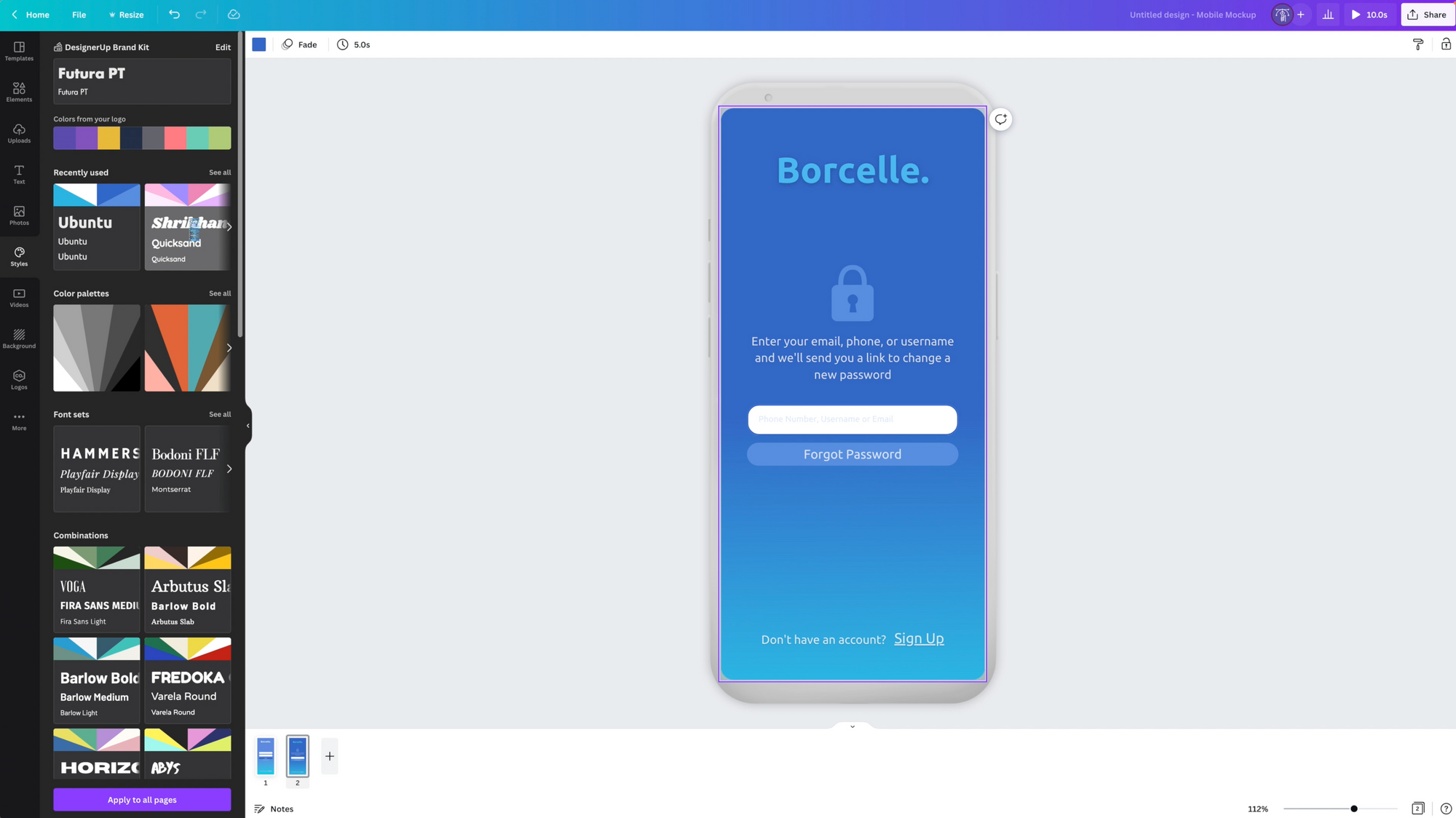 With Canva, there are pre-made themes and style profiles that you can apply to one or all of your designs with the click of a button! You don't have to worry about creating an entirely new, matching color palette or color scheme, as Canva has taken care of that for you, saving you an incredible amount of time when you are trying out new visual directions and themes.  
Canva Docs
Canva also teased Canva Docs at their Canva Create Global event which they'll be releasing soon. It's said to be taking on workplace mainstays Google and Microsoft as well as real-time collaboration and project management features from apps like Notion.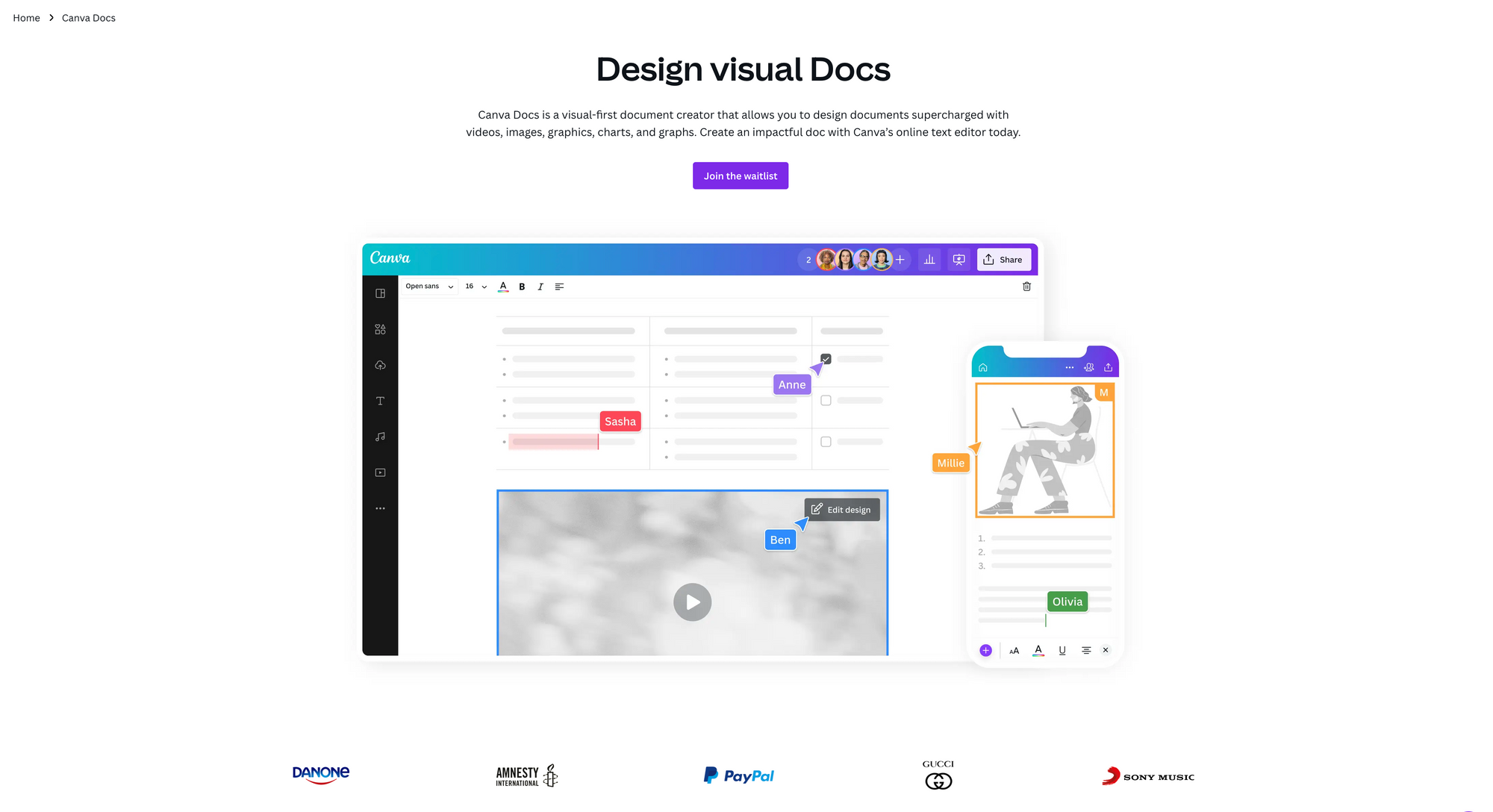 Canva is really an incredible and intuitive tool that I use for so many things and it's totally free to get started and only $12.99 a month for access to all of their Pro features and assets.
Canva Foundation
The founders have also established the Canva foundation and are giving away billions to help address poverty making it one of the largest charitable organizations in the world. I'll be watching Canva with great anticipation and excitement as it's poised to be the largest IPO ever held by a female founder CEO.