Looking for real UX/UI Designs inspiration and examples of best practices for designing apps, software, screen flows and components for digital products? Look no further than this comprehensive collection of UX/UI Design Pattern resources!
Whether you are designing wireframes or the UI of a new product, chances are the flows or problems you are working on have already been designed by other designers in other products before. Examples include things like login flows, user onboarding, date pickers, chat interactions, image uploading etc.
UX, UI and Product Design Patterns are familiar, reusable and recurring ways of designing things in a User Interface.
If there is a problem your product is trying to solve for your users, there's no need to reinvent the wheel, as many best practices have already been designed, tested and documented in the form of design patterns.
While there will always be the need to innovate, adjust, repattern and create original designs, learning the foundations and how to apply them first is always a good place to start.
This list includes some of the best sites to learn from and get inspired by real UI and UX design patterns in live digital products, like mobile apps, software and SaaS products.
Design Vault is a curated library of screenshots & interaction patterns from the world's best digital products. Gain insights, and explore trends.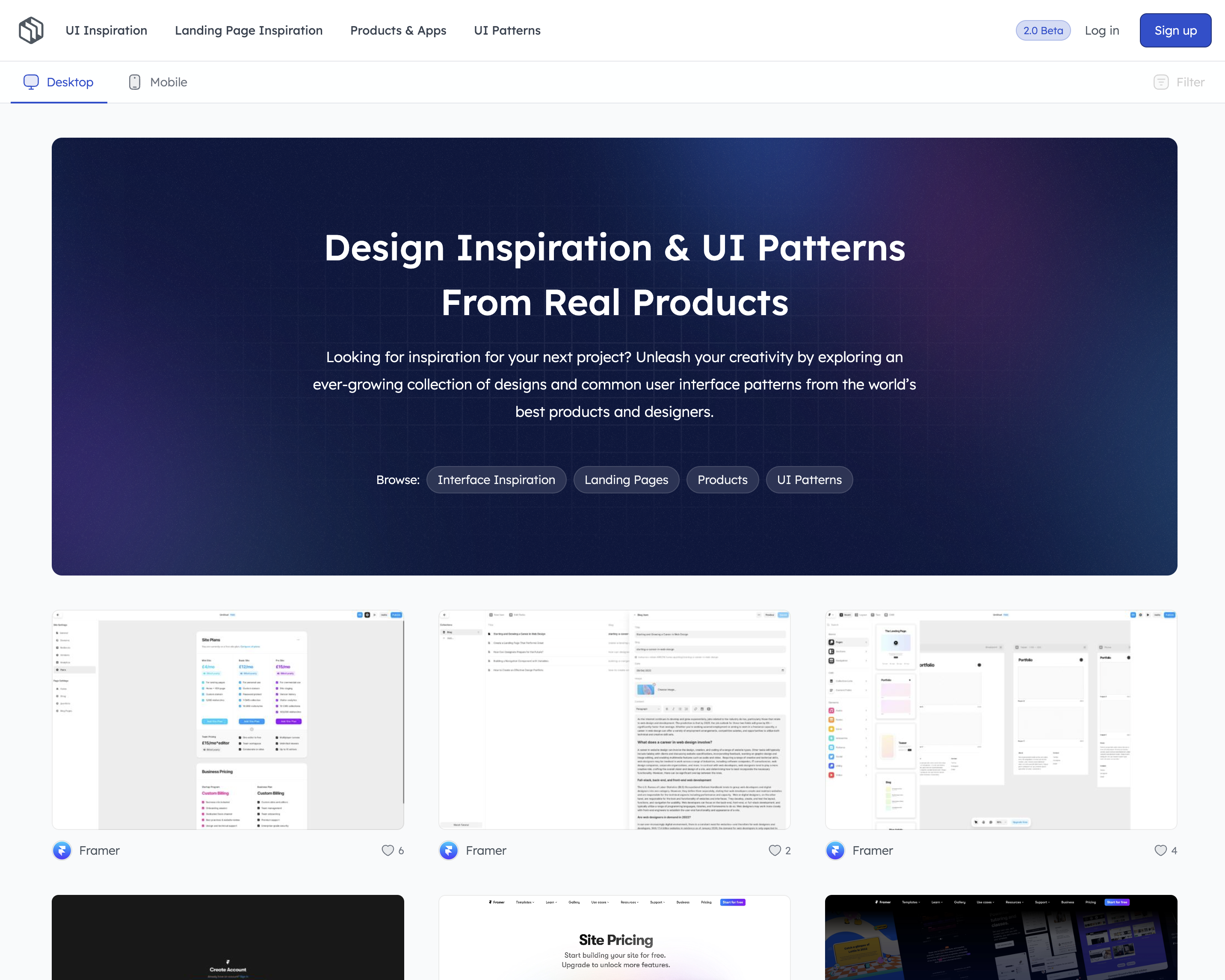 This site takes you beyond visual inspiration and gives you access to the latest and most cutting-edge UI patterns and trends. It's a great place to find UI patterns that have been implemented in real-world projects.
A collection of the best design practices and design patterns including website pages, UI components and brand assets.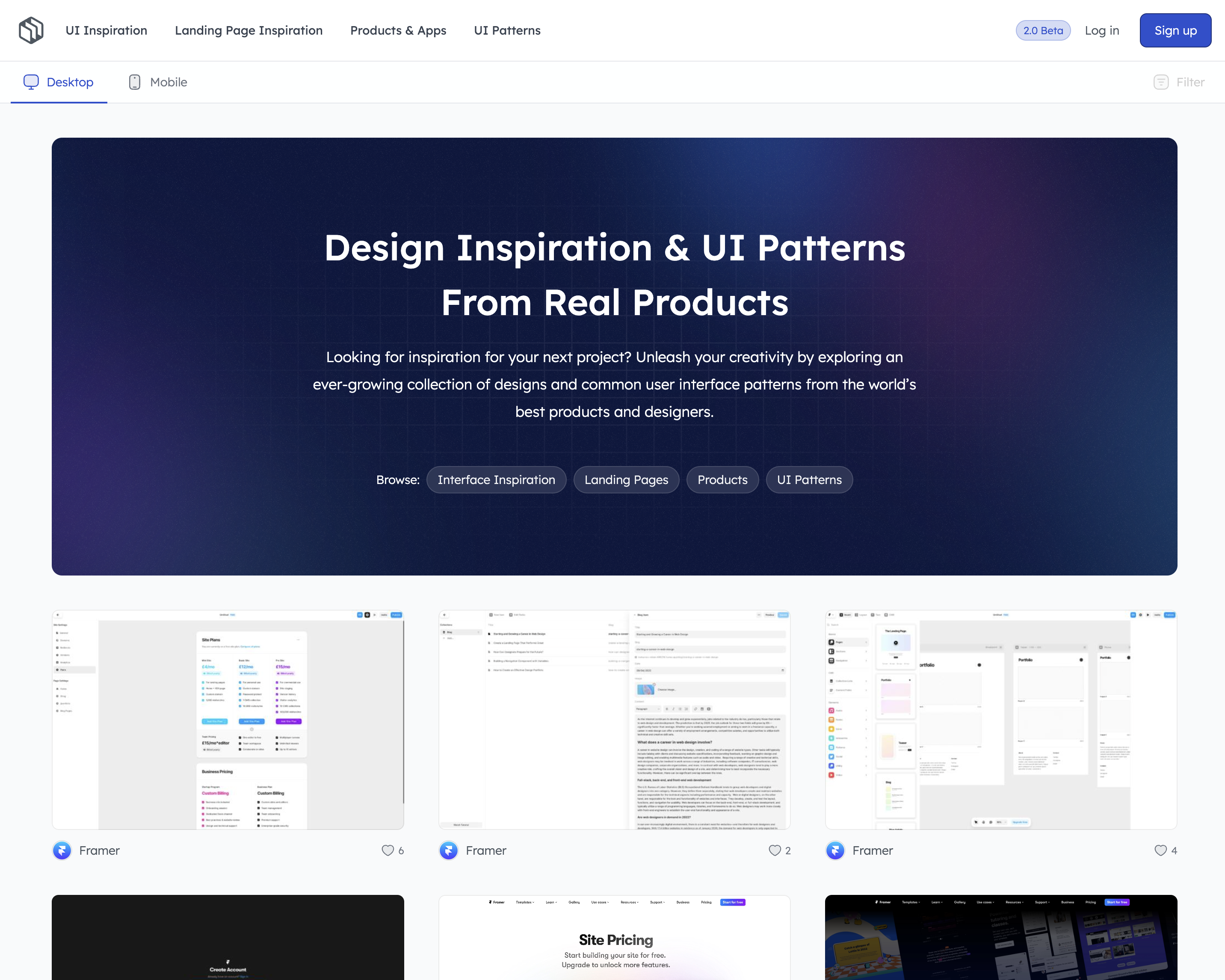 A good checklist is efficient, to the point, and specifically designed for ease of use, even in the most challenging situations. Instead of trying to spell out every detail, a checklist focuses on crucial steps that even skilled professionals may overlook. Checklist Design provides a very specific list of user interface elements in a variety of user flows and UI patterns so that you don't forget to design any of the crucial things inside of your product.
The Mental Health Patterns Library is a resource for those involved in developing and delivering digital mental health support. It's designed to encourage learning and the sharing of best practices in this mental health wellness space.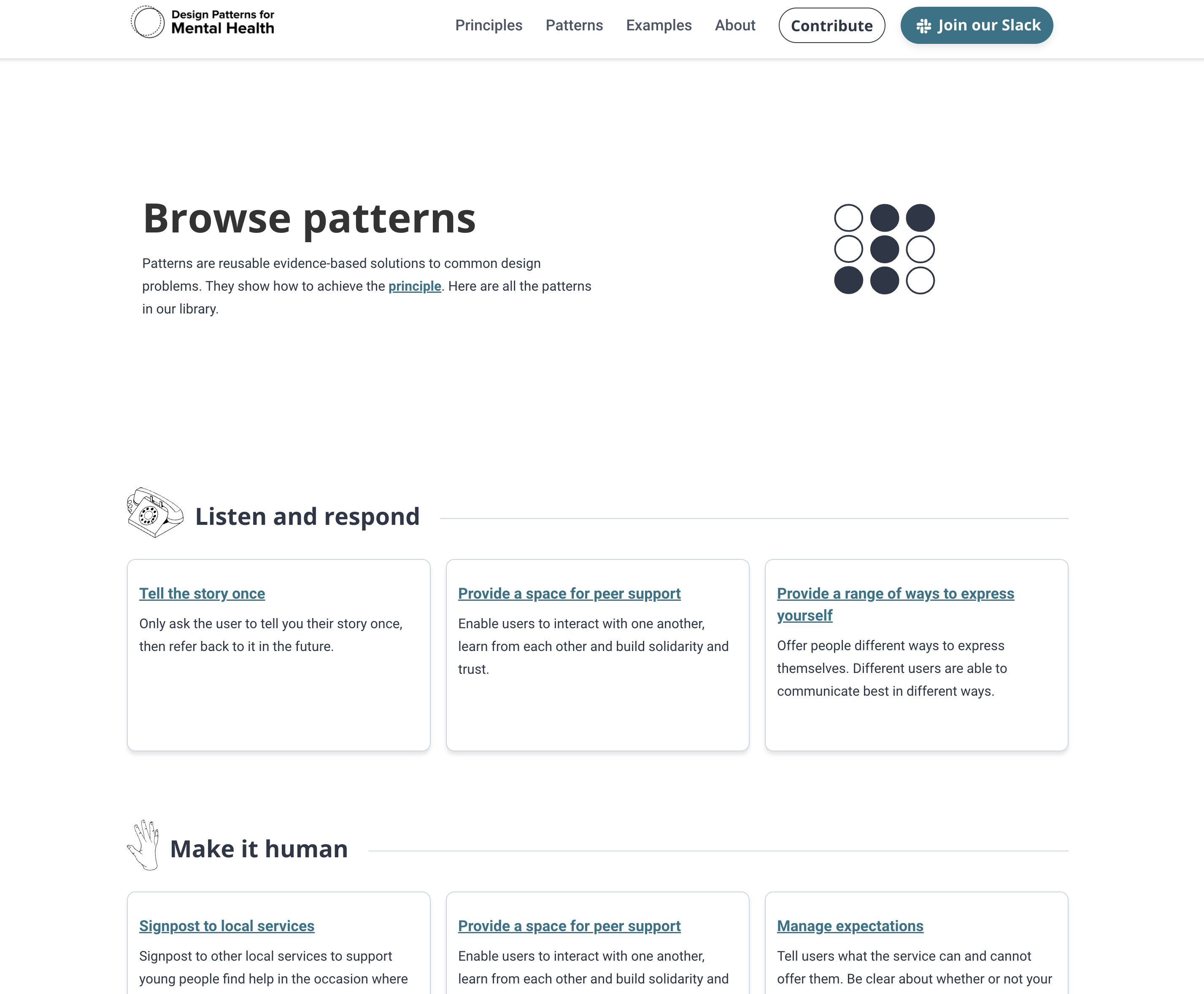 In response to the increasing demand for mental health and well-being apps worldwide, a group of dedicated individuals - designers, developers, mental health practitioners, and researchers - united to create the Mental Health Patterns Library - A centralized repository of best practices for digital mental health services that share valuable insights to enhance the effectiveness of these essential mental health services.
Discover the best-in-class mobile apps and design patterns and save hours of UI & UX research with this library of 50,000+ fully searchable mobile app screenshots.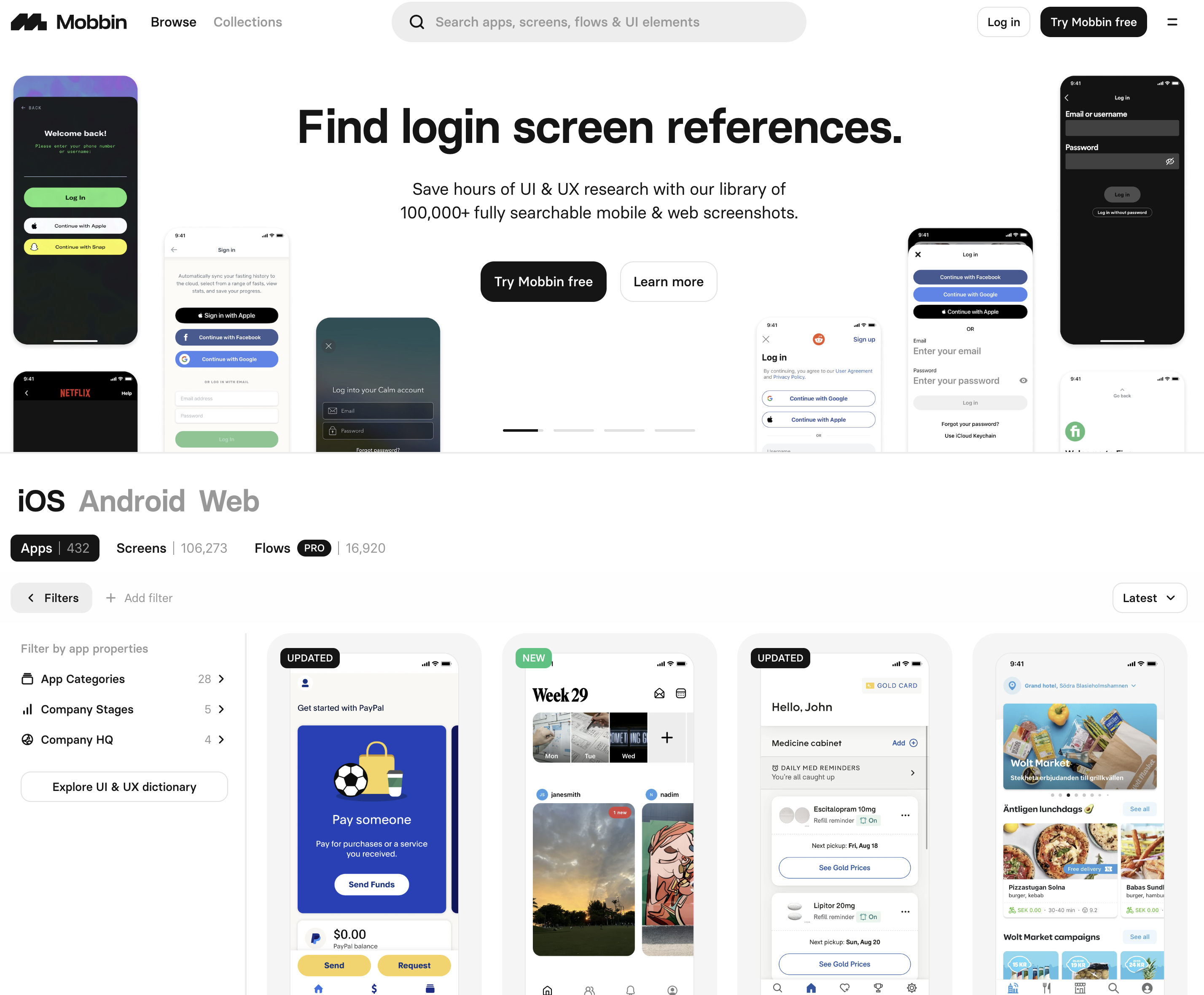 Mobbin is the most comprehensive, curated library of interfaces from the biggest companies in the world. It's the to-go if you want to see the screen-by-screen flows and references for designing user interfaces, experiences and digital products.
Landingfolio features the best landing page inspiration, templates, resources and examples on the web. Learn from a growing library of 1,982 landing page designs and 3,829 component examples, updated daily!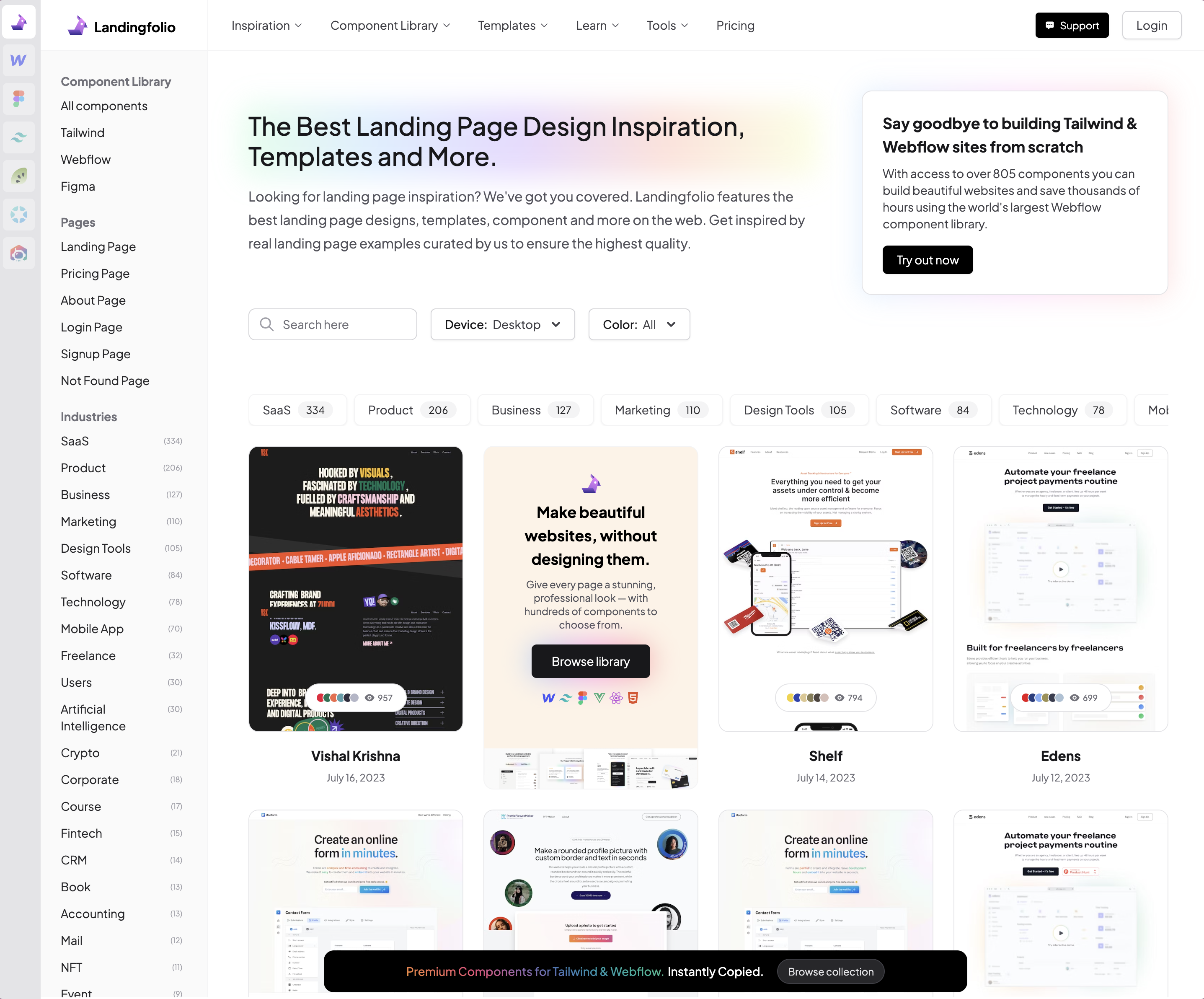 Based on 7 factors that influence user experience. These tried and true design usability heuristics, design principles, design patterns and best practices are meant to be used alongside your own user research to help you make sure you're not forgetting anything important when you are designing your websites, apps and interfaces. One-click copy to Notion (or download PDF)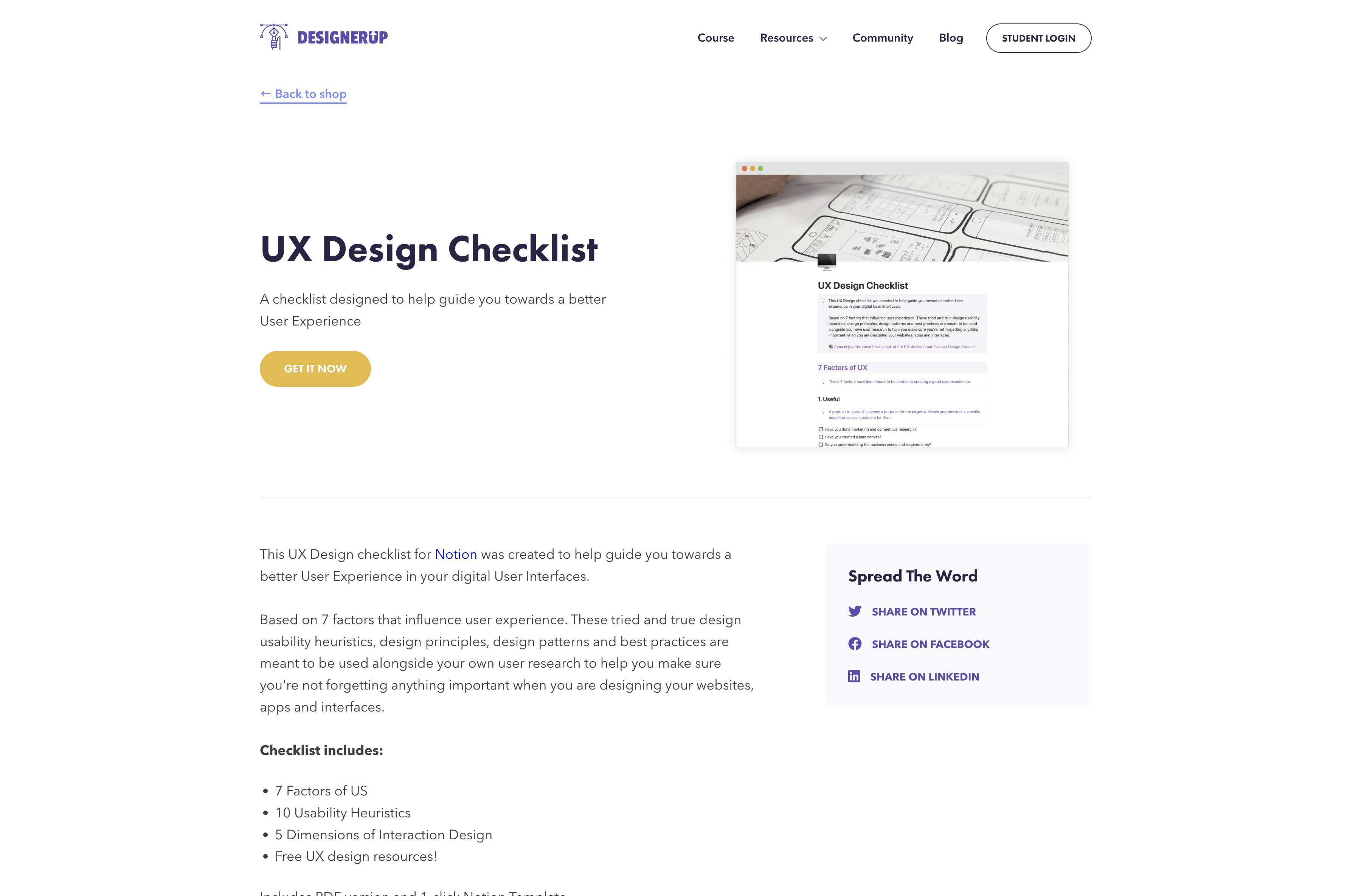 This checklist of UI design guidelines and best practices is based on principles that have been well-established to enhance the experience of a user's interaction with a digital software interface. One-click copy to Notion (or download PDF).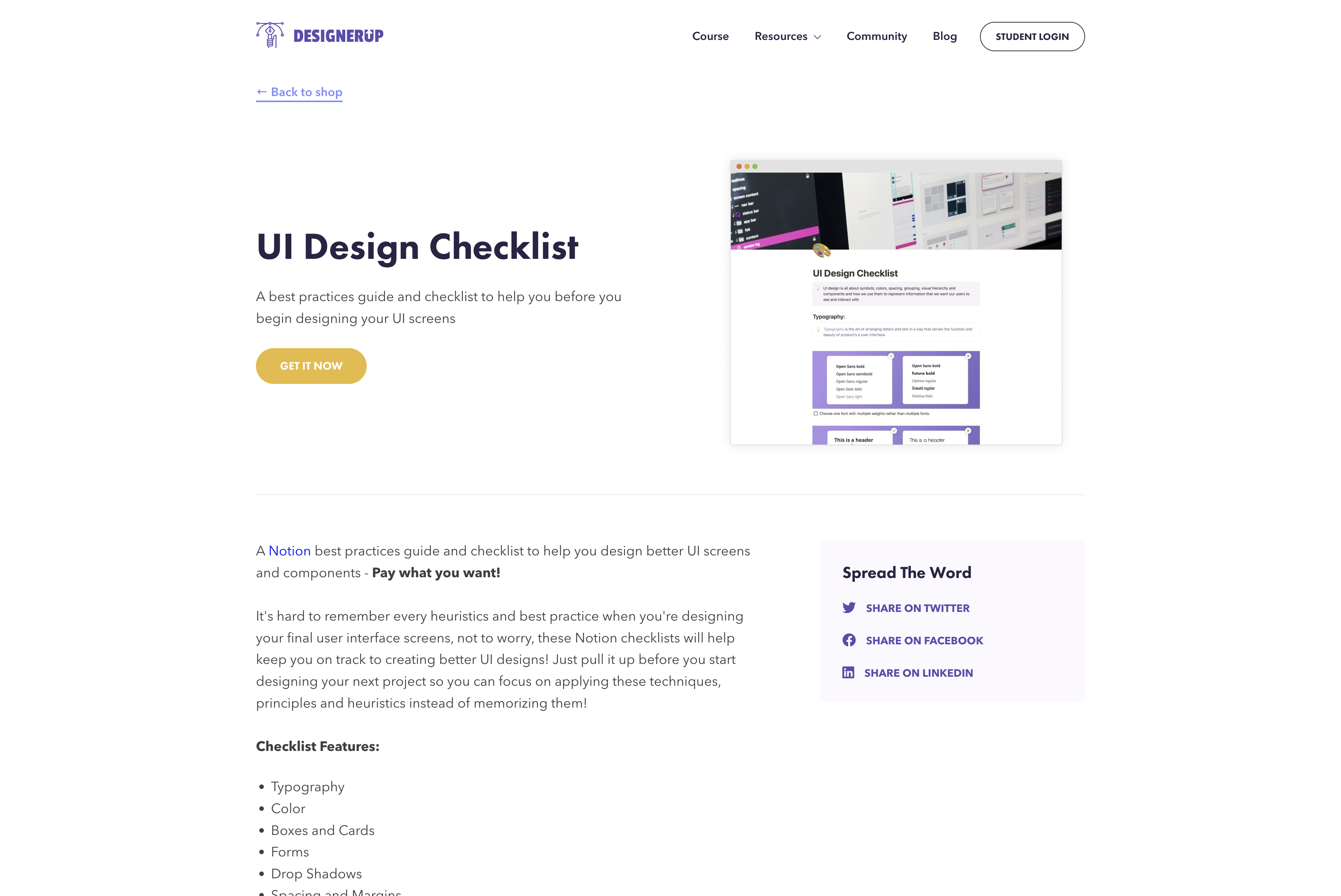 Discover the best 660 landing page examples created by top-class SaaS companies, and get ideas and inspiration for your next design project.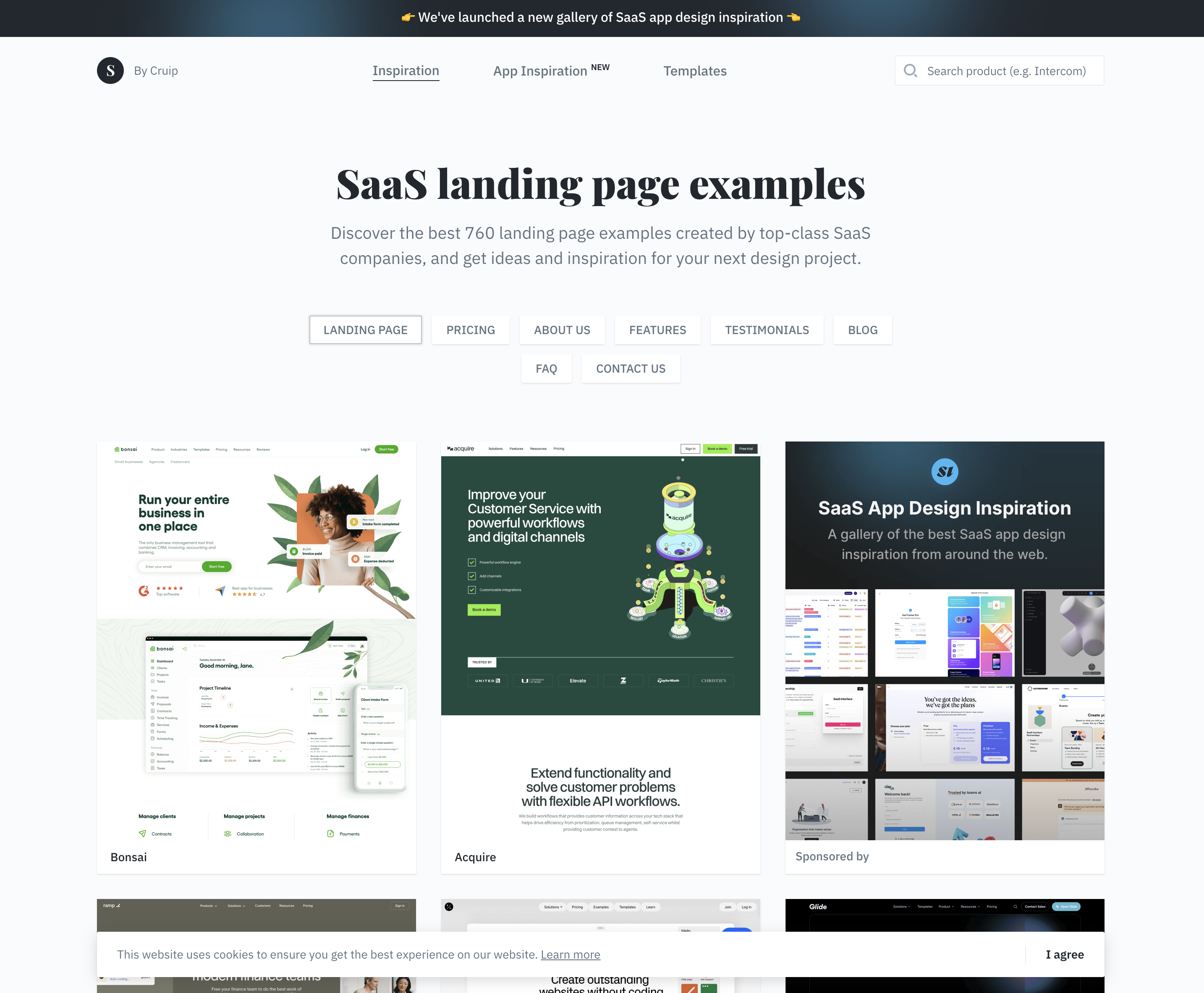 A library of great UX with analysis and breakdown of the user experience and UI designs.
One of the original resources for great user interface patterns with examples and explanations of best design practices and approaches.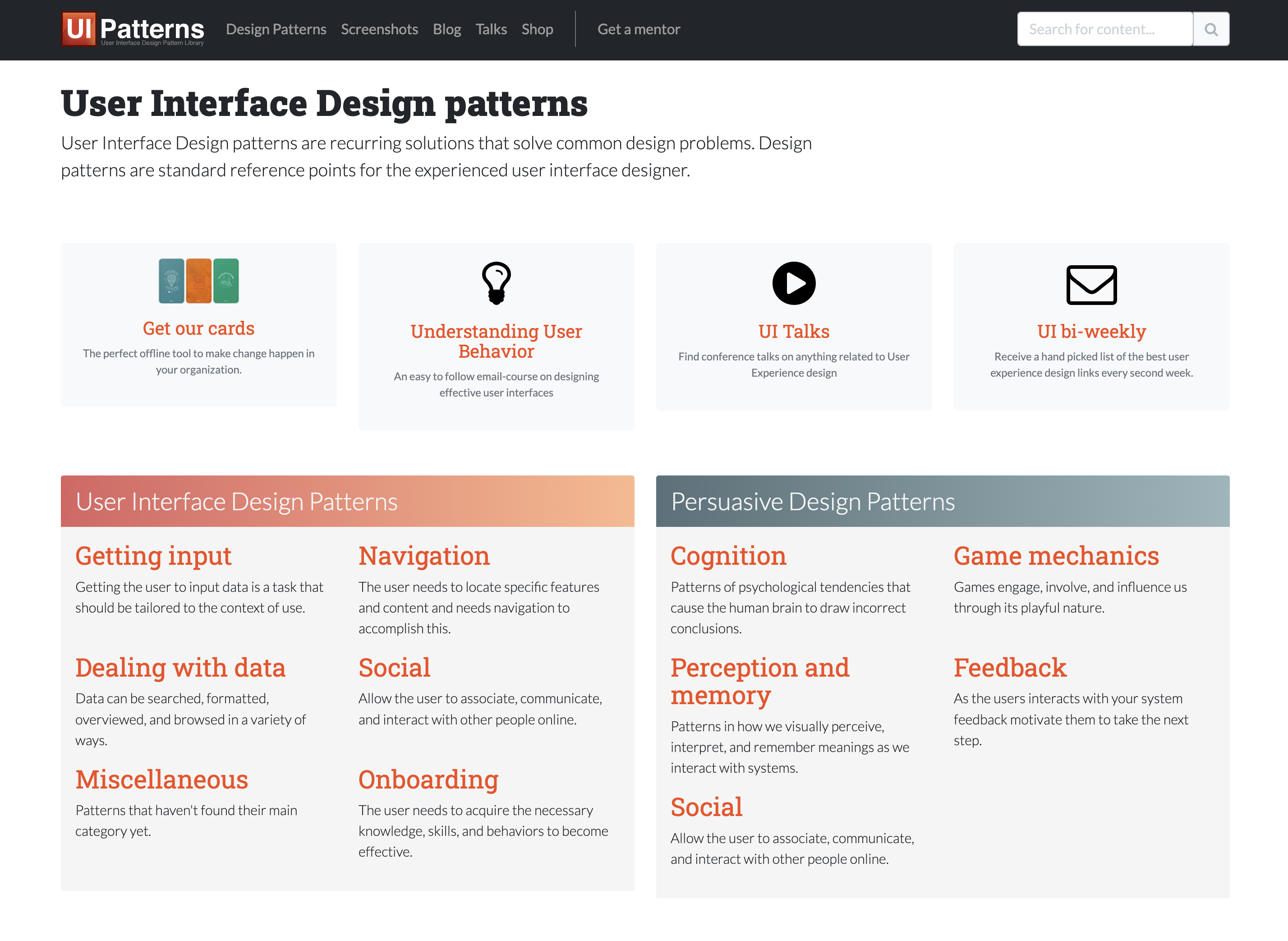 The latest mobile UI design inspiration in your inbox every week, for free. Browse their site by category, element, and brands and see color palettes as well as design patterns.
💡
As of 2023 Screenlane is no longer being actively updated, however, it is still a resource worth exploring for screen inspiration.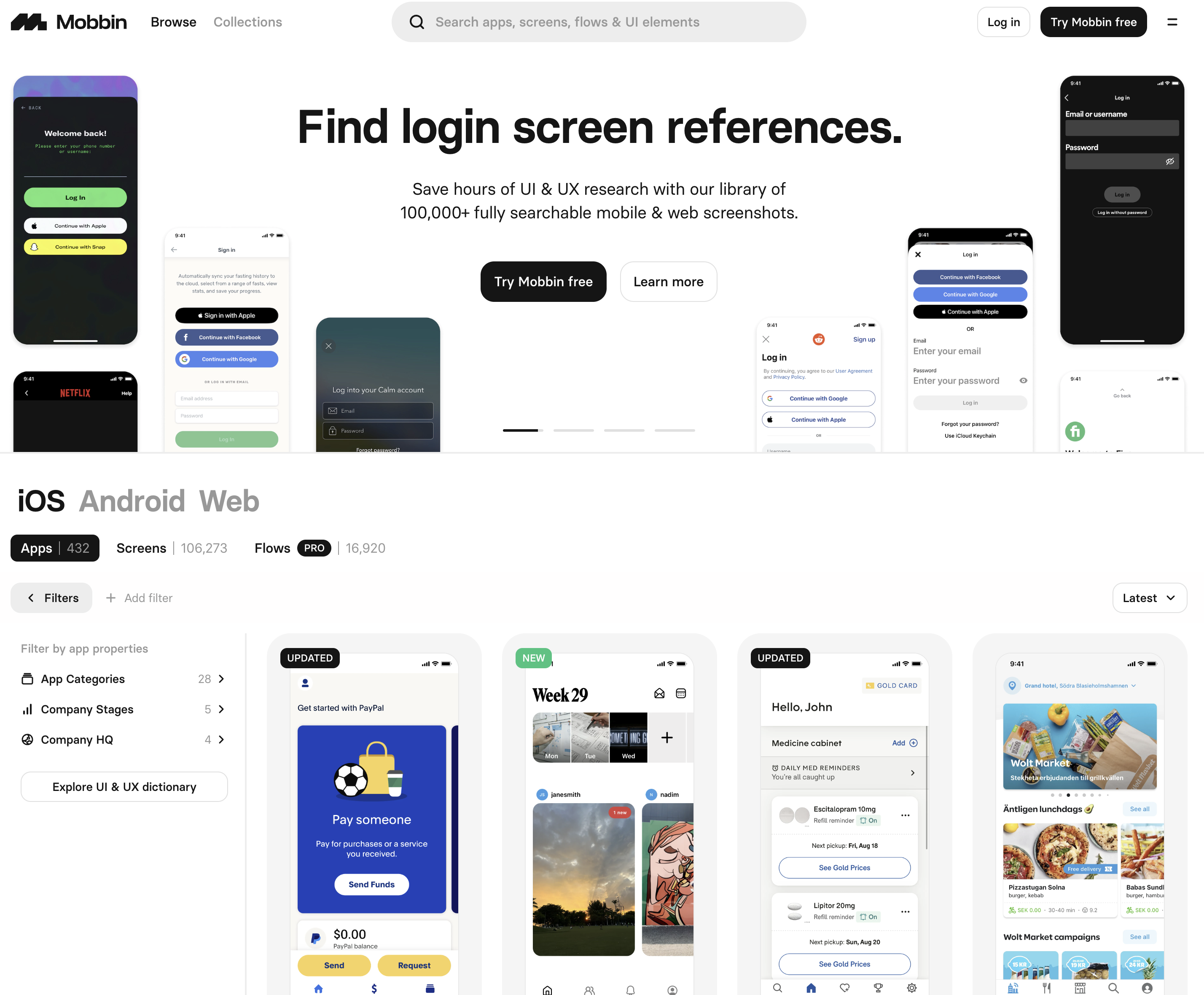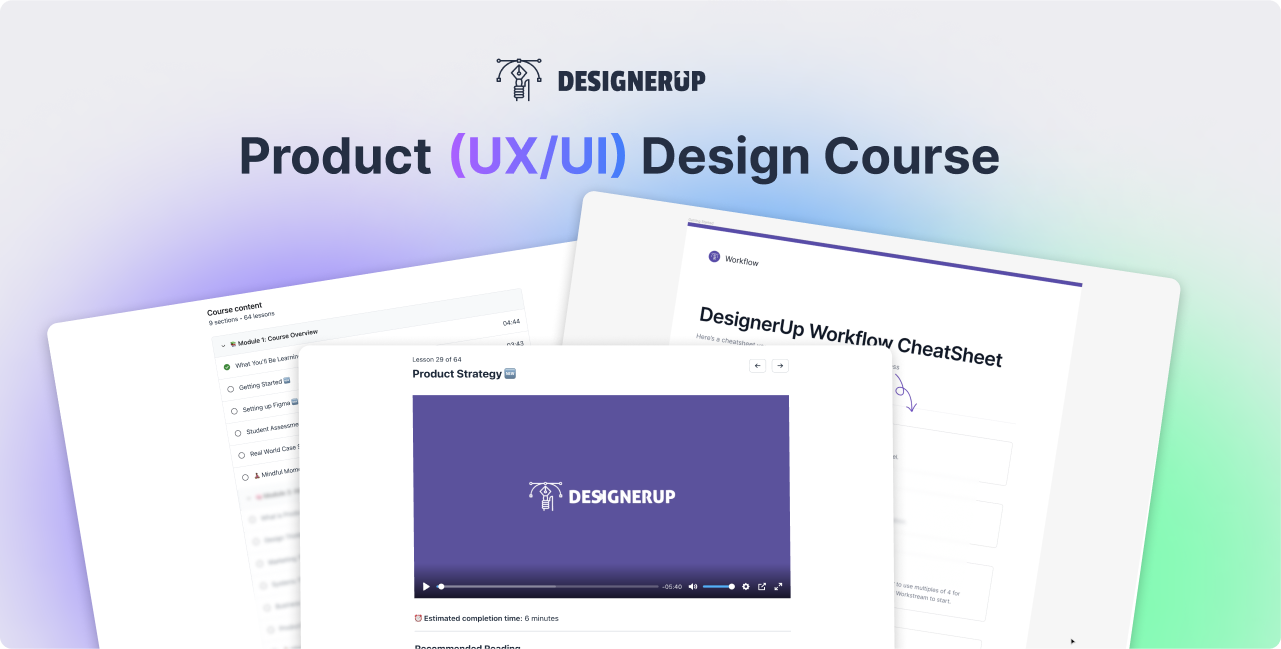 📚
Want to learn how to design UX and UI like this? We invite you to explore our
product (UX/UI) design course
to learn how to apply these yourself!
💌
If you found this helpful please share this post with your friends or mention
@designerupco
on social media!