If you're looking for UX case study ideas, topics or challenges, these UX case study generators can help you create portfolio pieces and improve your UX/UI skills. Here are some of the best ones and the pros and cons of using them.
What is a case study generator?
A UX Case Study Generator is a tool that serves up hypothetical UX design project ideas, problems, challenges or exercises that you can complete on your own to practice your UX skills or use to create UX Case studies and projects for UX/UI portfolio.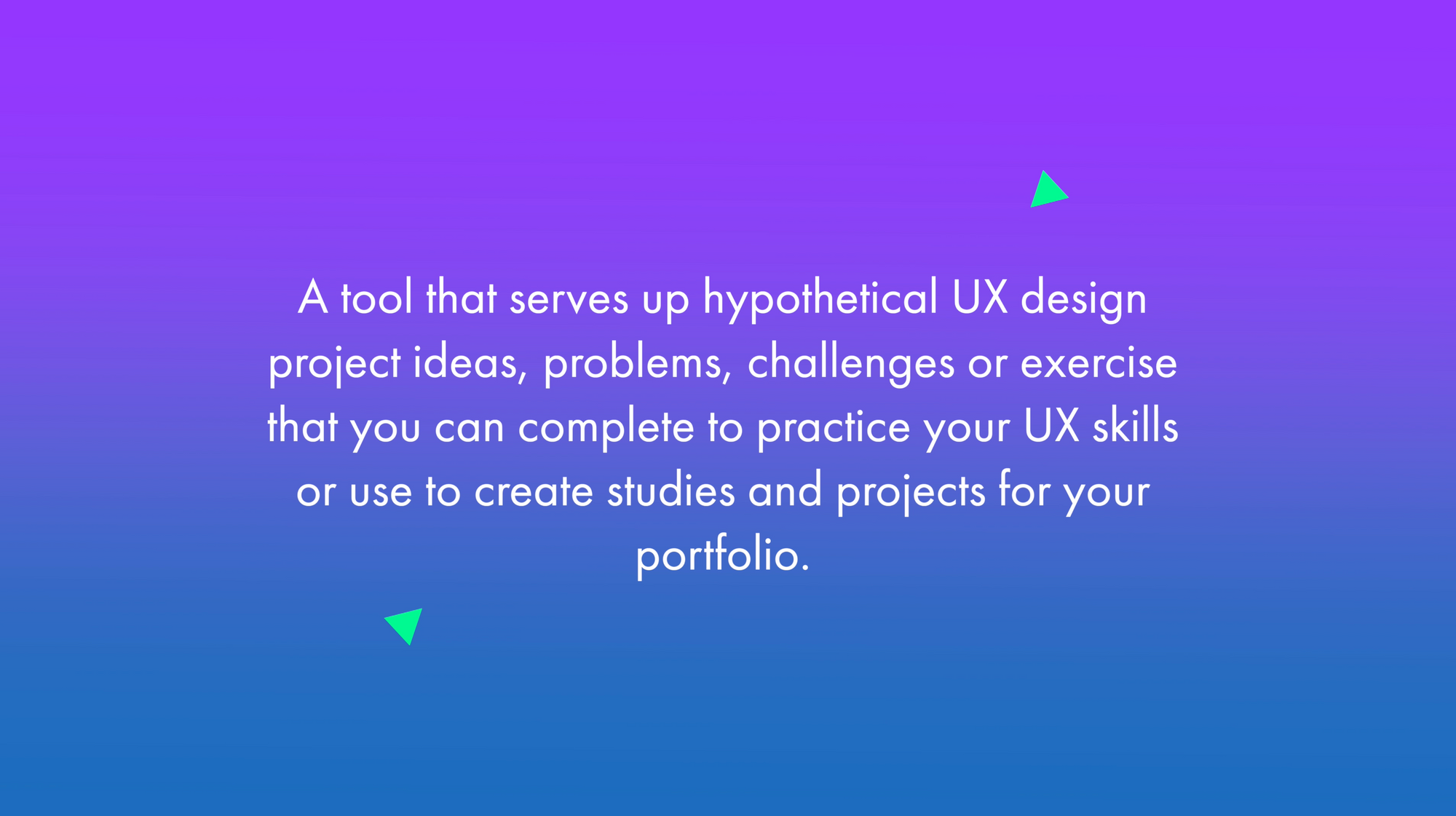 UX Case Study Generators
UX challenge provides prompts and exercises that allows you to practice your problem-solving skills and create one-off projects for your portfolio. The Challenges presented here have been created by UX Designer Yachin and are based on real-world problems.
You can browse through a few different industries or categories on the homepage and then view the details of the project brief.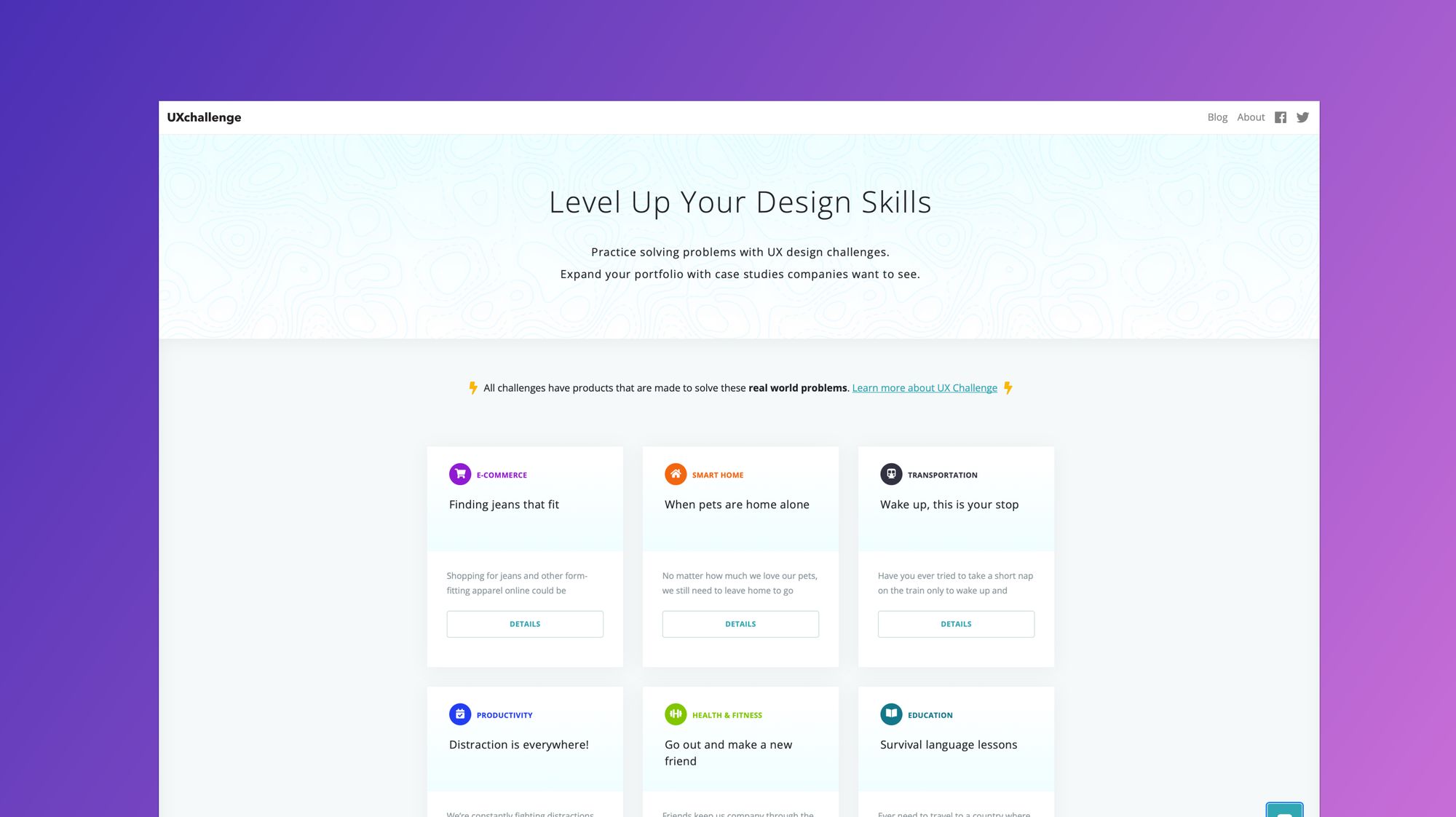 With more than 15 millions prompts available, there are lots of UX/Product Design prompts to choose from. To start, click on 'Product/UX' and then Click 'New Challenge'. If you like certain elements of the brief you can lock those in place and then click New Challenge again to regenerate the unlocked parts until you find something you like.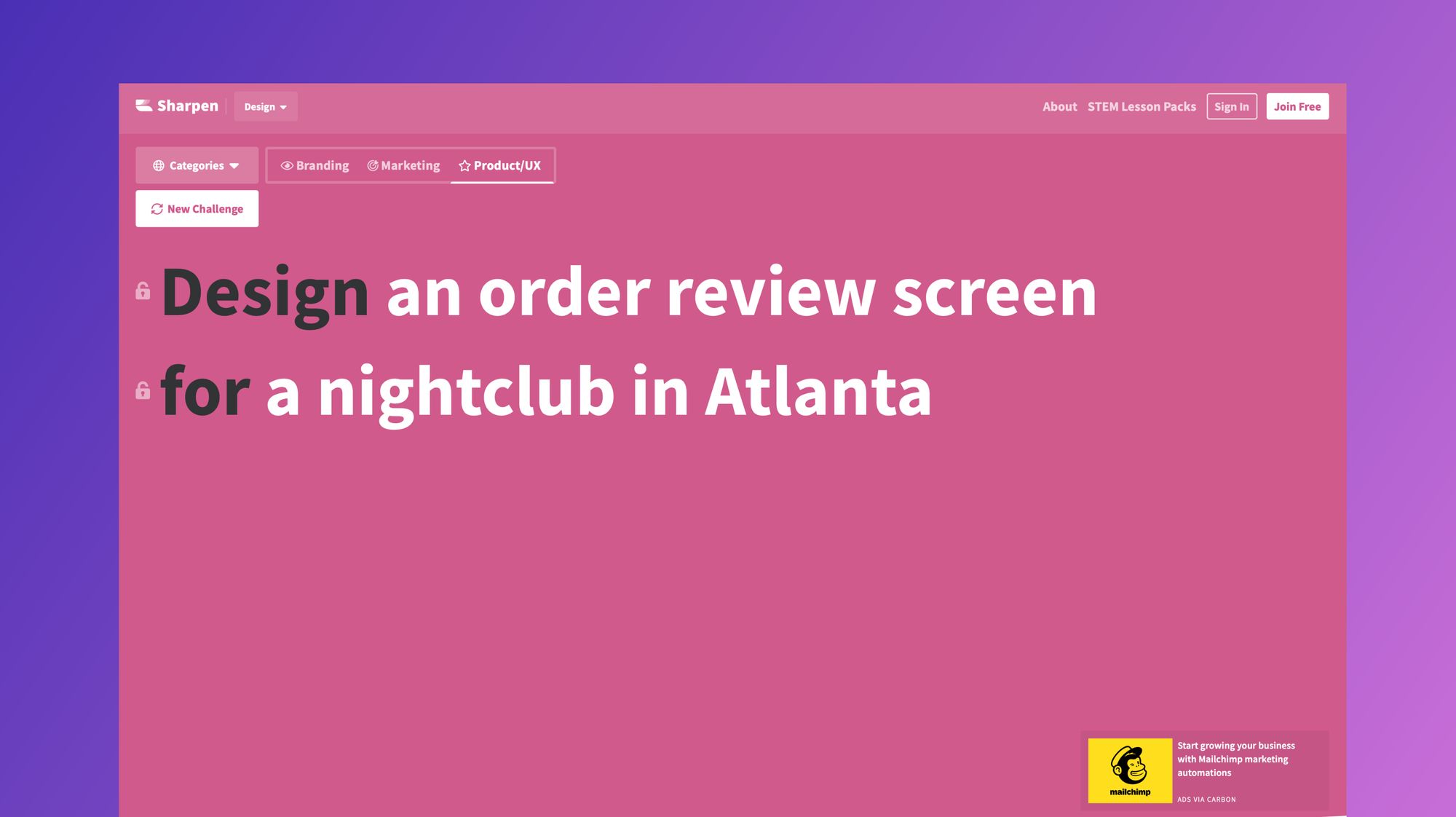 This fun arcade game-like interface lets you choose the level of difficulty and gives you a timer so that you can test your speed. While this tool doesn't allow you to select a specific category, you can regenerate exercises until you find one that appeals to you.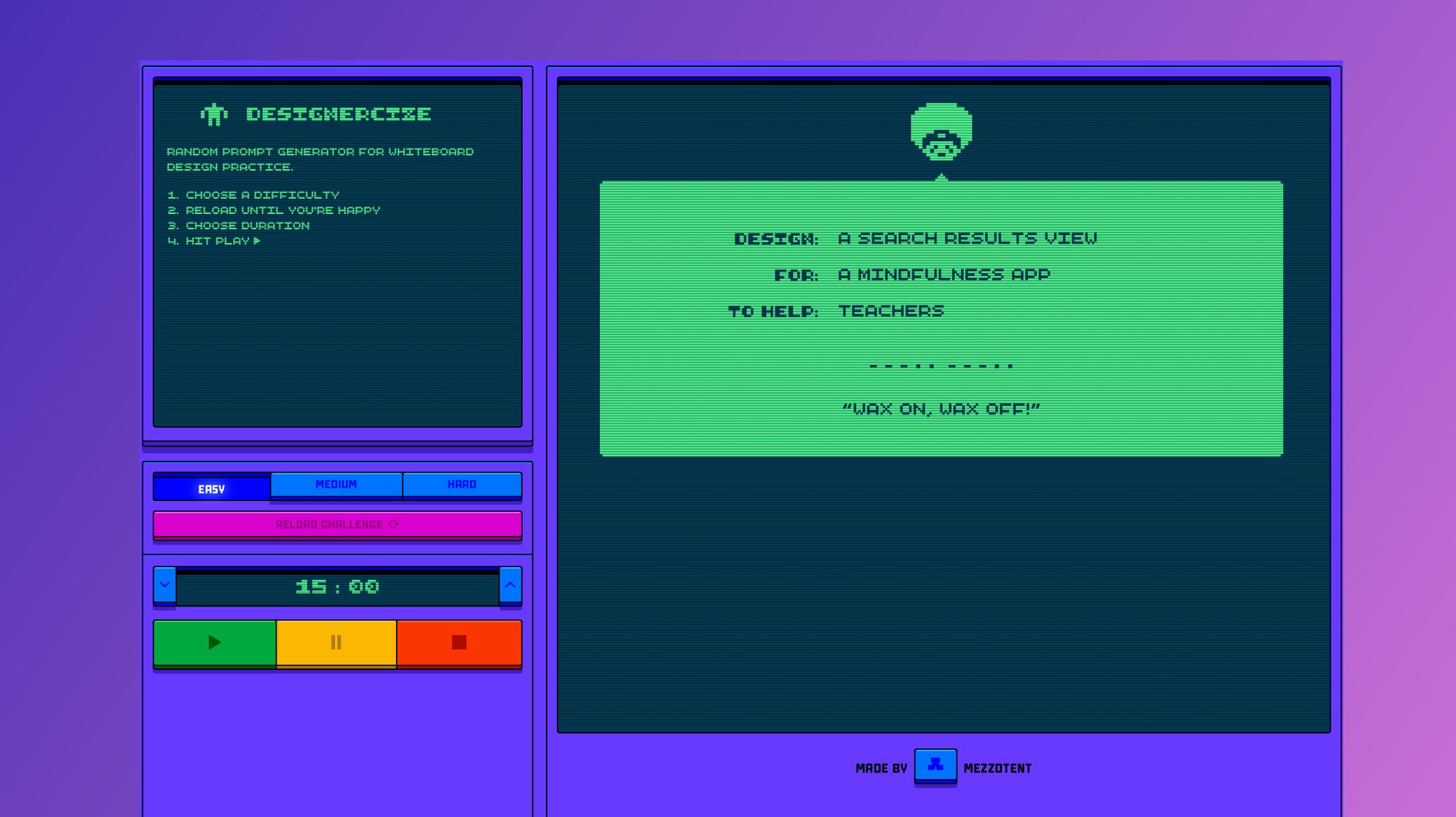 If you need practice creating specific UX deliverables or applying certain user research methods this is a great option. You can browse through a number of UX prompt cards and click on a UX challenge to view a hypothetical scenario, instructions and tutorials on how to approach the challenges.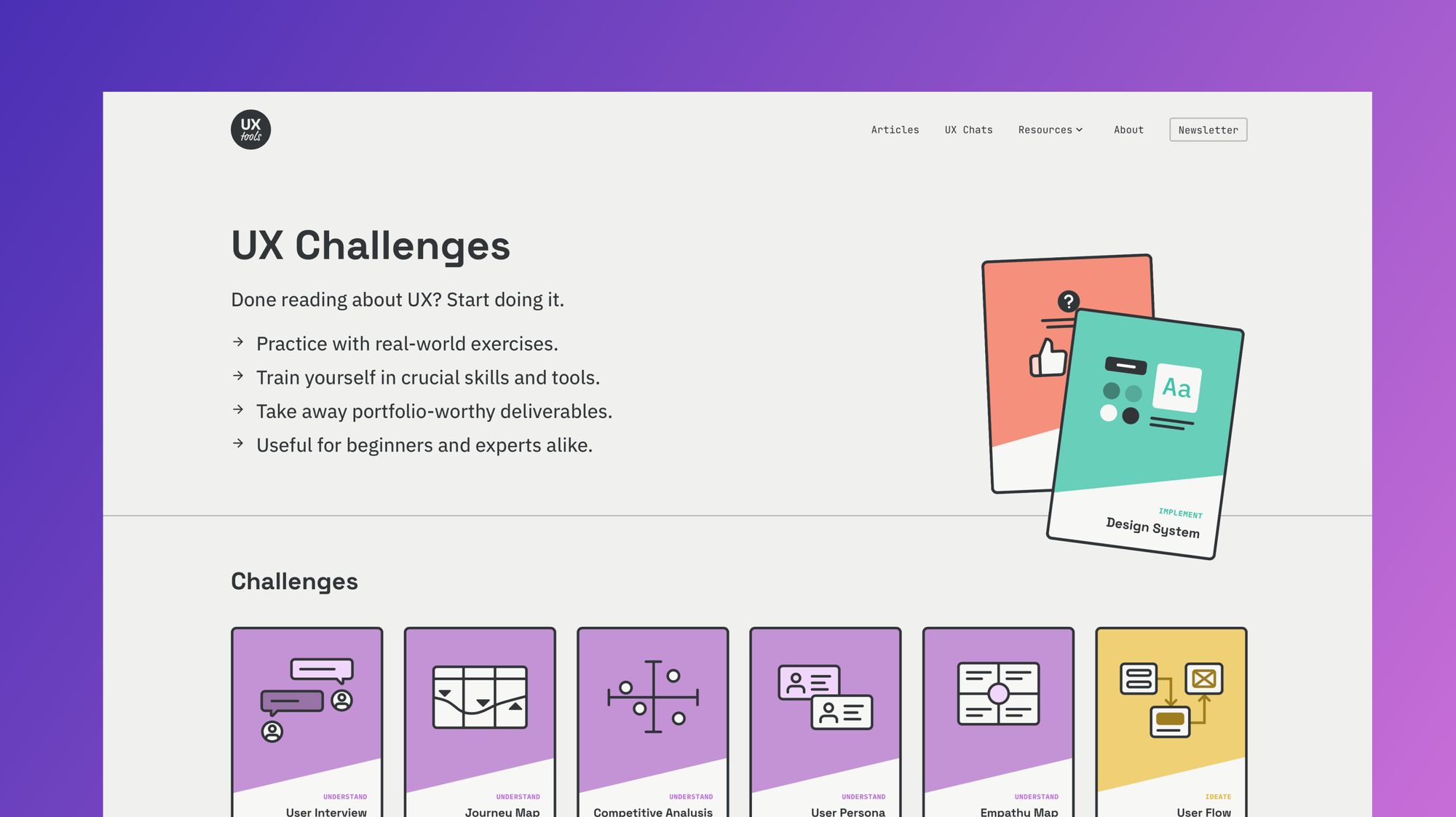 Uplabs hosts open design challenges that you can enter for prizes. They have deadlines in place and submissions are reviewed via voting. Check out their active listings to see on-going challenges and see the submission details and requirements. You can also view past challenges and try using them as practice on your for use as UX case study ideas.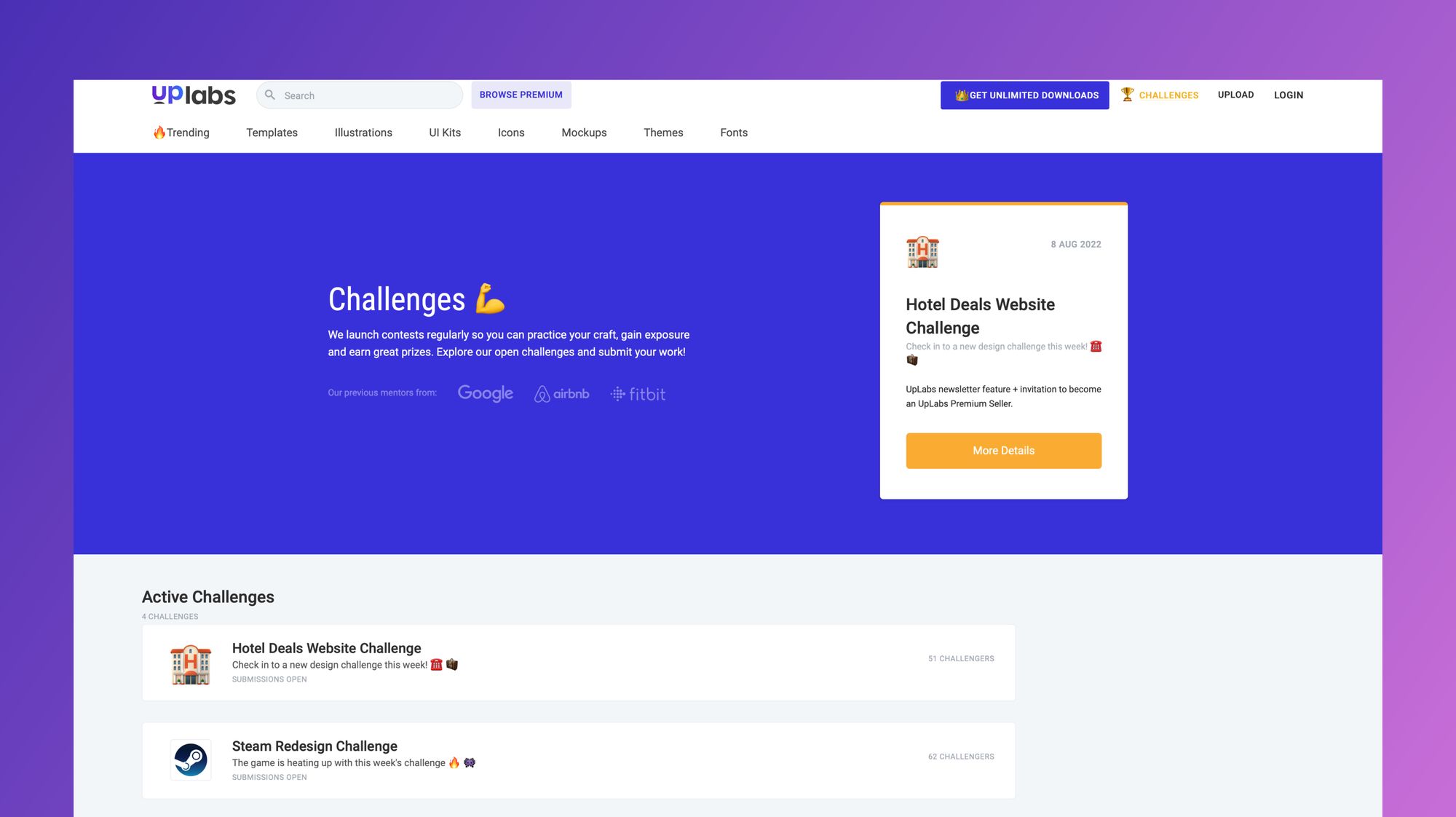 100 Days of Product is a series of design challenges that help you learn to tackle specific problems that arise in UX and product design roles (such as running a design sprint) and prompts you to create deliverables around them. There is also a separate set of whiteboarding challenges that you can take in preparation for interviews.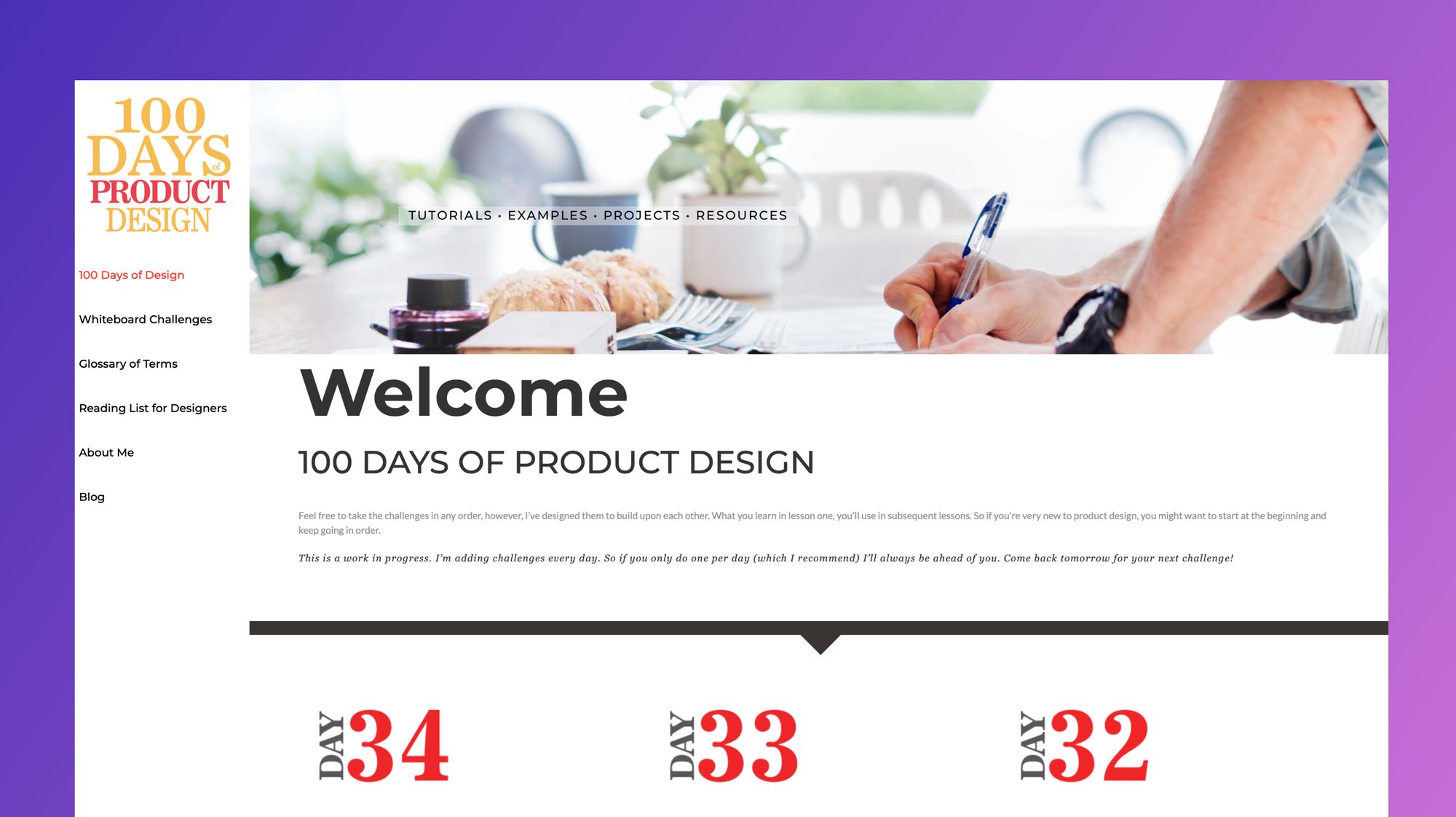 Our Product Design course is home to one the best UX and Product Design case study creators you can find...yourself! You get to ideate on original concepts yourself from scratch, is completely unique, perfectly suited to who you are as a designer, shows your process and ensures you stand out from the crowd. You also get free access to our portfolio builder for Notion that has helped our students easily create product design case studies and land their dream roles!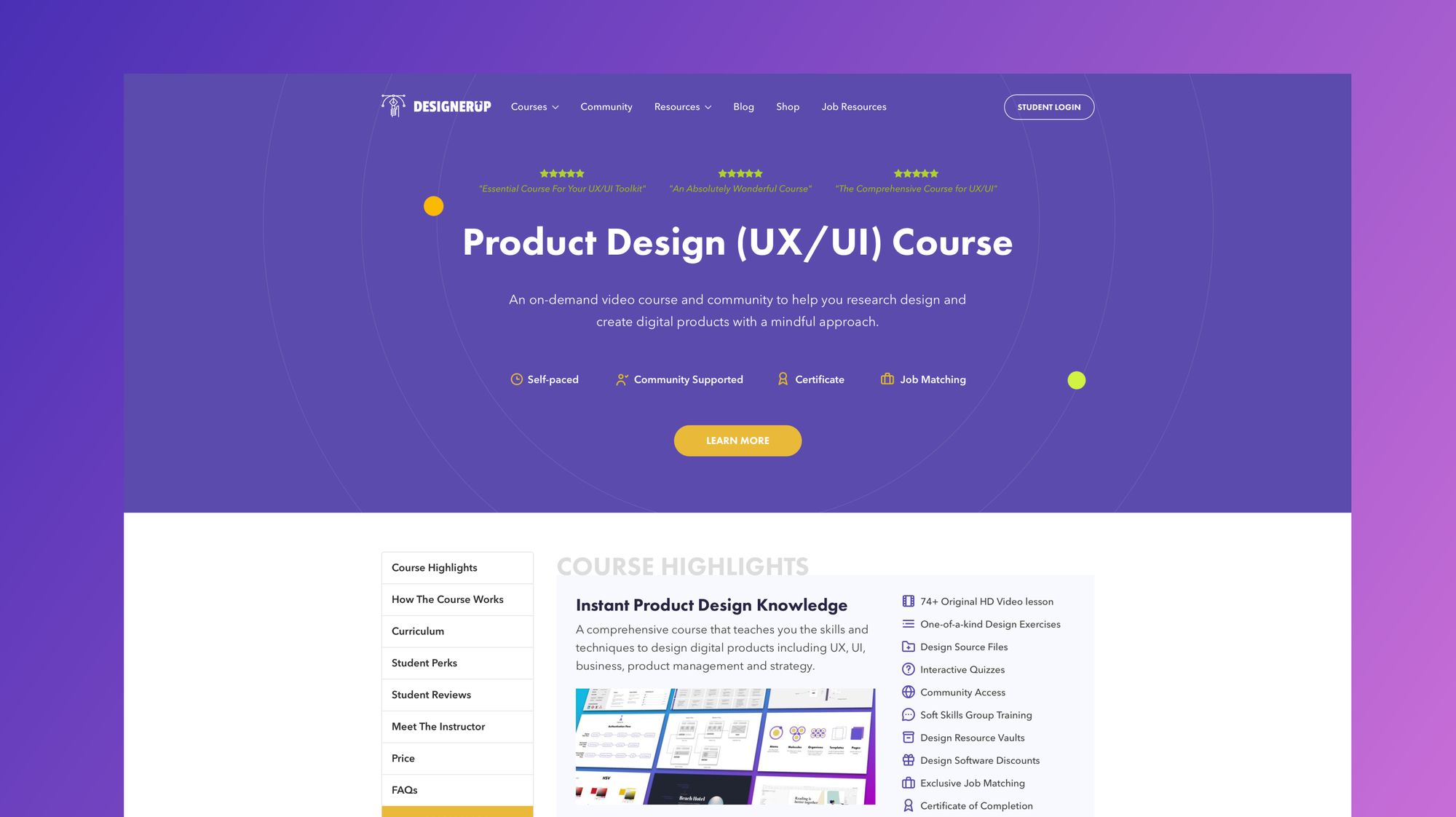 UX Case Study Usage
There are 4 main ways we recommend applying these generator prompts and challenges based on your goals:
Option 1: Self-Practice - Use these as practice for yourself to develop your problem-solving skills, thinking on your toes, learning to manage your time and refining your workflow. You don't need to show it in your portfolio but you can share it on social media and other places to get some feedback and get into the hang of doing projects and getting to know your own timing and process.
Option 2: UX Case Study Creation - Use these for your UX portfolio to create UX case studies. Give yourself a deadline, deliberately choose a project and document the process as you go. Be mindful of the projects you choose and make sure that they align with your own unique positioning as a designer and with the opportunities you want to attract.
Option 3: Whiteboard Challenge - Work on the prompts in 45 min sessions using a whiteboard like Figjam to show and tell your process. Record your screen so that you can replay it and share it with others for critique. This video could even be an incredible addition to your portfolio to showcase how you think and solve problems on the fly.
Option 4: Take-home Exercise - To simulate an interview take-home challenge or test, you can tackle a prompt or brief over the course of 8-10 hours.
Pros and Cons of Using UX Case Study Generators
There a few pros and cons about using case study generators that you should know about:
If you can do them, so can everyone else
Firstly, remember that if you have access to these design challenges and briefs so do all the other designers. That means that there is a good chance your work might end up looking similar to their work if you're not careful. If you want to stand out, try customizing the prompts and challenges and adding your own unique spin.
Treat them as real UX projects
If you plan to feature these UX case studies in your portfolio, make sure to treat them as real UX projects; not just hypothetical exercises. Conduct actual research, analyze your findings and document your process. This will go a long way in helping you differentiate yourself from those that simply complete the challenge at face value.
Not consider real-world experience
Keep in mind that these generated UX case study projects and prompts are not considered 'real-world or 'real- work experience' by employers, but rather self-directed projects. They are a good first step for new UX designers to start practicing their problem solving skills on their own and refining their UX design process, but you'll have to go the extra mile if you want to use them in your portfolio to impress during interviews.  
Choose the right one
If you are looking to use these ideas as UX Case studies in your portfolio, I reccomend reading this article on how to choose which case studies you should do and how to Create a Magnetic UX Case Study that will actually get you noticed and hired.
Move into doing real projects
These projects are also no substitute for doing real-world projects such as things you design and build yourself, freelance jobs, client work or open-source projects. Generated prompts and challenges cannot introduce the ambiguity of business requirements, changing stakeholder needs and team dynamics that are most sought after in a hirable UX designer. So think of these as a stepping to help you jump into the real thing as soon as possible. Here are some examples of stellar UX/UI and Product Design portfolios that we love!
💡
If you want to work on real, original Product Design projects and hone your UX/UI skills. There's no better place than our
DesignerUp Course
and
Community
!
Enrollment is open
!