For many of us in the design, dev and digital marketing community, remote work is nothing alien. Many of us have made a conscious decision to telecommute, work virtually, or live the freelance or digital nomad lifestyle.
But as health, economic and job uncertainty loom in this unprecedented time of pandemic lock down, others may have the choice made for them; whether you've been let go from a job in the service, hospitality or corporate industries or are reevaluating your options for a more flexible work life.
DesignerUp has put together this resource to help creatives and non-creatives alike navigate this space and learn more about remote-work opportunities by exploring positions and companies that advocate for this type of lifestyle.
No stranger to the virtual life, DesignerUp is a fully-remote company and my co-founder and I have been remote workers for over a decade. We've been through a lot of ups and downs and have learned a few things along the way. In this series of articles, we'll explore what it means to work fully or partially remote and the tools and resources to help you transition and excel in doing so.
First, a few remote work stats:
Even before the pandemic, remote work has been rapidly accelerating in the past few years.
"For millennials, they value salary, flexibility of work schedule and then location. There's a dog fight for talent amongst employers. Already, employers are finding themselves offering that as a benefit, that flexibility of remote work, set your own work hours and location. Things are already moving in that direction. On top of that, we are in a renaissance of tools that make people effective at working remotely. The necessity of physical proximity has been greatly reduced." - Ian Siegel, CEO and Cofounder, ZipRecruiter
Summary of Trends:
The number of people who work from home has increased by 140% since 2005.
4.3 million people in the USA work from home at least half the time.
40% of people feel the greatest benefit of remote work is the flexible schedule.
16% of companies exclusively hire remote workers.
Companies allowing remote work have 25% lower employee turnover those that don't.
76% of workers would be more willing to stay with their current employer if they could work flexible hours.
People who work remotely at least once a month are 24% more likely to be happy and productive.
Benefits of telecommuting
Higher salaries in many places
FlexJobs and Global Workplace Analytics reports that the average annual income for most telecommuters is $4,000 higher than that of non-telecommuters along with the ability to save more money in many places adds up to a big plus.
In the State of Remote Work 2019 survey, "The salary breakdown of remote workers surveyed was 74% earning less than $100k per year, and 26% earning more than $100k per year. In comparison, the on-site worker's salary breakdown was 92% earning less than $100,000 per year, 8% earn over $100k per year."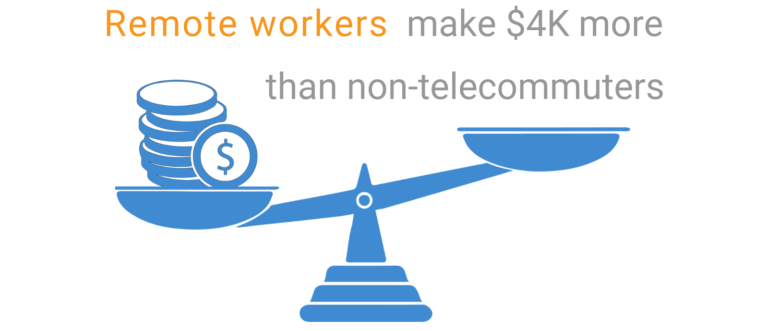 Ability to craft your own work life balance
Remote workers tend to take less sick days, likely due to less exposure to germs in a typical office. According to Indeed's Remote Work Survey, 50% of remote employees said working from reduced their sick days and 56% said it reduced their absences.
In FlexJobs' Work-Life-Relationship survey, 86% of respondents think a flexible job would reduce their stress, and 89% said they think they would be able to take better care of themselves.
There are downsides to working from home including time managements, mental health issues resulting from loneliness or isolation and reduced social connection, but there are many ways to counteract and balance this with health habits and routines. Stay tuned for a post on this coming soon.
Environmentally conscious
Given that events like pandemics and Corona virus are in-part a direct consequence industry globalization and corporate greed pushing further into our natural spaces and harming our planet, mother-earth's retaliation is likely to continue. It's important that we all acknowledge our interconnectedness to the earth and eachother, the harm we are capable of causing and our responsibility to make better choices. Working from home or limited commute decreases traffic congestion, reduces air pollution and road damage and maintenance.
According to the 2017 State of Telecommuting in the U.S. Employee Workforce report: "Existing telecommuters reduce greenhouse gas emissions by the equivalent of taking over 600,000 cars off the road for a year. If the work-at-home workforce expanded to include those who could and wanted to telecommute half of the time, the GHG savings would equate to taking 10 million cars off the road."
Remote job boards
16% of global companies are actually 100% remote companies. Unsurprisingly, hybrid companies that employ both in-office and remote workers are more popular; this potentially provides the perfect balance for employees and employers. [Owl Labs]
So where do you find these coveted remote jobs? There are many jobs boards that cater to exactly this in a variety of industries. From sites that maintain pages of up-to-date, categorized listings to personalized curated positions delivered straight to your inbox, here are some of our favorites:
Working nomads is the place to go for those looking to start their telecommuting career. Their jobs board is loaded with digital positions that range from design and tech to finance and human resources.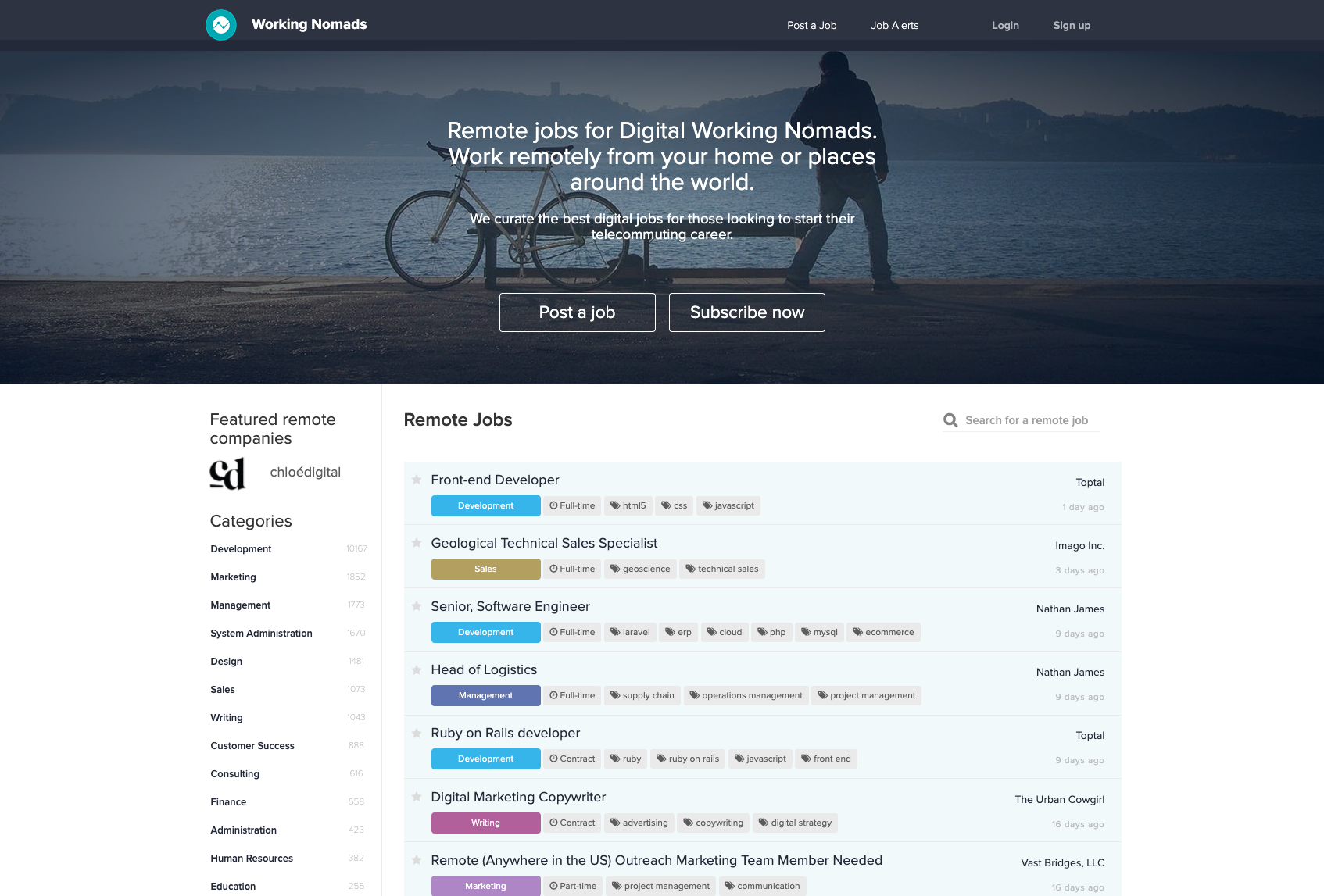 Remote Leaf's mission is to promote remote work that isn't restricted by commute or particular location. They help job seekers by curating the best remote jobs from all over the internet and sending them directly to your inbox. On average they  curate 1200 remote jobs in a month (~400 per week). Let Remote Leaf do the heavy lifting and send your personalized positions directly.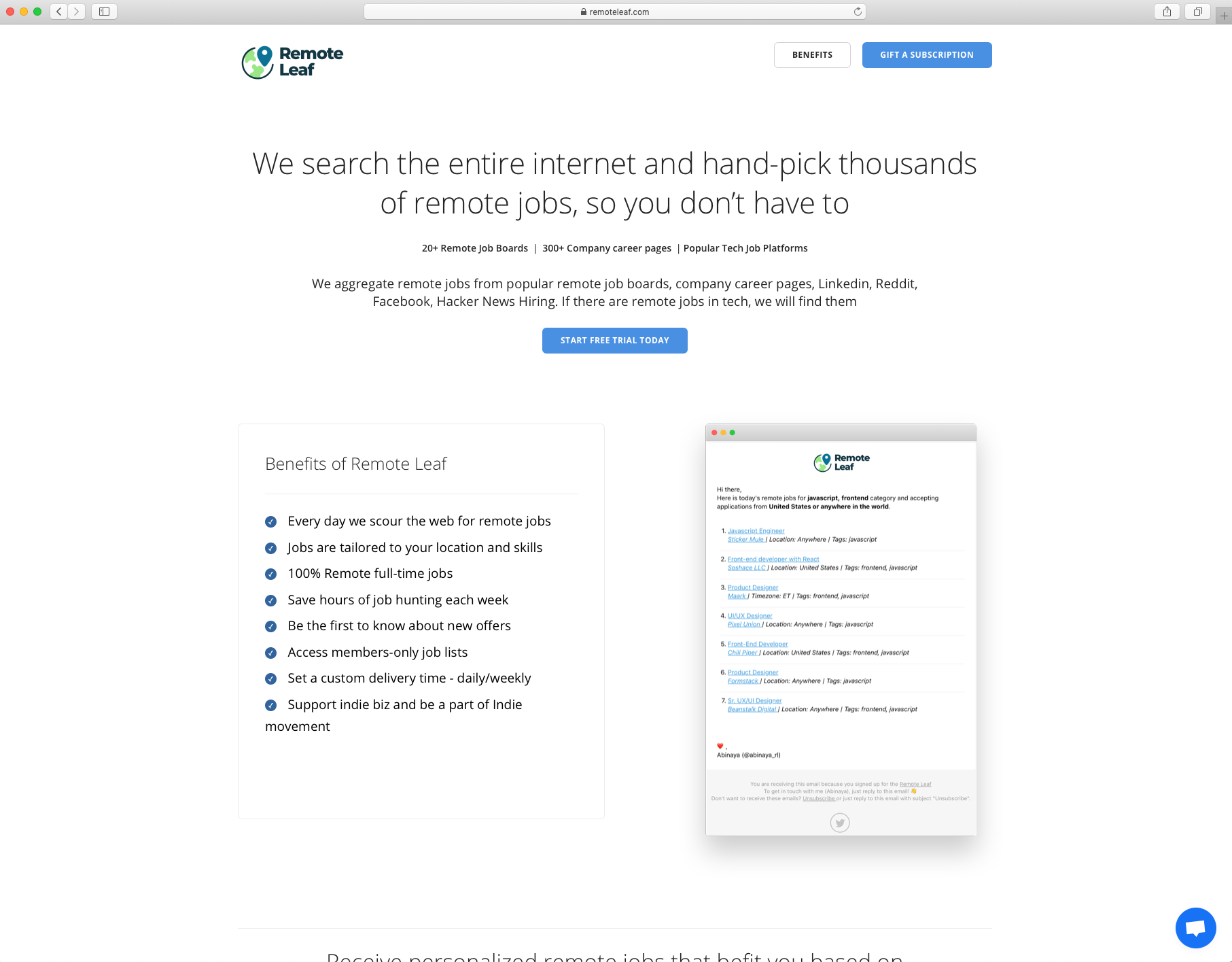 Remote.co lets you browse openings in those categories of developer, customer service rep, recruiter, designer or sales professional and more. Their hand curated  list showcases the best remote job opportunities in the most recruited job categories to help you launch your work anywhere career. You can also subscribe to their list to get fresh job listing sent straight to your inbox.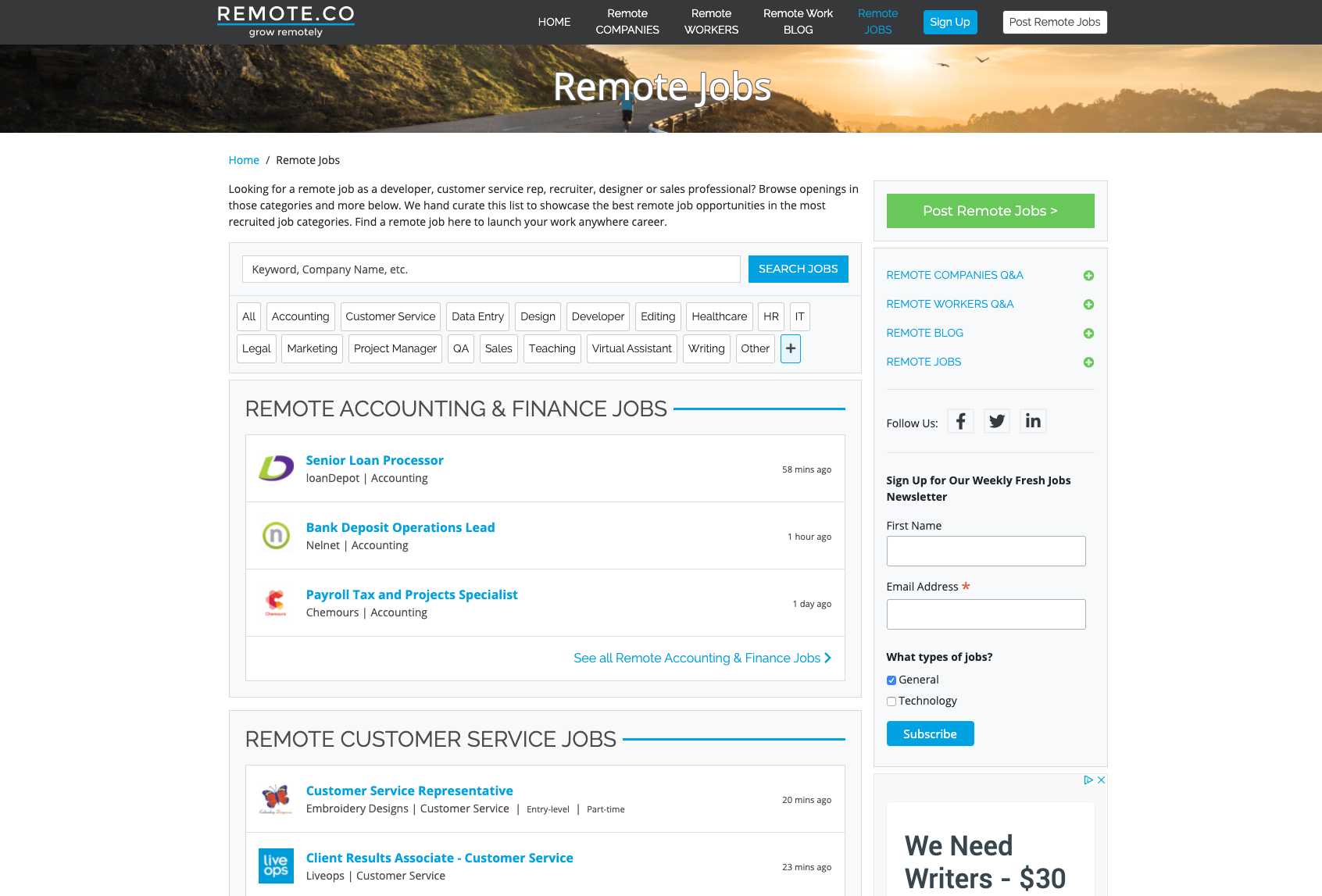 We Work Remotely is the largest remote work community in the world. With over 2.5M monthly visitors, WWR is the #1 destination to find and list incredible remote jobs. You'll find a range of positions here from programming and design jobs to customer service and marketing.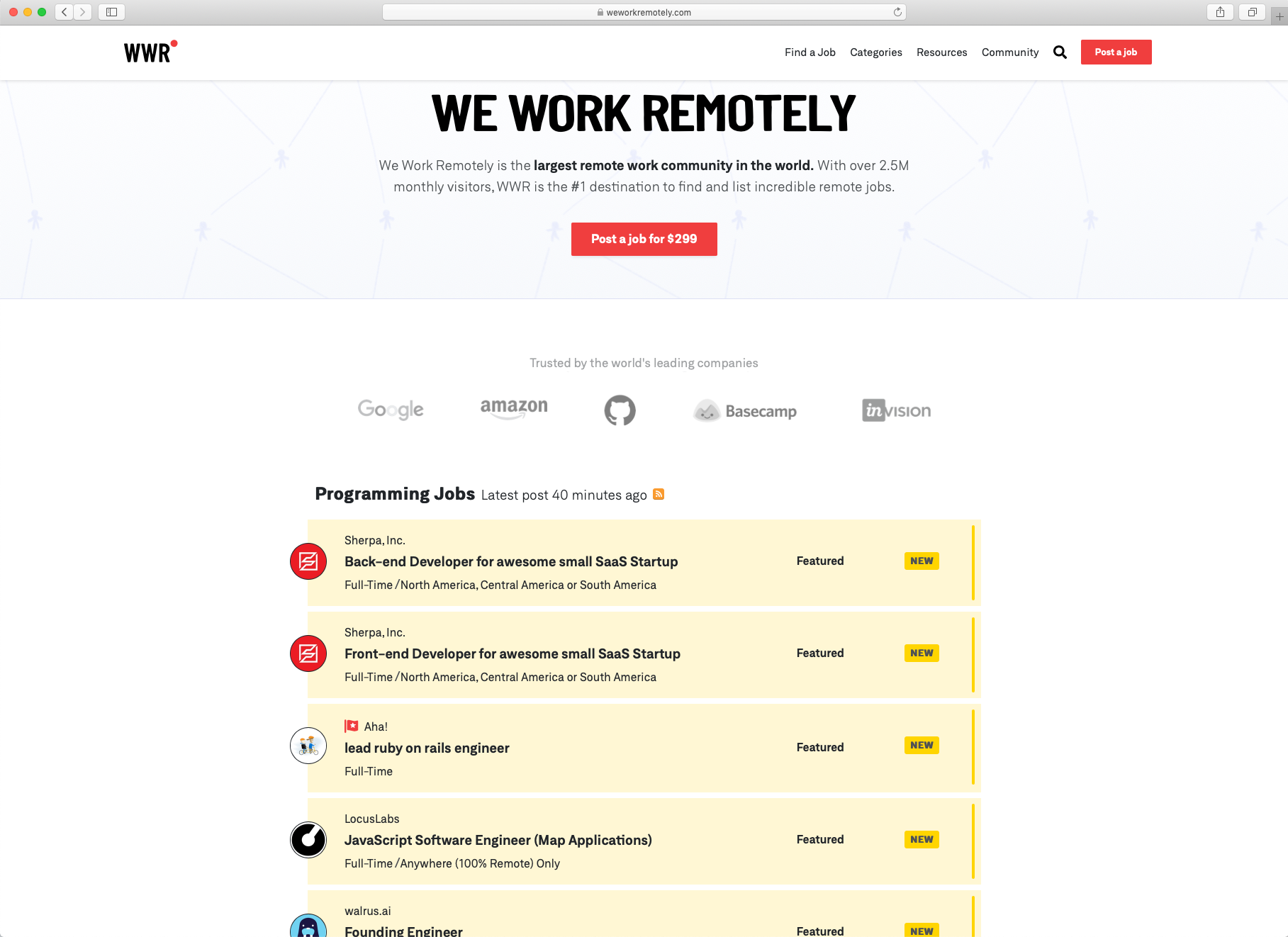 If you're interested in focusing on work that has an even greater positive impact on our world check our Envirowork, it's the best place to find and fill jobs that benefit the environment. It includes a range of positions that cover tech, management, analytics, law and more.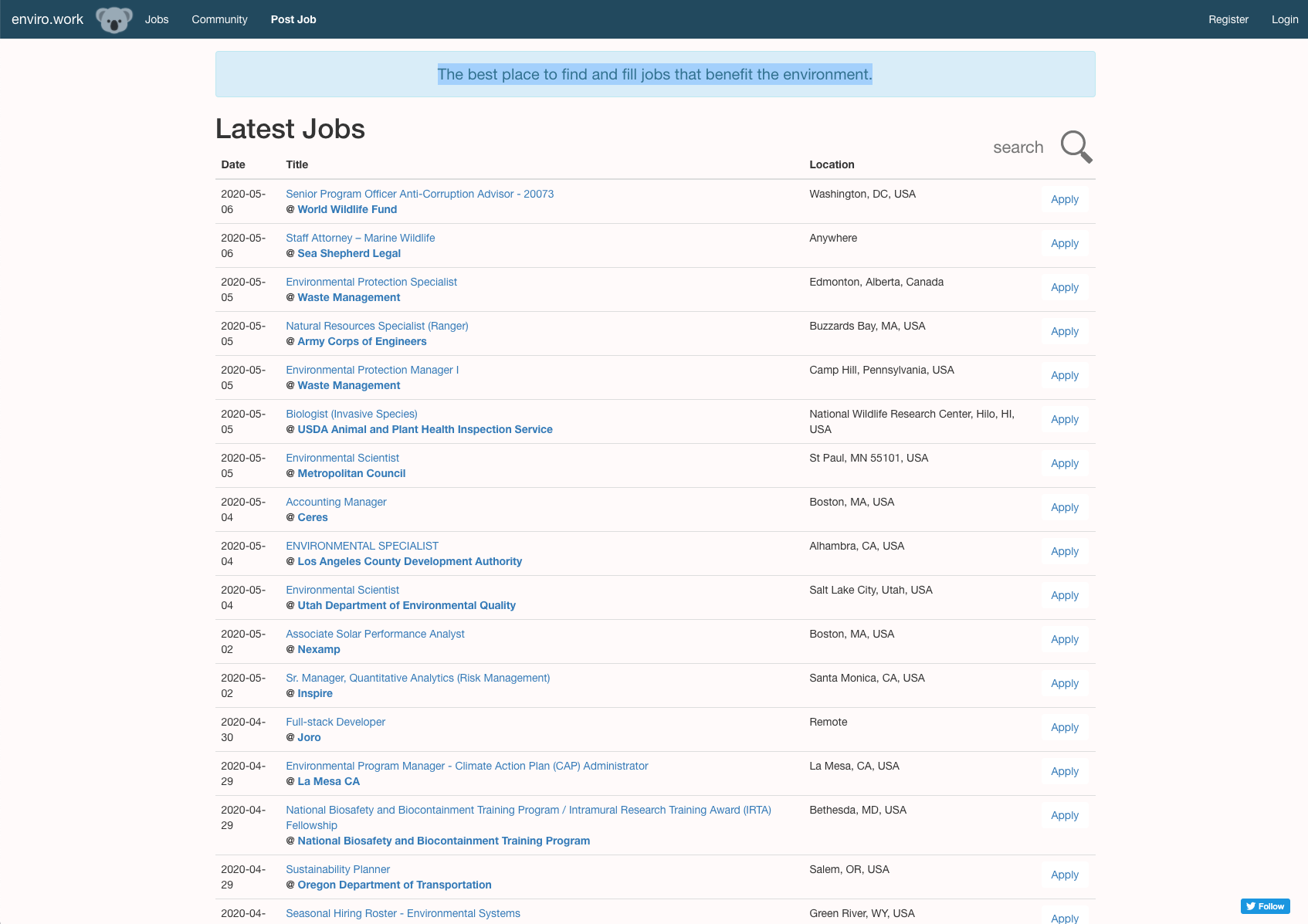 100 Telecommute lists jobs in a variety of industries (not just tech) you'll find everything from physician jobs to book keeping and more. They believe that everyone who wants to work from home, shouldn't have to pay for access to cleanly organized and legitimate job postings.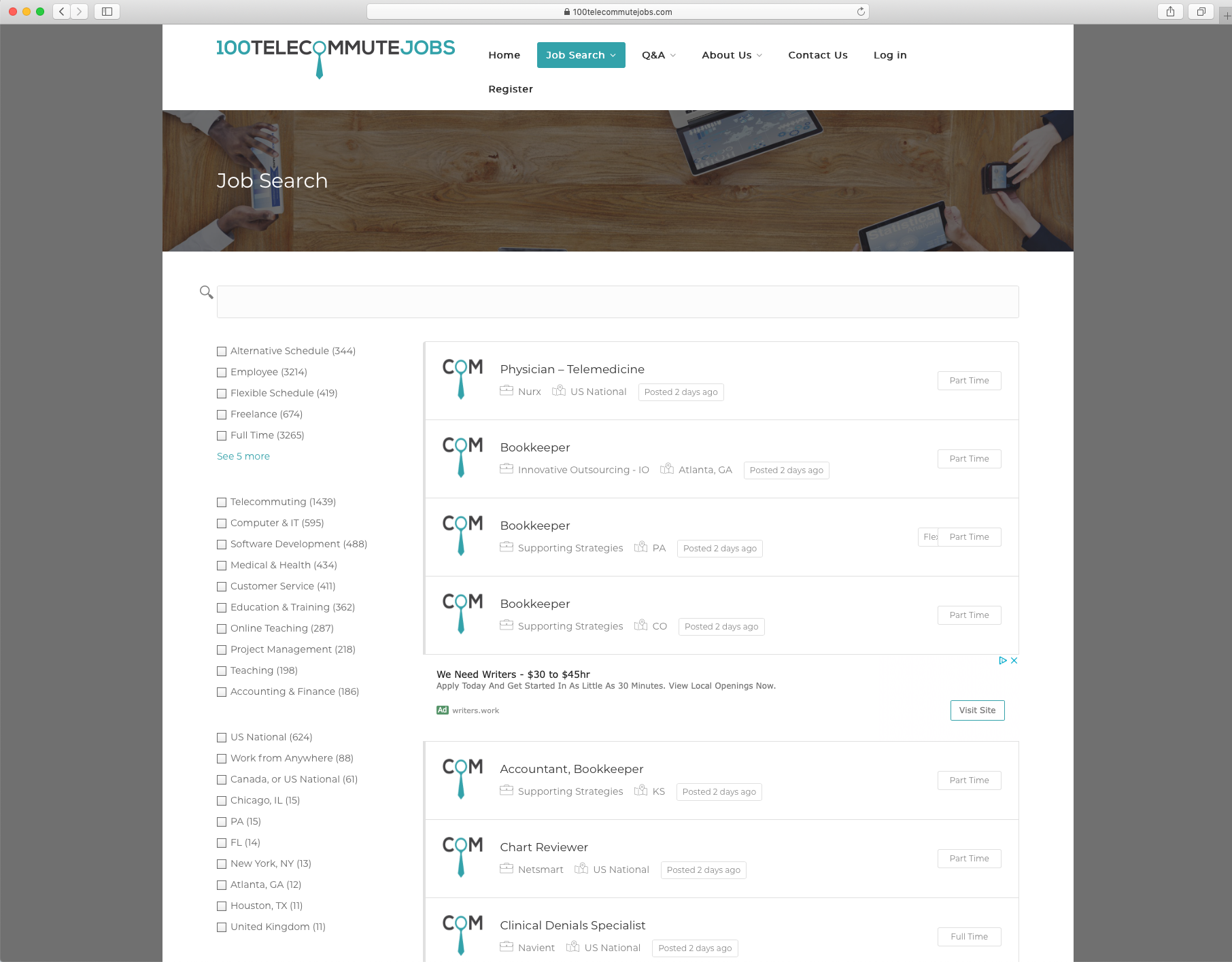 Jobspresso is a resource to find high-quality remote jobs in tech, marketing, customer support and more. 100% of their jobs are hand-picked, manually reviewed and expertly curated.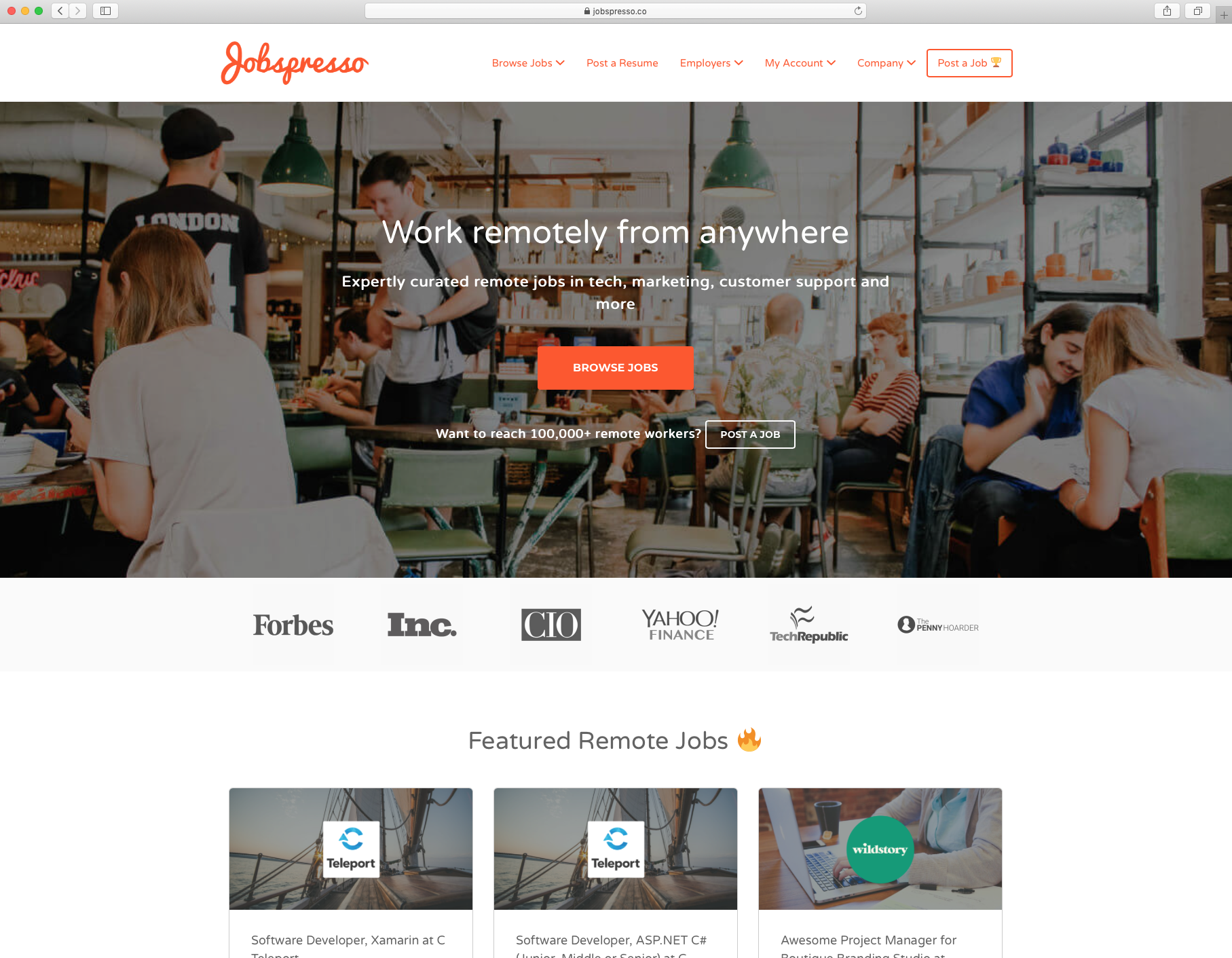 Design Modo lists remote and full-time jobs specifically for web designers and developers.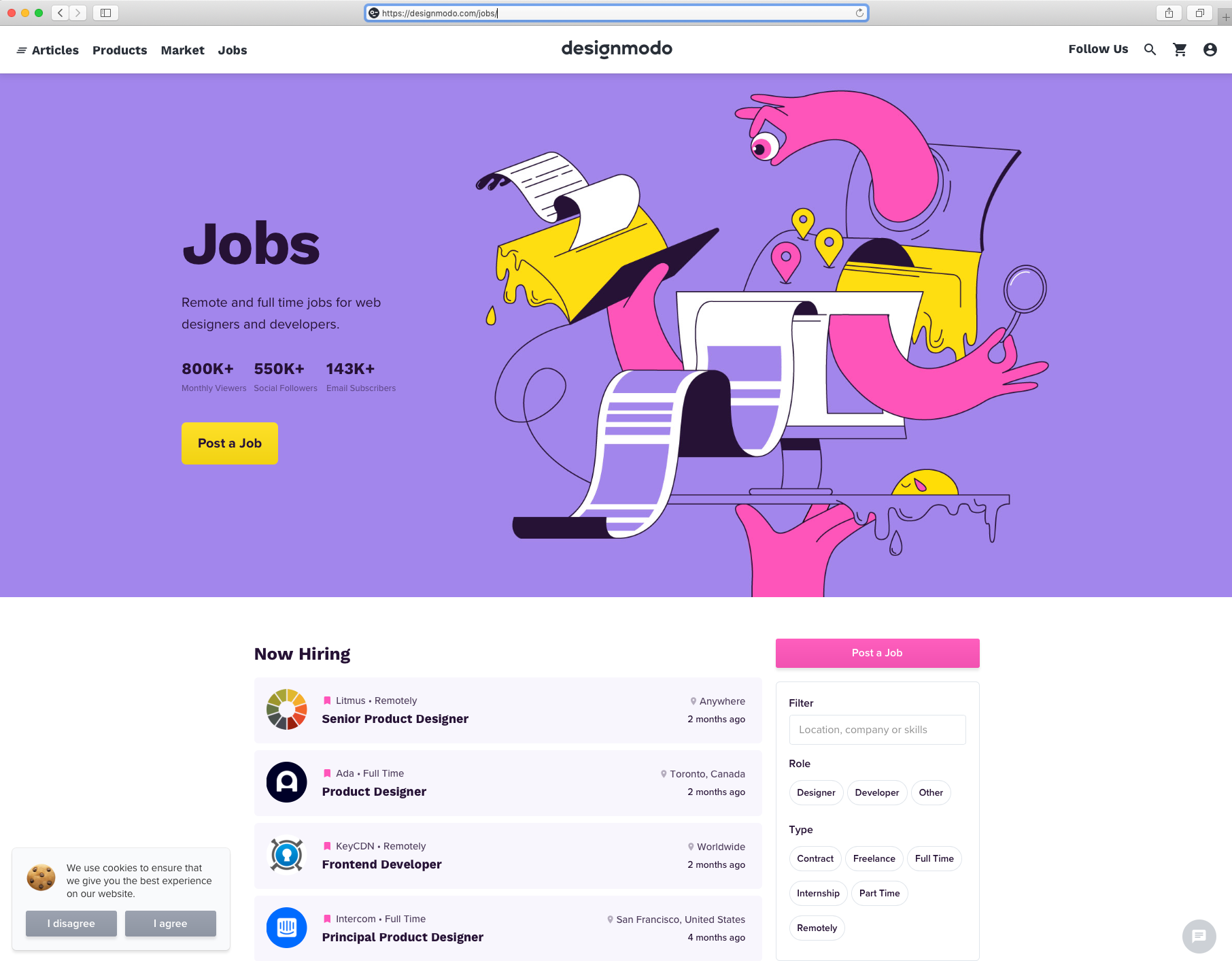 Jooble is a job search engine that allows you to search jobs on the major job boards and career sites across the US as well as 70 more countries worldwide. It automatically filters out duplicated jobs, so similar jobs, posted on several career sites, are shown as a single one.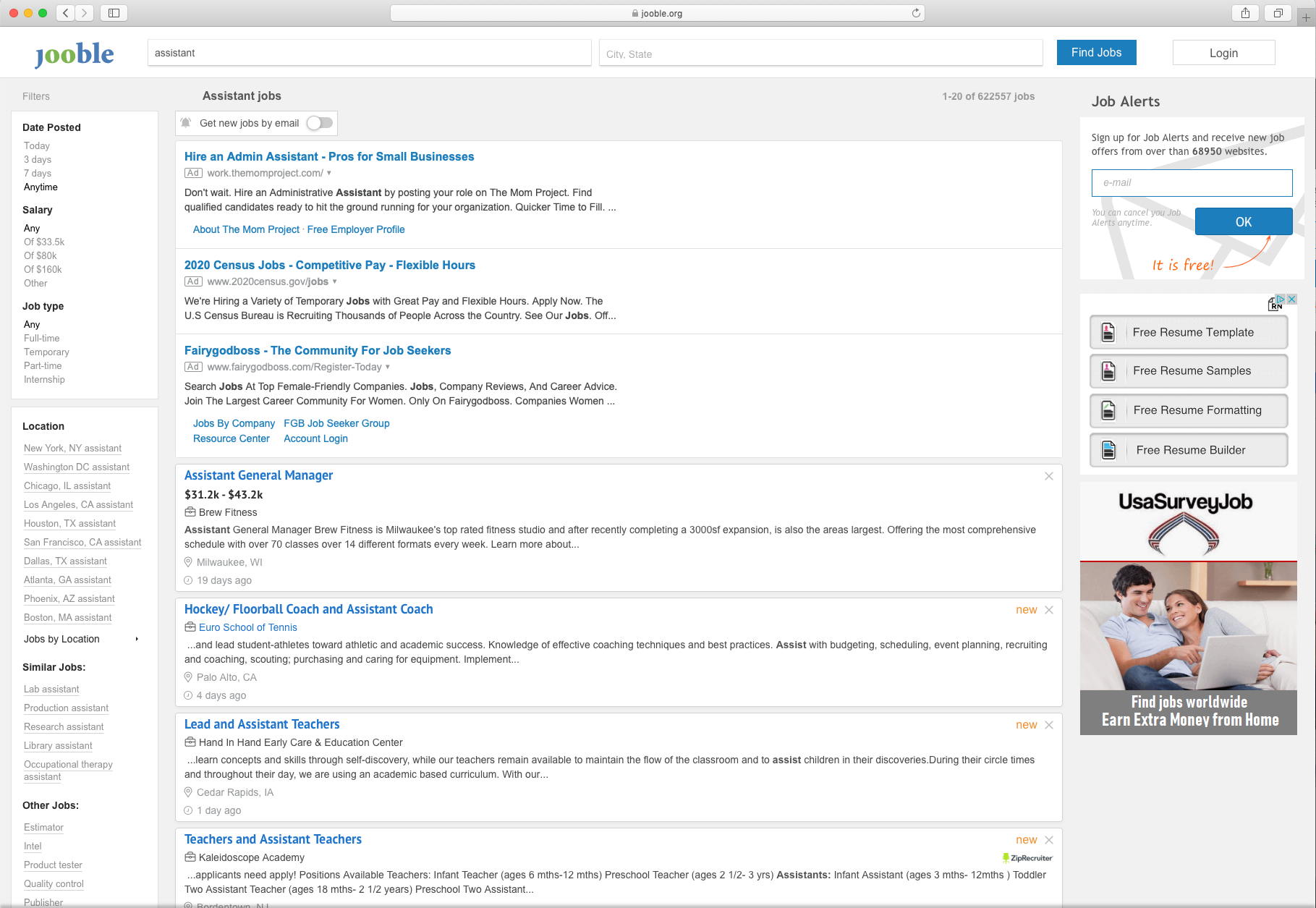 Remote-First and Remote-Friendly Companies
Some companies have been remote work advocates from the start, others are adopting more remote-friends policies and looking into ways to accommodate the needs of globalized and distributed talent.
"With housing shortages on the coasts, you have more extremely talented people living outside those metros," said Hiten Shah, an entrepreneur and adviser to remote-work companies such as Automattic. "As a result, companies have to build remote-work features into their culture to get access to that talent."
Even if it's too soon to predict a complete shift into a global virtual workforce, more and more companies are taking steps to make virtual work more accessible and build the type of company and culture that support it.
The people behind WordPress.com, WooCommerce, Jetpack, Simplenote, Longreads, VaultPress, Akismet, Gravatar, Crowdsignal, Cloudup, Tumblr, and more. Automattic is one of the largest 100% remote companies (940 employees and counting) in the world. Everyone works from the location they choose. They're spread out all over the world in more than 70 countries.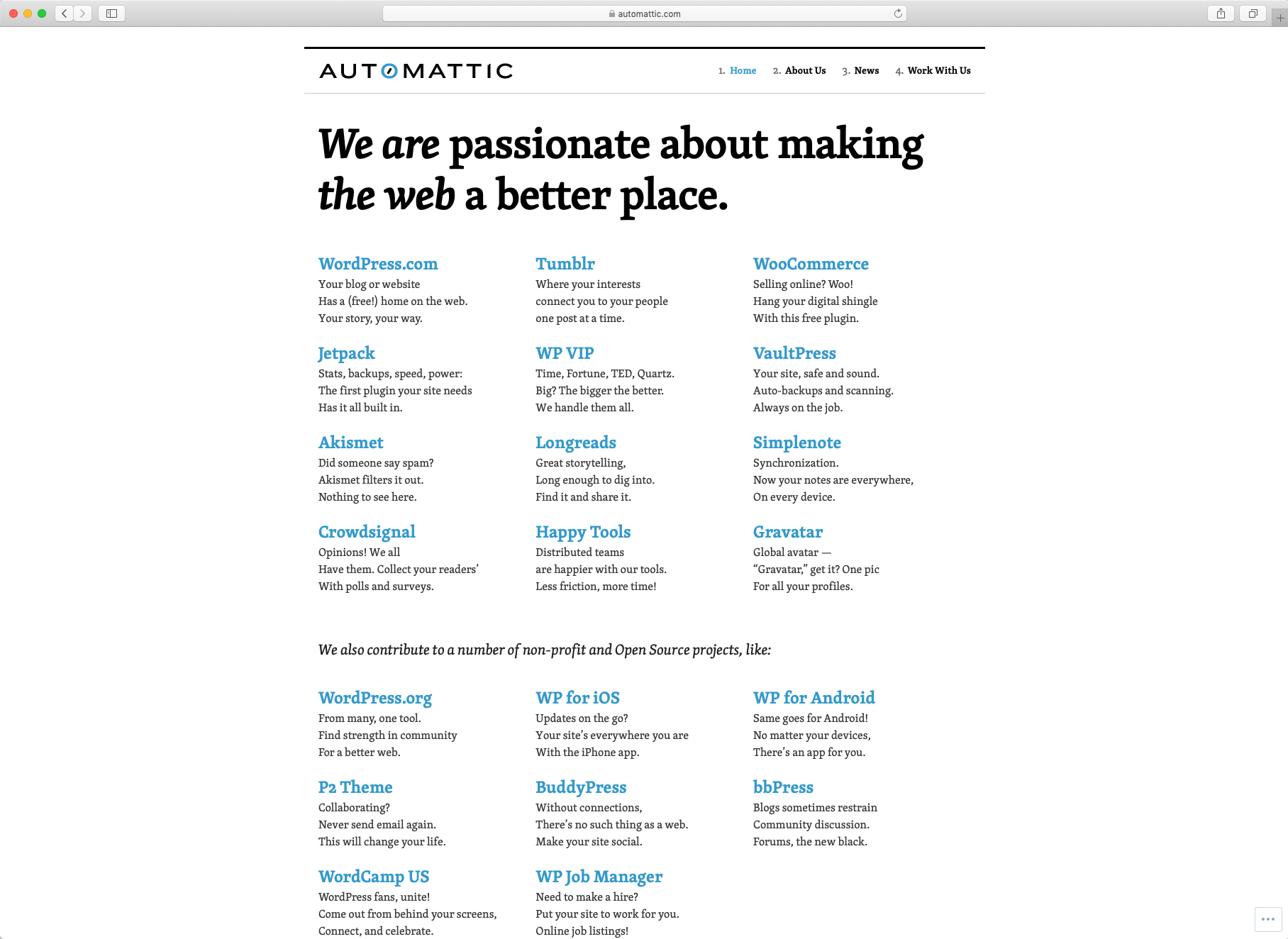 Best known for their project management software and long-time remote-work advocacy; collectively, they've run a profitable and popular business for 17 years straight, launched a widely popular programming framework (Ruby on Rails) and written best-selling books. Basecamp is headquartered in Chicago, but their team is spread out across 32 cities around the world. Everyone at Basecamp is free to live and work in the places they thrive, and most of them do just that.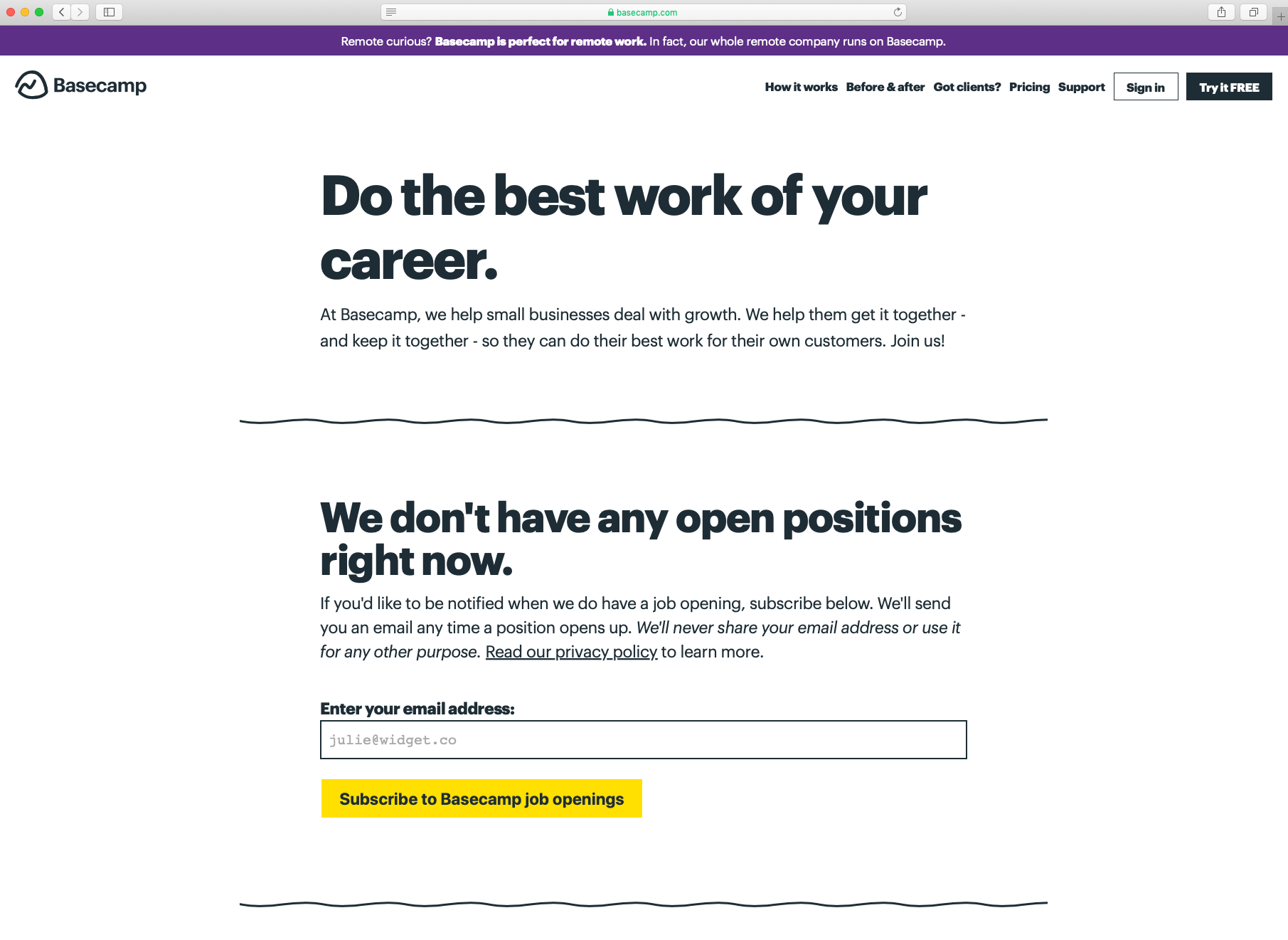 GitLab is an open core company that develops software for the software development lifecycle used by more than 100,000 organizations. It has an active community of more than 2200 contributors. A fully remote and completely distributed team; everyone can work wherever they're happiest.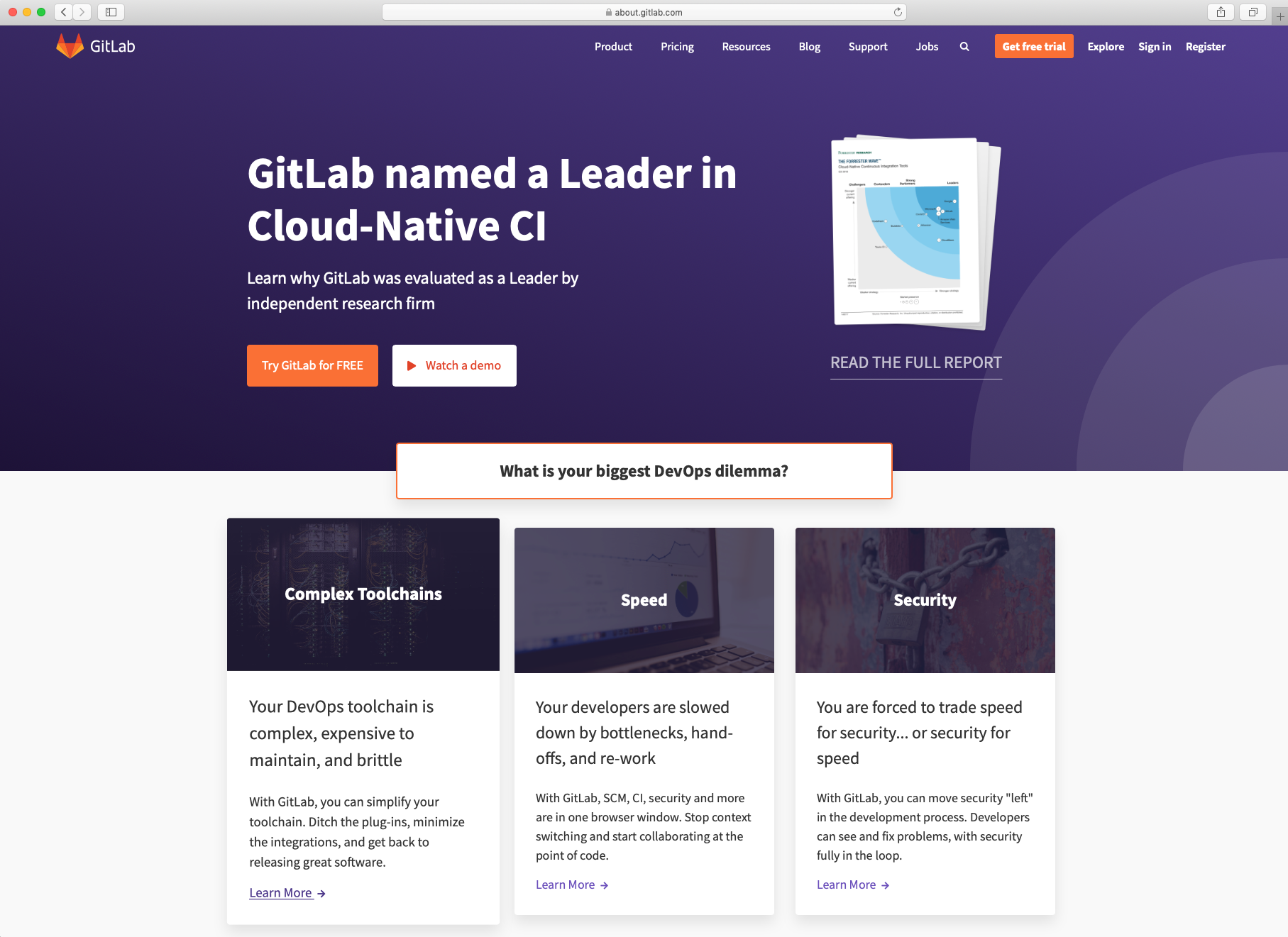 One of our personal favorites, Sketch is a design app for Mac that has largely become the industry standard for UI/UX and Product Designers (we use this in our Product Design Master Course).
Their team is small (but perfectly formed), and is distributed in a number of locations across the world. They are passionate about creating equal opportunity and an environment that is safe, diverse, and inclusive.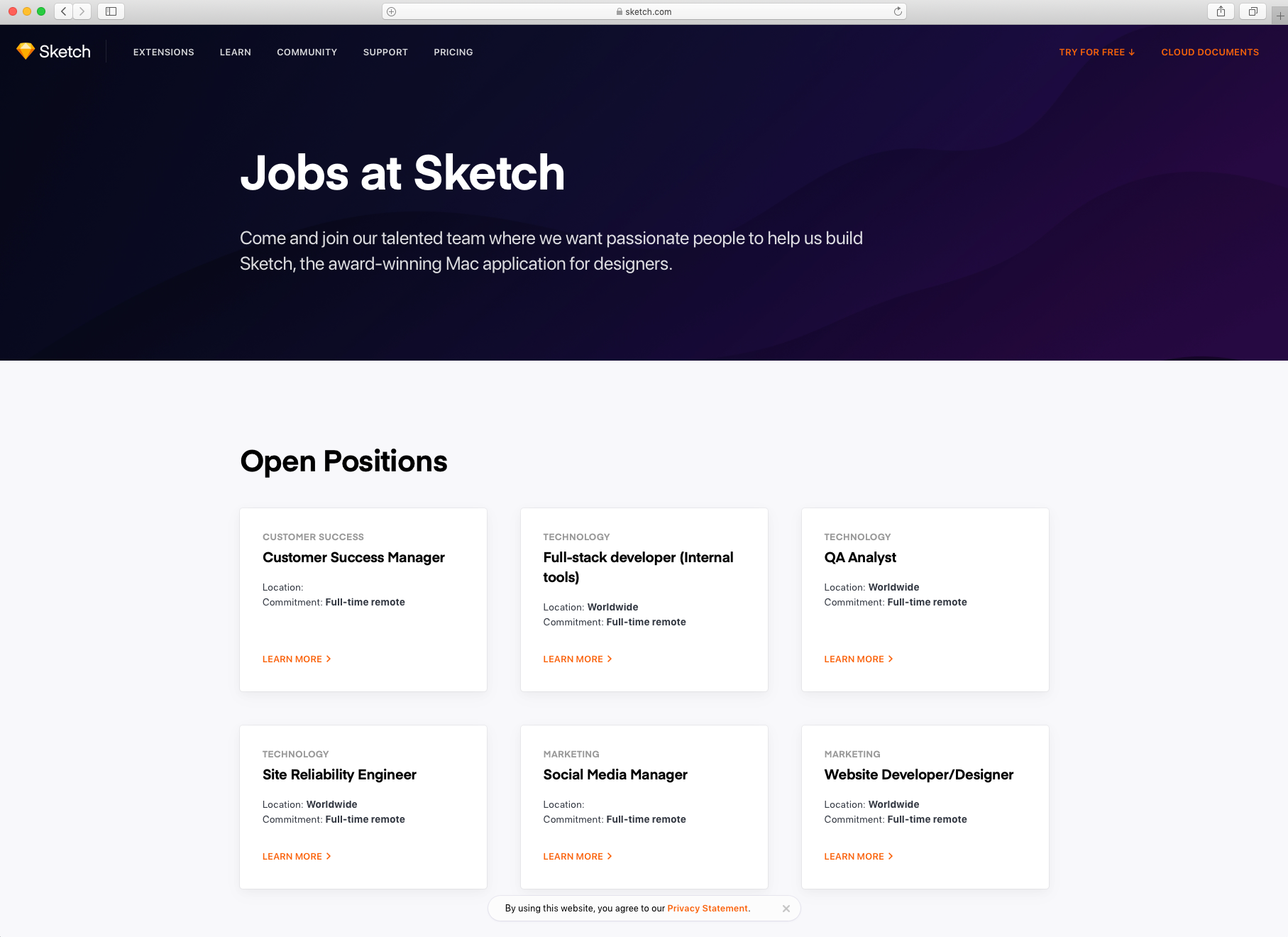 Buffer started in 2010 as a simple way to schedule posts on Twitter. Today it's a growing suite of tools now serves more than 75,000 customers.
Buffer is a fully remote team, spread across the whole planet. They have 'Bufferoos' in 15 countries, 11 timezones and 42 cities (and counting!).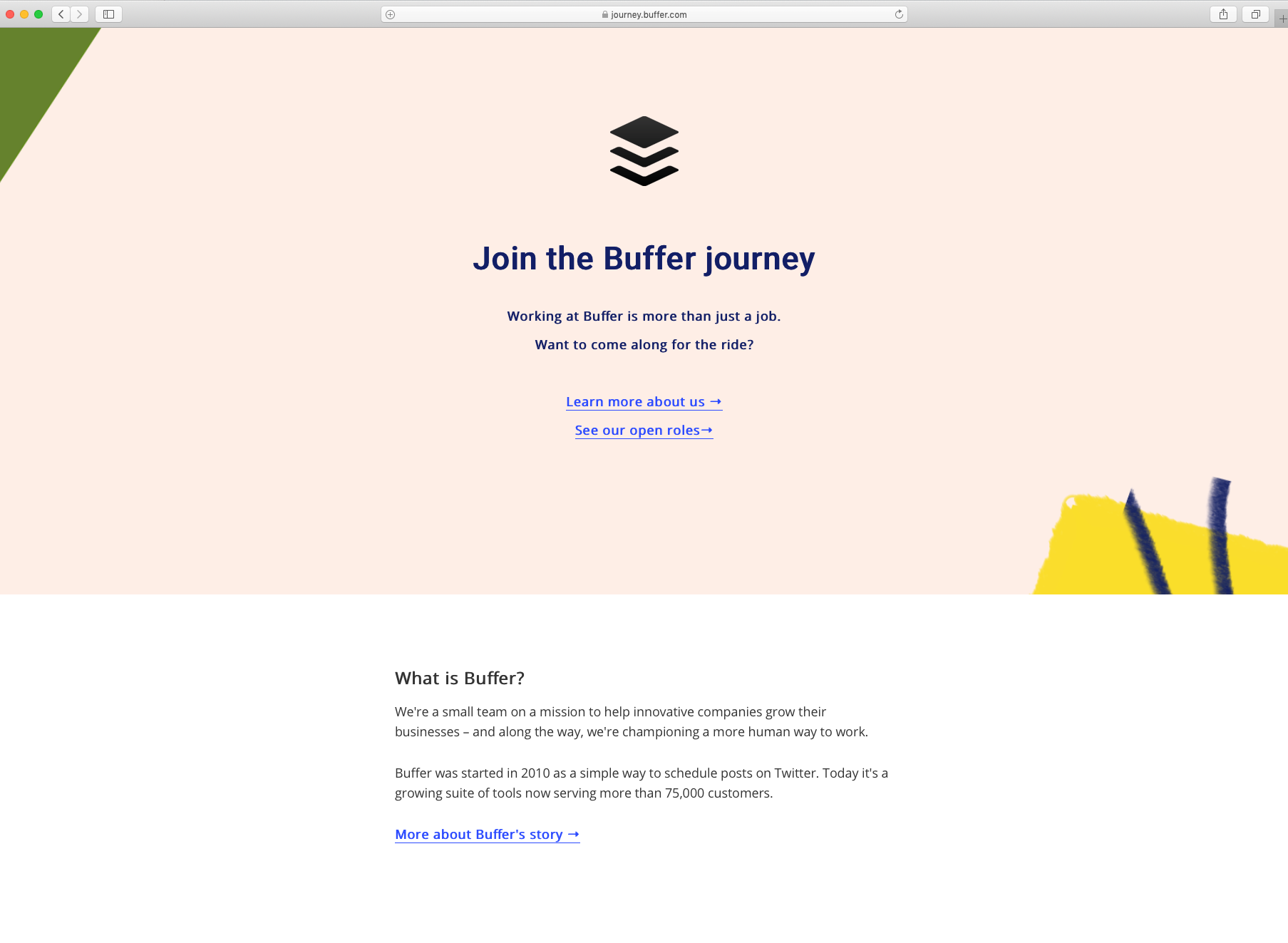 MetaLab is a Canadian based design firm that hires based on talent, not time zone. They are proud of their global perspective and are committed to the earnest work it takes to create an inclusive environment; removing unconscious biases and staying honest about how they can do better.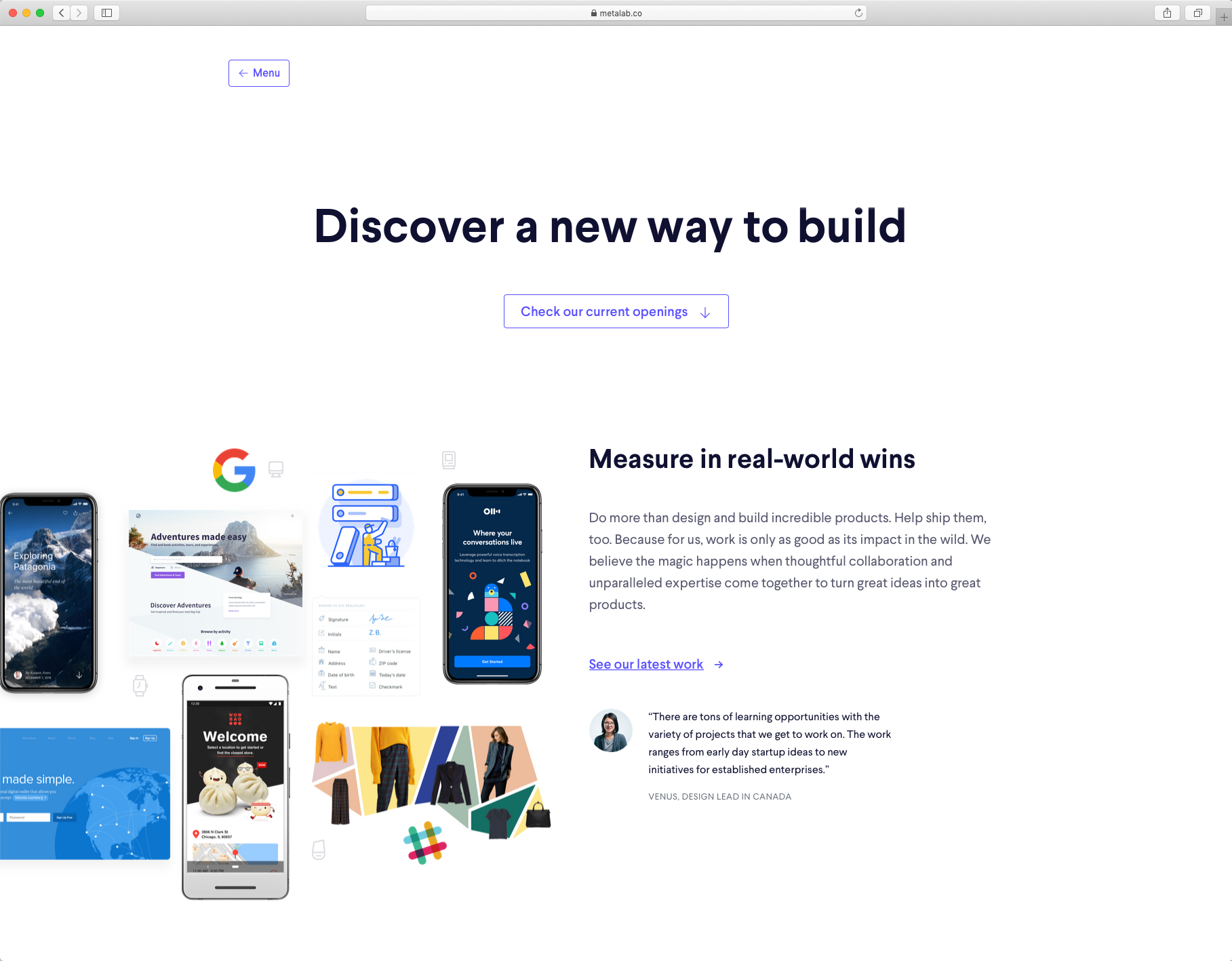 Webflow gives creatives the power to build completely custom, responsive websites — visually. While they're based in San Francisco, where brothers Vlad and Sergie Magdalin launched the company in 2013, more than half of their team is remote, working from nations ranging from Australia to Lebanon, Poland to Canada.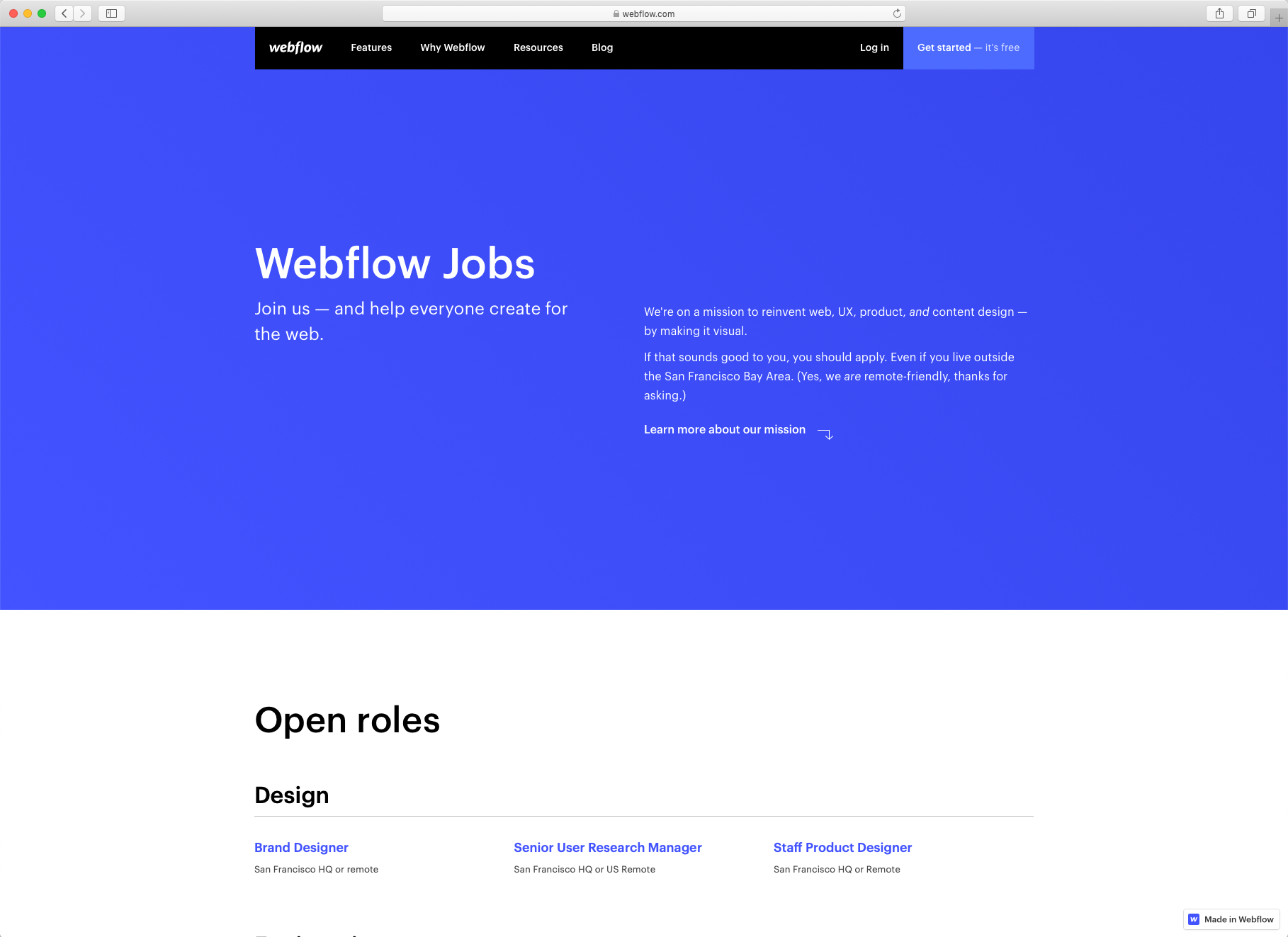 Doist creates productivity and communication apps and software for the digital work. They're a remote-first team that collaborates across 18 timezones and over 20 different countries.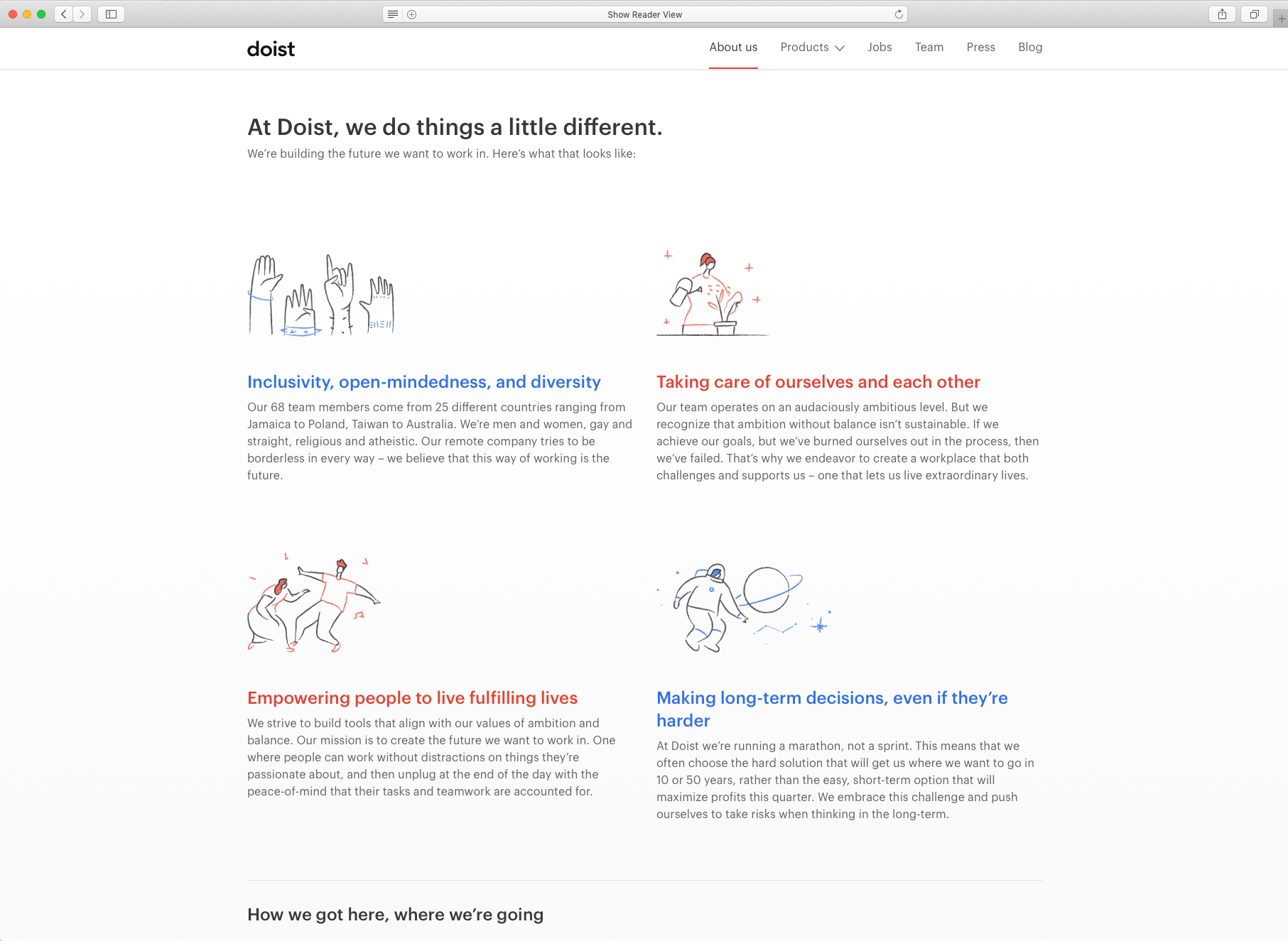 Zapier looks to help users build their own personalized code-less workflow automations. It's like the superglue that holds and connects all of your different web applications together with a 'zap'. All 250-plus Zapier employees work wherever they'd like — reliable internet access is their only requirement. Spread across 17 time zones in 24 countries.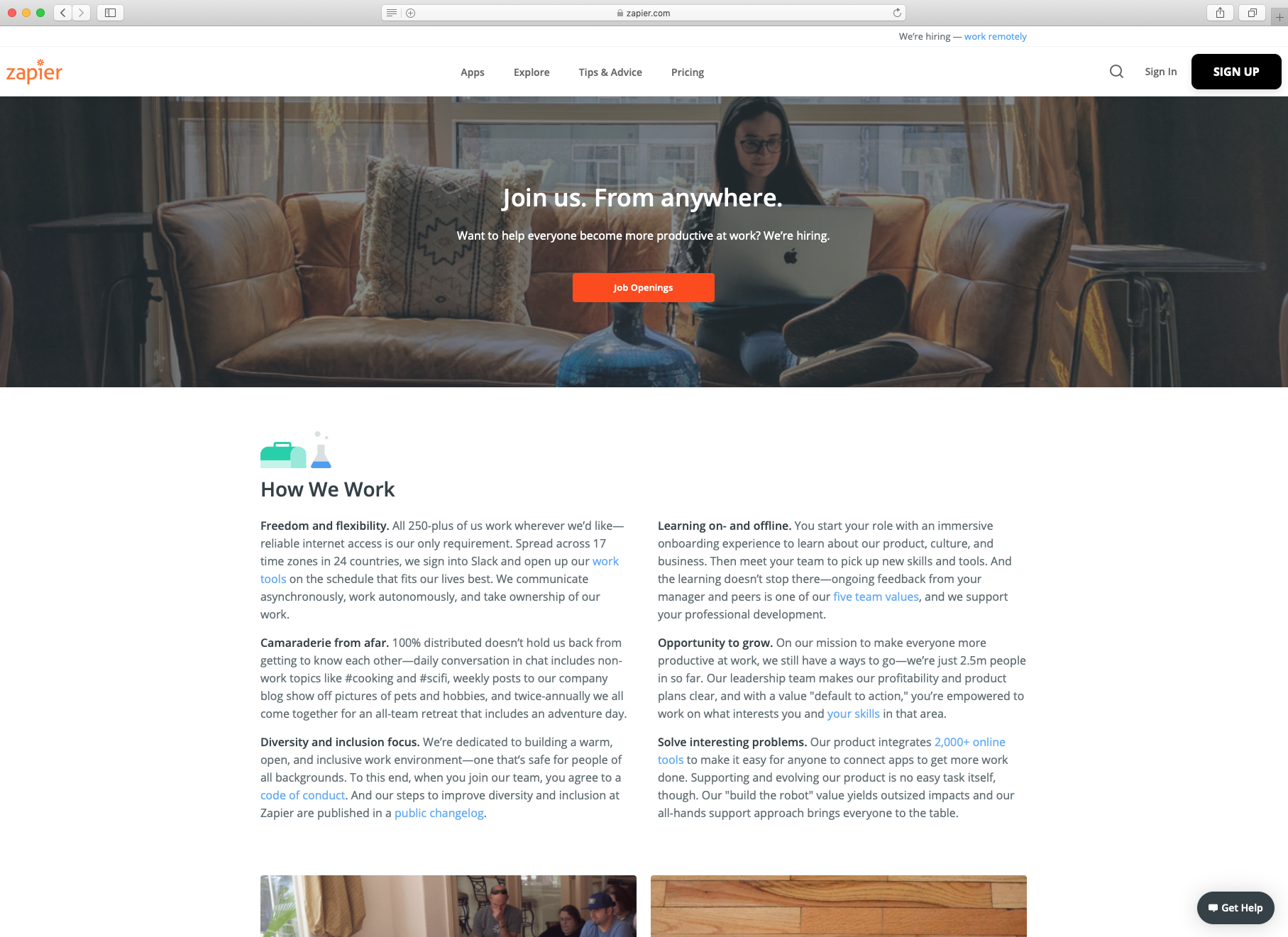 Other categories of remote positions
Creative work isn't the only place to go virtual, many companies in a variety of industry are remote-friendly. Here's is a list by category:
Customer service and CRM
Health and Telemedicine
Online Education
Financial
What you'll need to successfully land a remote job:
A professional headshot: Stuck at home with your kids and your family? Now is the time to setup a photoshoot! Checkout these tips from Hubspot for taking your own high-quality, professional headshot.
New skills — Noticing that these job postings require skills that you don't have yet? What better time than during a quarantine to learn a new skill!? If you are interested in learning how to become a UI/UX designer come check out our courses.
An impressive portfolio: There are some really easy ways that you can setup your creative portfolio or resume, here's what we recommend.
A project management app — We absolutely love Notion App! Checkout how we use it for product design and how you can apply it to just about anything, from managing your day to day planning to managing a client project.
The best remote workflow tools- Managing your time, your process and being efficient is important when working virtually. Stay tuned for our best remote workflow tools writeup coming soon!
The right remote work mindset and work/life balance — Arguable the most important thing about working remotely; whether it's day 1 or day 101 is finding the right balance and routine when your personal and work environments collide. Stay subscribed for our Comprehensive Guide to Healthy Remote Work/Life Balance in the next newsletter.