For User Researchers and UX Designers, remote interviews are one of the most increasingly common methods of conducting user research. But how can we capture these qualitative results more accurately, speed up our UX research process and analyze our UX data more thoroughly in order to pull out meaningful insights?
Maybe you're accustomed to taking notes during your interviews or recording them and taking notes later. Or maybe you've tried an audio or video transcription service or AI program to do the heavy lifting for you.
Did you know on average that it takes about 4 hours to transcribe 1 hour of video? A 4:1 ratio isn't that great for productivity or if you're under a deadline. Even professional transcriptionists normally take 3 hours to convert 1 hour of audio or video.
With automated AI-based transcription services, the biggest hurdle I've found is accuracy and simplicity of use. AI transcriptions mostly failed to meet my expectations and still left me having to do a great deal of correction by hand.
However, there are major benefits to recording and transcribing your audio or video interviews including:
Ability to search your videos
Ability to code and tag your research
Allows you to see patterns and pull out insights faster
Let's you edit videos and add subtitles for presentations
There is a great tool that I've been using lately that has put a great deal of effort into improving both the accuracy of transcription and the user experience of their transcription features and it's called Typestudio.
There are 5 things I love about Typestudio:
Super intuitive interface that's easy to use - it's not one of those tools where the learning curve makes you feel like it would be easier to just do by hand.
Browser-based - so there is no need to download software that takes up space on your already loaded HD.
Freeness - Typestudio has an always-free plan that gives the ability to upload 20 min of video per mo.
Processing speed - pretty decent and better than most I've used.
Accuracy of the transcription - doesn't leave you having to do a ton of corrections by hand.
On their forever free plan you have a total of 20min of video you can upload per mo and each video has to be 10min long or less. So that means you could upload 2 videos (each 10 min long) or 4 videos that are 5 mins long etc.
Here's how to use Typestudio to create a fast transcription or your remote user research recording, starting with a user interview that I previously recorded on Zoom.
Create a new project and drag your video in.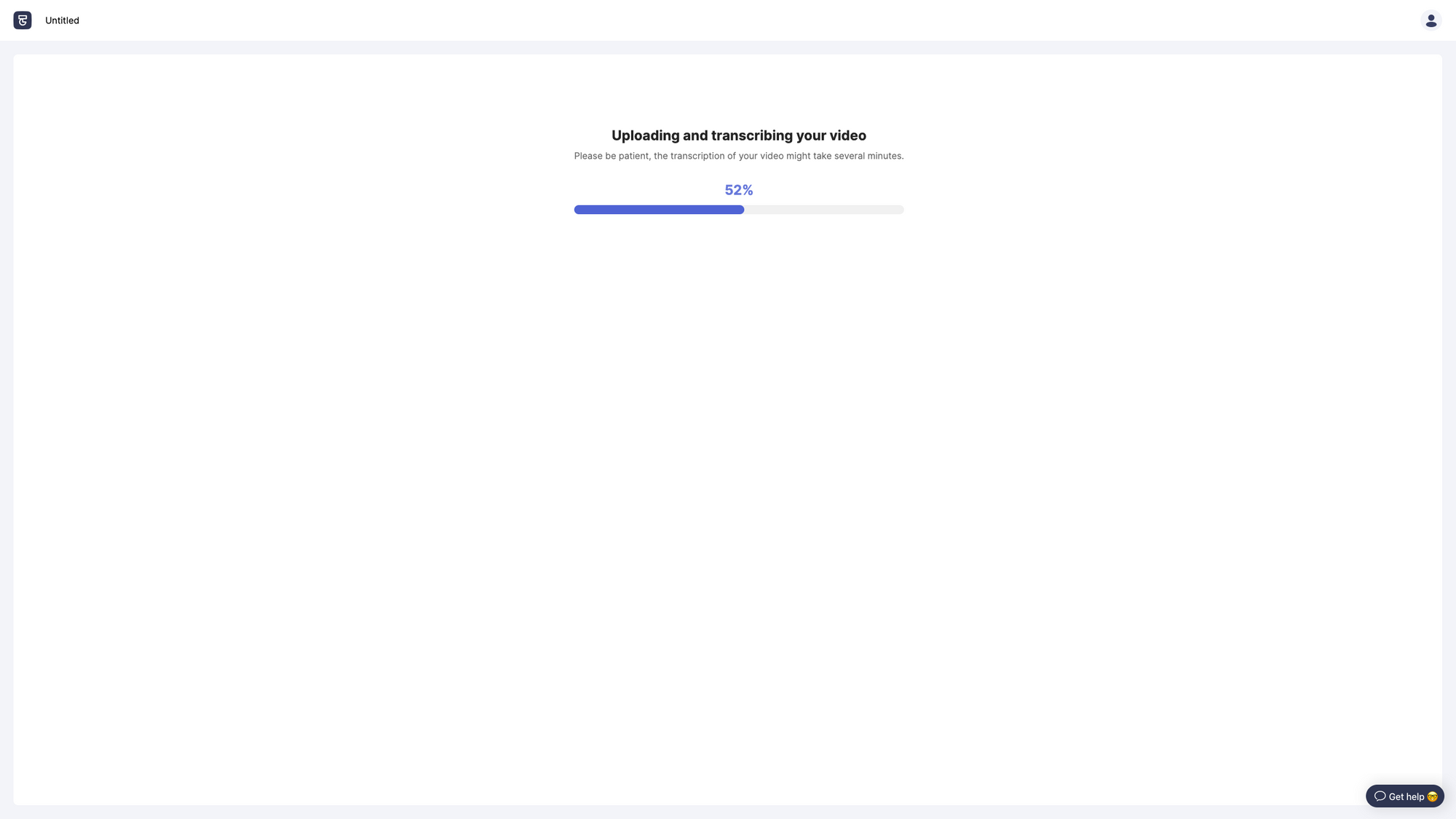 On average I've experienced processing speeds of about 4-6 min for a 10 min video.
2. Once your video user interview has been processed, you can search your videos for keywords and insights.
3. You can copy the text to your clipboard or export it.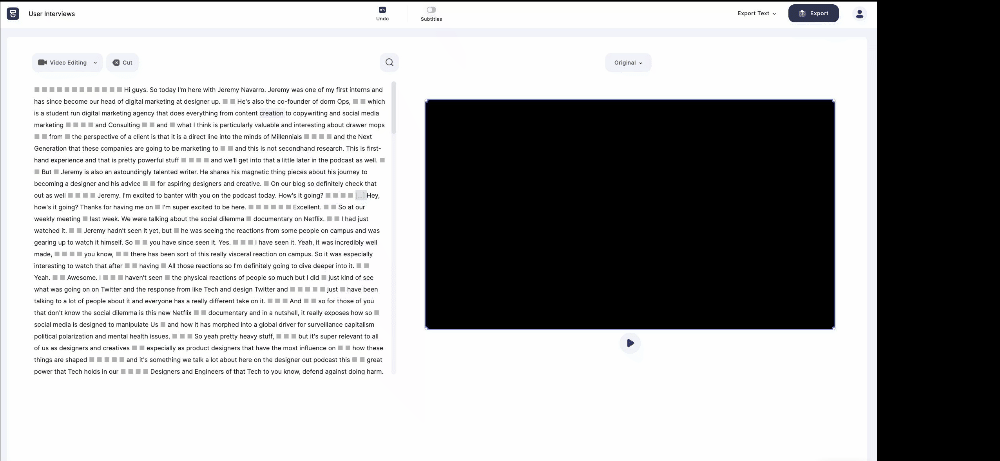 4. You can edit the video itself just by editing the text and then exporting the video.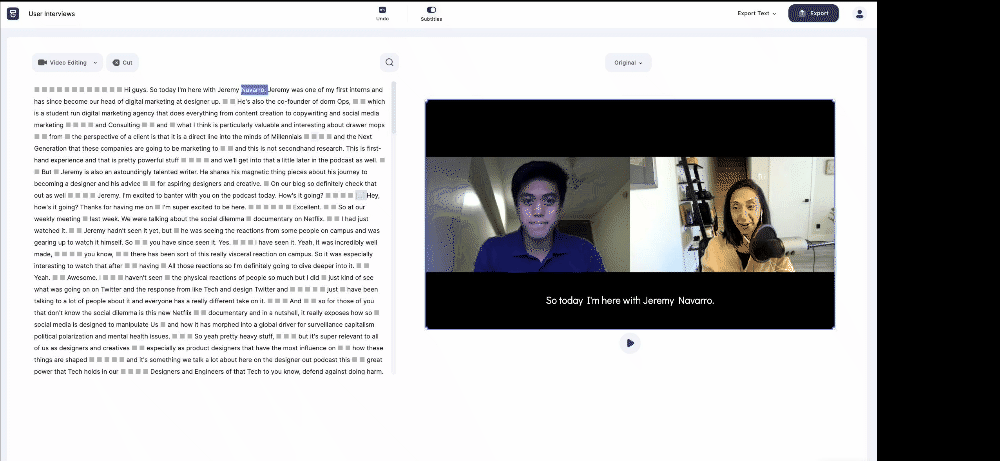 5. You can even add and style subtitles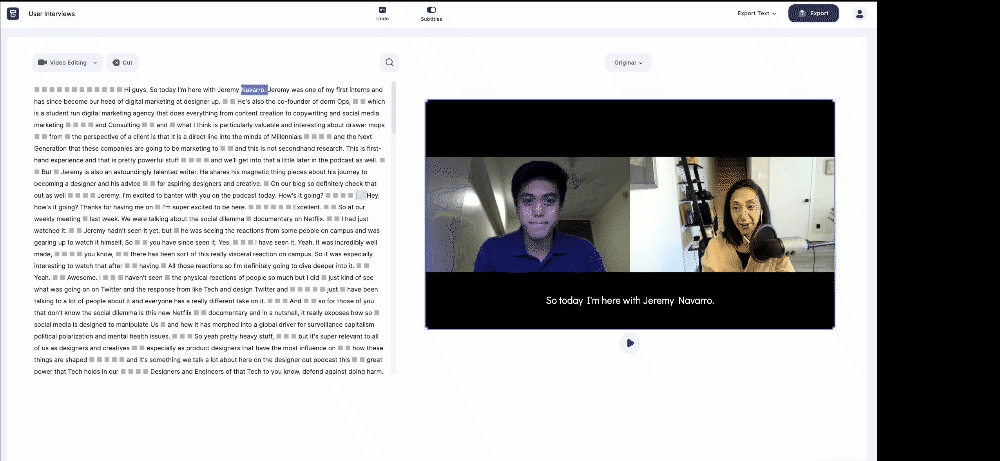 6. Finally you can upload the text or video to your research management workspace to analyze it for deeper insights. We recommend checking out our Notion workspace templates designed specifically for UI/UX and Product Designers

So if you are conducting remote video interviews, I highly recommend trying them out to speed up your UX research process.
For more tutorials on how to use Typestudio and just downright entertaining videos, go check out the Typestudio youtube channel as well.